Was ist Flipcause?
Flipcause ist eine voll integrierte, All-in-one-Fundraising- und Community-Engagement-Plattform für kleine gemeinnützige Organisationen. Mit einem integrierten CRM, einer mobilen App und einer Zahlungsabwicklungsfunktion ist Flipcause das einzige Tool, das du brauchst, um Spenden, Registrierungen, Freiwillige, Sponsor*innen, Peer-to-Peer- und Crowdfunding-Kampagnen zu verwalten und zu akzeptieren – alles über ein einziges cloudbasiertes Dashboard. Zusammen mit branchenweit niedrigen Preisen bietet jeder Abonnementplan ein dediziertes Erfolgsteam und kostenlose Concierge-Services.
Wer verwendet Flipcause?
Die Plattform konzentriert sich auf die Betreuung von Start-ups und wachsende gemeinnützige Organisationen mit einem Betriebsbudget von 1 Million US-Dollar oder weniger, obwohl auch größere gemeinnützige Organisationen von der robusten Suite mit integrierten Fundraising-Tools profitieren können.
Wo kann Flipcause bereitgestellt werden?
Cloud, SaaS, webbasiert, Mac (Desktop), Windows (Desktop), Linux (Desktop), Android (mobil), iPhone (mobil), iPad (mobil)
Über den Anbieter
Flipcause
Ansässig in Oakland, USA
2013 gegründet
Telefon-Support
Chat
Erhältlich in diesen Ländern
Vereinigte Staaten
Über den Anbieter
Flipcause
Ansässig in Oakland, USA
2013 gegründet
Telefon-Support
Chat
Erhältlich in diesen Ländern
Vereinigte Staaten
Flipcause – Videos und Bilder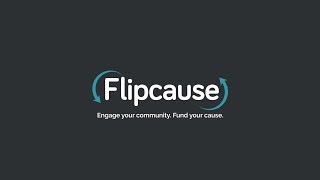 Kosten ähnlicher Produkte wie Flipcause vergleichen
Flipcause Funktionen
Belegmanagement
Berichterstattung / Analyse
Kampagnenanalysen
Kampagnenmanagement
Kommunikationsmanagement
Kontakt-Datenbank
Mitgliedschaft-Management
Online-Spenden
Recruiting von Freiwilligen
Registrierungs-Management
Spenden-Tracking
Spender-Management
Terminplanung
Tracking von Beiträgen
Veranstaltungsmanagement
Wiederkehrende Spenden
Zahlungsabwicklung
für gemeinnützige Organisationen
Alternativen für Flipcause
Bewertungen über Flipcause
Randy J
President in USA
Verifizierter Nutzer auf LinkedIn
Marketing & Werbung, 2-10 Mitarbeiter
Verwendete die Software für: Mehr als 2 Jahre
Best Non-profit Merchant
Kommentare: I'm currently working with my fifth customer and implementing FlipCause and my customers just love their services and customer service. So when my clients are happy I'm happy.
Vorteile:
Customer service is their superpower. The software is definitely the easiest to use but their customer service is beyond anything I'm accustomed to. As a website developer I"m always advising clients on merchant services, and flipcause is my number one for nonprofits.
Nachteile:
The portal is a little dated but has not reflection of the product or service.
Antwort von Flipcause
vor 4 Jahren
Randy, thank you so much for your thoughtful review. We love to hear what's working for you and the opportunity to provide timely and personal support to help our partnered organizations grow and do more!
Unterhaltung, 11-50 Mitarbeiter
Verwendete die Software für: Mehr als 1 Jahr
Flipcause has revolutionized our processes
Kommentare: Donor management, recurring membership subscriptions, event creation tracking and marketing, some mailchimp integration for new members, email campaigns, payment processing. Having so many resources under one application is game changing!
Vorteile:
The Flipcause team made it easy to transfer to the new platform and onboard all our important features like a website redesign, swapping over recurring donors, establishing a membership program, and creating an events marketing workflow. Among many other important capabilities that allow us to house nearly all of our vital services under one roof for the first time. Of course transfers of this magnitude are gradual and take time, but the Flipcause team has always been accessible to help answer questions and provide timely solutions. I honestly can't believe such an incredible software and support solution exists for an affordable price. It makes running a nonprofit not only possible, but feasible and enjoyable.
Nachteile:
I wish Flipcause had more mailchimp integrations, so that syncing new members and cancelled memberships happened automatically.
Antwort von Flipcause
letzten Monat
Hi Nathan, Thanks for the review! We're so happy to hear that Flipcause made it easy for you to transfer to the new platform and that you're satisfied with the support you've received from your Success Team. We love hearing that you've found running a nonprofit enjoyable because of Flipcause. And please continue to reach out to us for support. We're here for you and looking forward to continuing to support your organization's needs.
Verifizierter Rezensent
Board Member in USA
Verifizierter Nutzer auf LinkedIn
Non-Profit-Organisation Management, 2-10 Mitarbeiter
Verwendete die Software für: 6-12 Monate
Tiny Paws Pug Rescue
Kommentare: I do not like that every time I email the same question, I get the same screen shots. I have not had a one on one conversation. Also, when I finally asked the same question, I was told it wasn't possible to end it on a specific date AND time for each campaign. I do not understand why that is not customizable.
Vorteile:
The fact that we can send donors to a specific campaign and that they pay for the processing free. We use Linktr.ee to create multiple campaign links for our Instagram Bio
Nachteile:
It is very clunky, non-intuitive when setting up a campaign. There are so many random parts to upload pictures. We have to keep trying to preview when cloning a campaign to make sure we get to the many different sections to upload. It would be helpful if each section had a hint on the preview page.
Antwort von Flipcause
letztes Jahr
Thank you for the review! We're happy to hear that you've been able to easily link your donors to your campaigns and that they've been able to help save you money by covering the processing fees. Thank you for the feedback regarding campaign settings and including the option to add a campaign end time in more than just event/registration campaigns. I'll be sure to bring your feedback to our product team. I'm sorry to hear that you've had anything less than a stellar experience with getting your questions answered over email, and I can completely understand how that might be frustratingI'll be sure to bring this up to the team as well. Please always feel welcome to give us a call to speak one-on-one with someone on your Success Team whenever you need support, and we'll be happy to help. Don't hesitate to let us know if there's anything else we can do to help!
Jessica
Director of Operations in USA
Gesundheit, Wellness & Fitness, 2-10 Mitarbeiter
Verwendete die Software für: Mehr als 1 Jahr
In Betracht gezogene Alternativen:
Perfect bundle for a small nonprofit!
Kommentare: Our non-profit has been able to save so much time and money, while reaching more people with our mission due to switching to Flipcause. It truly has helped our small team make a greater impact. We haven't even used it to it's full potential as we haven't touched certain features such as the volunteer or peer-to-peer modules. We've had such great success and experience, we're planning on continuing to use Flipcause as long as possible even as our staff and community grows.
Vorteile:
Flipcause has met our non-profit needs in combining so many products into one easy to use platform. The most useful features are 1) storing unlimited contacts, 2) processing our one-time and monthly donations, 3) managing our event and program registrations, 4) guaranteeing a low credit card processing fee, and 5) amazing real-time support team. We have a peace of mind knowing we can store all of our contacts' (donors, participants, sponsors, potential new clients, etc.) info in one database. Having Flipcause has saved me so much time by easily creating new campaigns that are ready to launch in one sitting. Our donors and participants have remarked how easy it is to make a donation or register for a program. Our monthly donors are even able to edit their contribution amount at any time through Flipcause's automated emails, which is super helpful for our small staff. We have saved so much money by implementing the option for payers to cover processing costs and we are conforted to know that even if people do not opt to cover the processing fee that Flipcause guarantees we would not pay any higher than a 1.5% average processing rate. Lastly, their support team has been superb. Anytime I email a question, I have received a helpful response back within minutes. I find their self-help library of tutorials, videos, and instructions extremely helpful. The downloadable reports, LIVE app, transferring funds, and geographical hot spot map are super intuitive and insightful.
Nachteile:
Generally, I can't complain about any features. We still have to use a separate software for our annual Gala due to our silent and live auction needs, but that has not diminished the usefulness of Flipcause.
Non-Profit-Organisation Management, Selbstständig
Verwendete die Software für: 6-12 Monate
Best Software For Small Nonprofit Organizations Management
Kommentare: My overall experience with Flipcause has been awesome. I'm excited to see the growth of my foundation while partnering with Flipcause and the impact set to come in the future.
Vorteile:
I like how easy it is for me make updates on my website using the built-in features that Flipcause offers with their website management tool. I also really like how easy it is for me to keep track of data information such as donor support, sponsorships, and other information that helps keep my organization running efficiently.
Nachteile:
I really don't have any cons at this time.
Antwort von Flipcause
letzten Monat
Hi Edward, Thanks for leaving us a review! We're so pleased to hear that Flipcause has made it easy for you to manage your website and run your organization efficiently. We're here for you and looking forward to continuing to support your organization!