Was ist Gingr?
Mach mehr von dem, was du gerne tust. Nutzerfreundlich und dennoch leistungsstark – mit fortschrittlichen Anpassungsmöglichkeiten, die es einfacher machen, dein Geschäft zu führen. Gingr hilft dir, dein Geschäft mit einfacher Zahlungsmöglichkeit, Online-Buchungen, automatisierten Erinnerungen, einfachem Marketing, Stechuhr, Personaleinsatzplanung und mehr aufzubauen. Einfache Schulung deiner Mitarbeitenden, einfache Online-Nutzung durch deine Kunden. 100%ig mobilfreundlich. Gingr hat nach eigenen Angaben die höchste Sicherheit und Zuverlässigkeit im Bereich der Tierpflegesoftware, mit A+ Bewertungen in den Bereichen Datensicherheit, Uptime-Performance und Geschwindigkeit.
Wer verwendet Gingr?
Gingr eignet sich ideal für die meisten Hundetagestätten und Tierpensionen, einschließlich fantastischer Optionen für Pflege, Training und Einzelhandel.
Wo kann Gingr bereitgestellt werden?
Cloud, SaaS, webbasiert, Mac (Desktop), Windows (Desktop), Windows (On-Premise), Chromebook (Desktop), Android (mobil), iPhone (mobil), iPad (mobil)
Über den Anbieter
Gingr
2014 gegründet
Telefon-Support
Chat
Erhältlich in diesen Ländern
Kanada, Vereinigte Staaten
Über den Anbieter
Gingr
2014 gegründet
Telefon-Support
Chat
Erhältlich in diesen Ländern
Kanada, Vereinigte Staaten
Gingr – Videos und Bilder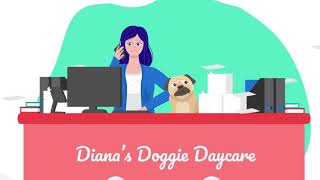 Kosten ähnlicher Produkte wie Gingr vergleichen
Gingr Funktionen
Automatisierte Terminplanung
Berichterstattung / Analyse
Bestätigung / Erinnerungen
Erinnerungen
Haustiergeburtstag-Tracking
Impfstoff-Management
Kalender-Synchronisierung
Kalenderverwaltung
Kundenmanagement
Kundenportal
Mitarbeitermanagement
Mobiler Zugriff
Online-Buchung
Reservierungs-Management
SMS-Erinnerungen
SMS-Nachrichtenversand
Terminplanung
Terminverwaltung
Tierdatenbank
Veranstaltungskalender
Wiederkehrende Termine
Zahlungsabwicklung
Katherine M.
Manager in USA
Verifizierter Nutzer auf LinkedIn
Verwendete die Software für: Mehr als 1 Jahr
It has given us the extra time needed to run the office more efficiently
Kommentare: Extra time to spend with clients and boarding pets, staff love the reports, owner loves the wealth of detail the reports give us for all aspects of the business from occupancy count to grooming details.
Clients love the fact they no longer have to wait for the office to open and can make reservations 24/7 as well as confirm and make payments on line anytime.
Vorteile:
It gives us more time to spend with the pets in our care and to provide more details to clients. Clients love the fact that they don't have to wait for office hours to request boarding or grooming, especially on the weekend when we have short office hours. Also they love the deposit program since they no longer receive letters or mail payments!!
Nachteile:
It is difficult to learn software over the internet but since I had an assistant who was able to help it worked out fine but I wouldn't want to do it alone. However the support team was awesome and had patience and wisdom in handling new owners
Jasmin M.
Salon Manager in USA
Tierarzt, 11-50 Mitarbeiter
Verwendete die Software für: Mehr als 2 Jahre
Booking with ease
Kommentare: Overall Gingr has been a great asset to our company, and was such an ease to transition into when we switched from our old Booking system. So many features, and so easy to use.
Vorteile:
I like most that it's easy to use, serves for so many purposes in our Company such as booking Grooming Appointments, walk in services, daycare stays, daycare Evaluations, classes, and now we can use it in our multiple locations as well
Nachteile:
The only cons lately have been inconsistent customer service with longer wait times, and the Phone Number search feature not working lately has made some booking over the phone take longer. Phone number search is usually our go to Customer look up. It leaves us with less room for error and less time on the phone with the customer for easier booking
Verwendete die Software für: Mehr als 2 Jahre
Like the software very much hate the lack of customer service.
Vorteile:
We like the basic functionality and speed of use especially vs. software that sits on the hard drive. The portal is nice and out clients enjoy it. The help articles for the basic set up and functionality are well done.
Nachteile:
When there is a big issue outside of basic functionality the chat support is a waste of time. A typical chat takes about an hour just to get to the point that they kind f understand what your talking about. For example my company Voxy Canine Camp recently reorganized and we opened a new merchant id account. The back end sent me the wrong merchant id #. I Ofcourse did not know it was wrong and after an hour on chat the person had no idea what was the problem because they did not have access to all of the information. It's a week later and aim trying again and still having issues. After introducing myself and business name/ 30 min into chat the rep from Gingr asks me what company Im with, Real problem solving should not be done by chat so this part of Gingr is horrible. Horrible enough that we are looking into switching this winter.
Antwort von Gingr
vor 4 Jahren
Laura, We appreciate your candid feedback, and are sorry to hear that your most recent chat experiences have not been favorable. I called you directly last week to clear up the merchant account issue, which was a simple misunderstanding between how/why you were updating your merchant accounts. Once we got to the bottom of it, we resent the correct merchant number to be updated in your app. I also suggested that if you needed anything moving forward, to ask for me specifically and I would give you a call. In regard to this most recent issue, our staff was prompt in responding and in inquiring about the issue you were experiencing, and although it did take a bit to understand why you couldn't process payments (the merchant ID had been typed incorrectly - chat records show the correct ID was sent on 6/28) we were able to get this resolved and get you back up and running. Please let me know if you have any concerns moving forward. Michelle Ober Director of Operations
Michele Y.
Business Owner in USA
Tierarzt, 2-10 Mitarbeiter
Verwendete die Software für: Mehr als 2 Jahre
Good software, but 1 major annoyance!
Kommentare: Overall I like the product but unfortunately I will be looking elsewhere because of this one frustrating glitch that they claim cannot be fixed.
Vorteile:
It is easy to use, like the layout. Customer service is great, although I hate you can only chat. The staff is very friendly and helpful.
Nachteile:
Drop off times for boarding and grooming are extremely confusing to my clients. It consistently states to drop off at 12 AM!!!! What?? Even though it clearly states our opening time is 8:30 AM. I have to send emails to let clients know what the drop off and pick up times are for grooming AND boarding. And as you probably know, most people do not read! So I am constantly getting calls about the time, or a groom client will show up at 12 noon stating that is what Gingr told them (even though it says 12 A, so they are clearly not paying attention to anything.
Dustin F.
Manager/Owner in USA
Einzelhandel, 2-10 Mitarbeiter
Verwendete die Software für: Mehr als 2 Jahre
In Betracht gezogene Alternativen:
Great software for the pet industry
Kommentare: Great people, and great software
Vorteile:
Designed with bootstrap so easy browsing on Mobile, tablets, and Desktops
Nachteile:
Some of the layout is too cluttered, and some features are lacking
Antwort von Gingr
vor 2 Jahren
Thank you for your review Dustin! While we 'bootstrapped' early stage, we now have a full team of developers and product leads. Gingr is mobile-friendly, for easy use on different screen sizes. Thank you for your 'thumbs up', and let us know what features you would like us to add!