Was ist BankPoint?
ARCS überlagert dein Kernbankensystem nahtlos mit einer einfachen, nutzerfreundlichen Lösung, die die Arbeitsweise deiner Institution erheblich verbessert und vereinfacht. Erfahre, warum zukunftsorientierte Finanzinstitute ARCS einführen, um Bereiche wie das Kreditprüfungsmanagement, das Kreditportfoliomanagement, die Kreditprüfung, das Dokumentenmanagement und vieles mehr zu verbessern.
Wer verwendet BankPoint?
US-Banken jeder Größe, aber normalerweise mit Vermögenswerten von mehr als 100 Millionen US-Dollar, mit hoher Konzentration an gewerblichen Immobilien
BankPoint – Details
BankPoint
1999 gegründet
BankPoint – Details
BankPoint
1999 gegründet
BankPoint – Videos und Bilder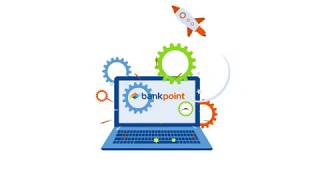 Kosten ähnlicher Produkte wie BankPoint vergleichen
Startpreis
Nicht verfügbar
Nicht verfügbar
Nicht verfügbar
Nicht verfügbar
BankPoint – Bereitstellung und Support
Kundenbetreuung
E-Mail/Helpdesk
Telefon-Support
Chat
Einsatz
Cloud, SaaS, webbasiert
Windows (Desktop)
Windows (On-Premise)
Training
Persönlich
Live Online
Webinare
Videos
Funktionen von BankPoint
API
ATM-Management
Aktivitäts-Dashboard
Anpassbare Berichte
Authentifizierung
Benutzer-Management
Berichterstattung und Statistik
Betrugserkennung
Buchhaltung
Compliance Management
Compliance-Verfolgung
Core Banking (Kernbankensystem)
Corporate Banking
Dokumentenmanagement
Dokumentenspeicher
Drittanbieter-Integration
Echtzeit-Analytik
Echtzeit-Daten
Echtzeitüberwachung
Einzelhandel-Bankgeschäft
Elektronische Zahlungen
Finanzmanagement
Investmentbanking
Kontakt-Datenbank
Kreditgenossenschaft
Kreditkartenbearbeitung
Kreditkartenmanagement
Kreditvergabe-Management
Kundenerlebnis-Management
Kundenkonten
Mehrere Branchen
Mehrere Währungen
Offshore-Management
Online-Banking
Portfoliomanagement
Private Banking
Regelbasierter Workflow
Risikoanalyse
Risikobewertung
Risikomanagement
Rollen-basierte Genehmigung
Sicheres Login
Sicherheitsmanagement
Transaktion-Überwachung
Transaktionshistorie
Warnungen / Eskalation
Wirtschaftsprüfung-Management
Workflow-Management
Zwei-Faktor-Authentifizierung
Überwachung
ACH Zahlungsabwicklung
API
Aktivitäts-Dashboard
Aktivitäts-Verfolgung
Anpassbare Berichte
Anwendungsmanagement
Asset Lifecycle Management
Audit Trail
Aufgabenmanagement
Berichterstattung und Statistik
Buchhaltung
CRM
Cash-Flow-Management
Compliance Management
Dashboard
Daten-Import / -Export
Datenüberprüfung
Digitale Unterschrift
Dokumentenmanagement
Dokumentenspeicher
Drittanbieter-Integration
Echtzeit-Analytik
Echtzeit-Berichterstattung
Elektronische Zahlungen
Finanzanalyse
Finanzmanagement
Inkasso-Management
Integration in die Buchhaltung
Komplexe Schuldstrukturen
Konfigurierbarer Workflow
Kontaktmanagement
Kontrolle des Genehmigungsprozesses
Kundendatenbank
Kundenkonten
Kundenportal
Leadmanagement
Mischkonzern
Pipeline-Management
Portfoliomanagement
Publicity-Management
Regelbasierter Workflow
Risikobewertung
Risikomanagement
Self-Service Portal
Sichere Datenspeicherung
Statusverfolgung
Terminplanung
Trend-Analysen
Workflow-Management
Überwachung
Robin G.
VP in USA
Verifizierter Nutzer auf LinkedIn
Bankwesen, 501-1.000 Mitarbeiter
Verwendete die Software für: Mehr als 1 Jahr
BankPoint review
Kommentare: A+
Vorteile:
We had a fantastic experience working with BankPoint. Customer service and responsiveness was exceptional, especially with regard to customizing or adapting features of the application to better align with our functional needs. BankPoint was very attentive to the need for system integration in development. The greatest advantage was probably the developers' knowledge of needs from a financial services end user perspective, unlike many technology suppliers who work from the software to the application. Overall a great partner and highly recommended.
Nachteile:
Implementation process with respect to mapping to the core was time-consuming but this is true of all applications. The support we received from the vendor through this process and after was stellar.
Andrew B.
Director of Credit Admin in USA
Bankwesen, 51-200 Mitarbeiter
Verwendete die Software für: Mehr als 2 Jahre
In Betracht gezogene Alternativen:
A Great Software with Amazing Employees
Kommentare: BankPoint was a crucial part of our process for PPP loans. It has cut down our reliance on spreadsheets to handle workflow and pipeline reporting. Additionally, in going through a core conversion, BankPoint was critical to our success for getting month end reporting right. They were also able to map to both cores' imaging software simultaneously for a seamless view of what we had in the file before our images were moved from FISERV Director to Jack Henry Synergy.
Vorteile:
BankPoint helps control the chaos with workflow, mapping to core(s), and working with other software. The software is intuitive and easy to set up. The team at BankPoint is responsive and helpful. While working with them, their knowledge base has helped us refine our processes. We see BankPoint as a strategic partner rather than just another vendor.
Nachteile:
I have difficulty in finding anything we don't like about BankPoint. When you bring up any features that are missing or could be improved, BankPoint is quick to respond and are receptive to ideas about the software. When they receive a request, they quickly 1) show us how we could accomplish the task through a capability that already exists in the system or 2) find out if changes are feasible. BankPoint will not solve for every want, but they value your opinion and take it into account when developing the software further.
Antwort von BankPoint
letztes Jahr
Hi Andrew, Thank you for the great feedback! We are very happy to have you and your team as customers and partners. We value your input and appreciate your ideas about the software. We hope to continue this partnership for many years to come.
Christopher B.
VP Credit in USA
Bankwesen, 51-200 Mitarbeiter
Verwendete die Software für: Mehr als 2 Jahre
I use ARCS daily for the pipeline, and also for the loan portfolio to avoid using Jack Henry.
Kommentare: I don't have to use Silverlake.
Vorteile:
ARCS can actually export loan data, unlike our core system, which is very helpful. The pipeline is also a useful tool for managing workflow at the bank.
Nachteile:
Overall, the site is painfully slow and the design is incredibly dated, lacking a number of easy UI improvements common in modern web application design that would make it far more usable and readable. The data export features are for some reason limited as to what fields can be exported, the data is often output in unusable formatting in Excel (especially the Pipeline), and the export takes far too long, likely because of inefficient programming and/or database design. The Pipeline has a number of restrictions that should be customizable, such as the ability to change the loan amount (or other details) after it goes to review/approved status. It should also be easier to link multiple booked loans to a pipeline loan (i.e. for loan pools). The Reports page is basically unusable and impossible to find anything of value, and changing the effective dates and filters of a report is a painfully slow and tedious process. Inability to export historical data for a loan in bulk (i.e. daily balances) is annoying, and something easy that should be in place already. There should be an Excel add-in for the ribbon that allows for using a formula in Excel (i.e. =ARCS(...)) to pull data from the ARCS database if you enter a loan number, date, and data field. The URL for a loan detail page uses an internal numbering system, not the loan number itself, which is annoying for creating external links. Extracts lack full customization, such as reordering data fields.
Antwort von VSI Solutions
vor 5 Jahren
Chris - we always appreciate healthy, constructive criticism and feedback, but wow, that was a stinger! You did make some good suggestions in there that we think we can incorporate into the product: make the reports more "exportable"; batch association of pipeline loans to actual loans; ability to export historical balances for a loan. Look for some of those improvements in upcoming releases. We're sorry to hear about the general slowness, but a little surprised too, since our metrics show 95% of your response times coming in under a second. Perhaps the slowness you're seeing is in the reporting area, where we lose a little bit of visibility, but we'll investigate either way. Thanks for the feedback, and remember that you can reach out to us by phone or email with suggestions or criticism any time.
Debbie H.
VP, Product Manager Treasury Management in USA
Finanzdienstleistungen, 1.001-5.000 Mitarbeiter
Verwendete die Software für: Mehr als 1 Jahr
BankPoint, the easiest part of On-boarding!
Kommentare: My department uses BankPoint for the Document Preparation piece we call DocExpress. I would prefer to work with BankPoint over all the other vendors I support. When I say they are responsive, I mean same day in most cases. If we have any problems, they are fixed in a matter of minutes, not hours or days.
The staff has always been pleasant and respective. We have a great working relationship.
Vorteile:
The ability to design the product around our procedures. We did not have to "take what you get" but rather, BankPoint took our ideas and delivered them in the product. As we have added a very detailed product to our product line, we have found that BankPoint is most flexible and efficient in brainstorming on how to best on-board the product. The BankPoint staff is always available and responsive to our questions and urgent needs.
Nachteile:
Sometimes the tasks built into the process can be so simple or repetitive that I am concerned that users will just check them off without thinking whether they actually did the task.
Antwort von BankPoint
letztes Jahr
Hi Debbie, Thank you for the kind words! It was a pleasure to work with you to bring DocExpress to life. It was a great addition to BankPoint, and we are happy to hear our goal to help your team with their daily activities was also achieved. Please feel free to reach out to discuss ways to enhance the task tracking feature.
Bill M.
SVP of Loan Operations in USA
Bankwesen, 51-200 Mitarbeiter
Verwendete die Software für: Mehr als 2 Jahre
Long time valuable management tool from a long term partner.
Kommentare: Portfolio management, better imaging user interface, pipeline management, risk rating management, and loan portfolio data reporting
Vorteile:
Reliable information based on creditably validated data sources. Multiple system views from one source. Strong workflow to support our policies, procedures, and processes. Quick integration to multiple document imaging sources
Nachteile:
Extracts could be expanded to include a broader data set than is currently available Credit line data (global and sub account information) would be helpful.