Was ist Hana POS?
Webbasierter POS und Websites speziell für Floristen.
Wire-Service-Integration, optimierte Routen, Hauskonten, Kundenportal, Adress- und Geschäftssuche, Angebotsmodul, mobile App mit digitalen Signaturen, E-Mail-Marketing und Feedback-Modul.
Die Lösung bietet vollständiges digitales Marketing, Social-Media-Marketing, E-Mail-Marketing und eine Technologie, die Floristen für den Erfolg positioniert.
Der Basis-POS-Plan mit Floristen-Website ist kostenlos.
Wer verwendet Hana POS?
Blumeneinzelhändler in den USA und Kanada
Hana POS – Details
Hana Software
2012 gegründet
Hana POS – Details
Hana Software
2012 gegründet
Hana POS – Videos und Bilder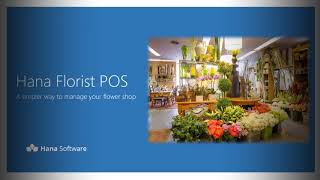 Kosten ähnlicher Produkte wie Hana POS vergleichen
Startpreis
19,99 $/Monat
Nicht verfügbar
29,99 $/Monat
N/A
Hana POS – Bereitstellung und Support
Kundenbetreuung
E-Mail/Helpdesk
FAQ/Forum
Wissensdatenbank
Telefon-Support
Chat
Einsatz
Cloud, SaaS, webbasiert
Mac (Desktop)
Windows (Desktop)
Windows (On-Premise)
Linux (On-Premise)
Chromebook (Desktop)
Android (mobil)
iPhone (mobil)
iPad (mobil)
Training
Live Online
Webinare
Dokumentation
Videos
Funktionen von Hana POS
ACH Zahlungsabwicklung
Abrechnung & Rechnungsstellung
Aktivitäts-Dashboard
Angebotserstellung
Anpassbare Vorlagen
Auftragserfassung
Auftragsmanagement
Auftragsverfolgung
Automatisierter Kartendruck
Barcode / Tickets scannen
Barcode-Erkennung
Belegmanagement
Berichterstattung / Analyse
Bestandsverfolgung
Bestell-Management
Buchhaltung
CRM
Design-Management
Drittanbieter-Integration
E-Commerce-Integration
E-Mail Marketing
Einkaufswagen
Einzelhandel-Lagerverwaltung
Elektronische Unterschrift
Elektronische Zahlungen
Geschenkkarten-Management
Integration in QuickBooks
Integration in die Buchhaltung
Inventarverwaltung
Kreditkartenbearbeitung
Kundendatenbank
Kundenkonten
Kundenportal
Kundenspezifisches Branding
Liefernachweis
Mehrere Standorte
Mitarbeitermanagement
Mobiler Zugriff
Offline-Zugriff
Preis- / Margen-Management
Produktion-Nachverfolgung
Produktkatalog
Rabattmanagement
Retourenmanagement
Routing
SEO-Management
Schaft-Zählung
Sendungsverfolgung
Suchen / filtern
Transaktionshistorie
Treueprogramm
Umsatzsteuer-Management
Verkaufsberichte
Verkaufspunkt POS
Webseitenintegration
Website-Entwicklung
Wiederkehrende Bestellungen
Zahlungsabwicklung
Scott P.
VP in USA
Verifizierter Nutzer auf LinkedIn
Einzelhandel, 2-10 Mitarbeiter
Verwendete die Software für: Mehr als 2 Jahre
A must have for retail florists
Kommentare: The experience has been great. Murali and his team are friendly and caring. They seem to understand the industry well and have developed a great tool. They are also very patient in getting users trained on the system.
Vorteile:
It's simple, web based and has most of what we need to make us more successful. It does accounting, invoicing, sales reports that can look at many aspects of the business, Quickbooks integration, merchant services integration, walk in orders, phone orders, web orders, schedules delivery dates, delivery times, and will integrate with the enemy (order gatherers). Be smart and ditch wire services. Your profits will skyrocket and Hana is all you need to do it all.
Nachteile:
I'd like to see a better delivery manager system. It's important for us to document each delivery precisely for customer complaints, for customers who try to accuse us of not doing our job properly, for customers to be able to see what was delivered if they ask and for us to be able to review in the future if someone wants something similar. The system lets drivers take one low quality photo upon delivery. I'd prefer to have that be able to store several high quality photos as well as detailed notes. Everything is digital these days so it should be easy. We have to use a 3rd party software to for better delivery managing.
Antwort von Hana Software
vor 4 Monaten
Scott, thank you very much for the positive review. We will be receicinh out to you regarding the dispatch manager. We believe we already have the features you mentioned. It might be a combination of training and new features. thanks
Design, 2-10 Mitarbeiter
Verwendete die Software für: Mehr als 2 Jahre
In Betracht gezogene Alternativen:
Hana Floral POS
Kommentare: Overall have been very happy with HANA floral POS, their custom service is very prompt to respond and they have been helpful with any issues we have had.
Vorteile:
The features that are most impactful are the dashboard showing deliveries that are done and that need to be done, how many orders are completed and or need to be in a specific day. Also the ability to look up customers history and save and process their credit card information and preferences. The feature to send an order copy via email and a delivery confirmation automatically is also key.
Nachteile:
The integration with quick books needs to be better, the mapping and the ability to reconcile payments once they move into quickbooks is not seemless
Antwort von Hana Software
vor 4 Monaten
thank you Lisa. We appreciate your feedback. Our support team will reach out to discuss the quickbooks integration. We believe we do have a process in place already for seamless reconciliation.
Design, 2-10 Mitarbeiter
Verwendete die Software für: 1-5 Monate
In Betracht gezogene Alternativen:
Unfinished Software = Unfinished Business
Kommentare: HANA POS customer service is on point without a doubt. You'll get the access you need to troubleshoot any issues from their technical support. But the problem is there are so many minor issues that add up and waste our precious time. You want a POS that has more solutions and problems.
Vorteile:
If there's one thing I can say good is the new order tab is pretty easy to navigate. From that aspect it CAN be user friendly, but overall, it is not. Technical support is readily available.
Nachteile:
There are too many issues with this software. First off it didn't all of our data completely. It's like having to start over from scratch, we have customers that complain saying, "you already have the recipient's information, I don't remember so-and-so's address" It's hard having to tell them, "We apologize for the inconvenience as we are in transition of a new POS system." Next, the printer settings for our invoices and card messages aren't customizable. I hate having to get on the phone or message technical support almost EVERYDAY about something different. It's a huge irony that though they have great availability for customer support, I shouldn't have to rely on them everyday. It just tells me that there are more drawbacks than answers for this software, which unfortunately rings true with us. I don't enjoy writing reviews like this. We told HANA what kind of computers we have. And though they are outdated, they said things would work. They told us after we submitted our information on the install date that things may not work. The credit card machine that pairs with HANA (Clearant) beeps every morning we walk in our shop. I have to unplug it and reset it every time.
Antwort von Hana Software
letztes Jahr
Dear Florist, thank you for your feed back. We actually never imported your order history as you chose not to pay for it. We can gladly load your recipient information if you still have the data. This is really not related to Hana. It is just transfer of your data from old POS. Your account manager will reach out and discuss with you regarding the print settings and other issues. We do have options to customize your card print design. Please rest assured we will resolve each and every issue you mentioned for a continued and long term partnership with Hana.
Einzelhandel, 2-10 Mitarbeiter
Verwendete die Software für: Mehr als 1 Jahr
Lots of Features for Not a Lotta Money
Kommentare: The support is great and helpful.
Vorteile:
It's great that we can access Hana from any web browser. It allows me to add consoles at busy time, or enter orders on the go. The automatic emails and app are great for delivery and help keep our customers in the loop as to where their order is and when it's delivered.
Nachteile:
Sometimes there are functions that seem not straight forward, but once you know how and why to use them they are easy. Sometimes it takes a while for it to load.
Antwort von Hana Software
vor 4 Monaten
Hello Brian, we appreciate your feedback. Hana team will continue to strive to improve our offering.
Einzelhandel, 2-10 Mitarbeiter
Verwendete die Software für: Mehr als 2 Jahre
In Betracht gezogene Alternativen:
Hana POS Floral Software
Kommentare: It's just so nice to have everything in one place. All customers, all orders.
Vorteile:
I like that the software truly is an all in one product for my business. It handles our daily orders, wedding and event contracts, email marketing, customer rewards program, feedback module, inventory management and so much more.
Nachteile:
There are still A LOT of bugs to work out. We've had payment issues with them not posting correctly or communicating to the credit card processor. Any time there are updates we usually face huge problems. Also there has been several times that the system has went down. Since we use this to take all orders, it has been a huge problem for us.