Das könnte dich auch interessieren:
Was ist SilkOne Cloud Chiropractic EHR?
Komplette Praxisverwaltung für Chiropraktiker. Erschwinglich für Praxen jeder Größe von sehr kleinen bis sehr großen Kliniken mit mehreren medizinischen Fachkräften und Praxen. Höchstes Niveau an Support und Infrastruktur. SilkOne verfügt über eine zu 100 % konforme EHR mit schnellen und leicht zu verfolgenden Schritten, die dich für Prüfungen durch Versicherungsunternehmen rüstet. Spare deinem Personal mehrere Stunden pro Woche: Führe die Abrechnung mit 3 Klicks ab, veröffentliche Leistungszusagen (Explanation of Benefits, EOBs) mit 2 Klicks, verfolge Ansprüche automatisch und sende automatische Terminerinnerungen per Textnachricht oder E-Mail und vieles mehr.
Wer verwendet SilkOne Cloud Chiropractic EHR?
Jede chiropraktische Praxis, einschließlich multidisziplinärer Praxen. Diese Lösung eignet sich für Praxen jeder Größe, von kleinen Einzelpraxen bis hin zu Kliniken mit mehreren medizinischen Fachkräften und mehreren Standorten und ist des Weiteren für einen angemessen Preis verfügbar.
SilkOne Cloud Chiropractic EHR – Details
SilkOne Software
2005 gegründet
SilkOne Cloud Chiropractic EHR – Videos und Bilder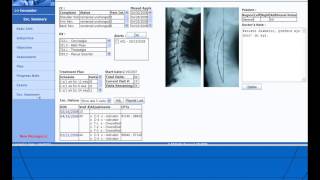 ▶︎
SilkOne Cloud Chiropractic EHR – Details
SilkOne Software
2005 gegründet
Kosten ähnlicher Produkte wie SilkOne Cloud Chiropractic EHR vergleichen
Startpreis
249,00 $/Monat
Nicht verfügbar
299,00 $/Monat
89,00 $/Monat
SilkOne Cloud Chiropractic EHR – Bereitstellung und Support
Einsatz
Cloud, SaaS, webbasiert
Android (mobil)
iPhone (mobil)
iPad (mobil)
Training
Live Online
Webinare
Dokumentation
Funktionen von SilkOne Cloud Chiropractic EHR
API
Abrechnung & Rechnungsstellung
Aktivitäts-Dashboard
Alarmfunktion / Benachrichtigungen
Anpassbare Berichte
Anpassbare Formulare
Anpassbare Vorlagen
Aufgabenplanung
Automatisierte Terminplanung
Berichterstattung und Statistik
Bestätigung / Erinnerungen
Beurteilung-Management
Compliance Management
Compliance im Gesundheitswesen
Diagramm-Erstellung
Dokumentenmanagement
Dokumentenmanagement
Dokumentenspeicher
Dokumentvorlagen
E-Mail Marketing
E-Mail-Management
Elektronische Zahlungen
Ergebnisbewertungstools
Erinnerungen
Formularverwaltung
Für Chiropraktiker
HIPAA konform
Inventarverwaltung
Kalender-Synchronisierung
Kalenderverwaltung
Kreditkartenbearbeitung
Kundendatenbank
Kundenmanagement
Kundenportal
Mehrere Standorte
Mitarbeitermanagement
Patientenmanagement
Rechnungsmanagement
Reklamationsabwicklung
Reservierungs-Management
Rollen-basierte Genehmigung
SMS-Nachrichtenversand
SOAP-Notizen
Self-Service Portal
Terminplanung
Terminverwaltung
Verwaltung von Patientenakten
Wiederkehrende- / Abonnement-Abrechnung
Workflow-Management
Zugriffskontrollen / Berechtigungen
Ivan N.
Chiropractor in USA
Medizinische Praxis, 2-10 Mitarbeiter
Verwendete die Software für: 1-5 Monate
Comprehensive Cloud Based Software for the Chiropractic Practice
Kommentare: My overall experience with Silkone has been fantastic. My main admiration for this software is the ease of use and speed to create SOAP notes. Also, I just love that my patients can go to my website, fill out the medical history, current symptoms and sign forms at home on any computer and or tablet. So, when they come into my office they just have to sign in on the kiosk and they can go immediately back to the exam room or treatment room. Silkone has made my office so efficient and now I can treat more patients in less time. That is a huge advantage with this software, because many softwares don't allow to fill out symptoms or medical history at home. In my humble opinion, Silkone is the best software for the price.
Vorteile:
First of all, I have had EHR software in my practice for the past 13 years. Last year was my first year with a competitor cloud based software which I would rate just average due to length of time to create exam and SOAP notes. I usually had to finish my notes at home, especially exam reports because it just took too long to create the note. But, now after a month with SILKONE, I nev er had to finish my notes or Exam reports at home. The ease of doing exam and SOAP notes is amazing. The one thing I love about this software, is that everything is on one window screen. You don't have to jump through different windows screens (such as other softwares) which takes too much time and effort. My office manager loves the billing aspect of the program too. It works well with Office Ally with auto remittence. Also, you can send out text and email reminders and just the marketing module of Silkone is worth the price of this program. The support and training was second to none. Their response to my questions were always within an hour and they even respond to your questions after hours, so support is the best I have every experienced. They really go out of their way to make you feel comfortable with the software. Last, the customization is so easy for this software,, so my notes never look CANNED. Overall, I would give an A rating for Silkone software. This Software is definitely a keeper for our practice.
Nachteile:
Obviously, there isn't much that I don't like about this software. Now, no software is perfect, but Silkone is the best software for billing and notes that I have ever utilized. Minor complaints, and I do mean minor, is that you have to press save to each Section (subjective, obejctive, plan, etc), which I hope they will eventually automatically save when you input the information. or just press save when you finish the end of exam or note. But, it is easy to go back to make any changes after you finish the note.
Krankenhausversorgung & Gesundheitswesen, 2-10 Mitarbeiter
Verwendete die Software für: Mehr als 1 Jahr
Silk One Chiropractic Software Review
Kommentare: Just like any EHR software it has its pros and cons. It takes a while to get used to this software but overall I have been happy with it. It saves a lot of time having a patient portal and don't know of any other chiropractic EHR that has it. I have even done some patient documentation on my phone as it works with any device that has the internet.
Vorteile:
What I like most about this software is the patient portal. It allows us to send a link to a new patient so they can fill out their intake form online. The information from the intake form gets automatically populated into the system so there is no double entry of the data. This saves a lot of time for both the staff and the doctor. Also being able to access the software from any device (I have even scheduled patients for appointments at health fairs, etc on my phone) is a huge plus.
Nachteile:
Like any new software there is a learning curve. The interface takes a little getting used to and is not the most user friendly. Also with the billing the patient statements are not very detailed and could use some better formatting to make them easier to understand for the patient.
Antwort von SilkOne Software
vor 5 Jahren
Hi Dr Chris...so glad you are happy with SilkOne EHR. Regarding the patient statements, there are in fact other formatting options. I've contacted support to enable alternate formatting and they will contact you to go through how it works. Thank you, Dr Rick
James J.
Chiropractor in USA
Gesundheit, Wellness & Fitness, Selbstständig
Verwendete die Software für: Mehr als 2 Jahre
Silk One EHR for Chiropractic Office
Vorteile:
It's the one I used for years, at the time it was priced very well compared to the other big names for chiropractic EHR.
Nachteile:
It looks old, several things are confusing when using. The online scheduling looked so bad, we used an entirely separate online scheduler that didn't connect to Silk One.
Antwort von SilkOne Software
vor 2 Monaten
We've built SilkOne with input from several Chiropractic coaching organizations to be very efficient and easy to use. Our support team is always available to clear up any misunderstandings. Our scheduler is state of the art, full functioned and easy to use. I'd be happy to schedule a support call anytime to show you how easy it is. And yes, although we are the original cloud EHR and provide the highest level of features and support, we are priced at or below other EHRs. And we are the only company to guarantee in writing to never raise our client's fees.
Patrick D.
President in USA
Krankenhausversorgung & Gesundheitswesen, 2-10 Mitarbeiter
Verwendete die Software für: Mehr als 2 Jahre
Perplexing
Kommentare: The learning curve is unnecessarily difficult. There is no manual. There are a set of videos, but some of them were outdated and when we apprised Silk of this they simply said we could always call for assistance. That would be ok (not great) except for the fact that a call usally does not get an immediate response. There are times when immediacy prevails. When you email support you often do not hear back until the next day. We have developed our own manual based on dozens of bad experiences that we could not solve with the videos. This led us to believe that a manual could haved saved us countless hours. Anant has told me thata a manual would not help us. He is wrong. We have told each tech and Rick , the owner, how much a manual is needed. No help forthcoming though.
Vorteile:
Once you figure things out there is a logic and ease of use about the program.
Nachteile:
There are still many features we have not even tried to utilize because we are burned out with the protracted process of trying to learn the intricacies of the program. Learning would be tolerable if it entailed knowing there was a place we could go to and get a strightforward answer.
Antwort von SilkOne Software
vor 5 Jahren
Thanks for the feedback. We've asked our clients in the past about a written manual and 99% of our drs stated they don't want to spend time reading through pages of a document. Videos and in-person live support is far better than just giving a manual out. All you need to do is send a one-line question to support and they will send you detailed steps on any functionality you need. If more help is needed support will call immediately to help !!
Medizinische Praxis, 2-10 Mitarbeiter
Verwendete die Software für: Mehr als 2 Jahre
Have been with Silk One for over five years. Extremely happy with the top notch service
Vorteile:
Professional and informative service. Quality product This is my office his fourth patient data entry product since approximately 2000. The service that I have had in my entire staff has had with all representatives of silk one have been nothing less than tremendous. They are also very secure with their product that there is no long-term contract you can terminate at any time. I have been with silk one for over five years
Nachteile:
Early on, a little more clicks than prior software's with less bells and whistles The product that I had before silk one was called Quixote. Quixote was very user-friendly a wonderful color scheme, but the service was awful. Moving to silk one was a transition for my office and initially a little challenging. Much less bells and whistles, and a little challenging to navigate initially with multiple clicks required. However the patient's of the staff of silk worn were amazing. After about a week. We were all up and running.