Was ist Firm Central?
Das cloudbasierte Kanzleimanagement von Firm Central bietet eine intuitive End-to-End-Lösung zur Verwaltung aller Aspekte deiner Kanzlei, einschließlich Angelegenheiten, Kontakten, Kalender, Aufgaben, Dokumente, Zeit und Abrechnung, Buchhaltung und Finanzen, Berichterstattung und mehr von überall aus. Zu den exklusiven Funktionen gehören die automatische Markierung von Dokumenten durch Hinzufügen von KeyCite-Flaggen und Links, die einen guten juristischen Status gewährleisten, sowie die Volltext-Suchfunktion, mit der du schnell und genau das findest, was du brauchst. Intelligent integriert mit Westlaw-Tools
Wer verwendet Firm Central?
Einzelanwälte und kleine Anwaltskanzleien, die nach einem vollständig integrierten, cloudbasierten Praxismanagementsystem suchen.
Wo kann Firm Central bereitgestellt werden?
Cloud, SaaS, webbasiert, Windows (Desktop), Android (mobil), iPhone (mobil), iPad (mobil)
Über den Anbieter
Thomson Reuters
Ansässig in Toronto, Kanada
2008 gegründet
Telefon-Support
24/7 Live-Support
Chat
Erhältlich in diesen Ländern
Kanada, Vereinigte Staaten
Über den Anbieter
Thomson Reuters
Ansässig in Toronto, Kanada
2008 gegründet
Telefon-Support
24/7 Live-Support
Chat
Erhältlich in diesen Ländern
Kanada, Vereinigte Staaten
Firm Central – Videos und Bilder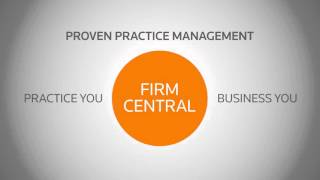 Kosten ähnlicher Produkte wie Firm Central vergleichen
Firm Central Funktionen
Abrechnung & Rechnungsstellung
Alarmfunktion / Benachrichtigungen
Archivierung & Aufbewahrung
Aufgabenmanagement
Buchhaltung
CRM
Dokumentenerstellung
Dokumentenklassifizierung
Dokumentenmanagement
E-Mail-Management
Erinnerungen
Fall-Aufzeichnungen
Fall-Management
Kalenderverwaltung
Kostenverfolgung
Kundenmanagement
Kundenportal
Mitarbeiter-Kalender
Rechtsfall-Management
Regelbasierte Gerichtsplanung
Statusverfolgung
Treuhand-Buchhaltung
Versionskontrolle
Vertrags-/Lizenz-Management
Volltextsuche
Werkzeuge zur Zusammenarbeit
Zeit & Kosten Verfolgung
Zeitverfolgung
Zugriffskontrollen / Berechtigungen
Alternativen für Firm Central
Bewertungen über Firm Central
Michael
President in USA
Verifizierter Nutzer auf LinkedIn
Verwendete die Software für: 1-5 Monate
Project management team has been incredible and made our transition seamless.
Kommentare: Total firm management from one platform and scalable for a big firm with lots of cases. Project management team has been an absolute godsend for us!
Vorteile:
The platform is so intuitive and the customization is superb. The system is quick and we have everything we need at our fingertips to run our firm for the foreseeable future. I am blown away by how professional, prompt and helpful Project management team assigned to my account has been.I can't say enough good things about the team. they have gone above and beyond what I expected from Firm Central and stepped into the shoes of the tech assigned for my migration since he was away on vacation. Team helped us troubleshoot the migration process and we are up and running already with over 730 active lawsuits! AMAZING CUSTOMER SERVICE!
Nachteile:
I would love a "batch" time entry option for the cases in which one task has been performed/applies to all.
Antwort von Thomson Reuters
vor 4 Jahren
Hello Michael, Thank you very much for for the positive review of Firm Central. We are thrilled to hear that you've had such a positive customer experience! Please utilize the many resources we have available as you continue to use the product and don't hesitate to reach out with questions. Thank you for your business!
Nate
Legal Operations Manager in USA
Rechtsberatung, 11-50 Mitarbeiter
Verwendete die Software für: Mehr als 2 Jahre
In Betracht gezogene Alternativen:
Excellent Case Management Software if integrated with Westlaw & Custom Forms etc.
Kommentare: Overall, our firm has had a great experience with Firm Central, but that is largely because of the additional add on products we integrated with Firm Central (Custom Form Builder, Company Investigator, Westlaw). If it was not for those seamlessly integrating with each matter it would not be worth the price.
Vorteile:
This is a great Case Management system if your willing to invest the money to purchase the add on's like Custom Forms, Westlaw, Company investigator and etc. It can get extremely expensive however, our Firm saw the financial benefits in several ways once we committed to using all its features. The biggest benefit was the ability to automate the Custom Form Builder from data out of Firm Central.
Nachteile:
The Firm Central Plug in for Outlook was terrible and unreliable. Firm Central should have put more focus on that aspect of the software because Lawyers and law firms live out of their email.
David
Managing Attorney in USA
Anwaltskanzlei, 2-10 Mitarbeiter
Verwendete die Software für: Mehr als 1 Jahr
A Good Start
Kommentare: It gave us a strong platform to work from
Vorteile:
I like the look and feel of the program. I like the stability. I love Deadline Assistant and I love the West Support
Nachteile:
I really dislike the program because it has no email integration. Given that this is Firm Central, not having an email integration is not very "CENTRAL". I need a color-coded calendar, I also need an app that I actually can use on my smartphone. The current semi app really is not a good fit.
Antwort von Thomson Reuters
vor 5 Jahren
Dear Attorney Sergi, Thank you for taking the time to review Firm Central. We are glad to hear it is generally is a good fit for your firm! We carefully listen to customer feedback and we're happy to say that desktop calendar integration does exist including a two-way sync with Outlook that as of this week, will now allow for color coding on your website calendars and on your desktop. To get the color coding on your desktop calendar please go to the Firm Central support page and download the most recent software release. Please call us with any questions at 1-888-287-8537. Thank you for being a valued customer!
Bryce Edward
Legal Assistant in USA
Verifizierter Nutzer auf LinkedIn
Verwendete die Software für: 1-5 Monate
A great system that may one day be magnificent.
Kommentare: Client/Matter management and organization. Document builder. Time/Expense billing and accounting.
Vorteile:
Potentially any firm could be run on Firm Central almost exclusively. It's designed to contain anything and everything a firm could administratively need, and succeeds on most levels in that regard. Customer service has been exceptional as well. Each member of the team that I have spoken to has been consistently helpful. In situations where they could not help me with my concerns, they took the information I provided back to their team to implement features on my recommendation - they even called me personally and excitedly announced the implementation of those features.
Nachteile:
Some of the features show great potential; however, they remain half-measures and are therefore left underutilized. For example, the platform offers a cloud drive functionality that automatically creates folders for each client and matter - but then nothing is actually saved in those folders automatically. The document builder only saves user input, not the document itself, and so the document must be downloaded and saved manually - and you're going to want to save them locally anyways, because anything saved in the Firm Central drive cannot be consistently accessed by other applications (e.g. e-filing service websites). There are many other ambitious features here that will remain underutilized, but I've seen improvements just in the few months that I've been working with the program. Time will tell if these features will be fully implemented and incorporated into Firm Central's functionality.
Antwort von Thomson Reuters
vor 4 Jahren
Dear Mr. Edward, We appreciate you taking the time to write a product review for Firm Central. We are happy to hear that most of the functionality is working very well for you. We will pass along your comments to the product development team as we prioritize enhancements based on our users feedback. Thank you very much for being a valued customer of Firm Central!
Mark
Attorney/Owner in USA
Rechtsberatung, 2-10 Mitarbeiter
Verwendete die Software für: Mehr als 2 Jahre
My 2 1/2 Year Experience With Firm Central
Kommentare: Overall, I have been pleased with the features offered by Firm Central. I like the ease of saving and retrieving files stored in matters, and it is fairly easy to open new client files and matters.
Vorteile:
Creating client files and sub-files. It is pretty intuitive, and I can find just about everything that I have saved. The Technical Support is great, and I usually have a very short wait to get in to talk with them. They have always been helpful.
Nachteile:
I can't rename emails that I have saved in Firm Central, so searching for an email I saved 6 months ago is pretty time consuming and hit or miss. I can rename any Word or Excel file I want, but I can't change a name or date on an Outlook email. That makes no sense to me.