Was ist GreaseBook?
Catapult Yourself into the Top 3% of Operationally Efficient Oil & Gas Producers (and Approach Your Most Profitable Operation*) in 30 Days or Less – all via a Simple Mobile App 📲
We're talking:
- 38% reduction in downtime 📉
- 14% reduction in overhead expense💰
- 4% increase in production 📈
- Claw back 2 to 20 hrs per user per week (varying upon responsibilities of user) ⏳
- $33K reduction in preventable errors (salt water spills, oil spills, stripping out wells, injector well blowouts...)
Wer verwendet GreaseBook?
Small and midsized oil & gas operators who are looking to streamline their operations.
GreaseBook – Details
GreaseBook
2013 gegründet
GreaseBook – Details
GreaseBook
2013 gegründet
GreaseBook – Videos und Bilder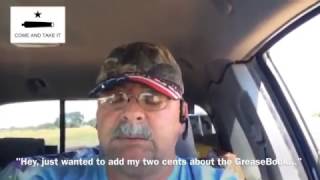 Kosten ähnlicher Produkte wie GreaseBook vergleichen
Startpreis
Nicht verfügbar
Nicht verfügbar
79,00 $/Monat
59,00 $/Monat
GreaseBook – Bereitstellung und Support
Kundenbetreuung
E-Mail/Helpdesk
FAQ/Forum
Wissensdatenbank
Telefon-Support
24/7 Live-Support
Chat
Einsatz
Cloud, SaaS, webbasiert
Mac (Desktop)
Windows (Desktop)
Chromebook (Desktop)
Android (mobil)
iPhone (mobil)
iPad (mobil)
Training
Persönlich
Live Online
Webinare
Dokumentation
Videos
Funktionen von GreaseBook
API
Aktivitäts-Verfolgung
Anpassbare Berichte
Anpassbare Felder
Arbeitsauftragsverwaltung
Auftragskostenrechnung
Berichterstattung und Statistik
Buchhaltung
Compliance Management
Daten-Import / -Export
Datenanalyse-Werkzeuge
Datensynchronisation
Datenvisualisierung
Dokumentenmanagement
Drittanbieter-Integration
Echtzeit-Aktualisierungen
Echtzeit-Daten
Echtzeitüberwachung
Feldkartierung und -planung
Formularverwaltung
Für Öl und Gas
Geräte-Management
Inspektions-Management
Instandhaltungsmanagement
Inventarverwaltung
Job-Management
Logistik-Management
Mehrere Standorte
Mobile Benachrichtigungen
Mobiler Zugriff
Offline-Zugriff
Produktions-Management
Prognose
Projektmanagement
Rechnungsmanagement
Ressourcenmanagement
Rollen-basierte Genehmigung
Terminplanung
Verfolgen von Vermögensanlagen
Wirtschaftsprüfung-Management
Workflow-Management
Öl & Energie, 11-50 Mitarbeiter
Verwendete die Software für: Mehr als 2 Jahre
GreaseBook has met the challenges we put in front of them
Kommentare: The Greasebook is easy to use, concise, and saves the guys in the field A LOT of time. Of course, at first they were reluctant to adopt it (because it's new and they're always scared of something new). But even the most tech phobic person will easily discover within a DAY how much of their time it will save if they would just learn how to use it. We also had Greasebook at another company I used to work for, and when I came to Phoenix we didn't have the app. And, after Greasebook adapted the app to accommodate some the operations we have, the app has worked very smoothly. If you're looking for any type of modern production reporting system, I don't know of one that's better.
Vorteile:
Obviously, it enables me to glance at daily production and not have to go anywhere else to find that. Also, what's brought us the most value from Greasebook is the ease of use.
Nachteile:
Greasebook has come a long way toward adapting the original framework to what we do which is water flood operations. Including all the things we specifically want to know about which includes lot of water injection information. The ability to continue to adapt the Greasebook to specific nuances of somebody's operation is VERY important, and GreaseBook has met the challenges we through in front of them.
Debbie S.
Controller/Office Manager in USA
Öl & Energie, 2-10 Mitarbeiter
Verwendete die Software für: Mehr als 2 Jahre
We're saving at least 2 hours a day in both the office and field
Kommentare: There's a bit of work to get it set up just how you want it, but it's definitely worth it!
Vorteile:
The biggest thing is the reporting that the Pumper is able to submit. When he posts we can see his readings immediately. That said, the biggest ROI from the app is our ability to get to the data instantly. Instead of having to fax stuff back and forth from the field, you just open it up and pull up whatever has been put in there. You wouldn't even have a clue how many daily reports, well test reports, and the like the the pumper would have to scan in and then send to us... then someone here would have to print them and put them in the well files. Now, just having the accurate data at our fingertips and not having to deal with all the different pieces of paper is a big deal.
Nachteile:
Originally, it was the inability to scan and get well history, log history sections, etc into the app and get them in there as easily as possible. However, this has since been addressed.
Keah P.
Production Technician in Kolumbien
Verwendete die Software für: 1-5 Monate
So easy to use.
Vorteile:
What I like most is the available to anyone with a smart device. For pumpers that is nice. Simplicity of it.
Nachteile:
When printing out the monthly reports I would like an option to print off all the ticket pictures that correspond to that report, but not ALL, just the Oil tickets (not water). That said, the solution is cheaper than last company we used. And, there's a lot of time saved in learning and in the daily entering of data.
Antwort von GreaseBook
vor 8 Monaten
Option to 'print off ticket pictures' as well as ability to select the type of ticket (ie Oil Run, Water Haul, BS&W, etc) has been added =) Thank you, Keah!
Öl & Energie, 2-10 Mitarbeiter
Verwendete die Software für: Mehr als 1 Jahr
I'd be shocked to hear of some operator not liking the app
Kommentare: I'm not sure there's a direct calculation you can do to derive an ROI, but time is money. And, instead of spending time compiling production reports each month, I can now dedicate that time to evaluating other deals. That said, the Greasebook certainly saves me time.
Vorteile:
Having all our data in place. Instead of me having to get faxes or emails from gaugers and then transfer everything to Excel, I've already got everything in one place. If I need to have data or send someone data, it's all in the Greasebook... I don't have to manipulate it at all.
Nachteile:
Recommend: 10, I'd recommend it. Would be nice to for Greasebook to partner with a tank to cloud or level sensing group. That said, there's not a lot of risk, and not a lot of expense. Not only does Greasebook offer a money back trial, but it's also month to month. If you don't like it, you can get out of it. But once you start using the app, you'll never gonna get rid of it. Give it a whirl, I'd be shocked to hear of some operator not liking the app.
Ed H.
Vice President of Engineering & Operations in USA
Öl & Energie, 2-10 Mitarbeiter
Verwendete die Software für: Mehr als 2 Jahre
I don't have to worry about where the data is, or who's transcribing it
Kommentare: The value from the app is it's straight from the pumper... it doesn't have to go through two or three other people / steps to get into our system.
Vorteile:
To me the benefit is the data that our pumpers and gaugers put in is automatically archived. I don't have to worry about where the data is, who's transcribing it – I know the data is always there.
Nachteile:
Not good at wells that are both gas and oil wells that produce water. Needs to be more attuned – my water tank has oil, and my oil tank has water. If it could solve the issue if they figure that out would be a 10, it would be one of the best programs out there. UPDATE: this was resolved by setting up dual product tanks in the system!!