Was ist QuoteWerks?
QuoteWerks ist eine erschwingliche, sofort einsatzbereite Lösung für Angebote und Kostenvoranschläge mit über 86.000 Nutzer*innen in 101 Ländern. Das Besondere an QuoteWerks sind die über 55 Integrationen in Lösungen für CRM (z. B: ACT!, Autotask, ConnectWise, Salesforce, MS CRM, Outlook und andere), Buchhaltung (QuickBooks und Sage 50), Großhändler*innen (Ingram Micro, Tech Data, Synnex und andere), FedEx/UPS, Leasing, Umsatzsteuer, Dell, Cisco, HP, CDW und andere.
Wer verwendet QuoteWerks?
QuoteWerks wird von Unternehmen aller Größen eingesetzt, die ihren aktuellen Verkaufsangebotsprozess rationalisieren möchten, um ihren Kund*innen detaillierte und professionelle Verkaufsangebote und Kostenvoranschläge bieten zu können.
Wo kann QuoteWerks bereitgestellt werden?
Cloud, SaaS, webbasiert, Windows (Desktop), Windows (On-Premise), Linux (On-Premise)
Über den Anbieter
Aspire Technologies
1993 gegründet
Telefon-Support
Chat
Erhältlich in diesen Ländern
Australien, Kanada, Vereinigte Staaten, Vereinigtes Königreich
Über den Anbieter
Aspire Technologies
1993 gegründet
Telefon-Support
Chat
Erhältlich in diesen Ländern
Australien, Kanada, Vereinigte Staaten, Vereinigtes Königreich
QuoteWerks – Videos und Bilder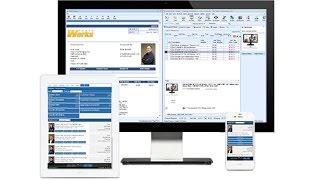 Kosten ähnlicher Produkte wie QuoteWerks vergleichen
QuoteWerks Funktionen
Abrechnung & Rechnungsstellung
Angebote / Schätzungen
Angebotserstellung
Anpassbare Felder
Audit Trail
Automatisierte Angebotserstellung
CRM
Dokumentenmanagement
Drittanbieter-Integration
Elektronische Unterschrift
Elektronische Zahlungen
Erinnerungen
Inhalt-Bibliothek
Integration in die Buchhaltung
Kontaktmanagement
Kontrolle des Genehmigungsprozesses
Kundenspezifisches Branding
Preis- und Kostenkalkulationen
Preismanagement
Produktkonfigurator
Rabattmanagement
Schätzung
Versionskontrolle
Vertrags-/Lizenz-Management
Vorlagen
Vorlagen-Management
Werkzeuge zur Zusammenarbeit
Wissensbasis-Management
Workflow-Management
Zugriffskontrollen / Berechtigungen
Alternativen für QuoteWerks
Bewertungen über QuoteWerks
Garry
Vice President in USA
Verifizierter Nutzer auf LinkedIn
, 11-50 Mitarbeiter
Verwendete die Software für: Mehr als 2 Jahre
Fantastic tool for building and managing your sales opportunities and quotes.
Kommentare: The quote visibility and access to online sync resources is super helpful in our quoting process.
Our sales team couldn't operate without Quotewerks any longer. It has become integral to our processes.
Vorteile:
Quotewerks has the ability to see if and when your customer sees your quote. When we were looking into the product, we had received a quote from our Quotewerks sales rep and it had been ignored and was expired. We opened the quote a few weeks later to take a quick look at it and 15 minutes later we got a phone call from our sales rep. "I see you opened this expired quote. I wanted to answer any questions for you and get an updated quote if you are still interested." That sealed the deal for us. Then we found out all of the other amazing things it could do and have loved it every day. It has easily paid for itself many times over.
Nachteile:
Quotewerks must run locally. There is a web version in development, but it is still pretty green. If you need to use it remotely you will need either Terminal Services or VPN to access it. The Quote Valet add-on gives it some web connectivity features which are helpful for viewing existing quotes and responding to customers, but not necessarily for building new quotes. Once they get the web version finished, that should help with this a lot. The product can also be a little bit kludgy to learn at first. It's been around for a long time so some of the interface is a bit antiquated.
Cheryl
Co-Founder and CEO in USA
Verifizierter Nutzer auf LinkedIn
Gesundheit, Wellness & Fitness, 2-10 Mitarbeiter
Verwendete die Software für: Mehr als 2 Jahre
We ♥ QW!
Kommentare: We use QW for all sales quotes that are generated in our office. Prior to QW, quote writing was done in MS Office. The implementation dramatically reduced time writing quotes and errors. The ACT/Sage/edi integration completely eliminated duplicate data entry. The software is very easy to keep up to date, which was also kind of a 'sketchy' set of tasks prior to QW. The QW tech support people are top knotch professionals. During our implementation they were EXTREMELY supportive and wanted to ensure that we were self sufficient. After 2 years, we don't call them much (I am sure they miss us), but when they do that are terrific.
Vorteile:
Integration with our CRM (ACT) and our accounting S/W (Sage) was a major selling point. We also export .xml files and import them into warehouse management system via edi. Ease of use was also very important to our purchase decision. QW was also recommended to us by our ACT consultant who was familiar with our business. The online QW demo and videos were great at showing the ease of use of the product too.
Nachteile:
The reporting function is not great. We invested in MasterMine for QW. Since we made the MasterMine investment, we are able use the data out in QW to a much fuller extent for business planning and decision making. .
Verifizierter Rezensent
Sales Executive in UK
Verifizierter Nutzer auf LinkedIn
Baumaterial, 11-50 Mitarbeiter
Verwendete die Software für: Mehr als 2 Jahre
Quote and Proposals
Vorteile:
Quotewerks has very much dictated our business and workflow for the past 8 years or so. As a quoting tool, it is very powerful. There is a small learning curve and we admittedly do not use all the available features, mainly due to the slightly outdated user interface. The Quote layout designer is very powerful especially if you have a developer that knows how to build out the templates.
Nachteile:
The overall user experience and interface could be improved as it is not overly friendly. Better support documentation would also help improve the knowledge of the software and what it can do.
Antwort von Aspire Technologies
vor 2 Monaten
Thank you for taking the time to review QuoteWerks and being a member of the QuoteWerks Community for over 8 years. The interface of QuoteWerks is evolving on the QuoteWerks Web side while still keeping key elements from QuoteWerks Desktop to limit training and retraining. As far as documentation, there are quite a few videos (https://www.quotewerks.com/video.asp) on our Website and also extensive training documentation (https://www.quotewerks.com/helpfilelatest/qwhelp.htm?quotewerksmainhelp.htm). If there is something that you would like to see added or if there is something you need clarification on, please feel free to reach out to our technical support team (https://www.quotewerks.com/support.asp).
Wayne
Vice President of Operations in USA
Verifizierter Nutzer auf LinkedIn
Computer-Hardware, 11-50 Mitarbeiter
Verwendete die Software für: Mehr als 2 Jahre
Quotewerks Helped Our Company Grow!
Kommentare: Our business model focuses on providing an outsourced procurement staff. I can honestly say we would not be as successful as we are without the use of Quotewerks. The efficiency of getting quotes assembled and distributed allows us to run a lean staff and maximizes our resources. The distributor integrations also reduced our RMAs significantly by allowing us to place the orders directly through Quotewerks instead of manual entry where mistakes can occur. Overall we couldn't be more pleased at how Quotewerks has helped our business grow.
Vorteile:
The ease of use and various integrations are some of it's strongest features. We had no issues getting it plugged into our CRM and Accounting software packages. When we had questions, Quotewerks support was always there to help guide us.
Nachteile:
Any issues we have with Quotewerks is purely minor issues like adding other shipping companies to the list in the procurement tracking model. There are workarounds to still provide tracking for LTL and regional freight couriers, but it would be nice to be able to have the ability to track all of the couriers.
Rob
VP of Operations in USA
Verifizierter Nutzer auf LinkedIn
Maschinenbau oder Wirtschaftsingenieurwesen
Verwendete die Software für: Mehr als 2 Jahre
We are a manufacturer's rep firm and this quote-generation software simplified our system.
Kommentare: Saved time; provided a professional appearance to our out-bound quotes; easily integrated with our accounting software; allowed us to better work together as a team to complete sales; easily integrated with our CRM software.
Vorteile:
We find QuoteWerks to be fairly priced. It is customizable to suit our particular needs. Whenever we have had any technical trouble, the tech support team has always been quick and very knowledgeable. We have the professional edition tied into our Quickbooks accounting software, which has resulted in a large time savings!
Nachteile:
The GUI isn't the prettiest or most modern, but it is functional and mostly intuitive. There have been frustrations with technical issues from time to time, but they are usually pretty quickly resolved with help from tech support or in an future software update. Updates are frequent and fix bugs often.