Was ist TraceCloud?
Wir tun nur eine Sache, und wir tun es am besten. Wir machen nur Requirements Management TraceCloud ist die am einfachsten zu bedienende, und leistungsfähigste Requirements Management & Traceability-Lösung auf dem Markt. Sieh selber Änderungspropagierung, Auswirkungsanalyse, Rückverfolgbarkeit und Global Shared Anforderungen in Aktion. Wenn Du eine System- / Hardware- / multidimensionale / Dezentrale Organisation bist, prüfe bitte unsere kostenlose Testversion. Verfügbar On-Line und On-Premises. $ 30 pro Benutzer oder $ 100 pro Projekt.
Wer verwendet TraceCloud?
Große Projekte, dis
Wo kann TraceCloud bereitgestellt werden?
Cloud, SaaS, webbasiert, Windows (Desktop)
Über den Anbieter
TraceCloud
2008 gegründet
24/7 Live-Support
Chat
TraceCloud Kosten
Startpreis:
47,00 $/Monat
Ja, kostenloser Test verfügbar
Ja, Gratisversion verfügbar
TraceCloud bietet eine Gratisversion und eine kostenlose Testversion. Die kostenpflichtige Version von TraceCloud ist ab 47,00 $/Monat verfügbar.
Preismodelle
Kostenlose Testversion
Über den Anbieter
TraceCloud
2008 gegründet
24/7 Live-Support
Chat
TraceCloud – Videos und Bilder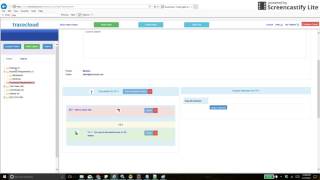 TraceCloud Funktionen
Priorisierung
Rückverfolgbarkeit
Stakeholderdefinierte Attribute
Veränderungsmanagement
Werkzeuge zur Zusammenarbeit
Alternativen für TraceCloud
Bewertungen über TraceCloud
Pawel P.
Product Director, Sonar Systems in USA
Verifizierter Nutzer auf LinkedIn
Maritime Wirtschaft, 51-200 Mitarbeiter
Verwendete die Software für: Mehr als 2 Jahre
Excellent tool for systematic approach to requirement feasibility.
Kommentare: Lined up understanding and focus of the team working on the project.
Vorteile:
By structured approach keeps team on focused development path. This is the biggest strength. Allows to avoid misundestandings and serves a common discussion / collaborations online platform for dynamic team. Linking with other systems (such ticketing system) is great. Helps relate the requirements to actual development work. Also helps to have a messy discussion away from the requirements, yet still accessible if needed. Exporting, cloning, children, importing of requirements is great. Keep things lined up in solid tree / folder structure which can be customized to what is needed. The tree structure (folders) can be called to match the business nomenclature which was helpful for us. Filters and reports are great help to manage the project, gives instantaneous snapshot of requirements progress.
Nachteile:
The editor is not that intuitive, but has many great features to manage requirements like cloning and children.
Jeffrey W.
Senior Consultant in USA
Informationstechnologie & -dienste, 51-200 Mitarbeiter
Verwendete die Software für: 1-5 Monate
Requirements Tracing without the large price tag or high learning curve to get started
Kommentare: The overall experience has been very positive and product.
Vorteile:
The ability to begin using the tool productively right away - and without a large expense up front. The pricing model enabled us to take advantage of RTM without passing the cost on to our customers. Response to support issues has been very fast.
Nachteile:
The interface is basic (but has provided everything we have needed to manage the requirements for our initial project). Improvements are being made quickly (several new features have been added since we began using TraceCloud)
In Betracht gezogene Alternativen: Orcanos, SpiraTeam, Visure Requirements, Helix RM und ReqView
Gründe für den Wechsel zu TraceCloud: Lost cost of implementation, cloud based, low learning curve to become productive, quick response to support issues
Verifizierter Rezensent
Sr. Firmware Engineer in USA
Verifizierter Nutzer auf LinkedIn
Elektrische/elektronische Fertigung, 10.000+ Mitarbeiter
Verwendete die Software für: Mehr als 2 Jahre
Capable, but gets some of the basics wrong
Kommentare: It was chosen for our team, so we use it. It gets the job done with respect to satisfying audit requirements, but the relative "pain" for the casual user means that we don't take as much advantage as we probably could.
Vorteile:
Good for creating an auditable set of linkages from "customer story" through requirements to test artifacts.
Nachteile:
Blows it on simple things. Every time I get logged out due to inactivity, the web client goes to a dead "Confirm form resubmission" page which doesn't actually work if you refresh. I have to manually reset the URL back to tracecloud.com or the login page. After login, I have to manually navigate back to the project I was using. Creating test records or other artifacts not always intuitive to the casual user.
Jeanne A.
Principal Quality Engineer in USA
Medizinische Geräte, 11-50 Mitarbeiter
Verwendete die Software für: 1-5 Monate
Very good value - a lot of features and functionality at very reasonable price.
Kommentare: Traceability is the primary value from this software (among standards, user needs, requirements, risk controls, interface control documents, test protocols). Previously performed all tracing via Word and Excel tables which is very labor intensive, fragile and error prone.
Vorteile:
The feature for connecting projects (=user defined database areas) facilitates organizing data in logical, manageable groups with appropriate user permissions. Even though separate areas still achieve full traceability between related requirements. Customizable attributes and folder views allows tailoring to suit our needs. Can merge database output with a Word document template when exporting data. This allows for database output directly into Word doc with custom company header and footer. Trial license allowed me to explore and become comfortable with tool before purchase. At point of purchase I was confident it would do the job. The interactive Trace Map view of trace relationships is very nice. You can follow it down a path and expand/contract the information as needed. Plus you can click on any requirement in the Trace Map and go directly to that requirement detail in the database. Exceptionally fast response from support team on questions. Often get a response within a few minutes.
Nachteile:
User interface is not as polished or intuitive as some other requirements management tools that I've previously used. However, once you explore the tool and understand how it is organized and the functions, then not an issue. I think it helped to have used other relational databases before using TraceCloud. For example, nearly all filtering and selection of data is done via the "Report" function which essentially means via database queries, rather than vi a more interactive user interface. The reports can be saved and run again later, which is good. The on-line documentation and 'how to' videos do not match the current user interface. All the features and functions are there but are presented in the User Interface differently than in the documentation. Word template feature doesn't support .docx formats, so you have to remember to create Word templates as .doc (Word 97-2003 files).
Alex D.
Systems Integration Engineer in USA
Verifizierter Nutzer auf LinkedIn
Transport/Güterfrachtverkehr/Schienenverkehr, 10.000+ Mitarbeiter
Verwendete die Software für: Mehr als 2 Jahre
TraceCloud for Transit System Infrastructure Porjects
Kommentare: TraceCloud has been overall a great tool for implementing practical Systems Engineering practices into the transit infrastructure industry which has not traditionally accepted practices such as requirements verification and validation, and interface management. The customer support has been very helpful as well, and we look forward to expanding this SW across our company's infrastructure business line.
Vorteile:
TraceCloud enables civil engineering users without any SW development experience to easily develop a custom online environment. TraceCloud's flexibility (and customer support) is also extremely helpful for projects that span multiple years, transition through various phases and experience large volumes of user turnover.
Nachteile:
The layouts could be optimized to reduce white space and condense information. SW developed for a web browser should be better customized to maximize usable space and adjust for various browser window configurations (half screen, full screen, etc.)