Was ist CartStack?
CartStack's multichannel recovery campaigns give online retailers the power & leverage needed to recapture 20% of lost online sales. Combining automated emails, SMS text reminders and push notification campaigns with on-site conversion tools allows sellers to reengage and recapture even the coldest of leads.
Sign up for a free trial today to and use CartStack free for 14 days, or until you've recovered $1,000 ... whichever takes longer!
Wer verwendet CartStack?
Online retailers, reservation-based businesses (Hotels, Restaurants, Online Events & Ticketing), ecommerce marketing agencies and any multiple page online form.
CartStack – Details
CartStack
2011 gegründet
CartStack – Details
CartStack
2011 gegründet
CartStack – Videos und Bilder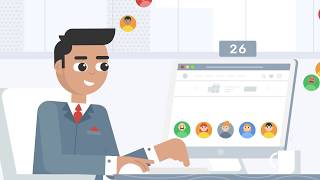 Kosten ähnlicher Produkte wie CartStack vergleichen
Startpreis
29,00 $/Monat
25,00 $
Nicht verfügbar
900,00 $/Monat
CartStack – Bereitstellung und Support
Kundenbetreuung
E-Mail/Helpdesk
FAQ/Forum
Wissensdatenbank
Telefon-Support
Chat
Training
Live Online
Webinare
Dokumentation
Videos
Ramon K.
Online Marketing Director | Business Develoment in USA
Verifizierter Nutzer auf LinkedIn
Konsumgüter, 2-10 Mitarbeiter
Verwendete die Software für: Mehr als 2 Jahre
A must for any ecommerce website!
Kommentare: Overall, our experience with CartStack has been nothing short of phenomenal. Their support is friendly, their tool is easy to use once setup. They are constantly adding features and I would hesitate to say the exact numbers but we consistently recovered well over six figures a year since we have started with them so the results speak for themselves!
Vorteile:
Even though we had a little bit if trouble getting it set up, once we did, we have never look back. What do I like the most? Easy, the money that we recover each month! They care about their customers, listen their feedback and are constantly improving the tool. I woulds say that they way they run their business is an exception to the rule compared to most other software companies, especially the very large ones.
Nachteile:
It was a little tricky to set up but it was worth the trouble as it runs on code instead of plugin which helps our CMS run smoother.
Verifizierter Rezensent
General Manager in USA
Verifizierter Nutzer auf LinkedIn
Groߟhandel, 2-10 Mitarbeiter
Verwendete die Software für: Mehr als 1 Jahr
A strong tool for a specific purpose
Kommentare: We use it to generate abandoned cart emails automatically, and it captures lost sales. We only send one email per cart, but it has more advanced features we have not yet tried. Some do not seem to apply to our industry, as we're B2B, but others are of potential interest to me. I like that they are offering new features over time, that extend the potential uses for the tool. For example, they just added call tracking, so we will be able to see how many phone calls are generated from the abandoned cart emails directly.
Vorteile:
I like that it is effective. It automatically generates abandoned cart emails, and it captures lost sales. It is generally simple to use.
Nachteile:
HTML editor is frustrating. It's not as flexible as I'd like. I either have to go in cold turkey with my own HTML code, or use provided templates - but then it's hard to edit their template HTML. Can only use the WYSIWYG editor, rather than go behind the scenes to make HTML edits. Some of our product titles have dimensions, including apostrophes to designate inches, and the characters after the apostrophes cannot be displayed inside our CartStack emails. So, some of our products come across as "18" or "22", which is frustrating.
Antwort von CartStack
vor 8 Monaten
Thank you for the feedback. In regards to our email editor, the best way to edit the HTML of any of our drag & drop templates is by first choosing your base template, and then switching over to the HTML editor to customize it however you'd like. If you'd like to reach out, we'd be happy to show you how this works. :)
Konsumgüter, 2-10 Mitarbeiter
Verwendete die Software für: 6-12 Monate
Very pleased customer
Kommentare: With the help of CartStack we have been able to grow our sales and now we want to implement it on one of our other website. I look forward to seeing that site take off...
Vorteile:
Honesly, I never realized how many customer would visit our website and they just leave.... now we make many more sales simply by offering a discount code.
Nachteile:
There is nothing I don't like. If I need help, its easy to ask Adam for a hand.
Mark O.
Account Manager in USA
Gastgewerbe, 51-200 Mitarbeiter
Verwendete die Software für: 6-12 Monate
A Great Start (if it works with your booking engine)
Kommentare: We've seen great recovered revenue, the support has also been prompt as well.
Vorteile:
If the tracking all works correctly and there's ample traffic to your booking engine - the results are phenomenal!
Nachteile:
There are a lot of tracking issues with various booking engines. In certain cases, it simply does not work.
Einzelhandel, 2-10 Mitarbeiter
Verwendete die Software für: 6-12 Monate
No brainer... pays for itself, and increases sales - what more can you want??
Kommentare: Excellent and Im not getting paid to say this, give credit where its due, and its to them. No doubt.
Vorteile:
Intergation went smooth, any questions I had were MORE than promptly answered, basically, if you have any type of email marketing, to not have this is simply a foolish decision. Most that do not get it, just don't want extra monthly fees, but, when you see the results after Month 1, you cant deny what this is. Just stay priced well and keep up the excellent work and we are more than happy!
Nachteile:
Nothing, the email templates were updated, constantly new things rolling out, not one issue, how can you have an issue with more business???
Antwort von CartStack
vor 3 Monaten
Wow, thanks so much for the kind words, James! We love that you've had such a great experience. :)