Was ist MightyCall?
MightyCall bietet virtuelle Telefonsysteme an.
MightyCall VoIP ist für Unternehmer*innen und kleine Unternehmen ausgelegt.
MightyCall ist einfach, erschwinglich und effektiv. Du brauchst keine spezielle Hardware, es wird nicht pro Nutzer*in wie sonst branchenüblich und auch nicht pro Funktion abgerechnet.
Wer verwendet MightyCall?
Kleine und mittlere Unternehmen, optimiert für Einzelunternehmer*innen und Unternehmen mit bis zu 100 Mitarbeiter*innen. Geschäftsinhaber*innen mit einem iOS- oder Android-Gerät.
Wo kann MightyCall bereitgestellt werden?
Cloud, SaaS, webbasiert, Mac (Desktop), Windows (Desktop), Android (mobil), iPhone (mobil)
Über den Anbieter
CallCurrent
Ansässig in Wilmington, USA
2012 gegründet
Telefon-Support
Chat
Erhältlich in diesen Ländern
Kanada, Vereinigte Staaten
Über den Anbieter
CallCurrent
Ansässig in Wilmington, USA
2012 gegründet
Telefon-Support
Chat
Erhältlich in diesen Ländern
Kanada, Vereinigte Staaten
MightyCall – Videos und Bilder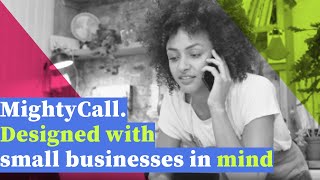 Kosten ähnlicher Produkte wie MightyCall vergleichen
MightyCall Funktionen
Aktivitäts-Dashboard
Alarmfunktion / Benachrichtigungen
Anrufaufzeichnung
Anrufer-ID
Anrufprotokoll
Anrufüberwachung
Automatische Anrufverteilung
Berichterstattung / Analyse
Berichterstattung über Anrufe
Call Screening
Drittanbieter-Integration
Für kleine Unternehmen
IVR / Spracherkennung
Kommunikationsmanagement
Konferenzschaltung
Konferenzschaltungen
Kontaktmanagement
Management der Anruflisten
Mobiler Zugriff
PBX
Syndikat-Gruppen
Umleitung der Anrufe
Verfolgung von Interaktionen
Virtuelle Erweiterungen
VoIP-Verbindung
Voice-Mail
Voicemail-Transkription
Warteschlangenmanagement
Weiterleitung von Anrufen (Call Routing)
Alternativen für MightyCall
Bewertungen über MightyCall
Jordan H.
Founder in USA
Verifizierter Nutzer auf LinkedIn
Freizeit, Reisen & Tourismus, 2-10 Mitarbeiter
Verwendete die Software für: Mehr als 1 Jahr
Packed with A Lot of Features
Vorteile:
The ability to auto record calls and easily configure menus was very helpful.
Nachteile:
It would be nice to be able to control call groups more than just having a list and also it would be nice to have the good music not start over every time someone is on hold but continuously play so that when put on hold they jumped in where it was.
Antwort von Infratel
vor 2 Jahren
Hey Jordan, Thanks for the review! We will look into various technical possibilities for extending call group flexibility within the system!
Timothy B.
CFM in USA
Verifizierter Nutzer auf LinkedIn
Einzelhandel, 2-10 Mitarbeiter
Verwendete die Software für: 1-5 Monate
In Betracht gezogene Alternativen:
Solid Low-Cost (no pay-per-minute)
Kommentare: We have not had any problems at all. Calls are easily identified. We can make calls from our toll-free number. Quality is perfect. No complaints.
Vorteile:
It made it super easy to find a toll free vanity number. The cost was better than other providers and their plans are for an unlimited amount of minutes. The setup is very easy to do and intuitive. We were able to do a lot of very nice things with our phone system to make us sound like a huge company. Customer service was always right on, quick, and friendly.
Nachteile:
I wished there was a way that customers who called (while all lines were busy) could just wait forever until someone was available. Apparently, this is an expensive feature and the only softwares I found that could do this were exponentially more expensive. Also, I would have liked to be able to just type a script in the prompts and have a friendly voice read them for me. I think they offered voice over service, but with a fee.
Antwort von Infratel
letztes Jahr
Hey Timothy, Glad to hear the service is going well for you. Regarding the wait times, how has your experience using call queues been? Is that not helping keep customers on the line waiting enough?
Mohamed E.
Junior Partner in Ägypten
Outsourcing/Offshoring, 201-500 Mitarbeiter
Verwendete die Software für: 6-12 Monate
Look no further than Mighty Call if you need a Dialpad replacement
Kommentare: We needed a phone system that could replace Dialpad which was getting more expensive while also having technical issues with call connectivity.
Vorteile:
The pricing, IVR, and ease of use of Mighty Call made it an instant favorite for our company.
Nachteile:
It has a bit of a learning curve, and if you're using the software without call forwarding you need to make adjustments in every new user you create in your mighty call account, otherwise its great.
Marisa E.
Web Guru in USA
Unternehmensberatung, 11-50 Mitarbeiter
Verwendete die Software für: Mehr als 1 Jahr
In Betracht gezogene Alternativen:
Seemed Promising But...
Kommentare: On the plus side, people know that it's a business call. It's cheaper than what we had. On the downside, we kept getting a missed call notification every single time someone got to our phone tree and hung up. I had to tell my team to just shut off their notifications and just have it email them if they got a voicemail because otherwise we were getting so many of these notifications every day. And then the no-vacation mode thing really screwed some stuff up a few times. We ended up having to have that person get a Google Voice number to set as their Mighty Call number and then transfer their GV to another coworker because we couldn't do it within their system. Let's face it, people take vacations. People are out of the office sometimes. Seems pretty crazy to not have some way to forward that person's calls.
Vorteile:
It was a lot cheaper than what we were using. We also liked the idea of the app because it meant that we could tell that it was a business call vs. a personal call which is something we couldn't do with our previous software.
Nachteile:
There is no vacation mode. I used to be able to forward one of my coworker's extensions to another coworker while they were out of the office but I can't do that anymore. Which means that when one of our sales people is out of the office on vacation, all of those calls just go to voicemail. Which, in a small business, really isn't acceptable. I actually asked your customer service about this one day (on a day when I really needed this feature to work) and was told that not only could I not do it but that it wasn't essential for our business. Which was uncalled for and frankly untrue. There needs to be some way to temporarily transfer someone extension to someone else or enable a vacation mode and it automatically transfers calls to another person or something.
Antwort von Infratel
vor 2 Jahren
Hey Marisa, We're sorry to hear your customer service experience was so unhelpful. We appreciate you giving the service a chance and are sorry the lack of options for rerouting calls to an employee on vacation cost your business. ~regards
Lindsay B.
Operations Director in USA
Non-Profit-Organisation Management, 11-50 Mitarbeiter
Verwendete die Software für: 6-12 Monate
In Betracht gezogene Alternativen:
Inexpensive and functional
Kommentare: Customer service before setting this up and after has been helpful. It was easy to set up and we haven't had any issues since.
Vorteile:
The price for our non-profit is perfect. We got rid of our desktop phones and everyone uses their cell phone or computer. Easy to set up. Great customer service. Number of Users and extensions.
Nachteile:
I have not encountered any problems yet.
Antwort von Infratel
vor 8 Monaten
Hey Lindsay, We're thrilled to hear the system has been working so well for you! Best of luck continuing to run your Non-profit!