Was ist Waste Logics?
Waste Logics is a cloud-based waste management software - intuitive, easy to use & full of sophisticated features. Create bookings, track progress, provide great customer service & analyse business performance. Enjoy the flexibility of accessing all your information from anywhere, on any device.
Benefits your entire team by:
Reducing the risks to your business; Providing immediate insights into your performance; Helps you create a competitive environment; Saves you money and increases profits.
Wer verwendet Waste Logics?
Waste management companies who provide any of the following services - skip hire, trade waste, waste transfer stations, materials recycling facilities and scrap metal processors.
Waste Logics – Details
Waste Logics Software
Waste Logics – Details
Waste Logics Software
Waste Logics – Videos und Bilder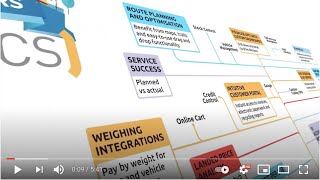 Kosten ähnlicher Produkte wie Waste Logics vergleichen
Startpreis
Nicht verfügbar
Nicht verfügbar
20.000,00 $/einmalig
Nicht verfügbar
Waste Logics – Bereitstellung und Support
Einsatz
Cloud, SaaS, webbasiert
Android (mobil)
Training
Persönlich
Live Online
Webinare
Dokumentation
Funktionen von Waste Logics
API
Abfall-Tracking
Abfallentsorgung
Abrechnung & Rechnungsstellung
Aktivitäts-Dashboard
Aktivitäts-Verfolgung
Alarmfunktion / Benachrichtigungen
Anpassbare Berichte
Arbeitsauftragsverwaltung
Audit Trail
Auftragsmanagement
Automatisierte Terminplanung
Barcode-Erkennung
Berichterstattung und Statistik
Bestandsverfolgung
Bestell-Management
Buchhaltung
Compliance Management
Daten-Import / -Export
Drittanbieter-Integration
Echtzeitüberwachung
Elektronische Zahlungen
Fahrzeug-Nachverfolgung
GPS
Geografische Karten
Gerätenachverfolgung
Gewerbliche Immobilien
Inventarverwaltung
Job-Management
Job-Nachverfolgung
Kostenverfolgung
Kundendatenbank
Kundenkonten
Mitarbeitermanagement
Rechnungsmanagement
Risiko-Warnungen
Risikobewertung
Routenmanagement
Routenoptimierung
Routing
Self-Service Portal
Service-Anrufmanagement
Standortverfolgung
Statusverfolgung
Terminplanung
Terminverwaltung
Versandmanagement
Wohnimmobilien
Workflow-Management
Überwachung
API
Abrechnung & Rechnungsstellung
Aktivitäts-Dashboard
Aktivitäts-Verfolgung
Alarmfunktion / Benachrichtigungen
Arbeitsauftragsverwaltung
Asset Lifecycle Management
Barcode / Tickets scannen
Barcode-Erkennung
Berichterstattung und Statistik
Bestandsverfolgung
Bestell-Management
CRM
Compliance Management
Container-Management
Drittanbieter-Integration
Echtzeit-Berichterstattung
Echtzeitüberwachung
Elektronische Unterschrift
Elektronisches Recycling
Empfang- / Produktionsmanagement
Fabrik-Management
Geografische Karten
ID Scannen
Integration in die Buchhaltung
Integrierte Kameras
Inventarverwaltung
Job-Nachverfolgung
Kartenkauf / -verkauf
Kostenverfolgung
Kundendatenbank
Kundenkonten
Kunststoff-Recycling
Logistik-Management
Management des Maklergeschäfts
Marktpreis-Nachverfolgung
Mitarbeitermanagement
Preis- / Margen-Management
Rechnungsmanagement
Scannen von Fingerabdrücken
Schrott-Recycling
Self-Service Portal
Standortverfolgung
Suchen / filtern
Versand-Management
Versandmanagement
Vertrags-/Lizenz-Management
Workflow-Management
Zellstoff & Papier-Recycling
Überwachung
Jon P.
Operations Manager in UK
Verifizierter Nutzer auf LinkedIn
Transport/Güterfrachtverkehr/Schienenverkehr, 11-50 Mitarbeiter
Verwendete die Software für: Mehr als 1 Jahr
DP Skip Hire - user friendly and easy to use
Kommentare: The software has been a huge help in our growth as a business and to be honest I don't know what we would do without it. As a company with over 25yrs experience I would highly recommend Waste Logics to any other skip company. It covers all aspects of the job and more. Great back up service. Keep up the good work guys!
Vorteile:
User friendly, plenty of different reports and great back up service.
Nachteile:
Some modules that could be free of charge
Antwort von Waste Logics Software
letztes Jahr
Jon, We really appreciate you stopping by to leave us such positive feedback! It has been a pleasure to assist you and your business in growth over the years and we look forward to many more! Thank you, - Waste Logics
Umweltdienstleistungen, 51-200 Mitarbeiter
Verwendete die Software für: Mehr als 2 Jahre
waste logic
Kommentare: better response time now but when we need something developing it needs to go into suggestions and if more users want it then it gets further up the list towards development. if we want something done we need it done asap so would be happy to pay.
Vorteile:
ease of use on weighbridge and operational transport.
Nachteile:
reporting could be better with a better report writing function. Mapping system is not to good.
Antwort von Waste Logics Software
letztes Jahr
Hi Adrian, Thank you for your review. It's great to hear you find the weighbridge and operational transport aspects easy to use on the system. We have contacted you via email regarding the maps, as we do have this feature but you aren't currently utilising it, so we can get some training set up for that. Similarly with the reports, you have our BI reporting tool but it isn't in use from what I can see. We can certainly assist on getting you started with those features. Speak soon - Waste Logics
Chris C.
Accounts manager in UK
Umweltdienstleistungen, 11-50 Mitarbeiter
Verwendete die Software für: Mehr als 1 Jahr
Not as flexible a system as when sold to us.
Kommentare: Its supposed to be quicker but you have to go around the houses to even put on a new job or new note. If you could just go into the one screen and fill out the form and not have to back and forward with things it would be much simpler and time saving. It does have its good points on straight forward deliveries but as for the rest its is frustrating to say the least.There is no manipulation with invoices as to when and what invoice things get charged on so again frustrating and cannot be used with our former system which our customers are familiar with so payments are not held up.
Vorteile:
You can see what bins are out and where, at more or less a glance.The weekly stats are helpful.
Nachteile:
Not a lot of point to this review when its an answer question review as most of the questions that are relevant are not here to answer. Even if they were here to answer, there's not a lot of point because nothing seems to get sorted. We have waited over a year to get an issue that we were promised when we first took out the system, but still nothing on the horizon to sort this. excuses are - we have taken on other customers that need to be sorted first - don't worry about the ones you already have! Last August we were apparently at the top of the list (an email to inform us of this) but still not anything done! Invoices cannot be in the format that we require so it would mean 10 page invoices being sent for some customers, not a good thing to get them paid on time!
Melissa L.
Quality Manager in UK
Transport/Güterfrachtverkehr/Schienenverkehr, 11-50 Mitarbeiter
Verwendete die Software für: Mehr als 1 Jahr
A good system but nobodies perfect
Kommentare: The system in principal is a wonderful thing. It saves time and allows a much easier picture of what is going on. There are a couple of things which we have found don't suit the way we run but we can work round them. The main bug bear is the time it has taken to get the transfer notes sorted.
Vorteile:
It is great for being able to allocate drivers jobs and see weights and times rather than having to use a paper diary and waiting for drivers to return to site. Pictures on site tied to the order are very helpful as we have proof of bins being delivered and what waste has been placed in them before collection.
Nachteile:
There is no function to change jobs from new to wait and loads which can be annoying. We also find that sometimes we are doing things twice to be able to get yard trade orders on the system. There is also no way for the system to stop you placing the same address in twice.
Antwort von Waste Logics Software
letztes Jahr
Hi Melissa, It's great to hear you find allocating orders easy with the electronic aspect of this, including the ability to take photos and report issues. The feature you mentioned for changing the skip order type has been in development recently, so keep an eye out for it! I have emailed you also regarding adding yard trade orders twice, as that shouldn't be the case so we can get to the bottom of that. Regarding the electronic consignment notes we have been working on lots of exciting features but it is in the pipeline as advised. We have hired more developers and can only implement so many big feature changes at once. This is now in development though and we luckily have 2 Haz waste experts guiding us to ensure our interpretation of the requirements are correct and flexible enough for all types of haz waste. We will touch base with you via email to confirm this too. Thanks again - Waste Logics
James C.
Waste Operations Manager in UK
Versorgungsunternehmen, 51-200 Mitarbeiter
Verwendete die Software für: Mehr als 2 Jahre
A Powerful Player
Kommentare: Great. i have used 5 other systems and this is by far the best. other systems include, waste metrics, Gatehouse, Racy, avery systems and FCC's own in house system Gladys. this one is by far the best with the most features. still loads more that can be added also
Vorteile:
Its user friendly. it looks good and is generally well laid out. i believe that makes a big difference when you are expecting a lot of people to use the software. it must make their job easier. or else they will avoid using it. the old drivers app on the old tablets were glitchy. people were nervous. since further development people wanted to move to using the driver app. a lot of thoughthas been put in to the UI and it shows
Nachteile:
it takes a long time lto learn all of the different features. although the training info is good a beginners guide would have helped me in the early days. not sure if they provide this now
Antwort von Waste Logics Software
letztes Jahr
Thank you for your great feedback Jim! It's amazing to hear that it has made such a difference to yourselves especially with lots of users. Our mobile tech team will be pleased to hear their hard work on the UI has paid off too. We certainly do have lots of training resources now such as training videos right from the basics through to advanced, written documents and of course our support team are on hand 24/7. Thanks again! - Waste Logics