Was ist Turnkey Lender?
TurnKey Lender ist eine cloudbasierte Kreditvergabesoftware zur Bewertung von Kreditnehmern, zur Entscheidungsunterstützung und zur Automatisierung von Online-Kreditvergabevorgängen. Die Plattform deckt alle Phasen des gesamten Kreditlebenszyklus einschließlich des Kreditnehmermanagements ab: Vergabe, Versicherung, Sicherheit, Betreuung, Erhebung und Berichterstattung. TurnKey Lender bietet ein einzigartiges, anpassbares Set von proprietären Kreditentscheidungsregeln und Scoring-Methoden in Verbindung mit automatisierten Auszahlungen, Rückzahlungen, Kreditbüroanfragen usw.
Wer verwendet Turnkey Lender?
Software ideal für: Online-Kreditgeber; Zahltag-Darlehen / Vorauszahlung; Mikrofinanz-Institute, Kredit-Genossenschaften; kleine und mittelgroße Banken; Kreditvergabe an Click-and-Click-KMUs.
Wo kann Turnkey Lender bereitgestellt werden?
Cloud, SaaS, webbasiert
Über den Anbieter
Turnkey Lender
2014 gegründet
Telefon-Support
24/7 Live-Support
Chat
Erhältlich in diesen Ländern
Amerikanische Jungferninseln, Anguilla, Antigua und Barbuda, Argentinien, Aruba und 53 weitere
Über den Anbieter
Turnkey Lender
2014 gegründet
Telefon-Support
24/7 Live-Support
Chat
Erhältlich in diesen Ländern
Amerikanische Jungferninseln, Anguilla, Antigua und Barbuda, Argentinien, Aruba und 53 weitere
Turnkey Lender – Videos und Bilder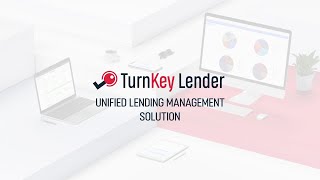 Kosten ähnlicher Produkte wie Turnkey Lender vergleichen
Turnkey Lender Funktionen
ATM-Management
Alarmfunktion / Benachrichtigungen
Audit Trail
Automat. Entscheidungsfindung / Underwriting
Automatisierte Bekanntmachungen
Bearbeitung von Krediten
Benutzer-Management
Berichterstattung / Analyse
Berichterstattung und Statistik
Buchhaltung
Compliance Management
Compliance-Verfolgung
Core Banking (Kernbankensystem)
Dashboard
Dokumentenmanagement
Elektronischer Zahlungsverkehr
Inkasso-Management
Integration in die Buchhaltung
Kontakt-Datenbank
Kreditnehmer-Management
Kundenmanagement
Mehrere Branchen
Mobiler Zugriff
Multi-Channel-Kommunikation
Online-Applikationen
Online-Banking
Portfoliomanagement
Preismanagement
Rechnungsmanagement
Risiko-Scoring
Risikoberichte
Risikobewertung
Sicherheitsmanagement
Transaktion-Überwachung
Transaktionsmanagement
Wirtschaftsprüfung-Management
Zahlungsoptionen
Alternativen für Turnkey Lender
Bewertungen über Turnkey Lender
Christopher R.
Principal in
Verifizierter Nutzer auf LinkedIn
Vermögensverwaltung, 2-10 Mitarbeiter
Verwendete die Software für: 1-5 Monate
Quelle: GetApp
Great product - excellent support!
Kommentare: We used Turnkey Lender to stand up a loan origination system for veterinary services in short order. The product has the vast majority of the functionality right out of the box, was easily integrated with a credit agency to pull FICO scores and the support team did an outstanding job making our requested customizations.
Vorteile:
Solid COTS product and very customer oriented support team.
Nachteile:
While they do offer a SAAS model, pricing seems to be slanted toward outright licensing of the product. This might be something to refine.
Bryan T.
Operations in Philippinen
Verifizierter Nutzer auf LinkedIn
Finanzdienstleistungen, 11-50 Mitarbeiter
Verwendete die Software für: 1-5 Monate
In Betracht gezogene Alternativen:
Improved Workflows and Decreased Manual Processes
Kommentare: Prior to using Turnkey Lender, we managed our loan program through Google Forms and spreadsheets. Our processes were quite manual and our growing business needs could not catch up with this. We needed a way to automate some workflows, consolidate all data into one system, and have a one-stop-shop where we can manage the program effectively. Turnkey Lender has proved to be a good solution to that problem. As with other software and products, our initial launch did not come without any issues but the Turnkey team was quick to help out and provide timely resolution. After two months of using the platform, I must say that things are quite easier now for me and my team, and using Turnkey Lender was a welcome update from having to do things manually.
Vorteile:
Turnkey Lender allowed us to improve our processes and workflows after having to manage our loan program manually for months. They were able to capture all the basic things and features we needed to get some automation started, and we are able to request further customization as needed. It was easy to use and, if we needed assistance, support was immediately available. Our project manager was also very helpful and we have continued to have a good relationship.
Nachteile:
The price for automation and organization is not cheap. And this holds true for Turnkey Lender. Their existing platform already offers a wide range of functionality, but further improvements to the product may come at a steeper price. Additionally, the platform can sometimes be a bit slow which can affect one's productivity and efficiency. Getting any custom changes in the application form out of the system via standard reporting requires additional development.
Megan B.
Insurance Specialist in USA
Medizinische Praxis, 51-200 Mitarbeiter
Verwendete die Software für: 1-5 Monate
Turnkey has all the options!
Kommentare: I recommend to not take short cuts with initial onboarding and training of the software. We've had a bit of a rocky start, but likely due to admin and employee transitions on our end. Difficult to get help from the service desk. But I found it helpful to make the ticket and then also reach out to other contacts within the company. It's generally user friendly for someone with little-to-no background as a loan officer. But I feel there is a lot more I can learn to make Turnkey more successful for us. We did not receive Sandbox instructions until very late into our setup process, and the database cannot be reset. So we are stuck with a lot of "test loans" and other test information in our reports. [SENSITIVE CONTENT HIDDEN] was helpful to find ways around this so we can have correct and current data for our reports. Onboarding with [SENSITIVE CONTENT HIDDEN]. was extremely helpful, I highly recommend him. He was very attentive to my questions about specific scenerios. If he didn't know the answer or was at all unsure he was quick to get help. Very knowledgeable and a patient trainer. I greatly appreciate him, and also [SENSITIVE CONTENT HIDDEN], for their guidance and assistance.
Vorteile:
After a bit of research for lending software - Turnkey Lender was the one for us because it starts with Origination of loans and takes you through the Underwriting/Servicing/Collection. It has all our desired features. Collateral/
Nachteile:
Integration has been a little rocky. The Customer Support has been difficult to work with, specifically to get the attentive help and solutions we have requested. But onboarding team has been eased that challenge. We have looked into switching companies since starting with Turnkey because of its lack of customer support, but ultimately couldn't find an alternative that fiscally made sense. This issue was resolved with onboarding training.
Christer O.
CEO in Dänemark
Finanzdienstleistungen, 2-10 Mitarbeiter
Verwendete die Software für: Mehr als 1 Jahr
I do not recommend
Kommentare: The worst system/platform I have ever worked with. Even if we stated everything in the original documents, they still managed to take 1,5 years to get things starting, and when they started it all went down every day. All things have two sides, but in this matter, I will blame everything over on Turnkey. They have cost us so much money and we have had problems from day one. Nothing has worked, we have found bugs every day for 1,5 years even if they tell us they have fixed it. I know they will reply that "this is due to client functions and xx xx xx" (as they do for all that complaints) but I am willing to document it all, for those who are interested. I respect some of the workers there, but I will never ever again have something to with them again. The management completely ignores you when you complain, they point the fingers on you and they say it´s your fault, no matter how often you document that, it´s not our fault. For companies that needs a stable broker/application/fintech service, stay away from them and their solution. I do not recommend them.
Vorteile:
There was NO pros with this software at all
Nachteile:
Slow system, not flexible, server crashed, no understanding
Finanzdienstleistungen, 2-10 Mitarbeiter
Verwendete die Software für: 1-5 Monate
In Betracht gezogene Alternativen:
Time saving automation
Kommentare: Overall the functionality has been a big positive. The initial set up fees were a bit steep but the ongoing rate is comparable.
Vorteile:
I like the automation, it saves a lot of time moving the loan from origination to servicing and prepopulating the necessary documents. I also like that it has a customer portal where customers can see their balance, update payment methods, and upload documents to us, like proof of insurance. There are a lot of automated emails that help customers stay on top of getting us the required documents, which saves time.
Nachteile:
Some of the set up was awkward. In one area it would have you use one code and then on the help page it would be a different code for the same item. The help team set up some of my codes because I didn't know which one I was supposed to be using.