Was ist Kareo Clinical?
Die voll ausgestattete EHR-Lösung wurde von einem praktizierten Arzt entwickelt und ist auf deine Denk- und Arbeitsweise ausgerichtet. Kareo EHR ist 2015-Edition-zertifiziert. Die Anwendung wurde für das iPad und das Web entwickelt und bietet dir eine hervorragende Flexibilität und die Freiheit, während einer Untersuchung mit deinem Patienten in Verbindung zu bleiben. Kareo EHR wurde für dich entwickelt – nicht nur MU (obwohl die Software ONC-ACB-zertifiziert ist). Mit Kareo wird die Implementierung eines EHR zum Kinderspiel.
Wer verwendet Kareo Clinical?
Kareo ist bei Arztpraxen von einem bis 10 Anbietern und bei medizinischen Rechnungsstellern mit einem bis 100 Anbietern beliebt.
Wo kann Kareo Clinical bereitgestellt werden?
Cloud, SaaS, webbasiert, iPhone (mobil), iPad (mobil)
Über den Anbieter
Kareo
Ansässig in Irvine, USA
2004 gegründet
Telefon-Support
Chat
Erhältlich in diesen Ländern
Vereinigte Staaten
Das könnte dich auch interessieren:
Allscripts Professiona...
Weitere Alternativen anzeigen
Über den Anbieter
Kareo
Ansässig in Irvine, USA
2004 gegründet
Telefon-Support
Chat
Erhältlich in diesen Ländern
Vereinigte Staaten
Kareo Clinical – Videos und Bilder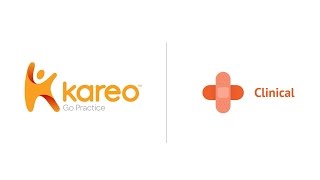 Kosten ähnlicher Produkte wie Kareo Clinical vergleichen
Kareo Clinical Funktionen
Abrechnung & Rechnungsstellung
Auftragserfassung
Behandlungsplanung
Berichterstattung und Statistik
Coding-Unterstützung
Compliance-Verfolgung
Diagramm-Erstellung
Dokumentenmanagement
Drogenreferenz-Datenbank
EMR / EHR
EPCS-konform
Elektronische Rezepte
Entscheidungsunterstützung
Formelsammlung-Management
Für Chiropraktiker
Für Physiotherapie
Für Praxen für mentale Gesundheit
Für medizinische Zwecke
HIPAA konform
Medikamenten-Historie
Medizinische Abrechnung
Medizinische Terminplanung
ONC-ATCB zertifiziert
Patienten-Terminplanung
Reklamationsabwicklung
Rezepterneuerung
Self-Service Portal
Terminplanung
Verwaltung von Patientenakten
Überprüfung der Versicherungsberechtigung
Alternativen für Kareo Clinical
Bewertungen über Kareo Clinical
Laurie
Owner
Verifizierter Nutzer auf LinkedIn
Gesundheit, Wellness & Fitness, Selbstständig
Verwendete die Software für: Kostenlose Testversion
Not the Best for a Small Clinic
Untertitel auf Deutsch sind im Videoplayer verfügbar
Cynthia
Owner / Provider in USA
Verifizierter Nutzer auf LinkedIn
Psychische Gesundheitsfürsorge, Selbstständig
Verwendete die Software für: 6-12 Monate
#1 User-Friendly EHR Ever Used!
Kommentare: In my experience of over twenty years using various EHR software platforms, I and can honestly attest that Kareo is by far the most user friendly and comprehensive EHR I have encountered in my professional career. I plan to be a loyal customer for life, thank you, Kareo!
Vorteile:
Kareo is; user-friendly for people with little software experience, ready to go with little training, excellent implementation support, good customer service, amazing templates, forms and SALT Feature that cuts time & makes documentation a snap. The formatting/presentation of EHR notes is organized & professional. I love how I can select what information to share and can easily do so through the Care Coordination feature option in each note. I enjoy having all my medical, billing, records, HIPAA approved/secured Telehealth platform, Reputation Watch, client engagment, and much more...all from one vendor! Lastly, Kareo always asks for feedback on how they can improve & additionally demonstrates their value to customer service by providing excellent communication, accountability & follow-through. Kareo offers a superior platform and fair pricing. Highly recommended.
Nachteile:
I would like to be able to attach documents to the internal email system when communicating with patients.
SLOAN
OFFICE MANAGER in USA
Psychische Gesundheitsfürsorge, 2-10 Mitarbeiter
Verwendete die Software für: Mehr als 2 Jahre
In Betracht gezogene Alternativen:
Kareo Clinical
Kommentare: Overall, our practice has had a pleasant experience. Other than some minor things that could use improvements we are satisfied. We can see that Kareo is working on improvements as they update us monthly.
Vorteile:
The software is user friendly. It has been easy for new hires to pick up and all staff in our facility including providers feel it is easy to use. They have made many daily features easily accessible such as ordering labs, sending referrals, sending msgs to patients, and scheduling. They give you updates on any new features added including links to videos on how to use new features. Issues have been minimal but when I do have issues customer support is always more than helpful, and the wait time to talk to a human on the phone is never that long. Overall best software I have had the opportunity to use in my career.
Nachteile:
The referral loop system could use some upgrading in my opinion. Erx requests section has become a chore. For example, one patient will have 6 medications, and I have to click on each one and deny/approve each one individually, I would like to have the option to select multiple medications for one patient and select the response and submit. Especially when denying the medications, if I am denying one I am denying all, it is time consuming to go through each one. Also, the denial reason section is limited. I wish I could click "other" and have a section to type my response. It is almost always the scenario where the pharmacy is trying to refill and old Rx and a new escript was sent in that they are over looking. I would like to be able to leave a msg for them with the denial. Another minor issue is that when we are gathering patients history we have the option in the chart sections "social history, & medical history" to add "custom items" this section you can add but not delete items.
Gesundheit, Wellness & Fitness, 51-200 Mitarbeiter
Verwendete die Software für: Mehr als 2 Jahre
Quelle: SoftwareAdvice
Buggy with no solutions
Vorteile:
Inexpensive and easy to use. We had a staff person who used for a solo practice and was familiar.
Nachteile:
Features are buggy. Patient messages and communication is hard to use and does not attach to the patient chart, schedule is unwieldy and buggy. You can't see blocked time in day view. There is also no audit trail for changed appointments. Lastly they fired the sales rep and did not honor his pricing and tried to lock us into a long term contract.
Medizinische Praxis, 11-50 Mitarbeiter
Verwendete die Software für: 1-5 Monate
Quelle: SoftwareAdvice
This company is highly UNETHICAL
Kommentare: I ended up firing My in house biller I called to cancel the service I was informed by [SENSITIVE CONTENT] that I had a contract and would be charged an early termination fee. I explained I am the owner of the business and I never signed a contract. My accountant [SENSITIVE CONTENT] had access to my email and electronically signed my name. That was the only communication kareo had with me personally and I wasn't even me. Looking back in my emails [SENSITIVE CONTENT] asked [SENSITIVE CONTENT] if she was a system administrator and her answer was yes with no verification from me the owner. The early termination fee was $1194 which I paid. They were unwilling to waive it and told me since [SENSITIVE CONTENT] committed the fraud I should go after her. So as a small business who is already behind on billing since my biller wasn't billing I should now pay an attorney to go after her for fraud? Not in my current budget. So after I confirmed the amount of $1194 with [SENSITIVE CONTENT] and [SENSITIVE CONTENT] From accounting two weeks later I get a bill for an additional $102 they are claiming it's for taxes and can not waive. In my humble opinion they entered into a fraudulent contract and am holding me (a small business trying to get by) accountable. I refuse to pay any more money to this unethical company and will be making a complaint to BBB. I hope potential clients will read this and not use this company there are cheaper softwares out there with better business practices.
Vorteile:
Software looks outdated and not easy to use.
Nachteile:
Reports aren't found easily when called customer support first time to find out how to log in since my former biller/accountant signed a contract without my knowledge and I had no access. I was kept on hold on and off for 40 mins with the man coming back from time to time making sure I was still holding until he hung up on me. Keep in mind all I was asking was how do I get access to a software that I pay for. Called back and [SENSITIVE CONTENT] was able to help me get access to my account.
Isaac
Physician in Sambia
Krankenhausversorgung & Gesundheitswesen, 2-10 Mitarbeiter
Verwendete die Software für: Mehr als 2 Jahre
Easy to use EHR Ever Used
Vorteile:
Kareo is; easy to use for individuals with little programming experience, all set with little preparation, great execution support, great client care, astounding layouts, structures and SALT Feature that cuts time and makes documentation a snap. The designing/show of EHR notes is coordinated and proficient. I love the amazing way I can choose what data to share and can undoubtedly do as such through the Care Coordination highlight choice in each note. I appreciate having all my clinical, charging, records, HIPAA supported/got Telehealth stage, Reputation Watch, client engagment, and much more...all from one seller! Finally, Kareo generally requests input on how they can improve and furthermore shows their worth to client care by giving brilliant correspondence, responsibility and see everything through to completion. Kareo offers an unrivaled stage and fair valuing. Enthusiastically suggested.
Nachteile:
I might want to have the option to connect records to the inward email framework while speaking with patients