Was ist MRPeasy?
Erschwingliches und nutzerfreundliches Self-Service-System für ERP (Enterprise Resource Planning) bzw. MRP (Material Resource Planning) für kleine Hersteller und Händler (10-200 Mitarbeitende). Nahtlose Verwaltung von Produktion, Lager, Kunden, Einkauf, Finanzen und deinem Team. Bleibe organisiert mit genauer Planung und Berichterstattung, Bestands- und Einkaufsmanagement in Echtzeit und einem vollständigen Überblick über das Unternehmen. Keine Kalkulationstabellen mehr, sage stets eine genaue Vorlaufzeit zu, vermeide Fehl- und Überbestände, verbessere deine interne Kommunikation und die Kundenzufriedenheit.
Wer verwendet MRPeasy?
MRPeasy bedient alle Fertigungsindustrien und bietet kleinen Herstellern (10–200 Mitarbeiter) ein ausgeklügeltes und dennoch nutzerfreundliches Manufacturing-Resource-Planning(MRP)-System.
Wo kann MRPeasy bereitgestellt werden?
Cloud, SaaS, webbasiert, Android (mobil), iPhone (mobil), iPad (mobil)
Über den Anbieter
MRPeasy
Ansässig in Tallinn, Estland
2014 gegründet
Chat
Erhältlich in diesen Ländern
Australien, Estland, Kanada, Vereinigte Staaten, Vereinigtes Königreich
MRPeasy Kosten
Startpreis:
49,00 $/Monat
Ja, kostenloser Test verfügbar
Keine Gratisversion
MRPeasy bietet keine Gratisversion, aber eine kostenlose Testversion. Die kostenpflichtige Version von MRPeasy ist ab 49,00 $/Monat verfügbar.
Preismodelle
Kostenlose Testversion
Über den Anbieter
MRPeasy
Ansässig in Tallinn, Estland
2014 gegründet
Chat
Erhältlich in diesen Ländern
Australien, Estland, Kanada, Vereinigte Staaten, Vereinigtes Königreich
MRPeasy – Videos und Bilder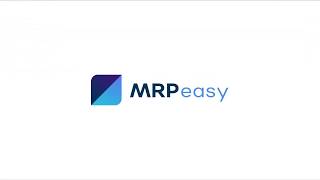 MRPeasy Funktionen
Alarmfunktion / Benachrichtigungen
Angebote / Schätzungen
Artikelverwaltung
Auftragserfassung
Auftragskostenrechnung
Auftragsmanagement
Auftragsverfolgung
Automatisierte Terminplanung
Barcode / RFID
Barcode / Tickets scannen
Berichterstattung / Analyse
Beschaffungsmanagement
Bestandskontrolle
Bestandsoptimierung
Bestandsverfolgung
Bestell-Management
Bestückung
CRM
Dokumentenmanagement
ERP
Einkauf & Empfang
Fertigungsplanung
Finanzmanagement
Integration in die Buchhaltung
Integrierte Buchführung
Integrierter Geschäftsbetrieb
Inventarverwaltung
Kapazitätsmanagement
Kapazitätsplanung
Kostennachverfolgung
Lagerhaus-Management
Lieferanten-Management
Material-Rechnung
Mobiler Zugriff
Nachbestellungen verwalten
Personalmanagement
Planung von Materialanforderungen
Produktionsplanung
Produktkennzeichnung
Prognose
Qualitätsmanagement
Retourenmanagement
Rückverfolgbarkeit
Seriennummern-Nachverfolgung
Suchen / filtern
Supply-Chain-Management
Terminplanung
Versand-Management
Veränderungsmanagement
Norbert Z.
Elektrotechniker in Deutschland
Metallabbau, 2-10 Mitarbeiter
Verwendete die Software für: Kostenlose Testversion
MRPeasy ist wirklich easy
Kommentare: Einfach zu erlernendes ERP-System. Es deckt viele Bereiche im Unternehmen ab.
Wer kein Problem damit hat, dass seine Daten in der Cloud liegen, ist mit der
Software gut bedient.
Vorteile:
Schnelle Erlernbarkeit, gute Tutorial-Videos, intuitiv und selbsterklärend
Nachteile:
Reine cloudbasierte Lösung, kein WYSIWYG - Editor für Formulare (Ausdruck),
Stefano B.
Plant Manager in Mexiko
Verifizierter Nutzer auf LinkedIn
Baumaterial, 11-50 Mitarbeiter
Verwendete die Software für: Mehr als 2 Jahre
A most dependable platform for your organization.
Kommentare: For the past 7 years I've been an active user of MRPEasy through different organizations and it comes to no surprise that MRPEasy has always been up to the task. From metalworking to composite extrusion, this tool has been able to adapt to our very specific factory needs. Definitely a great aid in growing a small business to a medium size company!
Vorteile:
It's ease of use and friendly interface makes it easy to train and quick to migrate to. We have had very little to no resistance from personnel when migrating them to use the system.
Nachteile:
Limited customization on the dashboards and reports are also a bit simple.
Antwort von MRPeasy
vor 4 Monaten
Thank you for the review!
Daniela R.
Business Administrator in USA
Fluggesellschaften/Luftfahrt, 2-10 Mitarbeiter
Verwendete die Software für: 1-5 Monate
Fantastic!
Kommentare: My experience with MRPeasy is fantastic! The transition has been seamless, my team really likes the new upgrade.
Vorteile:
Our Company had been using the same software for 17 years. This software is night and day compared to what we had. I have all the information I could need if I have any questions. I did not have that with our previous software. It's very user friendly and self explanatory, I can definitely figure out what I need with all the help they provide.
Nachteile:
The only thing I feel could be improved upon, is the quoting process. I don't like having to create an item to quote a product I might not receive. If it's possible to quote a job with out creating an item that would be amazing. Once I have the PO, then the system should prompt me to create the items.
In Betracht gezogene Alternativen: Bronto Marketing Platform und Personica
Warum MRPeasy gewählt wurde: I did not have videos, tutorial, information I could look up. Every time I needed something I had to call a representative that has all of Texas to cater too. I would be weeks before he could get to me or I would just have to figure it out.
Zuvor genutzte Software: Pilot ERP
Gründe für den Wechsel zu MRPeasy: I felt it was the best option for our needs, after trying out all the systems and looking at multiple reviews, videos. I felt more comfortable with MRPeasy.
Antwort von MRPeasy
vor 2 Jahren
Thank you for the review. For quoting without stock item use Invoice mode, not Customer order mode.
Sue G.
Production Manager in USA
Konsumgüter, 11-50 Mitarbeiter
Verwendete die Software für: 1-5 Monate
MRPEasy software - almost great
Kommentare: I needed an affordable cloud based MRP that was easy to set up and use with a manufacturing focus. It was easy to set up, but onerous to update. The initial training and set up support was very helpful, but once I bought in and really needed assistance, my helpful support person was replaced with the anonymous support team that took 24 hours to answer any questions and the answer was almost always either a. no the software doesn't do that, b. thats a good idea, we may decide to do that later, or c. you can pay us to make that change to our software. For the price, it's ok, a lot of potential, but not great.
Vorteile:
the ease of use, wide range of potential ability, accessibility, focus on manufacturing. there is the potential to customize the software for an extra fee.
Nachteile:
technical support is rather lacking. There's a lot of potential in the software capability but every aspect of use is limited. There's a lot of features that are "almost there", but to fix them costs extra. Entering inventory manually is a basic thing and should be simple, but because it creates automatic write offs, adjusting inventory manually can create annoying issues. When I reported this and asked support about it, I was told to stop manually entering inventory and to trust the system - not an easy thing to hear.
Antwort von MRPEasy
vor 6 Jahren
Thank you. Your "Advice for Buyers" is great. We're happy to answer your questions. You won't always have the same staff member to work with because when you purchase the software and have questions regarding functionality and terms, a sales rep helps you. One you purchase the software, and have questions about the technology and customizations, our technical support team is there to help. We make new releases of the software 2-3 times a quarter. We always encourage our customers to send us feature requests, and we analyze and consider each of them. We can customize the software, however, in some cases those customizations do require some cost. We have a large support team available to answer questions. Since they work in shifts, and each work for all of our customers, you'll notice they don't personalize their responses. However, each customer's tech support request is answered within 24 hours to ensure that our team can collaborate on a solution that works best for the user.
Aaron O.
President in USA
Unterhaltung, 2-10 Mitarbeiter
Verwendete die Software für: Mehr als 1 Jahr
Quelle: SoftwareAdvice
Don't discount MRPeasy - it's feature rich, but easier on the user
Kommentare: I have had a great experience with MRPeasy. The software is the most straightforward solution for MRP I've ever found. The team there is very responsive and the newsletter always has interesting information, tips, and case studies. A+ experience.
Vorteile:
I thought I needed feature-rich software to run my manufacturing process. I tried three other softwares. Two were Excel based. One was Odoo. What I actually needed was for someone to come along and make an efficient, easy-to-use solution. The MRPeasy team did just that.
Nachteile:
There wasn't much I didn't like about this software. The only thing I can say is that a few of the workflows felt redundant for very small companies (ones with only a few employees handling all of the tasks). At my company, we can pick the order, box it, label it all it one step. The folks at MRPeasy could probably customize that for me though, so difficult to say it's something I didn't like about the software.
Antwort von MRPeasy
vor 2 Jahren
Thank you for the feedback.