Was ist EHR 24/7?
Preiswerte EHR-Lösung, die an alle Besonderheiten angepasst werden kann. Die Funktionalität umfasst das ePrescribing, Scannen und Diktieren.
EHR 24/7 – Details
Office Ally
EHR 24/7 – Details
Office Ally
EHR 24/7 – Videos und Bilder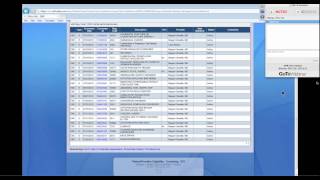 Kosten ähnlicher Produkte wie EHR 24/7 vergleichen
Startpreis
29,95 $/Monat
Nicht verfügbar
Nicht verfügbar
Nicht verfügbar
EHR 24/7 – Bereitstellung und Support
Kundenbetreuung
E-Mail/Helpdesk
Telefon-Support
24/7 Live-Support
Funktionen von EHR 24/7
API
Abrechnung & Rechnungsstellung
Aktivitäts-Dashboard
Anpassbare Berichte
Anpassbare Formulare
Anpassbare Vorlagen
Aufgabenplanung
Auftragserfassung
Automatisierte Terminplanung
Berichterstattung und Statistik
Coding-Unterstützung
Compliance Management
Compliance-Verfolgung
Diagramm-Erstellung
Dokumentenmanagement
Dokumentenmanagement
Dokumentenspeicher
Dokumentvorlagen
Elektronische Rezepte
Elektronische Zahlungen
Entscheidungsunterstützung
Erinnerungen
Ertragsmanagement
Formularverwaltung
HIPAA konform
Handschrifterkennung
Historische Berichte
Inventarverwaltung
Kalenderverwaltung
Klinik-Interoperabilität
Kommunikationsmanagement
Kundenportal
Live-Chat
Medizinische Abrechnung
Mehrere Standorte
ONC-ATCB zertifiziert
Rechnungsmanagement
Registrierungs-Management
Reklamationsabwicklung
Schadensprüfung
Self-Service Portal
Sinnvolle Nutzung zertifiziert
Sprach-Erkennung
Terminplanung
Terminplanung
Terminverwaltung
Vorlagen-Management
Workflow-Management
Zugriffsquellen-Verfolgung
Überprüfung der Versicherungsberechtigung
Siehe die vollständige Elektronische Patientenakte Software Liste
Susanne N.
Medial Billing Specialist in USA
Verifizierter Nutzer auf LinkedIn
Krankenhausversorgung & Gesundheitswesen, Selbstständig
Verwendete die Software für: Mehr als 2 Jahre
Excellent Software for Medical billing and EHR management
Kommentare: My experience with EHR/ 24/7 has been very good. I help set practitioners up with this software all the time. What I do is create a template from speaking with the providers and then have them submit it to Office Ally and go through the set-up that way. This method allows the providers to really personalize the categories and wording to their office and specialty. Thumbs up Office Ally you have made this program very easy to set-up, use and personalize.
Data entry during a visit is very smooth once you get the initial programming of your common phrases saved. This speeds up the provider's data entry time considerably and allows more time with their patients.
Vorteile:
I like the simplicity of Office Ally. It is very easy to use for scheduling your patient, managing their electronic health record with easy to use templates and following the electronic billing process.
Nachteile:
The only thing I would add to Office Ally after using it for 8 years plus, would be the ability to print out a patient ledger with the provider's name, address and phone number at the top. If there isn't a balance due on the account the statements won't include the visits dso the only option for me to print a form that our patients need for their HSA and FSA accounting is the patient ledger. If you print a superbill at the time of service it will be inclusive of all these things but the aftercare for financials is where this pops up. Other than this one little thing I am very happy with Office Ally and you can't beat the pricing!
Verifizierter Rezensent
Owner/Clinician in USA
Verifizierter Nutzer auf LinkedIn
Medizinische Praxis, 2-10 Mitarbeiter
Verwendete die Software für: Mehr als 1 Jahr
In Betracht gezogene Alternativen:
Great system with some drawbacks
Kommentare: This is a great system if you don't need advanced notifications of appointments, or want outside vendors to interact with the system for reviews. And, if your clinic doesn't care that the clinician can't look at the financials or schedule, it works well. To us, this was a huge drawback. But, we loved the ease of use for the actual charting.
Vorteile:
Charting is quick as long as you use Text Blaze Snippets on chrome with it. Otherwise, it can be long. It is customizable by the provider and for specialties which is nice. Each specialty can have their own template. Adding patients is easy. Re-prescribing doesn't require an actual note, so the MA's or RN's can do this and send to provider for authorization. Uses "superbills" for charting, meaning you can bundle specific CPT codes with allowed ICD10's. Interacts with their billing clearinghouse for rapid notification of coverage.
Nachteile:
It is segmented. You can't look at the patient financial's without going into a completely different system (the practice manager). Same goes for scheduling. In other words, if you want to schedule, you have to be logged into 2 systems they have that communicate. But, requiring you to have multiple types of browsers (not just tabs) up and running. The system only allows notifications of appointments outside of a 24 hour period, such that if you wanted to setup notification of appointment on the same day, ie. 3 hours before appointment, it doesn't let you. And, there is no system outside that interacts with officeally. So, if you want to do patient reviews, emails, etc., you have to manually upload your file to the outside vendor.
James G.
Owner / Clinician in USA
Psychische Gesundheitsfürsorge, Selbstständig
Verwendete die Software für: Mehr als 2 Jahre
Quelle: SoftwareAdvice
Poor quality and incompetent support help
Kommentare: I have been, sadly, an Office Ally client for about the past six years. The only reason I'm still with them is because they make it too difficult to leave: they'll pack your client demographic information not the progress notes should you wish to migrate to another EHR/PM service. Customer Service / Tech Support is a joke; they're mostly just gatekeepers who will do everything they can to convince you that a technical issue is something on your end and not theirs. Here are some examples of what I;'m talking about.... 1. Patient Ally, their feature that allegedly allows clients and their patients to swap documents in a HIPAA-secured environment, more often than not fails to properly function. I've tried to send documents to my clients, and vice-versa, and they cannot be retrieved. When I complained about this, the "tech support" person tried to slough it off as a problem with either my computer or my client's His argument was that "if large numbers of our customers aren't complaining about this, then it's not a problem." I now use Adobe Cloud instead. 2. When using the accounting and claims management features in their practice management platform, Practice Mate, in order to post payments to a deactivated client account, I have to re-activate it, post the payments, then de-activate it again, which is a time-waster and unnecessary. When I addressed this with tech support, his unbelievable answer was: "Well the LOGIC is that if you're no longer seeing a client, then you won't be taking any more payments on their account." I had to explain to him that managed care can take weeks or months to pay claims, and also that some discharged clients owe past-due balances. His response was dead air. 3. The EHR platform has a penchant for bumping you off AS YOU'RE WORKING IN A CHART, which means you lose all the data and have to log back in and recreate it. This usually happens between 5-7 pm EST. The two times I reported this to "tech support," they told me it was probably my computer or my ISP and it wasn't their problem, again, because tens of thousands of other Office Ally users hadn't complained about it. Yeah, the cost is low, but if you're a sole practitioner like me, without so much as a receptionist, these inefficiencies can cost you in time and money.
Vorteile:
Relatively easy to use.Fairly good integration between EHR and Practice Mate.
Nachteile:
1. Many of the features don't work properly. 2. Some functions are not the most efficient and actually waste end users' time. 3. "Tech Support are mostly gatekeepers. When you call to report a problem, their typical response is that if thousands of other users haven't already called to report the same issue, then it must be your fault and not theirs. They also refuse to let you speak to a supervisor or manager, their typical excuse being "They're all in a meeting." They claim to write "job tickets" and promise a callback, but of course they never call back and the issue is rarely resolved.
Verwendete die Software für: Mehr als 2 Jahre
Great for Insurance Clearing House & Health Records
Vorteile:
Office Ally functions as 2 products, EHR & a clearing house for insurance claims. As an EHR it works sufficiently. As an insurance claims clearing house it is outstanding. Office Ally works independently with different EHRs online and can be calibrated to accept claims directly from the EHR you use. It takes a few phone calls to your EHR and see if Office Ally clearing house is available. If your EHR does not calibrate to Office Ally, you can set up an account independently with them and login to file claims via the Office Ally website. Another positive as a clearing house is if the claims are for private insurance like Blue Cross, Aetna etc. it will cost the provider nothing. If the provider is submitting claims for medicaid recipients they have a one a month fee. This all depends on the provider and who they accept as a client.
Nachteile:
The user interface on Office Ally is slightly confusing. A user can get confused at times because the options the user interface gives is a tad overwhelming. Another downside is the rejection codes they hand out. The good side though is you can call Office Ally up and they will guide you through the codes and issues.
Verifizierter Rezensent
Head Personal Development & Life Coach in USA
Verifizierter Nutzer auf LinkedIn
Gesundheit, Wellness & Fitness, 2-10 Mitarbeiter
Verwendete die Software für: 6-12 Monate
A Clean Looking EHR
Kommentare: My overall experience with it as a user was good. What makes it a good experience is that the customer service staff is always willing to assist when you need them.
Vorteile:
I like that the software has a clean look. Most EHRs are packed with power, as is Office Ally, but it doesnt look heavy or intimidating. Also, the customer care is very responsive.
Nachteile:
The EHR wasn't as intuitive as I'd like and like others I have experienced. There is a good level of training in order to fully utilize and understand the EHR. Luckily the customer care is very helpful. Also there are certain functions that didnt have to only be at an admin level but were.