Was ist Buddy Punch?
Das Ein- und Ausstempeln ist für deine Mitarbeiter*innen intuitiv und du kannst erfasste Zeiten einfach anzeigen und exportieren. Mitarbeiter*innen können über einen Browser oder mit den Google-, iOS- und Android-Apps einstempeln. Du kannst sehen, wer arbeitet, ihre GPS-Position einsehen und sogar beschränken, wo sie sich ein- und ausstempeln können. Integration mit QuickBooks, ADP, Paychex und SurePayroll. Es sind auch Excel-Exporte möglich. Erweiterte Funktionen wie die Verfolgung von Urlaubsgenehmigungen, die Rundung von Ein-/Ausstempelzeiten, Aufgabencodes, QR-Codes, automatische Pausen und SSO sind alle in der cloudbasierten Stempeluhr enthalten.
Wer verwendet Buddy Punch?
Der Fokus liegt auf Unternehmen mit einem bis 1.000 Mitarbeiter*innen. Das Unternehmen bietet eine einfache und zuverlässige Zeiterfassung für Mitarbeiter*innen mit einigen großartigen Funktionen wie GPS, Integrationen, Google SSO, Aufgabencodes und mehr.
Wo kann Buddy Punch bereitgestellt werden?
Cloud, SaaS, webbasiert, Mac (Desktop), Windows (Desktop), Linux (Desktop), Chromebook (Desktop), Android (mobil), iPhone (mobil), iPad (mobil)
Über den Anbieter
Buddy Punch
Ansässig in Grandville, USA
2013 gegründet
Chat
Erhältlich in diesen Ländern
Kanada, Vereinigte Staaten
Über den Anbieter
Buddy Punch
Ansässig in Grandville, USA
2013 gegründet
Chat
Erhältlich in diesen Ländern
Kanada, Vereinigte Staaten
Buddy Punch – Videos und Bilder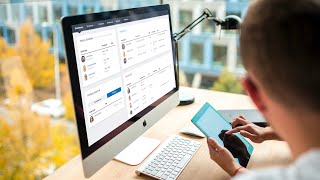 Kosten ähnlicher Produkte wie Buddy Punch vergleichen
Buddy Punch Funktionen
Ausfallzeit-Management
Bedarfsplanung
Berichterstattung / Analyse
Berichterstattung und Statistik
Drittanbieter-Integration
Freizeit-Anfragen
Kalenderverwaltung
Krankheitsausfall-Nachverfolgung
Lohn- und Gehaltslisten-Management
Mitarbeiter-Datenbank
Mitarbeitereinsatzplanung
Mitarbeitermanagement
Mitarbeiterprofile
Mobiler Zugriff
Online-Stechkarte
Online-Zeiterfassung
Schichttausch
Self-Service Portal
Stechkarte
Timesheet Management
Urlaubsverfolgung
Urlaubsverwaltung
Zeit & Anwesenheit
Zeitverfolgung
Überstunden-Berechnung
Alternativen für Buddy Punch
Bewertungen über Buddy Punch
Rich
Lead Developer
Verifizierter Nutzer auf LinkedIn
Informationstechnologie & -dienste, 11-50 Mitarbeiter
Verwendete die Software für: Mehr als 1 Jahr
Great way to manage hours
Untertitel auf Deutsch sind im Videoplayer verfügbar
Katrina
Event Specialist in USA
Verifizierter Nutzer auf LinkedIn
Konsumgüter, 11-50 Mitarbeiter
Verwendete die Software für: Mehr als 2 Jahre
Great time keeping app
Kommentare: Great app, check in and out with accuracy, keep in contact with supervisors and can submit photos for proof of visit if not using GPS.
Vorteile:
I am an Event Specialist with Deluvia Inc, they upgraded from emailing and faxing my time sheets in to this system. They are out of state so this is a great way for them to keep up with my time while doing "Road Shows". I arrive at my location, open the app and sign in, my employers do require me to attach photos so I snap a photo of the store front before entering. While there, I setup my samples and take a few photos of my presentation to attach when I clock out. I like that I can see my schedule, even though I already know my Road Shows are 11 days back to back for each demo. It takes out 39 minutes for my lunch and keeps up with my total hours so I can accurately calculate my check. They can leave messages after each shift end set of photos. I have seen a few where they wanted to see different angles or my face more throughout my presentations. I've also been told my samples looked yummy, I left messages and asked questions that were answered. This is a good app to have when your employer is out of your area.
Nachteile:
The only thing I found odd was I could log in anytime during my employment, but couldn't do so between Road Shows. I wanted to look at my schedules and could gain access to the app. Other than this hiccup, the app works fine. Deluvia gets my time and there are no shortages on my check.
Antwort von Buddy Punch
vor 4 Jahren
Thank you for the review, it is great to hear that you're using our smartphone app as well as our notes and photos on punches feature. We have a few limiting options for employers and that is why you weren't able to login while outside of the show. Thanks again!
Anita
Office Manager in USA
Anwaltskanzlei, 2-10 Mitarbeiter
Verwendete die Software für: Mehr als 2 Jahre
Buddy Punch serves all our needs
Kommentare: We have been using Buddy Punch since 2015. Prior to Buddy Punch we were using an excel spreadsheet for time keeping. We use Buddy Punch as a time clock for daily in/out and breaks. We use the PTO accrual system and PTO tracker. Buddy Punch is easy to use and easy to figure out. Customer service is responsive. The few times I've needed help (very rare) they were super responsive and made sure my problem was completely solved. Staff loves the mobile app. It makes punching in/out easy so staff can punch in as they enter the building because inevitably they will be waylaid with questions before they even get to their computer. Buddy Punch is constantly upgrading and improving. There are many 'bells and whistles' that we don't even use- but it is nice to know they are there if we ever need them. I would recommend Buddy Punch to anyone.
Vorteile:
*Easy to use *Great mobile app *Many bells and whistles
Nachteile:
The only Con I have with Buddy Punch is the name. 'Buddy Punch' just feels awkward.
Antwort von Buddy Punch
vor 4 Wochen
Thank you Anita for the review and kind words, we appreciate your business throughout the years and the recommendation!
Buchhaltung, 2-10 Mitarbeiter
Verwendete die Software für: 6-12 Monate
so so not greatest
Kommentare: Several areas of concern. Very little corrections made based on feedback. Not able to contact support by phone. Delayed response in email. Not open to different types and operations for different business types. This is a very baseline product with little features. Menus are hard for older users to read. Not user friendly for most users. Time corrections are difficult for users to complete or request. Very limited on admin ability to control aspects of the clock to prevent user issues. reports decimal place cannot be changed from 3 to 2 decimals increases rounding time for admin. Integration with payroll company cost additional funds.
Vorteile:
online can view anywhere from a computer . the app is poor at best and is not integrated to be used as a time clock or to check all features and make adjustments from admin must have a computer to do so
Nachteile:
Most of it
Antwort von Buddy Punch
vor 6 Jahren
Josh - Thank you for taking the time to provide a review. Unfortunately many of your comments we believe are inaccurate and I would like to make sure that Buddy Punch is accurately reflected on Capterra. We do not charge for integrations with other Payroll Companies. We just added an integration with Paychex and there was no cost to any customer for doing so. We are also very timely in responding to inquiries. In your case specifically you opened a ticket on 7/29/16 at 3:52 pm. We responded at 4:14 pm the same day with a resolution. You opened a ticket on 8/29/16 at 12:35 pm, we replied at 12:46 pm. You opened a ticket on 9/12/16 at 10:21 am and we replied on 12:46 pm. We offer many features such as GPS, IP Address Lock, Webcam photos on punches, and notifications. We offer easy change requests with the user clicking on a button that says "I need to change something." I'm sorry we didn't work for your business and we will take your feedback into consideration.
Psychische Gesundheitsfürsorge, 11-50 Mitarbeiter
Verwendete die Software für: 1-5 Monate
I am a fan
Vorteile:
I really like that it tracks and accrues PTO & holiday hours. I don't have to ask anyone what my PTO balance is! I think its smart to be able to add a schedule if you happen to work the same amount of hours each day - much easier to add. I also like that I can add a comment or note of some sort, if needed.
Nachteile:
I feel like there are some visual layout aspects that could be improved - or at least offered as a setting option. For example, I a m a visual person - I would love it if I could select a calendar view for seeing what I have entered for the month already. But I realized not everyone would like that layout, hence the suggestion for an optional setting to change the type of view.
Antwort von Buddy Punch
vor 2 Monaten
Thank you Ana for the review, it is great to hear that you're a fan! We appreciate the feedback as well. Please reach out if you ever have any questions.
Henry
Operations Manager in USA
Lagerung, 11-50 Mitarbeiter
Verwendete die Software für: Mehr als 2 Jahre
Our partner Buddy Punch
Kommentare: Our experience here for the time keeping and personal/vacation/holiday time keeping has been seamless and very easy and quick to learn.
Vorteile:
The interaction with the the different sections is seamless once a person learns all the processes that relate to time in and time off. Having the availability of the calendar option makes keeping up with personal time very simple. The features that allow changes to time and scheduling are made simple and are quick and easy to perform.
Nachteile:
Integration with our payroll service could be easier and more user friendly
Antwort von Buddy Punch
letzten Monat
Thank you Henry for the review, it is great to hear that you are finding us simple and easy to use. I'm glad that our Time Off tracking feature is working out well for your business.