Was ist truDigital Signage?
Das Unternehmen glaubt, dass die richtige Botschaft zum richtigen Zeitpunkt die Möglichkeit bietet, zu motivieren, zu schulen und zu inspirieren. Die Anwendung hilft Unternehmen dabei, dies zu erreichen, indem sie eine Digital-Signage-Lösung bietet, die einfach zu bedienen ist, einzigartige Apps bietet und durch unbegrenzten Support und Fachwissen von einem Team aus leidenschaftlichen und sachkundigen Personen unterstützt wird. Mit Preisen ab 25 $/Monat und ohne Vertrag ist es kein Wunder, dass große und kleine Unternehmen aus jeder Branche auf diese Lösung vertrauen. Plane einen Demo heute.
Wer verwendet truDigital Signage?
Das Unternehmen arbeitet gerne mit Menschen aus großen und kleinen Unternehmen in jeder Branche zusammen. Wenn du effektiver mit Mitarbeiter*innen, Kund*innen, Besucher*innen oder Interessent*innen kommunizieren möchtest, bist du hier genau richtig.
truDigital Signage – Details
truDigital Signage
2011 gegründet
truDigital Signage – Details
truDigital Signage
2011 gegründet
truDigital Signage – Videos und Bilder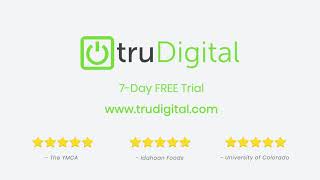 Kosten ähnlicher Produkte wie truDigital Signage vergleichen
Startpreis
25,00 $/Monat
20,00 $/Monat
24,00 $/Monat
35,00 $/Monat
truDigital Signage – Bereitstellung und Support
Kundenbetreuung
E-Mail/Helpdesk
FAQ/Forum
Wissensdatenbank
Telefon-Support
24/7 Live-Support
Chat
Training
Persönlich
Live Online
Webinare
Dokumentation
Videos
Funktionen von truDigital Signage
API
Aktivitäts-Dashboard
Alarmfunktion / Benachrichtigungen
Anpassbare Vorlagen
Audit Trail
Automatisches Aktualisieren
Automatisierte Terminplanung
Benutzer-Management
Berichterstattung und Statistik
Bildbibliothek
Content-Management
Daten-Import / -Export
Datensicherheit
Digitale Beschilderungen
Digitales Menüboard
Drag-and-Drop
Drittanbieter-Integration
Echtzeit-Aktualisierungen
Echtzeit-Benachrichtigungen
Echtzeit-Daten
Echtzeitüberwachung
Inhalt-Bibliothek
Inhalte planen
Kampagnenplanung
Kundenspezifisches Branding
Layout und Design
Medienbibliothek
Mehrere Standorte
Mobiler Zugriff
Multimedia-Unterstützung
Offline-Zugriff
Remote-Display-Management
Remote-Zugriff/-Kontrolle
Social-Media-Integration
Spiellisten-Management
Support mehrerer Bildschirme
Terminplanung
Veranstaltungskalender
Video-Management
Video-Streaming
Video-Unterstützung
Visueller Editor
Vorlagen-Management
WYSIWYG-Editor
Werbemanagement
Widgets
XML / RSS
Zugriffskontrollen / Berechtigungen
interaktive Inhalte
Überwachung
API
Abrechnung & Rechnungsstellung
Aktivitäts-Dashboard
Aktivitäts-Verfolgung
Alarmfunktion / Benachrichtigungen
Anpassbare Berichte
Anpassbare Vorlagen
Aufgaben-Fortschrittsverfolgung
Aufgabenmanagement
Aufgabenmanagement
Aufgabenplanung
Aufgabenplanung
Berichterstattung und Statistik
Datei-Verwaltung
Datenvisualisierung
Dokumentenmanagement
Drag-and-Drop
Drittanbieter-Integration
E-Mail-Management
Echtzeit-Aktualisierungen
Echtzeit-Analytik
Echtzeit-Benachrichtigungen
Echtzeit-Berichterstattung
Echtzeit-Daten
Erinnerungen
Etikettierung
Filesharing
Gantt-/Zeitstrahlansicht
Kalenderverwaltung
Kampagnenanalysen
Kampagnenmanagement
Kommentare / Notizen
Kundenmanagement
Kundenspezifisches Branding
Leistungskennzahlen
Priorisierung
Prognosen
Projekt-Nachverfolgung
Projektmanagement
Projektplanung
Projektvorlagen
Projektzeiterfassung
Statusverfolgung
Termin-Fristenmanagement
Vorlagen-Management
Werkzeuge zur Zusammenarbeit
Workflow-Management
Zeitverfolgung
Zugriffskontrollen / Berechtigungen
Überwachung
Greg G.
IT Manager in USA
Verifizierter Nutzer auf LinkedIn
Industrieautomation, 501-1.000 Mitarbeiter
Verwendete die Software für: 1-5 Monate
TruDigital solution is far superior than it's competitors.
Vorteile:
From start to finish TruDigital has been great. We started out contacting for a demo and chose TruDigital as our digital signage vendor. Ordering the players and setting up our account was a breeze. Players are configured and already assigned to our account before they ship. Customer support is great. Once you log into TruDigital's admin portal you can start a chat and work with support right away.
Nachteile:
The only thing I could see that I would like to have changed is the ability to see and manage admin/users better. I had to submit a ticket to add additional admins. Once our environment gets larger I see this being an issue.
Beth L.
Marketing Coordinator in USA
Verpackung und Container, 201-500 Mitarbeiter
Verwendete die Software für: 6-12 Monate
In Betracht gezogene Alternativen:
Lots of Options - A little "clunky"
Kommentare: It's been a great communication tool for our front office. We use it to greet our customers that visit our headquarters and also to celebrate employee milestones. The live YouTube feed has been very popular.
Vorteile:
There are a lot of good options for content in terms of layouts. The scheduling is GREAT and I don't run into weird glitches like I did with our old Novisign program. It's definitely an upgrade from that system.
Nachteile:
Some of the templates are hard to edit or have limitations to what can be added. For example, the holidays have just a select number of images. Some of the birthday templates are challenging if you have a long name to put in there. I have done some Welcome templates and have had to fiddle with the company logo image for 1/2 an hour to get it to size up correctly.
Antwort von truDigital Signage
vor 2 Jahren
Hi Beth, Thank you for taking the time to leave a review. We're glad you enjoy the scheduling feature and the multiple options for content. We're always looking to improve, so we appreciate your feedback and insights. If you have any questions or additional suggestions, feel free to message us at support@trudigital.com or give us a call at 801-852-9898 and we'd be happy to work with you. Thanks again, Michael Peine - Marketing Manager
Autumn S.
Lead Designer in USA
Finanzdienstleistungen, 501-1.000 Mitarbeiter
Verwendete die Software für: Mehr als 2 Jahre
Did you turn it off and turn it back on again?
Kommentare: I recommend updating your user experience. Portions of the site are dated and could use streamlining. Also, let the user know that the device has to be reset and that THE PLAYLIST PREVIEW IS NOT AN ACTUAL REPRESENTATION OF MY SCREEN. I had a high-visibility campus down for weeks without knowing because my previewer said everything was working as it should.
Vorteile:
I am able to use images and videos in one list which is nice. I wish you didn't have to have these in two separate modules as it makes creating diverse motion playlists very hard to curate.
Nachteile:
My biggest complaint with the platform is actually the hardware. We have to reset the device 2-3 times a month to get it to work properly. Since we have several campuses in several different states this ends up being a time-consuming project every time. If you add up the money the company spends on employees resetting these devices I think you will find it adds a great deal of cost to the overall platform. The interface itself is very slow and hard to navigate. Since we have separate campuses I have recreate each playlist multiple times instead of being able to build a master template and deploying each playlist as needed. This also adds a great deal of time to each slide update.
Antwort von truDigital Signage
letztes Jahr
Hi Autumn, we are sad to hear about your less than positive experience with truDigital. Please reach out directly to our Director of Support, James (801-852-9887 or James.potter@trudigital.com). We believe there are some changes we can make that should help the performance of your account.
Christina W.
Marketing Manager in USA
Bau, 51-200 Mitarbeiter
Verwendete die Software für: Mehr als 2 Jahre
In Betracht gezogene Alternativen:
Easy to use, good value
Kommentare: It serves us well.
Vorteile:
truDigital is an easy-to-use app for our less tech savvy users.
Nachteile:
There are some function limitations that probably come from it being a user-friendly app.
Antwort von truDigital Signage
vor 2 Jahren
Hello Christina, Thank you for your wonderful review! We're glad to hear you enjoy the ease of use of truDigital. Feel free to contact us at support@trudigital.com or call 801-852-9898 to recommend any additional functions you'd like to see, as we're always looking to expand our services. Thanks again for your review and for your continued business. All the best, Michael Peine - Marketing Manager
Todd H.
Marketing Manager in USA
Glücksspiel & Casinos, 51-200 Mitarbeiter
Verwendete die Software für: Mehr als 2 Jahre
In Betracht gezogene Alternativen:
truDigital and Winners
Kommentare: Have the ability to message our customers digitally with various messages is great. With a core gambling business and secondary restaurant and bar businesses truDigital allows us flexibility and creativity in our messages for wagering, food & beverage, and other, must know, messages.
Vorteile:
The software is easy to use and the dashboard is intuitive and easy to navigate
Nachteile:
at times we have issues with the deployment of new assets. We often change slide shows weekly and monthly and have, from time to time, had issues with the update of playlists in new collateral deployment across our estate of 14 locations.
Antwort von truDigital Signage
vor 2 Jahren
Hello Todd, We certainly appreciate your detailed review. We're also glad to hear you enjoy the ease of use and flexibility of truDigital. If you have any questions regarding deployment of new assets or anything else, feel free to reach us at support@trudigital.com or give us a call at 801-852-9898 and we'd be happy to help. Thank you, Michael Peine - Marketing Manager