Was ist Accounting Seed?
Accounting Seed is a full accrual, cloud-based accounting solution built on Salesforce. Our solution tracks financial data through the entire business lifecycle. As a top-rated solution by G2, CFO Tech Outlook, and the Salesforce AppExchange, our customization and automation enable a 360º view of your business that eliminates uncertainties and errors. Make more proactive, more accurate, and more strategic business decisions with Accounting Seed.
Wer verwendet Accounting Seed?
Perfect for small to mid-market companies on the Salesforce Platform looking to connect the front and back office for one complete business solution.
Wo kann Accounting Seed bereitgestellt werden?
Cloud, SaaS, webbasiert, Mac (Desktop), Windows (Desktop)
Über den Anbieter
Accounting Seed
Ansässig in Columbia, USA
2008 gegründet
Telefon-Support
Erhältlich in diesen Ländern
Australien, Deutschland, Kanada, Mexiko, Vereinigte Staaten und 1 weitere
Über den Anbieter
Accounting Seed
Ansässig in Columbia, USA
2008 gegründet
Telefon-Support
Erhältlich in diesen Ländern
Australien, Deutschland, Kanada, Mexiko, Vereinigte Staaten und 1 weitere
Accounting Seed – Videos und Bilder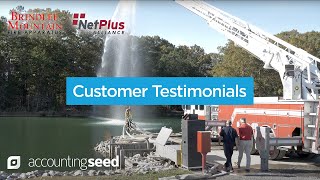 Kosten ähnlicher Produkte wie Accounting Seed vergleichen
Accounting Seed Funktionen
ACH Zahlungsabwicklung
Abrechnung & Rechnungsstellung
Angebote / Schätzungen
Anlagegegenstand-Management
Berichterstattung / Analyse
Bestell-Management
Buchhaltung
Budgetierung/Prognosen
Cash Management
Datenextraktion
Debitorenbuch
Duplizierte Zahlungswarnung
Einkommen & Bilanz
Elektronischer Zahlungsverkehr
Finanzberichterstattung
Forderungen
Gewinn-und Verlustrechnung
Hauptbuch
Inventarverwaltung
Konsolidierung / Roll-Up (Reporting)
Kontenabgleich
Kontrolle des Genehmigungsprozesses
Kostenverfolgung
Kundenaussagen
Lieferanten-Management
Lohn- und Gehaltslisten-Management
Mehrere Währungen
Online-Zahlungen
Projektbuchhaltung
Rechnungsverarbeitung
Spenden-Tracking
Steuermanagement
Teilzahlungen
Tracking offener Rechnungen
Verarbeitung überprüfen
Verbindlichkeiten
Zugriffskontrollen / Berechtigungen
für gemeinnützige Organisationen
Überzahlung-Verarbeitung
"Was wäre wenn"-Szenarien
Alternativen für Accounting Seed
Bewertungen über Accounting Seed
Collin M.
Chief VoIP Evangelist in USA
Verifizierter Nutzer auf LinkedIn
Telekommunikation, 11-50 Mitarbeiter
Verwendete die Software für: Mehr als 1 Jahr
Best Accounting Software for Fast Growing SMB
Kommentare: We have been using Accounting Seed for a bit over a year now and our whole teams loves it!
Vorteile:
Super easy to use and easy to customize to meet your needs
Nachteile:
Not the easiest to transition over to and it lacks good quality consulting partners.
Antwort von Accounting Seed
vor 3 Jahren
Hi, Collin. Thank you for your awesome review of Accounting Seed! We are thrilled to hear you are finding great value in the software and that it is meeting your needs as a fast growing small business. We are always looking to improve - you mentioned there were some challenges with the transition. I would love to hear more about your experience. Please feel free to contact me at scochran@accountingseed.com to discuss in more detail or set up a phone call. Again, thank you for taking the time to review our accounting solution! I look forward to connecting. - Shannon
Informationstechnologie & -dienste, 11-50 Mitarbeiter
Verwendete die Software für: Mehr als 2 Jahre
In Betracht gezogene Alternativen:
Accounting Seed Review
Kommentare: Always good.
Vorteile:
What I liked the most was the customer support available to me. They were knowledgeable and friendly
Nachteile:
I would like the JE number to be displayed more often in their reports/audit trail
Lori M.
Office Manager in USA
Groߟhandel, 2-10 Mitarbeiter
Verwendete die Software für: 6-12 Monate
In Betracht gezogene Alternativen:
Great Support
Kommentare: We've had issues on and off using the program since going live in January 2019, however, AccountingSeed Customer Support has helped us through all of those issues. They've even done some customization for us as a courtesy. I've been working on a custom template (with Conga) for months now and the fields I need on the form were not available to us. CSR with AccountingSeed helped me today with these custom fields; he added them as a courtesy and also sent me a video on how he did this. VERY helpful to have in the future.
Vorteile:
My favorite feature is being able to Clone repeat transactions; vendor invoices and journal entries. The Bank Reconciliation is a breeze. Submitting a Ticket for assistance is very convenient. I get an email within a few hours with a solution.
Nachteile:
My least favorite features are the Financial Reports and AccountingSeed-created Forms. The reports we run are very different than what AccountingSeed offers. We've found a way to make it work by exporting to Excel, updating fields, adding/deleting, etc. Another feature is the various forms that AccountingSeed created for us; Purchase Order, Packing List and Billing. When we first started using AccountingSeed we found out they didn't have Sales Orders (order confirmations). We had to purchase another App (Conga) who created the Sales Order form for us. I'm currently working on a new Purchase Order template with Conga. The issue I have with the Billing form is that is says Billing. A lot of our customers comment, asking for the Invoice number. It's just a terminology issue; billing vs invoice. We will be creating our own Invoice template with Conga as well.
Andersen N.
Business Analysis in USA
Computer-Software, 11-50 Mitarbeiter
Verwendete die Software für: Mehr als 2 Jahre
In Betracht gezogene Alternativen:
HIG Capital Backing Moving Accounting Seed to the Next Level
Kommentare: I have been working on the Salesforce platform for 17 years and with Accounting Seed for 10 years in accounting for my Legal Funding, Real Estate Rental and Professional Services businesses. It is the ability to leverage the strength of the Salesforce platform that makes the experience strong and the HIG Capital investment and Partner environment that makes the future look stronger.
Vorteile:
In 2021 HIG Capital made a majority investment in Accounting Seed that is moving this native Salesforce application to the next level. This investment has allowed the organization to move beyond an excellent leveraging of the Salesforce object architecture to add the competitive functionality of their more mature enterprise competitors such as Sage Intacct and Oracle Netsuite. Newly release features include Multi-Ledger Consolidation with Elimination Entries, further advancements in reporting. Focusing on the importance of the partner channel has brought much needed integration with Bill.com, Partner Portals and applications. Project Accounting is also been made stronger through a Project Management platform developed by the partner community.
Nachteile:
The Accounting Seed Orders and Entry do not add up to the functionality required in an enterprise resource planning application. One needs to use an outside partner integrated application such as Legendary Supply Chain. The budgeting and commission functionality could still be improved although several partners are stepping up in this area as well.
Melissa H.
Controller in USA
Hausmeisterservice, 51-200 Mitarbeiter
Verwendete die Software für: 6-12 Monate
Great product but some limitations
Vorteile:
The product is very easy to use and very customizable. It easily integrates directly with Salesforce so it feels like you are using one software rather than multiple platforms.
Nachteile:
I think there are some limitations or areas of improvement needed. Reporting wise some of the stock reports aren't great and custom reports take time and knowledge to build. I would also like to see improvements made or features added to the customer billings to allow for automation of sending.