Was ist Smokeball?
Smokeball, die cloudbasierte Produktivitätssoftware für Jurist*innen zur Verwendung auf PCs, erfasst automatisch die Zeit und deine Aktivitäten für dich auf. Smokeball bietet vollständige Abrechnungsfunktionen, eine branchenführende Dokumentenautomatisierungsbibliothek mit über 14.000 Rechtsformularen, Daily Digest, gemeinsam genutzte Kalender, leistungsstarke Integrationen und eine robuste mobile App. Unabhängig davon, ob du basierend auf Stundenbasis, auf Festpreis oder auf Erfolg abrechnest, bietet Smokeball dir die Erkenntnisse, die du für eine erfolgreichere Anwaltskanzlei benötigst.
Wer verwendet Smokeball?
Nicht vom Anbieter bereitgestellt
Wo kann Smokeball bereitgestellt werden?
Cloud, SaaS, webbasiert, Windows (Desktop), Android (mobil), iPhone (mobil), iPad (mobil)
Über den Anbieter
Smokeball
Ansässig in Chicago, USA
2010 gegründet
Telefon-Support
Chat
Erhältlich in diesen Ländern
Vereinigte Staaten
Über den Anbieter
Smokeball
Ansässig in Chicago, USA
2010 gegründet
Telefon-Support
Chat
Erhältlich in diesen Ländern
Vereinigte Staaten
Smokeball – Videos und Bilder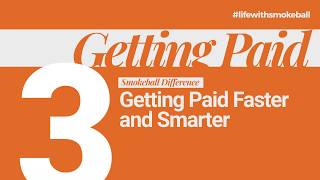 Kosten ähnlicher Produkte wie Smokeball vergleichen
Smokeball Funktionen
Abrechnung & Rechnungsstellung
Aktivitäts-Dashboard
Anpassbare Berichte
Archivierung & Aufbewahrung
Aufgabenmanagement
Buchhaltung
CRM
Document Capture
Dokumentenerstellung
Dokumentenklassifizierung
Dokumentenmanagement
Dokumentenspeicher
Drittanbieter-Integration
E-Mail-Management
Fall-Aufzeichnungen
Fall-Management
Für Juristen
Für das Familienrecht
Integrierte Buchführung
Kalenderverwaltung
Kontaktmanagement
Kostenverfolgung
Kundenmanagement
Kundenportal
Rechtsfall-Management
Sichere Datenspeicherung
Treuhand-Buchhaltung
Versionskontrolle
Vertrags-/Lizenz-Management
Volltextsuche
Werkzeuge zur Zusammenarbeit
Workflow-Management
Zeit & Kosten Verfolgung
Zeitverfolgung
Zugriffskontrollen / Berechtigungen
Alternativen für Smokeball
Bewertungen über Smokeball
Furqan M.
Partner in USA
Verifizierter Nutzer auf LinkedIn
Rechtsberatung, 2-10 Mitarbeiter
Verwendete die Software für: Mehr als 1 Jahr
SmallLaw Review
Kommentare: Overall, an excellent software and definitely worth considering for your law firm, especially if you handle real estate transactions.
Vorteile:
1. Smokeball is an "everything" platform. We realized we were only using the other softwares for billing/invoicing, but found little use for them otherwise. Smokeball, on the other hand, is much more versatile. We track our to-dos there, create workflows, assign tasks/projects to others at the firm (it avoids the back-and-forth internal emails), share our draft documents with client through a secure portal, and much more! 2. If you are a real estate transactions law firm (as we are), Smokeball is the only platform specifically designed for that practice area. We love that it automatically calendars deadlines, has templates built in, and otherwise automates much of the closing process for us (and avoids costly mistakes such as missing a deadline).
Nachteile:
1. Cost (yup, it's one of the more expensive options you'll find out there). But when evaluating options, the thought process should be whether you will save some time by implementing the features of the software. And if so, a few extra bucks monthly is well worth it. 2. A little glitchy at times. We sometimes would create an invoice but would not be able to load it or send to a client until the next day. I have no idea why this happens, though it hasnt been a big issue for us. 3. Requires you to invest a lot of time to set up to automate your documents and learn how to modify them as you go. But, again, it is time well spent.
James H.
Principal Atty in USA
Anwaltskanzlei, 2-10 Mitarbeiter
Verwendete die Software für: 6-12 Monate
In Betracht gezogene Alternativen:
Great platform, great Outlook email syncing, just no ability to automatically monthly invoice.
Kommentare: My experience with Smokeball was great. If Smokeball had the features I needed that MyCase had, I would have stayed with Smokeball. I liked the look of Smokeball better.
Vorteile:
It was very user friendly and looked easy to use. Very customizeable. The Email syncing feature is great if you use Outlook. You can not only send emails when you're logged-in to Smokeball (which connects the email to the matter), but you can also send emails out of Outlook and you can click on a button on the bottom of the email screen and connect that incoming/outgoing email to a Smokeball matter. Can create custom fields. Can set-up intake forms with fields, that can be sent to the potential client for them to fill-in that automatically in-loads to their contact info in Smokeball.
Nachteile:
Not able to set-up automatic repeat invoicing. If you have a client (such as a criminal defense client that needs to make monthly payments and want to, when you're setting up the client's case, set-up future invoices to go out to the client for them to be able to pay on-line, Smokeball can't accomplish this. The only platform I found that was able to do that is MyCase. This is a lifesaver for my criminal-defense firm. It only syncs with Outlook and not Gmail.
Anwaltskanzlei, Selbstständig
Verwendete die Software für: 1-5 Monate
Smokeball does not have legal forms as advertised; and does not interact with G calendar
Kommentare: I foolishly jumped in and signed up for a one-year deal with Smokeball. After I explained the shortcomings of their product and my need to buy additional software to make their software work, I asked to be released from my one year contract. Somkeball denied the request. I would strongly look for a product that is less expensive and has some type of money back guarantee.
Vorteile:
The staff is friendly and tries to assist.
Nachteile:
I bought the software for the forms library that you could use in your practice. I am a small practitioner in Oklahoma. However, the forms library for Oklahoma, and most states, is non-existent. Smokeball costs more than other practice software packages. I purchased it for these forms, but had to buy forms elsewhere. Smokeball does not interact with Google products including Google calendar even with work-arounds. My work was all automated through Google calendar. I worked with trying to use the work-around recommended, but none worked. To use Smokeball, I would have had to buy additional soft-ware. This made the one stop shop advertised by Smokeball not work for me at all.
Antwort von Smokeball
vor 2 Jahren
I'm incredibly sorry to hear this, but want to clarify two points for any likeminded readers here: (1) It is true that we have more forms in some states than others. That's due to how many active users we have in each state; obviously as we grow in some states we add more forms. When users, say in Oklahoma, sign up and see that they need more forms, they can request that our dedicated Content team pull public forms and load them directly into Smokeball for all users to access. (2) It is true that we currently don't have direct integration with the Google suite. We do, however, integrate directly with MS Office products like Outlook and Word. Our Sales people in charge of demos should make this absolutely clear in initial conversations, and we will ensure that they continue to do so for all future consultations.
Brooke A.
Partner in USA
Verifizierter Nutzer auf LinkedIn
Anwaltskanzlei, 2-10 Mitarbeiter
Verwendete die Software für: Mehr als 2 Jahre
In Betracht gezogene Alternativen:
I Love Smokeball
Vorteile:
I love Smokeballs features. The document automation saves me time and headache with formatting. The integration features make sure that nothing I do is missing in the client files. The cases are always complete. the ease of integration for the products that I use is excellent and seamless. The time tracking capabilities help make sure that I don't miss a billable.
Nachteile:
They recently updated the mobile software so it is more difficult to use on a tablet or my phone.
Sandra E.
Attorney in USA
Rechtsberatung, 2-10 Mitarbeiter
Verwendete die Software für: Mehr als 2 Jahre
In Betracht gezogene Alternativen:
Best practice management software!
Kommentare: Our firm literally cannot work without Smokeball. I am not exaggerating one bit when I tell you that it is as essential to our practice as air. When the pandemic began, other lawyers were struggling to figure out how to work from home. Luckily for us, Smokeball is everywhere we are. With help from Smokeball's cloud-based system, we were able to transition to working from home very quickly and easily. Thanks to Smokeball's features -- file notes, memos, timeline, phone messages, email tracking, and activity tracking -- it is easier than ever for multiple staff members to collaborate on a file even though they are not physically in the same space. The integration with InfoTrack/Docusign means that we obtain client signatures without even leaving our desks. And the document automation and contact database make working much easier and more productive in general! I highly recommend Smokeball to any small law firm.
Vorteile:
Email tracking, file notes/timeline. These features make it so much easier for two or more people to collaborate on a file!
Nachteile:
I wish that "to-do" tasks in the system would auto-delete if a matter is canceled or closed.