Was ist SQCpack?
SQCpack ist die bewährte statistische Prozess-Steuerungslösung, die Organisationen dabei hilft, die Macht der Datenanalyse zu nutzen, um strategische Qualitätsergebnisse zu erzielen. Eine Kombination leistungsfähiger SPC-Techniken und Flexibilität. SQCpack ist eine einfache und skalierbare Anwendung, die all die Tools umfasst, um Prozessleistung zu optimieren, kritische Qualitätsstandards einzuhalten, Variabilität zu reduzieren und die Rentabilität zu verbessern.
Wer verwendet SQCpack?
Organisationen weltweit haben SQCpack wegen seiner einfachen Bereitstellung, Implementierung und Betrieb ausgewählt. SQCpack passt sich leicht an jedes Labor, Büro oder Verkaufsraum-SPC-Anwendung an.
Wo kann SQCpack bereitgestellt werden?
Cloud, SaaS, webbasiert, Windows (Desktop), Windows (On-Premise), Linux (On-Premise)
Über den Anbieter
PQ Systems
Ansässig in Dayton, USA
1982 gegründet
Telefon-Support
Chat
Erhältlich in diesen Ländern
Australien, Kanada, Vereinigte Staaten, Vereinigtes Königreich
Über den Anbieter
PQ Systems
Ansässig in Dayton, USA
1982 gegründet
Telefon-Support
Chat
Erhältlich in diesen Ländern
Australien, Kanada, Vereinigte Staaten, Vereinigtes Königreich
SQCpack – Videos und Bilder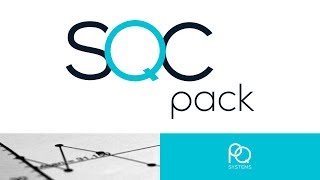 Kosten ähnlicher Produkte wie SQCpack vergleichen
SQCpack Funktionen
Audit Trail
Compliance Management
Daten-Import / -Export
Dateneingabe
Datenmanagement
Datenverknüpfung
Drittanbieter-Integration
Echtzeit-Daten
Echtzeitüberwachung
Leistungskennzahlen
OPC Datensammlung
Qualitätskontrolle
Statusverfolgung
Verfolgen von Fehlern
Jeffery B.
Specialist, Mass Spectrometry in Kanada
Verifizierter Nutzer auf LinkedIn
Öl & Energie, 1.001-5.000 Mitarbeiter
Verwendete die Software für: Mehr als 1 Jahr
Excellent Product for Empowering Bench Level Scientists
Kommentare: - Cost savings
- Increased Organization Effectiveness
- Empowerment of Individuals and their data
- Increased knowledge across the organization
- Improved Audit Readiness
Vorteile:
- anyone can log in from any computer - different levels of access for different people - full customization - easy to use and change
Nachteile:
- initial set up for our system required knowledge of SQL and servers. We had an IT department. Some businesses might find this aspect challenging if they lack depth within their organization
Antwort von PQ Systems
vor 3 Jahren
Jeffery - Thanks for sharing your experience with SQCpack! Happy to hear that your IT department was able to assist in making it a smooth set-up. It's been a pleasure working with you and HollyFrontier!
Rama E.
QA Manager in USA
Verpackung und Container, 51-200 Mitarbeiter
Verwendete die Software für: Mehr als 2 Jahre
Nice SPC Software
Kommentare: Before migrating to SQC Pack, I have used another SPC software (XXXX) for over 2 years and a change is always hard, however when I see the benefits and the ease of it's software to use for various users, we shifted to SQC Pack and using them for more than 5+ yrs now without any issues.
Vorteile:
Ease of Use and the way the raw data can be analyzed with user friendly graphs and the calculated information related to SPC.
Nachteile:
NONE - this software is very much helpful for our application of data anlalyzing.
Antwort von PQ Systems
letztes Jahr
Rama, thank you for letting prospective customers know about your experiences with SQCpack. We've made many User Experience improvements that were specifically done so that you and others can get value from the software quickly.
Ashley T.
Specialist II Continual Improvement in USA
Konsumgüter, 1.001-5.000 Mitarbeiter
Verwendete die Software für: Mehr als 1 Jahr
AMNS Calvert
Kommentare: The SQC Pack 7 program is very user-friendly which made learning the program and applying it rather easy. The team at PQ Systems has been great and always very open to helping work through any questions or concerns we have had. We have been using PQ Systems products for over 2 year and seeing how much they continually improve based on their customer needs really shows in their product. SPC is a CI project that was launched and PQ Systems product was chosen over other leading competitors. We launch originally with ChartRunner Lean and was upgraded to SQC Pack 7. Working with the SQC Pack 7 we have seen many improvements and many more features which has opened even more possibilities for us as a company.
Vorteile:
SQC pack 7 has made it very simple for us to easily analyze data over time, as well as have that analysis at our finger tips and able to quickly filter and alter as needed.
Nachteile:
Chart annotations - we would like to be able to customize this more Chart Filtering, I found the setup with ChartRunner lean more user friendly as far as chart filtering and listing goes. Having to sort through all charts when a new one gets create, if classification had not been applied, has been little time consuming. Charts and Data groups assigned to a category is visible in filtering even if assigned to two different divisions. Not all features that are available for Data groups are available for Charts created with external data. Technical support not available 24/7.
Antwort von PQ Systems
vor 5 Jahren
Ashley - Thank you for your suggestions and being a loyal SQCpack user! It gives us great joy to hear that SQCpack 7 has made it very simple for you and your organization to easily analyze data. We are continually working on improvements to our solutions and your feedback is an invaluable resource. Your suggestions have been recorded and will be taken into consideration by our software engineers. In the meantime, our Application Support team is very knowledgeable and would be happy to help you with any issues that you are facing. We appreciate your input and look forward to continuing to serve you and AM/NS Calvert in the future!
Tim W.
Director Quality Services in USA
Baumaterial, 1.001-5.000 Mitarbeiter
Verwendete die Software für: Mehr als 2 Jahre
SQCPack in Manufacturing and Lab Environment
Vorteile:
Recently upgraded to latest release of version 7.0. SQCPack is simple to use and quickly provides insight. One of the greatest strengths we recently utilized, is its ability to connect to a variety of existing data sources. It means the legacy Access database or Excel spreadsheet can still be used to collect data while SQCPack provides all the analysis. With a little coding one can create streaming data directly from PLCs. The ability to notify users of out-of-control conditions is a nice feature especially when you have multiple variables being monitored simultaneously for a given process. Overall, I have seen users quickly adopt SQCPack and it becomes a natural part of their workflow. We collect manual data in the lab and switched from Excel to SQCPack. We could have used the Excel file but preferred having the error checking of data entry to limit key entry errors and provide greater consistency in other fields. Operators quickly made the transition negative feedback. The newest feature we have started to explore is Stat Boards which will become part of our MDI. These provide a handy heads-up of specific areas to focus attention based on the control rules used. PQ Systems has provided the best customer service I have ever experienced from any software company and supported our needs always.
Nachteile:
The user interface uses an older Microsoft Ribbon approach which can take some users time to learn. Additionally, the data entry capabilities are strong but a user can accidently delete a data point if they are not careful or paying attention. Probably the weakest part of the software is the Data Group view. It has filtering capability but if you have a lot of data sets and don't invest time in a naming convention, items can get lost in the very long list. If you think about how to organize your data in advance this won't be an issue.
Tim P.
Sr. Quality Engineer in USA
Versorgungsunternehmen, 10.000+ Mitarbeiter
Verwendete die Software für: Mehr als 2 Jahre
SQCpack - Comprehensive and Easy to Use
Kommentare: We've found the software to offer a full range of features that are very intuitive to set up and use. It literally walks you through setting up charts and the Statboard feature is invaluable in helping managers and engineers manage their time. In addition, the few times I've had to contact customer support, not only do I get help within just a few minutes but the support folks are knowledgeable and courteous and often offer several solutions so that we can pick the best one for our situation. So often support lasts only as long as it takes the check to clear but that has not been the case with PQ systems. I've had several calls to see how things are going and it's never been followed by a sales pitch. These folks really do care about their customers and how their product is performing. It's been worth every penny, both in functionality and fit as well as service.
Vorteile:
It's been incredibly well thought out and improved over the years. Very easy to use and common sense practical. With a large deployment it's easy to set up categories and divisions which makes it easy to find what you need and not waste time. It's very flexible in that you can pick and choose what's meaningful in terms of summary statistics, graphics and formats. The chart selection guide is pretty darn comprehensive and offers pretty much any kind of chart graphic needed for process control and analysis. I also like the real time updating of charts. If something is happening that needs attention, you'll know about it. In short, you can quickly and easily convey critical process information to manage your business.
Nachteile:
Most people that take the trouble to write reviews either love or hate what they're reviewing but I honestly can't find any cons with this software. It just works and does the job.
Antwort von PQ Systems
vor 5 Jahren
Thank you for the kind words and the opportunity to work with your organization! We truly appreciate it!