Was ist VolunteerMark?
VolunteerMark maximiert die Freiwilligenerfahrung mit cloudbasierten Softwaretools für Kommunikation, Planung und Berichterstattung. Sende gezielte Gruppen-SMS und E-Mails. Mit VolunteerMark erhalten Freiwillige automatisch Erinnerungen für ihre Freiwilligenschichten. Erstelle einmalige Ereignisse mit unbegrenzten Schichten und sich wiederholenden Positionen. Verwalte Anmeldungen mit einer Kalenderansicht und genehmige Anfragen von Freiwilligen. Du kannst auch die Servicestunden für Gruppen und Einzelpersonen über Programme oder Abteilungen verfolgen.
Wer verwendet VolunteerMark?
VolunteerMark ist der perfekte Partner für jede Organisation, die Freiwilligen Möglichkeiten bietet. Das Produkt und der Service sind ideal für gemeinnützige Organisationen, Schulen, Unternehmen, Kirchen und Bürgerorganisationen.
Wo kann VolunteerMark bereitgestellt werden?
Cloud, SaaS, webbasiert, Android (mobil), iPhone (mobil), iPad (mobil)
Über den Anbieter
VolunteerMark
Ansässig in Kansas City, USA
2011 gegründet
Telefon-Support
Chat
Erhältlich in diesen Ländern
Australien, Kanada, Vereinigte Staaten
Über den Anbieter
VolunteerMark
Ansässig in Kansas City, USA
2011 gegründet
Telefon-Support
Chat
Erhältlich in diesen Ländern
Australien, Kanada, Vereinigte Staaten
VolunteerMark – Videos und Bilder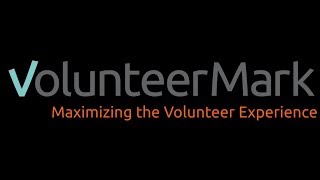 Kosten ähnlicher Produkte wie VolunteerMark vergleichen
VolunteerMark Funktionen
Berichterstattung und Statistik
Kommunikationsmanagement
Registrierungs-Management
Self-Service Portal
Terminplanung
Veranstaltungsmanagement
Alternativen für VolunteerMark
Bewertungen über VolunteerMark
Joshua G.
Campus Instructional coach in USA
Verifizierter Nutzer auf LinkedIn
Bildungsmanagement, 10.000+ Mitarbeiter
Verwendete die Software für: Mehr als 1 Jahr
VolunteerMark for Education
Kommentare: Volunteermark is easily to use, and useful to organize people, events and groups. It is a must for any organization.
Vorteile:
VolunteerMark is easy to set up and very useful in organizing and managing volunteers and vistors in any school. From setting up specific appointment times for parents to come in to organizing specific meetings and grade level parents, all are easy to manage. It can be accessed through social media, apps and links. It is readily accessible to all.
Nachteile:
The only drawback was making an inpromtu event or a one time event. If it is not reoccuring, it is hard to create an event for this. It would have to be specified in the description.
René C.
Volunteer Manager in USA
Non-Profit-Organisation Management, 11-50 Mitarbeiter
Verwendete die Software für: Mehr als 2 Jahre
In Betracht gezogene Alternativen:
Using VolunteerMark to reserve volunteer groups
Kommentare: Overall, my experience with VolunteerMark has been fantastic. We like the system and will continue to use it.
Vorteile:
VolunteerMark is functional and easy to use. We use the system to reserve and book volunteer groups for our Family Meal program. I like the ease with which volunteer groups can view availability and sign up for a volunteer date. The process is short, simple and quick. Another feature of the software that I like and it's not related to the software itself, but the system's tech support and customer service. There have been a couple of instances where I have made suggestions to the tech team to improve our end-users experience. Not only were they receptive to my suggestions, but the implemented them as well. Most recently, they created custom links for my organization within the system so volunteers could easily and quickly find the next available volunteer date. Previously, volunteers had to click through several informational pages to get to the calendars for availability. Now, they are directed straight to the calendars. It's been a great improvement.
Nachteile:
The system is frequently revised and tweaked for improvements/efficiencies, etc., and I'm not always made aware that changes to the system have been made. I wish that the organization's software administrators were told when changes are made and what the changes are before users discover them on their own.
Molly S.
Hospital Programs Coordinator in USA
Non-Profit-Organisation Management, 11-50 Mitarbeiter
Verwendete die Software für: Mehr als 1 Jahr
Easy to use- Wish it had more features!
Kommentare: This product works well for our organization, but it still needs some adapting to better suit our needs. There are some missing functions and customizing capabilities that would make this software really stand out. In general, it is easy to use and serves its purpose, but could use some more functions.
Vorteile:
- I like that it is easy for users to sign up and pick a date to volunteer. - I like that I get an email every time someone signs up for a volunteer shift and that I have to confirm it before it goes on the calendar. - I like that when someone has applied for a date, it appears as "blocked" on the calendar until I confirm it. - The customer service reps are always quick to respond in the chat and help me solve the problem. It is not always a fast fix, but they are always helpful.
Nachteile:
- You should be able to un-click a volunteer opportunity to not see it on your main calendar, or make it so that specific administrators can only see the volunteer opportunities that they coordinate. I have to go to our web page to see the calendar that the users would view to see which dates are open or covered. - The messaging in the software is not user friendly. - The customer service is helpful but it takes a long time to get answers. - You cannot add one-time shifts to an ongoing volunteer opportunity. This means the one-time shifts will not be added to the main calendar for the volunteer opportunity, so all volunteer shifts are on fixed days and times. This works, in theory, but it is not realistic for the ever growing needs of an organization and its volunteers. It would be great to be able to track everything all in one place! - In general, I think I wish it were more customizable.
Verwendete die Software für: 1-5 Monate
Friendly and helpful customer service. Quick and easy event set-up. Good reporting tools!
Kommentare: Saves me time and the hassle of trying to keep track of things on annoying spreadsheets and paper. Automation allows my volunteers to self manage, and I can better communicate with my volunteers and them with me. It's not easy to pull the trigger on software because it's an initial expense and everyone thinks they can save costs by doing it themselves, but once you use the software you realize that you're actually SAVING money by automating your processes. It makes the volunteers happier, improves retention and gives you time and sanity back to your day!
Vorteile:
My favorite aspect of VolunteerMark is the customer support. They're easy to reach through chat and patiently walk me through my questions. They have a lot of FAQ, online tools and educational materials to help me not only with the software but practical volunteer management tips as well. I also appreciate the simplicity of the design. I don't have to hunt and find data because the interface is very user-friendly. I also appreciate that my volunteers have a lot of autonomy and can sign up for events on their own, which I can see and track. That alone has saved me so much time. Being able to see volunteer hours, which volunteers have signed up for what, and the ability to tag volunteers helps me match events quicker too. I will NEVER go back to spreadsheets and paper sign ups, that is for sure.
Nachteile:
I don't have any major complaints. There are a couple of customized features I'd like, which I can get with the price plan a step up from what I have, but overall I'm happy with the software for what I use daily.
Danielle L.
Volunteer Manager in USA
Umweltdienstleistungen, 11-50 Mitarbeiter
Verwendete die Software für: Mehr als 1 Jahr
Good platform with room to grow
Vorteile:
I like that volunteers can sign themselves up and it's less logistical work on my end to schedule them. the IT service is fantastic and always available which I NEED. Features are updated and built in regularly.
Nachteile:
I'm not a fan of some of the less than user friendly features - can't delete multiple events or users at a time. The shift level volunteer maximums is a HUGE deal and its taken months to create when it should have been around the whole time. on calendar view, the highlighted color for the current day is so faint that it blends in with the rest of the calendar and you can't find it easily. There's no easy way to print a weekly schedule of volunteers from either view pane. I could keep going. There's a lot of room to grow in the program.