Was ist Brilliant Directories?
Brilliant Directories bietet eine kostengünstige All-in-one-Lösung zur Verwaltung von Mitgliedern, mit der du alle Aspekte deiner Mitgliedschaftswebsite oder -vereinigung optimieren kannst. Eine komplette, schlüsselfertige Lösung mit schneller Einrichtung und kostenlosem, uneingeschränktem Support durch echte Personen. Umfasst Website-Design, Online-Zahlungsabwicklung, Mitgliedschaften auf mehreren Ebenen, überfällige Überwachung, Inhalte nur für Premium-Mitglieder und mehr. Probiere eine kostenlose Demo aus und erfahre, wie du mit Brilliant Directories Zeit und Geld sparen kannst.
Wer verwendet Brilliant Directories?
Das Unternehmen unterstützt Online-Mitgliedergemeinschaften, die nach einer optimierten Lösung suchen, um ihre Website, Mitglieder, Zahlungen und mehr einfach zu verwalten.
Wo kann Brilliant Directories bereitgestellt werden?
Cloud, SaaS, webbasiert, Android (mobil), iPhone (mobil), iPad (mobil)
Über den Anbieter
Brilliant Directories
2008 gegründet
Telefon-Support
Chat
Sprachen
Deutsch, Englisch, Französisch, Spanisch
Über den Anbieter
Brilliant Directories
2008 gegründet
Telefon-Support
Chat
Sprachen
Deutsch, Englisch, Französisch, Spanisch
Brilliant Directories – Videos und Bilder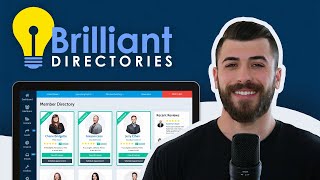 Kosten ähnlicher Produkte wie Brilliant Directories vergleichen
Brilliant Directories Funktionen
Alarmfunktion / Benachrichtigungen
Anwendungsmanagement
Content-Management
Diskussionen / Foren
E-Mail Marketing
Gebühren-Management
Genehmigung von Profiländerungen
Gruppenmanagement
Ideenfindung
Kundenportal
Layout und Design
Mitglieder-Datenbank
Mitglieder-Portal
Mitgliederkommunikation
Mitgliederverzeichnis
Mitgliedschaft-Management
Mitgliedschaftsarten
Mitgliedschaftsverlängerung
Moderation
Profilvorlagen
SEO-Management
Steuerung der Profilsichtbarkeit
Suchen / filtern
Veranstaltungsmanagement
Verwaltung von Verzeichnislisten
Werbemanagement
Zahlungsabwicklung
Zugriffskontrollen / Berechtigungen
Alternativen für Brilliant Directories
Bewertungen über Brilliant Directories
Tess
Physician in USA
Verifizierter Nutzer auf LinkedIn
Krankenhausversorgung & Gesundheitswesen, Selbstständig
Verwendete die Software für: 1-5 Monate
The Perfect Directory Builder Software for the Non-Techie Newbie!
Kommentare: I've never built a directory or listing site before but when I finished, I was so impressed with my work that I couldn't even believe I built what I was looking at! If I had blog content already completed, I literally could have launched the first night I first started working with the software.
Vorteile:
I love this software because it is easy to use and has the perfect format for building an online directory. It is also easy to customize and personalize. I didn't have to know anything about what a directory should have as they've included everything. All that's missing is your original content.
Nachteile:
I prefer front-end builders. I normally use Divi, Elementor, Blocksy, etc and I can move so much quicker. It took me a while to finish which was due to the constant flipping to the front to evaluate my work.
Marketing & Werbung, 2-10 Mitarbeiter
Verwendete die Software für: 1-5 Monate
In Betracht gezogene Alternativen:
Great software for Directory builders and membership sites.
Kommentare: The number one choice for directory software. I've been looking for a suitable directory software for some time.
The only viable alternatives to Brilliant directories are either way too expensive or WordPress based. For me, WordPress is simply too risky to use for a business making money unless you are a WordPress ace or employ someone else to manage it.
I've had numerous bad experiences with WordPress and would rather spend my time making money than messing around with tricky software. Also my last WordPress site got hacked badly. So, Brilliant directories is a no Brainer due to the security of Saas and ease of use.
I bought a comprehensive package, because if your serious about using the product, it has all the features you need with a generous member limit and the necessary bandwidth. Navigating the software is very simple and the options for set up are comprehensive. I like the payment gateway features included and the way that I can set up the membership plans for my website.
I'll be interested to see what future features will be added, but make no mistake, this is not a new solopreneur startup as many thousands of businesses are already running on BD. Therefore the risk is negligible It's 5 stars from me! Recommended.
Vorteile:
It's Saas based and very easy to get started with.
Nachteile:
There are some confusing plans to choose from. It's not cheap, but it could be worse. At the end of the day, you get what you you like pay for!
Verwendete die Software für: Nicht angeboten
Overall Good but Functionally Lacking
Kommentare: I rated overall low because after a year and a half we still don't have full functionality. Our issue is with the built in Payment gateway. Though my present state of our directory I should have realized would be an issue because when I bought the directory Dennis had to invoice me through "PayPal" as the payment gateway would not process any of my cards, not once but twice. When we first bought it was monthly, then I bought the life time and each time my payment would not process through the directory payment gateway. Only though PayPal was I able to make payment. I had a number of potential members complain about the same. We had to stop taking membership. I brought this issue up to BD and they said they were looking into it. Then in December 2014 they announced integration of WHMCS into the directory. Here it is June 25th, 2015 still no WHMCS integration. I joined or bought BD in December 2013. I have thousands of dollars invested and cannot count the number of man hours invested. Only to be held up by the inability to take PayPal payments for membership. Customer service keeps telling me they are working on it and will notify me when implemented. In all fairness I believe BD has great potential but functionally can be lacking because, I believe, they have made it to good, if there is such a thing. Given we cannot get into the back end it is hard to evaluate, my IT person said WHMCS integration shouldn't be that complicated given all the other functions within the directory itself. He said setting up a PayPal gateway shouldn't be that complicated but because we are limited to access to the back end of the directory our hands are tied. I have said this before. Looking good and being good is two different things! This customer has had about enough of being told it's coming. Six months now!
Antwort von Brilliant Directories
vor 7 Jahren
Hi Bruce, Thank you for your message and your feedback. We always appreciate it. We are sorry for any frustration related to the payment processing aspect of the software. Because of great feedback like yours, our internal development team has dedicated July as "Payment Gateway Month" We know that not being able to connect your own gateway may have hindered your ability to grow even faster. We are going to spend the entire month of July completing the payment processing features of the software so that you and other partners can easily integrate your own payment processing provider. We want to make things right and thank you for sharing your experience here on Capterra. We will be sure to notify everyone with a company newsletter once the new payment processing features are working so that you may connect your own payment gateway to your directory. Thank you again and we wish you great success with your directory website. Thank you. Warm regards, Brilliant Directories
Verlagswesen, Selbstständig
Verwendete die Software für: 1-5 Monate
Great and Comprehensive Software for Building a Directory!
Kommentare: My overall experience with Brilliant has been great so far. I love that there is a huge knowledgebase filled with articles and videos to help users create and enhance their directory websites. There is also a large and helpful community of users and Brilliant Directories staff members to help along the way.
Vorteile:
I am impressed with how customizable Brilliant Directories is and how easy it is to create and manage a professional directory website. I love the huge library of add-ons which allows Brilliant Directories users to create a website that meets their specific needs and use cases. Also, the incorporation of customer feedback into developing a mature product is obvious and just one of Brilliant Directories' many strengths. Brilliant Directories makes it fairly easy to create a directory website that looks fantastic and functions well.
Nachteile:
I haven't been using Brilliant Directories for a long time. But, so far there's not much that I don't like about the platform. In the past, I would have said that I'd like to see Brilliant Directories prioritize the ability to connect with other software. But that appears to be changing/improving very soon with the continued development of the API.
Marketing & Werbung, 2-10 Mitarbeiter
Verwendete die Software für: Mehr als 1 Jahr
In Betracht gezogene Alternativen:
Great system from start to finish
Vorteile:
ease of use ease of deployment pricing good developer marketplace
Nachteile:
dynamic category layers client reporting on profile activity banner ad monetization limited