Was ist Brilliant Directories?
Brilliant Directories bietet eine kostengünstige All-in-one-Lösung zur Verwaltung von Mitgliedern, mit der du alle Aspekte deiner Mitgliedschaftswebsite oder -vereinigung optimieren kannst. Eine komplette, schlüsselfertige Lösung mit schneller Einrichtung und kostenlosem, uneingeschränktem Support durch echte Personen. Umfasst Website-Design, Online-Zahlungsabwicklung, Mitgliedschaften auf mehreren Ebenen, überfällige Überwachung, Inhalte nur für Premium-Mitglieder und mehr. Probiere eine kostenlose Demo aus und erfahre, wie du mit Brilliant Directories Zeit und Geld sparen kannst.
Wer verwendet Brilliant Directories?
Das Unternehmen unterstützt Online-Mitgliedergemeinschaften, die nach einer optimierten Lösung suchen, um ihre Website, Mitglieder, Zahlungen und mehr einfach zu verwalten.
Wo kann Brilliant Directories bereitgestellt werden?
Cloud, SaaS, webbasiert, Android (mobil), iPhone (mobil), iPad (mobil)
Über den Anbieter
von Brilliant Directories
2008 gegründet
Telefon-Support
Chat
Sprachen
Deutsch, Englisch, Französisch, Spanisch
Über den Anbieter
von Brilliant Directories
2008 gegründet
Telefon-Support
Chat
Sprachen
Deutsch, Englisch, Französisch, Spanisch
Brilliant Directories – Videos und Bilder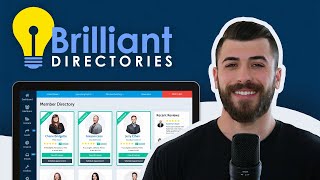 Kosten ähnlicher Produkte wie Brilliant Directories vergleichen
Startpreis
145,00 $/einmalig
99,00 $/Monat
4,00 $/Monat
69,00 $/einmalig
Funktionen von Brilliant Directories
Anupam T.
Director in Indien
Verifizierter Nutzer auf LinkedIn
Bildungsmanagement, 11-50 Mitarbeiter
Verwendete die Software für: Mehr als 1 Jahr
In Betracht gezogene Alternativen:
Amazing directory platform with rich set of features
Kommentare: We are a large institute with 1000s of private tutors. We wanted to showcase our member teachers and also encourage our students to review and rate them or hire them from our website after evaluating the profile of these teachers. For this purpose, brilliant directory comes extremely handy.
Vorteile:
Most Impactful features: Membership management , automated emails at different stages of membership lifecycle, getleadmatched, SEO and there are many out of the box impactful features.
Nachteile:
For the new bees with no technical background, learning curve can be little steep. But with the guide documents/videos for almost everything and very helpful support, this is not a major issue.
Restaurants, Selbstständig
Verwendete die Software für: 6-12 Monate
Over the Top Support
Kommentare: This particular review is focused on the support from the people at Brilliant Directories versus the product itself (which is excellent!!). All of my interactions have been positive and I have received the help I've needed at the time. From my initial contact with the company via [SENSITIVE CONTENT] initially as well as his help in the last few days, the assistance has been excellent. The support team has been very responsive in my experiences with them, when I have had questions about how to do something, or when I have wanted to know "if" I could do something. Their willingness to go beyond has been over the top for me. That doesn't often occur these days and I am thankful.
Vorteile:
Ease of use to get up and running in a short amount of time with the basics for adding members. Fine-tuning does take more time to get into, but is expected. The better prepared and organized you are before getting started, the better.
Nachteile:
There is a learning curve to refine what is needed on a long-term basis, but that is to be expected with going to any new platform. It depends a lot on your model and what you are wanting to do. The upside is that the support and the community are very helpful as you build out your directory, which is very welcomed especially when you are new and maybe not as sure where you are headed with your business.
Joey G.
SEO Consultant in USA
Marketing & Werbung, Selbstständig
Verwendete die Software für: Mehr als 2 Jahre
Bait & Switch Tactics
Kommentare: I have been trying to do business and have faith in this company for around 4 years and they continue to over promise and under deliver. I somewhat blame myself for allowing myself to be sucked in over and over again. I have put my best foot forward and have purchased 3 full license plans as well as Executive Coaching and the other "Never Offered Before" services over the years and always end up frustrated. I have focused my efforts on trying to build out one directly properly before trying another. My first full license plan was purchased at a significantly higher price than today's prices. I'm amazed how often they run "Last Chance Offer" specials and again I partially blame myself for allowing to be sucked into it. I recently paid for a platform upgrade because I was told for my site to be fully mobile responsive (even though it was advertised as such), that I needed to spend money which I agreed to. One of my stipulations and actually the main reason for the upgrade is that local businesses would have click to call functionality from the directory. It seems to me that would be a no-brainer functionality. After the migration, I tested the click to call functionality and it was working fine. I have dated emails with them where I discuss the feature working and not working before. Everything was working fine until I noticed about a week ago that it wasn't working again. I notified their customer service and I am being told it is an added feature and I can contract someone from their marketplace. After several back and forth emails, I have had enough of their tactics. This company has a model of sell an out of the box directory and start your online directory tomorrow. They leave out that you will require additional things and they are perfectly willing to sell it to you. They don't stand behind their product and I have sent an email requesting a full refund of every dime I have paid them unless they make it right. I have only asked for what I have paid for and nothing more. I am certain I am not alone in my treatment. I have tried to work it out with them to no avail. All I asked was for a feature that was working, was the reason for my upgrade in the first place is restored.
Vorteile:
It's a great idea
Nachteile:
The customer service is atrocious
Antwort von Brilliant Directories
vor 5 Jahren
Hi Joey, I'd first like to thank you for your feedback. We take all of our reviews to heart and use them to help us improve our services. I'm so sorry you feel misled - that was never our intention. All of us here at Brilliant Directories strive to provide the best customer support possible and we want all of our users to succeed. This is why we guarantee 1 business day response times, provide an educational community marketing group on LinkedIn, actively participate in our community forums, and host weekly webinars to allow users seeking help to call in live with questions. While we do offer premium add-ons in addition to our flagship software, they are not necessary to get a profitable directory website up and running. Additionally, because Brilliant Directories websites are built on the Bootstrap framework, all websites are mobile responsive immediately from launch. We are deeply sorry for any inconvenience. We have reached out to you in the hopes of remedying this situation.
Marketing & Werbung, 2-10 Mitarbeiter
Verwendete die Software für: 1-5 Monate
In Betracht gezogene Alternativen:
The Membership Directory Builder "On Red Bull & Steroids"
Kommentare: Brilliant Directories was recommended to us & after reading many positive reviews we decided to give it a trial & very pleased we did. We found the scale of the software a little overwhelming at first, but after digging in we carved out a way for BD to give us the functionality our business idea required. (Developer Licence Advised) Depending on your needs BD may not do exactly what you want right out of the gate, but should you have a clear vision of what you aim to build & wish to achieve then BD is the best platform we have came across on our travels.
Vorteile:
The sheer number of possibilities offered within the BD platform is quite mind boggling, in fact, mind blowing when choosing the VIP"Add Ons". BD has the flexibility to build either a vertical exact match, broad base or local directory. Support is "on the ball" & your questions are answered swiftly. Fortnightly webinars (often recorded) & an active FB Group also help to provide a comprehensive all round support package for members. Most features you would expect to see in a modern online directory are either already baked in or available as modular addons.
Nachteile:
As new users to Brilliant Directories we felt that a short onboarding call could have been offered to help guide us through the maze of features. Although lots of video, webinar & responsive helpdesk support is available, nothing really beats being able to ask an expert directly. (FYI Paid coaching is available.) There is a fairly steep learning curve if you want to maximise your BD install. At the time of writing this review BD does not support any of the popular integration hubs, but Zapier is due to come online soon & hopefully this will pave the way for many others too. (Pably, Integromat, Konnectzit, Sync Spider etc)
Verifizierter Rezensent
Founder in USA
Verifizierter Nutzer auf LinkedIn
Marketing & Werbung, Selbstständig
Verwendete die Software für: Kostenlose Testversion
In Betracht gezogene Alternativen:
Super easy to get started! Great software!
Kommentare: BD will serve as the basis of my consumer-facing website as well the core entry point in a larger sales and marketing funnel.
Vorteile:
I tested this software for a week and compared it with the other software, as well as the WordPress alternatives, BD is the clear winner. Signing up was super easy and the experience of purchase was super easy. [SENSITIVE CONTENT] was my account rep and he answered all my questions both via email and vial phone. So far, so good!
Nachteile:
My biggest gripe is the availability to integrate with 3rd party software, but with the recent release of Zapier integrations, this will become a non-issue over time.