Was ist DaySmart Vet?
Vetter Software bietet bessere Business-Tools für Tierärzte auf der ganzen Welt. Die Mission der Hersteller ist es, Innovationen zu liefern, die dazu beitragen, die Pflege und Gesundheit aller Tiere auf der Welt zu koordinieren und zu verbessern. Die Cloud-Praxisverwaltungssoftware ermöglicht eine bessere Abwicklung von Praxen durch die Automatisierung manueller Aufgaben, die Rationalisierung umständlicher Arbeitsabläufe und die Verbesserung des Einblicks in die finanzielle Gesundheit des Unternehmens.
Wer verwendet DaySmart Vet?
Tiergesundheitsanbieter aller Größen und Praxen auf der ganzen Welt
Wo kann DaySmart Vet bereitgestellt werden?
Cloud, SaaS, webbasiert, Mac (Desktop), Windows (Desktop), Linux (Desktop), Chromebook (Desktop)
Über den Anbieter
DaySmart Software
2011 gegründet
Telefon-Support
24/7 Live-Support
Erhältlich in diesen Ländern
Amerikanische Jungferninseln, Anguilla, Antigua und Barbuda, Aruba, Bahamas und 32 weitere
Über den Anbieter
DaySmart Software
2011 gegründet
Telefon-Support
24/7 Live-Support
Erhältlich in diesen Ländern
Amerikanische Jungferninseln, Anguilla, Antigua und Barbuda, Aruba, Bahamas und 32 weitere
DaySmart Vet – Videos und Bilder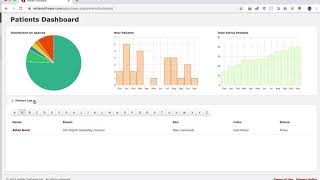 Kosten ähnlicher Produkte wie DaySmart Vet vergleichen
DaySmart Vet Funktionen
Abrechnung & Rechnungsstellung
Bestätigung / Erinnerungen
Inventarverwaltung
Kundenmanagement
Terminplanung
Verwaltung von Patientenakten
Zahlungsabwicklung
Alternativen für DaySmart Vet
Bewertungen über DaySmart Vet
Mark F.
Veterinarian, owner in USA
Verifizierter Nutzer auf LinkedIn
Verwendete die Software für: Mehr als 2 Jahre
This is the software we have been looking for.
Kommentare: This has made my practice successful. We don't have to worry about fighting over the software it simply allows us to do our jobs and to them effectively and efficiently.
Vorteile:
This software is simple yet powerful and allows you to set it up the way you want to use it. You can make it do as little or as much for you as you would like. Working on the go for mobile practice or at a brick and mortar is just as simple. The software just works! I like the cloud base as it allows me to use very little computing power and allows us to work where we need to and when we need to. I have literally run the entire practice off of my cell phone (tethered) when our internet has gone down. Security is top notch and allows us to store information confidently and without worry. As we have been a user since the software was in its early stages we have seen it grow and change, adapt as we do and see the features grow. The development team truly does take what we ask for seriously and find ways to implement the changes we as the veterinarians and users need. Setting things up from scratch took time, what doesn't, but it also allows us to build things the way we want to and operate the way our practice needs it to. If we don't like something we alter it and tell the system to do it differently. The updates happen speedily and are useful. There's no fluff for updates, if there is one coming you're chomping at the bit to get the new features and try them out in the real world. Highly recommend this software for all practices, large, small, mobile or stationary. This is the software we have all been looking for, built by veterinarians, for veterinarians.
Nachteile:
Sometimes the reminder system is a bit clunky and seems to miss some updated items but overall as long as you double check it it works as expected. Sometimes the server bogs down and we all suffer (slow as molasses), usually a minor issue and fixed quickly.
Samantha C.
Accountant in USA
Tierarzt, 11-50 Mitarbeiter
Verwendete die Software für: 1-5 Monate
More than a Point of Sale system
Kommentare: Best customer service on the market! We're extremely pleased and we've had a great experience with the reps. When we started, reps helped us by adding in every large animal and breed we needed. He literally "boiled the ocean" and helped us add in a significant number of breeds. A lot of folks just assume cow but we needed all the different types of cows. This is just one instance where Vetter surpassed our expectations and we know they are there for us!
Vorteile:
We were looking for a POS for a mid-size vet practice with large animals. We needed medical records and a system that would download line item detail into Quickbooks so that we could stop doing double entry. We love that Vetter allows for MWI and Abaxis integration. We are looking forward to growing into the software and utilizing all the features that it offers. We firmly believe this will help grow and organize our practice!
Nachteile:
Sometimes, maybe once a week, an invoice doesn't download correctly. But it's usually pretty easy to figure out which invoice is the culprit by looking at the billing section and comparing payment received.
Susan W.
Marketing Professional in USA
Tierarzt, 11-50 Mitarbeiter
Verwendete die Software für: Mehr als 1 Jahr
Reminder System is a MESS
Kommentare: We spend thousands of dollars getting set up with Vetter Software and have been using it for almost 2 years now. It does NOT do what it's supposed to DO. VERY DISAPPOINTED.
Vorteile:
It's simple and the interface is designed in a practical, user-friendly way. It's easy to look at and work with.
Nachteile:
We purchased this software for the reminder system. But it's a mess. The vaccine reminders do NOT go out as promised. When they do go out, instead of sending an email two weeks before a vaccine is due, and another one, one week before it's due, and another one one week after the vaccine is due, the software sends out 3 or 4 reminders in the SAME email, on the SAME day. It's ridiculous and looks completely unprofessional. I have complained several times to the support team and they keep making up excuses for why it does that, but haven't fixed it. It's been about a year now. We have thousands of dollars invested in this software. We are stuck with this company because it would be way too expensive to move our database to another company. However, this software does NOT PERFORM WELL.
Katherine G.
Veterinarian in USA
Tierarzt, 2-10 Mitarbeiter
Verwendete die Software für: 1-5 Monate
Flexible and customizable veterinary software, constantly improving
Kommentare: We have made the change from paper to paperless and are improving our reporting and inventory management by using Vetter.
Vorteile:
The responsiveness of tech support is fantastic. We are still working on the workflow for our practice, but overall it is very easy for new team members to learn, and a relatively smooth switch from paper charts to paperless.
Nachteile:
A few features are a bit clunky - seems to take too many clicks to do what you need to do, but the developers are constantly improving those features.
Emily W.
Veterinarian in USA
Tierarzt, 2-10 Mitarbeiter
Verwendete die Software für: Mehr als 1 Jahr
Vetter is the perfect medical records software for our exotic cat sanctuary's on-site clinic!
Kommentare: Our clinic is not a "normal" veterinary practice - our clinic serves the 75 resident lions, tigers, leopards, cougars, etc. that call our sanctuary (In-Sync Exotics) home. When researching cloud based systems, I immediately put Vetter at the top of my list, and after talking with the wonderful individuals at the company, I knew that this was the perfect software for us. The people at Vetter understood the differences in needs and preferences that our clinic has from other veterinary clinics, and provided us with ways to optimize the software to meet our unique needs. They also generously provided us with an amazing rate, as we are a non-profit organization. We have been EXTREMELY pleased with this software and this company!
Vorteile:
This software is SO easy to use, yet still comes with all of the features that our clinic was looking for. Everything on this software is intuitive in terms of user-friendliness - it is simple to navigate and everything is extremely well organized. We particularly love that the system is connected to our Abaxis chemistry and hematology analyzers, and that results are automatically stored and organized in the patient record... AND the new IDEXX reference lab integration has been an AMAZING upgrade! I love being able to customize just about everything in terms of medical notes, templates, letters, etc., and the reminders system. I have also really enjoyed having the new DICOM viewer, which has been another tremendous help in keeping our patients' records organized and consolidated. Most of all, the people over at Vetter are incredible - they have been excited and enthusiastic about working with us, and are always quick to respond and fix any issues we may have (which are few and far between).
Nachteile:
There are only a few, TINY, very minor things that I would change about this software, including changing the layout of exported/printed patient records, and having the ability to "search" within a particular patient. I would also LOVE if there was an mobile app version of Vetter! Otherwise, I have absolutely no complaints! Any issues (all of which have been relatively minor) that we have had in the past have been quickly resolved by the folks at Vetter.