Was ist DaySmart Spa?
Orchid Spa Software ist eine HIPAA-konforme, einfach zu bedienende Business-Management-Lösung für Wellness-Center, medizinische Spas, Day Spas, Hautkliniken usw. Unterstützt Windows-PCs, vollständige Cloud-Bereitstellungen, iOS- und Android-Tablets und -Smartphones. Orchid verfolgt alle deine Termine, Mitarbeitenden, Kunden, Dienste, Gehaltsabrechnung, Inventar, Geschäftskennzahlen und vieles mehr. Speichere Vorher- und Nachher-Fotos, richte wiederkehrende Marketingkampagnen ein und verwende Textnachrichten, um Terminerinnerungen zu senden und Kundenbestätigungen zu erhalten.
Wer verwendet DaySmart Spa?
Geeignet für Spas aller Größen, Massagetherapeuten, dermatologische Kliniken – jedes Unternehmen, das Termine, Kundendaten, Geschäftskennzahlen und Marketingkampagnen auf HIPAA-konforme Weise verfolgen muss.
Wo kann DaySmart Spa bereitgestellt werden?
Cloud, SaaS, webbasiert, Windows (Desktop), Windows (On-Premise), Chromebook (Desktop), Android (mobil), iPhone (mobil), iPad (mobil)
Über den Anbieter
DaySmart Software
Ansässig in Ann Arbor, USA
1999 gegründet
Telefon-Support
Chat
Erhältlich in diesen Ländern
Australien, Kanada, Vereinigte Staaten, Vereinigtes Königreich
Über den Anbieter
DaySmart Software
Ansässig in Ann Arbor, USA
1999 gegründet
Telefon-Support
Chat
Erhältlich in diesen Ländern
Australien, Kanada, Vereinigte Staaten, Vereinigtes Königreich
DaySmart Spa – Videos und Bilder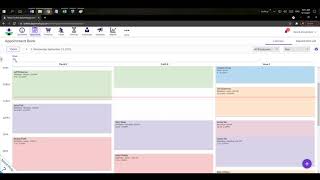 Kosten ähnlicher Produkte wie DaySmart Spa vergleichen
DaySmart Spa Funktionen
Daten-Import / -Export
Drittanbieter-Integration
E-Mail Marketing
Für Salons und Spas
Geschenkkarten-Management
Inventarverwaltung
Kundenmanagement
Lohn- und Gehaltslisten-Management
Marketing-Automatisierung
Mehrere Standorte
Mitarbeitereinsatzplanung
Mitarbeitermanagement
Online-Buchung
Personalverwaltung
Rabattmanagement
Terminplanung
Terminverwaltung
Verkaufsberichte
Verkaufspunkt POS
Zahlungsabwicklung
Alternativen für DaySmart Spa
Bewertungen über DaySmart Spa
Jennifer Y.
Dental Administrator in Kanada
Verifizierter Nutzer auf LinkedIn
Gesundheit, Wellness & Fitness, 2-10 Mitarbeiter
Verwendete die Software für: 1-5 Monate
Simple and easy to use!
Vorteile:
The pricing is very affordable and a free trial is available which is helpful to test it out and see if its the right fit! Our clients have commented on how they enjoy the reminders which are available in both text and email. Confirmations are done quick and easy making more time for front end staff. It also has a mobile app available which is handy for on the go, I'm not stuck to a computer. Customer support is most excellent when in need.
Nachteile:
Everything works perfectly for our business.
Malorie G.
FDR/Manager in USA
Medizinische Praxis, 2-10 Mitarbeiter
Verwendete die Software für: Kostenlose Testversion
They were amazing
Kommentare: Overall we thoroughly have enjoyed Orchid. I am really hoping they can fix the situation with the detailed reporting and we can get back with them, because right now, we are back at square one in our searching for software. I really enjoyed their software, having it all set up properly, learning all the ways to use it, and the training was impeccable. Hands down, they have an amazing team of customer service reps who go out of their way to accommodate you with excellent service and care. The software is easy to understand and use and so is the app. and just a beautiful technique overall in the setup. I really thought we had a winner there. Come on Orchid!!! Fix that reporting method! Other than that, excellent job guys!
Vorteile:
I absolutely enjoyed everything and the ease of using it and implementing the software into our business. I even loved having an Orchid service friend (I call him a friend haha) on speed dial. I could just call and go straight to his desk and ask him questions, or email the support team anytime without bugging them.
Nachteile:
Unfortunately 2 things & 1 of those 2 was the ultimate deal breaker as we did have them up & running until coming to this sad problem. The first thing was, their app couldn't notify the employees when a client gets checked in. What I mean by that is similar to a text message, if our nurse practitioner is with a patient & her next pt arrives, said pt is now checked in, app will notify FNP & whatever ringer she has it on- will ring, in which case it should vibrate. Their app is not able to do that, but you know what it's not a big deal. We were spoiled for many yrs with that feature & we will learn to get over that moving fwd. The one that broke my heart was not being able to break down services in the reports by groups for a month & by the day by detail. We have staff meetings & we initially use the breakdown to go over what we have done for the entire month. Also, we use the detailed practical breakdown for revenue & cost. For instance, a Group: >Aesthetics- under that would be >facials- under that would be type of facials for that month. So say 1. basic facials: we did X amount of those for X amount of $$ 2. hydrafacials: we did X amount of those for X amount of $$. So now we take that breakdown & see what cost goes to payroll, what cost goes to profit, & what cost goes towards product. They cannot provide that report in such high detail right now, unfortunately. We had to cancel with them for now.
Kristin F.
General Manager in USA
Kosmetik, 11-50 Mitarbeiter
Verwendete die Software für: Mehr als 2 Jahre
We love Orchid but it is missing some features
Kommentare: Good, I would like to see faster development of new and useful features, maybe an email sent out when and update is made to list the changes or new features in that update.
Vorteile:
We love how Orchid lets us customize just about everything! The booking and check out process is very easy and the whole program is easy for new staff to learn.
Nachteile:
That it is not web-based and not set up from multiple locations to share the same client, staff and services database, you have to re-enter clients, staff and services for every single location's database. And that the email and text features are very limited in communicating via 2-way text or having more appointment reminder text options as well as email marketing... would be great to have a leads database where if people fill out their info on our site that the data is captured into orchid as a lead and when they come in for service they turn into a client. Marketing to leads vs clients would be a nice feature. Also would love a add holidays we are closed to the scheduling feature so when doing recurring schedules for Staff they are not scheduled on holidays automatically.
Arshia R.
Head of IT in USA
Freizeit, Reisen & Tourismus, 11-50 Mitarbeiter
Verwendete die Software für: Mehr als 1 Jahr
Amazing service!
Kommentare: The reps were very professional and helped me with my problem. It was obvious they weren't forced to follow a script which allowed them to better help me with my problem. They both always had suggestions for me to help me fix my problem, but I also never felt as if I was being talked down to which is a problem I noticed on a lot of other live chat services. Overall this has been the best customer support experience I have had in a while.
Vorteile:
Easy to use live chat system with VERY competent reps.
Nachteile:
System timed out too fast so I wasn't able to stay with the same rep (which is a non-problem since everyone is professional and it seems the prior chat logs are visible).
Valerie M.
Clinic Manager in Kanada
Kosmetik, 2-10 Mitarbeiter
Verwendete die Software für: Mehr als 2 Jahre
Continue to Believe this Customer Management System is the best
Kommentare: They are true business partners. Always willing to support our business, even with customized requests.
Vorteile:
Fully integrated system to help manage all our client needs, from customer date, contact management, reporting, marketing and social media support
Nachteile:
Still waiting for them to take the entire desktop system to a online system with all the features the desktop system has.