Was ist OpenEMR?
OpenEMR ist eine Open-Source-Lösung für elektronische Patientendatensysteme und medizinisches Praxismanagement, die von ONC zertifiziert ist.
Wer verwendet OpenEMR?
Nicht vom Anbieter bereitgestellt
Wo kann OpenEMR bereitgestellt werden?
Cloud, SaaS, webbasiert, Windows (Desktop), Windows (On-Premise), Linux (On-Premise)
Über den Anbieter
OpenEMR
24/7 Live-Support
Chat
Erhältlich in diesen Ländern
Vereinigte Staaten
Über den Anbieter
OpenEMR
24/7 Live-Support
Chat
Erhältlich in diesen Ländern
Vereinigte Staaten
OpenEMR – Videos und Bilder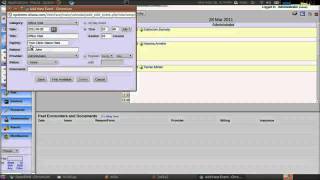 Kosten ähnlicher Produkte wie OpenEMR vergleichen
OpenEMR Funktionen
Compliance-Verfolgung
Diagramm-Erstellung
Elektronische Rezepte
ONC-ATCB zertifiziert
Terminplanung
Krankenhausversorgung & Gesundheitswesen, 2-10 Mitarbeiter
Verwendete die Software für: 1-5 Monate
Quelle: SoftwareAdvice
openemer to manage rentals log and tracking
Kommentare: It is intuitive and robust. I am amazed at the access control and sharing functionalities that are built into it.
Vorteile:
It is to configure by creating forms from scratch or modifying already present out of the box.
Nachteile:
manage log and tracking of rental items such as scooters and wheelchairs is not easy, the product does not have any pre-configured features.
Ralf
Internist in USA
Verifizierter Nutzer auf LinkedIn
Medizinische Praxis, 2-10 Mitarbeiter
Verwendete die Software für: 6-12 Monate
A very powerful system but some assembly is required
Kommentare: We are a relatively new solo Internal Medicine practice with less than 1000 active charts. We replaced NextGen's Office EMR system with this EMR. The migration from the old commercial system was painful, labor-intensive, and time-consuming because we did not have direct read access to the NextGen Office database (proprietary commercial database, which ironically was also on AWS just like our new system but we did not have system administrator or backup access). Everything had to be converted to PDF's.
We chose the AWS Hosted Standard version, and we were immediately surprised how much faster and more reliable the hosted OpenEMR system was than our previous commercial system or other cumbersome and extremely unreliable and slow systems we have been forced to use at other clinics and hospitals.
Staff required minimal training to use the system and historical records and patient documents can be very quickly uploaded to this system up to about 10 MB in size without changing any of the default configuration on the AWS system (there is probably a timeout setting). We use another database from larger attachments archival.
The developers and super-users of this system provide expert support to upgrade issues and critical problems. With minor issues, you are more or less on your own if you want an immediate fix (hire a consultant or figure it out yourself). OpenEMR is being actively developed and new features and improvements are constantly being added.
Vorteile:
* Extremely low cost of ownership. * Clean, easy to understand user interface and workflow. * Many functions can be enabled to add features or disabled to simplify the system with a massive but well-organized settings menu. * Very fast user interface and database when run on appropriate hardware. * Can be run on extremely fast and scalable Amazon Web Services (AWS) as a hosted system. * With AWS or another suitably designed and implemented system, you get ultra-reliable and near 100% uptime (100% except for scheduled database or software upgrades). * With AWS or another suitably designed and implemented system, you get the very best database management tools (such reliable backup and restore functions). You can also potentially access the database with other custom-written software. * Can be integrated with essentially any other system but often requires developing custom interfaces. * Infinitely customizable. * "Free" support from the developers and other power users instead of well-meaning but incompetent technical support staff who waste precious time to identify what the problem is, attempt to mark incidents are repaired when they actually aren't. * You never have to worry about a 3rd party software vendor holding your patient charts "hostage" as they raise prices or force you to use a crippled system that is not performing well. You have 100% control of your patient data instead of giving the keys to a profit-oriented entity that couldn't care less about your clinic.
Nachteile:
* Requires either strong inhouse IT staff, staff with significant computer system skills and experience to install and maintain or hiring of an outside consultant. * The billing system is rudimentary, and we do not use it except to record the patient's insurance information. We enter our coding into our progress notes and then send them to our in-house billing staff. * The electronic prescribing system either requires cumbersome or expensive 3rd party integration or use of a separate system. I attempted one of the 3rd-party e-prescribing integrations, which is free ... except that I could not get it to work. It also turned out not to be true e-prescribing (uses faxes). Instead, we use stand-alone web-based MDTOOLBOX, which is reasonably priced, extremely powerful, efficient, reliable, and fast. It has an amazing feature that allows the physician to be prompted for expiring prescriptions, which can then be renewed -- saving countless hours dealing with certain faxed refill requests. The system also handles electronic refill requests seamlessly. In our progress notes, we indicate the medications are reviewed and reconciled in MDTOOLBOX. We also tried Allscripts' stand-alone web-based ePrescribe (now Veradigm ePrescribe), which is a decent system, but a little more expensive and more cumbersome/inefficient to set up and work with on a day-to-day basis compared to MDTOOLBOX. * "Free" support from the developers and other power users who are quite busy so somewhat limit
Eno
Office Manager in USA
Medizinische Praxis, 2-10 Mitarbeiter
Verwendete die Software für: 1-5 Monate
In Betracht gezogene Alternativen:
Office Manager
Kommentare: We had to get rid of the software after 90 days usage.
Vorteile:
The only thing I like about this software was that it was free and all I had to do was hired trainer to train office staff how to use it.
Nachteile:
User have to program or do set up of all functionalities.
Medizinische Praxis, 2-10 Mitarbeiter
Verwendete die Software für: Mehr als 2 Jahre
Quelle: SoftwareAdvice
Excellent product. Should have done this years ago.
Kommentare: I like to be self-sufficient. I have used OpenEMR for over two years and find that it suits my needs perfectly. That having been said, I am a specialist and have had to develop many of my own forms and other customizations before the product was directly useful to me. I have tended to view that more as a hobby than an impediment but for those who are not so inclined it appears that there are vendors about who would be happy to do this work for you, presumably for a price. Alternatively, the help forums are active and helpful, although one must know how to define and ask the question before the answer will be of benefit.
Vorteile:
The price is wonderful! The product works, although not necessarily right out of the box if you have special needs. Flexibility is great. Freedom from support costs is gratifying (although it does require one to become proficient to the desired level if you wish to avoid all support costs). Fancy equipment not required. Works on multiple platforms.
Nachteile:
There is a learning curve, especially if customizations are in order. My suspicion is that this would be relatively quick for primary care practices. Specialists might require additional customization that will either need to be done in-house or contracted out. This is not as much a con as simply a fact. I'd much rather have an open source product that I can customize myself than a proprietary one-size-fits-all product for which I can't access the code and have to keep running back to the mother company every time I want to make a minor (or major) change.
Kishore
Director in Belize
Medizinische Praxis, 2-10 Mitarbeiter
Verwendete die Software für: Mehr als 2 Jahre
Quelle: SoftwareAdvice
Best free open-source php emr software
Kommentare: We have been using it for eight years so far from version 4.2.2 through 5.0.2 to 6.0.2 currently.The current version is very easy to utilize in a small but busy medical practice.
Vorteile:
Easy to use.Multiple types of forms are available for data entry.Interface of openemr 6.0.2 is definitely silky smooth.It is suitable for our small practice which has 13,000 registered patients so far.
Nachteile:
There is no dedicated mobile app developed yet.Browser-based interface is suitable but that would be a plus.