Wir helfen Unternehmen in Deutschland
seit 15 Jahren bei der Softwareauswahl
Was ist BigCommerce?
BigCommerce ist die weltweit am schnellsten wachsende eCommerce-Plattform mit mehr als 95.000 Geschäften. Hier findest du alles, was du zum Erstellen eines erfolgreichen Online-Shops benötigst, einschließlich einer sicher gehosteten Website, eines Warenkorbs, eines Produktkatalogs und mehr. Mithilfe von Designs und Design-Features per Mausklick sind Websites ganz einfach ohne Design- oder technische Kenntnisse zu erstellen. Leistungsstarke, integrierte Tools für Marketing und Conversion-Optimierung unterstützen dich dabei, dein Geschäft auszubauen und mehr zu verkaufen.
Wer verwendet BigCommerce?
Start-ups, KMU- und Unternehmenskunden, die Waren online verkaufen möchten
Wo kann BigCommerce bereitgestellt werden?
Cloudbasiert
On-Premise (vor Ort)
---
Über den Anbieter
BigCommerce
Ansässig in austin, USA
2009 gegründet
Support für BigCommerce
Telefon-Support
24/7 Live-Support
Chat
BigCommerce Kosten
Startpreis:
29,95 $/Monat
Ja, kostenloser Test verfügbar
Keine Gratisversion
BigCommerce bietet keine Gratisversion, aber eine kostenlose Testversion. Die kostenpflichtige Version von BigCommerce ist ab 29,95 $/Monat verfügbar.
Über den Anbieter
BigCommerce
Ansässig in austin, USA
2009 gegründet
Support für BigCommerce
Telefon-Support
24/7 Live-Support
Chat
BigCommerce – Videos und Bilder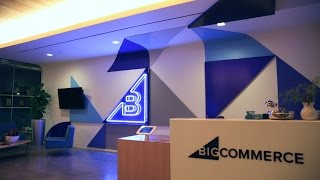 BigCommerce Funktionen
API
Abgebrochene Verkaufsprozesse wiederherstellen
Aktivitäts-Dashboard
Angebotsmanagement
Auftragsmanagement
Bearbeiten in Echtzeit
Berichterstattung / Analyse
Berichterstattung und Statistik
Bestandskontrolle
Bestandsoptimierung
Bestandsverfolgung
CRM
Content-Management
Daten-Import / -Export
Datensicherheit
Decoupled Frontend und Backend
Design-Management
Dokumentenmanagement
Drittanbieter-Integration
E-Commerce-Management
E-Mail Marketing
Einkaufswagen
Elektronische Zahlungen
Für B2B
Für kleine Unternehmen
Inventarverwaltung
Kanalmanagement
Katalogisierung / Kategorisierung
Kunden-Kontaktpunkte
Kundenkonten
Kundenmanagement
Marktplatz-Integration
Mehrere Währungen
Mobiler Zugriff
Multichannel-Management
Multichannel-Marketing
Nachbestellung
Online-Shop-Designer
Optionen zur Inhaltsveröffentlichung
Rabattmanagement
Retourenmanagement
Review Management
SEO-Management
SSL-Sicherheit
Steuermanagement
Versand-Management
Veröffentlichungsoptionen
Vorgefertigte Vorlagen
Vorlagen-Management
Vorschaufunktion
Website-Management
Zahlungsoptionen
Alternativen für BigCommerce
Bewertungen über BigCommerce
Michael J.
CEO
Verifizierter Nutzer auf LinkedIn
Einzelhandel, 2–10 Mitarbeiter
Verwendete die Software für: Mehr als 1 Jahr
Herkunft der Bewertung
Strong but could use a few improvements. WordPress integration!
Untertitel auf Deutsch sind im Videoplayer verfügbar
Nathan
Marketing Manager in USA
Verifizierter Nutzer auf LinkedIn
Sportartikel, 11–50 Mitarbeiter
Verwendete die Software für: Mehr als 1 Jahr
Herkunft der Bewertung
Among the best ecommerce solutions for growing businesses
Kommentare: We initially transitioned from Lightspeed eCom over to Bigcommerce because their platform offered greater scalability and entry-level features than what Lightspeed offered. Because we use Lightspeed POS, however, integrating product data between the systems was a challenge and a lengthy process. It also takes some effort to maintain the connection (via a third-party service using their API).
Vorteile:
Bigcommerce offers some of the most inclusive features in their entry-level product options, making them excellent for small businesses. Their level of customer support and transparency about service issues and new features in development are excellent and perhaps one of the main reasons why we've kept using Bigcommerce instead of switching to a platform that meets other essential features that we are still awaiting from Bigcommerce. The availability of third-party apps (including shipping and logistics integrations) has been great to work with so far.
Nachteile:
Storefront development is currently very lackluster and it can be difficult to get a truly customized website without hiring a developer or investing in web development skills of your own. This is also true of their e-mail features. If you don't have more than a basic understanding of HTML, it will be next to impossible to customize their system e-mails without a third-party solution. Also, while their entry-level features are among the most plentiful in the industry, a few features (such as Google Reviews integrations and Abandoned Cart Recovery) are reserved only for higher-tier plans, which doesn't make sense from a financial standpoint as their costs to support these features should be minimal.
In Betracht gezogene Alternativen: Adobe Commerce, WooCommerce und Shopify
Warum BigCommerce gewählt wurde: Note: We switched from Lightspeed's integrated e-commerce offering but still utilize their cloud POS and inventory management software (connected to Bigcommerce via API). We switched because Bigcommerce offered greater scalability than Lightspeed's own solution, especially concerning the ease of managing our inventory across multiple marketplace channels.
Zuvor genutzte Software: Lightspeed Retail
Gründe für den Wechsel zu BigCommerce: Bigcommerce ultimately offered the greatest financial value in terms of entry-level features and marketplace functionality that were available to us as a growing small business.
Justin
Director of E-commerce & Marketing in USA
Verifizierter Nutzer auf LinkedIn
Einzelhandel, 201–500 Mitarbeiter
Verwendete die Software für: Mehr als 2 Jahre
Herkunft der Bewertung
TYLER'S x BigCommerce
Kommentare: BigCommerce has been absolutely phenomenal. We're glad to be based in Austin, Texas alongside some of the BigCommerce team. Their support staff has been instrumental in our ability to adjust when a problem arises, and find a long term solution to ensure our ongoing success.
Vorteile:
BigCommerce has developed a simplistic software that's allowing small and mid size companies to maneuver at scale. We've been able to learn and adapt new strategies as their team continues to open new capabilities to developers and as they push development in their app market. Fast and reliable apps will be key to building and maintaining the next evolution of ecommerce businesses and having that infrastructure in place will be pivotal in the years to come.
Nachteile:
When we teamed up with BigCommerce, they were a newer competitor in the market. Some similar companies were able to offer functionalities that were limiting to our initial growth through ecommerce. Being a brick and mortar based business since 1978, we had a multitude of functionalities needed to keep up with our physical locations. Although they couldn't offer these features out of the gate, they were quick to get them implemented and worked closely with us to resolve our issues.
Max
Director of Systems Operations in USA
E-Learning, 51–200 Mitarbeiter
Verwendete die Software für: Mehr als 2 Jahre
Herkunft der Bewertung
Terrific admin UI and purchaser experience - BigCommerce will not fix bugs customers find
Kommentare: The software has been solid for our customers and the administration UI is very easy to use. We have outstanding technical issues that have been open for more than a year and are still not resolved (HTTP status 500 errors that intermittently are returned from their backend APIs) - they say they cannot see the errors in their backend logs and we must send them examples even though we have this happen 10-12 times a day, continually, for over a year. Their Stripe integration does not include the email address field when they send payment requests to Stripe, so customers do not get a credit card receipt from Stripe. Requesting this be changed resulted in them telling us only 1 other customer wanted this feature and that we should switch to Authorize or Brain Tree because it works with those processors) - this felt like a move to downplay the use of Stripe and push us towards vendors that BigCommerce perhaps prefers? It is hard to believe we are the only customer that would want Stripe to send CC receipts to customers - their built-in receipt mechanism does not allow a store to include the last 4 digits of the credit card in the receipt the store sends, which means customers have to call in to customer support when they are organizational customers to figure out which CC is used - a very poor experience for our customers and for our customer support team.
Vorteile:
It is highly customizable, has most of the features you'd expect in an e-commerce solution, and the APIs are well-documented.
Nachteile:
* Seemingly easy solutions to known issues get stuck in their support bureaucracy and disappear * Their logging does not allow software engineers nor CSRs to see the specifics of errors - customers must provide client-side stack traces to help them find errors on their backend (for example, API calls that return HTTP status 500)
Teresa Aminta
Vice President Marketing in USA
Verifizierter Nutzer auf LinkedIn
Bau, 2–10 Mitarbeiter
Verwendete die Software für: 6-12 Monate
Herkunft der Bewertung
BigCommerce is designed for business growth
Kommentare: Let's use BigCommerce for the purpose of our internet commerce and love the website we have. The platform offers a vast selection of innovative features that any small business like ours requires for a complete, easily accessible, aesthetically and functionally appealing website. Because BigCommerce offers unlimited product layout, unlimited bandwidth, unlimited and different storage, we don't have to worry about exceeding storage limits, etc. This leaves us with more time to develop content, site optimization and other business-related activities that impact business growth.
Vorteile:
BigCommerce is ready for any type of commerce. It is recommended for value-driven companies. Anyone who has a goal and is ready to carry it out will benefit from this strong foundation. BigCommerce is big commerce. And this is what you require to achieve your big business goals. With all the features it has advanced, BigCommerce ensures that the slope of the learning curve is imperceptible. If it is your first time to market through the internet, you need to use an e-commerce platform, which offers a vast and effective range of tools for you to succeed.
Nachteile:
On every occasion when it is necessary to use Rafflecopter for the purpose of a giveaway, it is not possible to start the program in BigCommerce. The context does not allow it. The blog capability is perhaps one of the weakest parts of BigCommerce. It would be wonderful if it could act like WordPress does.
Verifizierter Rezensent
Verifizierter Nutzer auf LinkedIn
Einzelhandel, Selbstständig
Verwendete die Software für: Mehr als 2 Jahre
Herkunft der Bewertung
Easy to use and scale
Kommentare: We have been with BigCommerce for six years now and have had very minimal downtime. The rare instances we've had to contact customer support have been handled quickly. Support forums and customer facebook group monitored by BC have been a tremendous help when troubleshooting or looking for ways to customize our online store.
Vorteile:
Out of the box, BigCommerce has more built in features than other online carts out there. Pretty straightforward setup making it fairly easy to get up and running in little time.
Nachteile:
Not as easy to customize themes/store interface. When you edit the source code you need to make sure you document what was done as the changes don't carry over when you update the theme of your site.
In Betracht gezogene Alternativen: Shopify Plus und Shopify
Warum BigCommerce gewählt wurde: We wanted to lessen the time required to update and maintain our ecommerce site so we could spend our time and money on marketing and other efforts.
Gründe für den Wechsel zu BigCommerce: Out of the box, Bigcommerce offers more built-in features that I would need an app for in Shopify which adds to the cost and slows down the site.