Was ist Ordant?
Ordant ist eine cloudbasierte, integrierte Druck-MIS- und Web-to-Print-Software für Druckereien und Schilderverlage. Mit Ordant kannst du die genauen Kosten für nutzerdefinierte Preisschätzungen berechnen, die Auftragsverwaltung vereinfachen und Online-B2B- oder B2C-Storefronts einrichten. Ordant kann die Rentabilität von Druckereien verbessern, indem sie das Online-Proofing, die E-Mail-Bestellgenehmigung, das Customer Relationship Management (CRM), die Zeiterfassung, automatisierte E-Mails und das Hochladen von Dateien rationalisiert. Verbindet sich mit QuickBooks, Fedex und UPS.
Wer verwendet Ordant?
Kommerzielle Druckereien: Druckbetriebe, Schilderverlage, Druckindustrie, Druckdienstleisterunternehmen, Druckvermittlungen, Unternehmen für Fahrzeugverklebung, Großformathandel, Anzeigeunternehmen für Messen.
Ordant – Details
ordant.com
2011 gegründet
Ordant – Details
ordant.com
2011 gegründet
Ordant – Videos und Bilder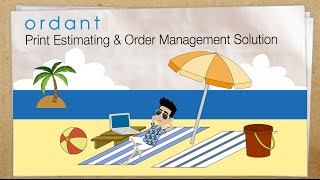 Kosten ähnlicher Produkte wie Ordant vergleichen
Startpreis
Nicht verfügbar
100,00 $/Monat
45,00 $/Monat
550,00 $/Monat
Ordant – Bereitstellung und Support
Kundenbetreuung
E-Mail/Helpdesk
Telefon-Support
Chat
Training
Persönlich
Live Online
Webinare
Dokumentation
Videos
Funktionen von Ordant
API
Abrechnung & Rechnungsstellung
Aktivitäts-Dashboard
Angebote / Schätzungen
Anpassbare Vorlagen
Auftragsabwicklung
Auftragserfassung
Auftragsmanagement
Auftragsverfolgung
Barcode / Tickets scannen
Berichterstattung / Analyse
Berichterstattung und Statistik
Bestandsführung
Bestandsnachfüllung
Bestandsoptimierung
Bestandsverfolgung
Bestell-Management
Daten-Import / -Export
Datensynchronisation
Drittanbieter-Integration
E-Commerce-Management
Echtzeit-Aktualisierungen
Echtzeit-Analytik
Echtzeit-Berichterstattung
Echtzeit-Daten
Einkauf & Empfang
Einzelhandel-Lagerverwaltung
Etikettierung
Integration in die Buchhaltung
Inventarverwaltung
Katalogisierung / Kategorisierung
Kontakt-Datenbank
Kundenaufträge
Kundenhistorie
Kundenspezifisches Branding
Lagerhaus-Management
Lieferanten-Management
Mehrere Standorte
Mehrere Währungen
Multichannel-Management
Produktkatalog
Prognose
Rabattmanagement
Rechnungsmanagement
Retourenmanagement
Rückstandsverwaltung
Spezielles Auftragsmanagement
Versand-Management
Versandetiketten
Wiederkehrende Bestellungen
"Best Fit" Auferlegung
API
Abrechnung & Rechnungsstellung
Aktivitäts-Dashboard
Aktivitäts-Verfolgung
Angebote / Schätzungen
Anpassbare Berichte
Anpassbare Vorlagen
Auftragsabwicklung
Auftragskostenrechnung
Auftragsmanagement
Auftragsverfolgung
Berechnungen mehrerer Versionen
Berechnungen vor/ nach einer Dienstleistung
Berichterstattung und Statistik
Bestandsverfolgung
Bestell-Management
Drittanbieter-Integration
Druck-Management
Elektronische Zahlungen
Inventarverwaltung
Job-Management
Job-Nachverfolgung
Job-Planung
Kontrolle des Genehmigungsprozesses
Kostennachverfolgung
Kostenschätzung
Kreditkartenbearbeitung
Kundenspezifisches Branding
Leistungskennzahlen
Lieferanten-Management
Preis- / Margen-Management
Press & Run-Stilanalyse
Produktion-Nachverfolgung
Produktionsoptionen-Bewertung
Produktkatalog
Prozess-Tinten-Berechnung
Rabattmanagement
Rechnungsmanagement
Regelbasierter Workflow
Reinzeichnung-Schätzung
Rollen-basierte Genehmigung
Schätzung
Schätzung der Buchbinderei
Schätzung des "besten Preises"
Terminplanung
Versand-Management
Vorlagen-Management
Workflow-Management
Zugriffskontrollen / Berechtigungen
API
Aktivitäts-Dashboard
Angebote / Schätzungen
Anpassbare Berichte
Anpassbare Vorlagen
Auftragsabwicklung
Auftragsmanagement
Auftragsverfolgung
Benutzer-Management
Berichterstattung und Statistik
Bestell-Management
Bildbearbeitung
Bildbibliothek
Content-Management
Design-Management
Dokumentvorlagen
Drag-and-Drop
Drittanbieter-Integration
Druck-Management
Drucken an mehreren Standorten
ERP
Elektronische Zahlungen
Genehmigungs-Workflow
Inhalt-Bibliothek
Integration von Druckservices
Inventarverwaltung
Katalogisierung / Kategorisierung
Konfigurierbarer Workflow
Kontrolle des Genehmigungsprozesses
Kostenschätzung
Kreditkartenbearbeitung
Kundenkonten
Kundenspezifisches Branding
Leistungskennzahlen
Multichannel-Marketing
Onlinekatalog
Produktkonfigurator
Rabattmanagement
Rollen-basierte Genehmigung
SEO-Management
Schätzung
Suchen / filtern
Textbearbeitung
Versand-Management
Vorlagen
Vorlagen-Management
Vorschaufunktion
Website-Management
Workflow-Management
Zugriffskontrollen / Berechtigungen
Eric D.
______ in USA
Verifizierter Nutzer auf LinkedIn
Druck, 2-10 Mitarbeiter
Verwendete die Software für: Mehr als 2 Jahre
Ordant is a great tool!
Kommentare: Our experience has been great. Rep and the company are very receptive to ideas, input, and suggestions to make the product even better.
Vorteile:
What I like most about Ordant is that it is customizable to fit the specific products we sell.
Nachteile:
The learning curve. However, once I learned to use it, it has become extremely useful in our operations.
Druck, 2-10 Mitarbeiter
Verwendete die Software für: 1-5 Monate
Ordant Software - The UPS Store
Kommentare: Over the past few years our print & graphic design business has been rapidly growing. This growth caused us not only to expand the amount of print and finishing equipment we have, but also created the need for a print MIS solution. Prior to Ordant's software, my business was using a 100% hand written work order system for pricing and tracking of all our print production jobs. The system worked, but as we continued to grow, we ran in to more and more issues. It was time consuming, inconsistent and worst of all provided no way to retain crucial details about our print customers and the products they were ordering.
I began looking around online for a print MIS application that would allow my business to grow and thrive in the world of print. Every option I looked in to had very little customization options and was extremely complicated to use. They came with loads and loads of features that my business would never use. I really needed something that my entire print staff could easily understand and use on a day-to-day basis.
Ordant's print MIS software has become an integral part of my print and graphic design business. Customer support and his team took care of all the initial set-up and responds almost immediately to any phone call or email we send. Ordant has become the perfect complement to our print and finishing equipment. I now feel my business has the final piece needed to reach our full potential in the world of print.
Vorteile:
When I came across Ordant's website, I immediately liked what I saw…. "Ordant Print Estimating & Order Management… Simplified." This one-line statement described almost EXACTLY what I was looking for. I began reading over the information on the website and the more I read, the more I liked what I saw. I reached out to Ordant and was immediately connected with customer support. Support team walked me through all the different features of Ordant. He even scheduled a live on-screen demonstration of the software. Ordant was exactly what I'd been looking for. It's a very straight forward, very user-friendly cloud-based software package that can handle all aspects of print job price estimates and workflow management. Best of all, support agent explained that the Ordant software came in a few different "package" level options. Some more basic and some more robust. He explained that Ordant can customize a specific software package with whichever add-on modules the customer needs or doesn't need.
Nachteile:
Absolutely nothing. Everything about Ordant has exceeded my expectations thus far.
Verifizierter Rezensent
Founder/Managing Director in Kanada
Verifizierter Nutzer auf LinkedIn
Druck, 2-10 Mitarbeiter
Verwendete die Software für: 1-5 Monate
Cannot customize
Kommentare: Not good
Vorteile:
The backend is ok but not worth the cost
Nachteile:
Cannot customize the front end and have to use their designs
Antwort von ordant.com
vor 3 Jahren
Our whole system is built around customization. We can do customization for you or you can do it yourself. We also offer custom development where we can build features for you. About 60% of our customers use the software as is, for others we have done custom development. For our Web2Print you can add your own design or use one of our designs. Please do read rest of the reviews. Along with customization we are highly rated for our ease of use, our great customer support, excellent quality and features. If you are interested, we can provide contact information about our references and you can talk to them directly. We do not think this was written by any of our customers as it was written anonymously.
George M.
General Manager in USA
Konsumgüter, 11-50 Mitarbeiter
Verwendete die Software für: 6-12 Monate
adaptive, intuitive, and scalable
Kommentare: Before using Ordant, our workflow was deeply flawed. Each step in the process was separate from the previous, from RFQs, and Estimates, to Orders and Billing. There was a lot of double, sometimes triple entry of items. Once we switched over to Ordant, things improved immediately. The time it took to get a job in and out through Ordant was about 1/3 of what it was. The transition was really great. We were able to test and demo the system for a few months before going live that way everybody could be trained and address any issues. They entered all the pricing from our previous system for us. Once we went live, we still encountered some needed changes and training in some situations, but nothing that couldn't be quickly resolved. The support team was extremely helpful and responsive. For wide-format, we strongly felt that Ordant was a fantastic solution. Orders that were done with outside vendors could be taken care of using Purchase Orders, especially digital printing orders. Updating pricing on items was easy. Adding retail products was a breeze. The only thing that felt a bit cumbersome was anything that needed to be done offset via vendor. The Order Manager was especially helpful as a Dashboard showing where in progress each order was in production, whether the order was out for a proof, or being cut and finished. Updating an order's status via the Order Manager was as simple as drag and drop. Billing was a whole lot easier since Ordant connects to Quickbooks Desktop and Online (we used Online). Orders came through already entered and all we had to do was choose the right Chart Account for each order and it was done. The ability of Ordant being able to connect to popular SaaS offerings was helpful too. We used the Google Apps for Work suite, and Slack, and it connected seamlessly with them. This helped with file management since all our files could easily be save in the cloud for back-up. Overall, Ordant was very adaptive, intuitive, and scalable. I would highly recommend any printer looking to make their production process straightforward, hassle free, and secure should consider getting Ordant.
Vorteile:
VERY intuitive. Easy to get up and running. Fantastic support.
Nachteile:
Constantly being developed, so there are some bugs. But that means it only gets better. No software out there is perfect.
Verwendete die Software für: 1-5 Monate
Very easy to use and the Ordant team is constantly adding new features.
Vorteile:
Ease of Use: Ordant is very easy to use and has multiple routes to get to any information you need. Their team are constantly thinking of ways to improve on that and welcome customer suggestions. Customer Service: The customer service is beyond 5-Star. They reply to any questions or emails almost immediately and even have a feedback button built right into the website. If we ever come across an issue they're on it instantly to make sure we can keep the shop running smoothly. Feature & Functionality: Ordant has a ton of useful features and they're always working on new features to expand on that. They make sure to notify us of upcoming releases ahead of time so we can plan for marketing those new features to our customers. Value: At first we were a little skeptical since it is a huge investment of not only money but time. The Ordant staff were very accommodating in getting our products and pricing over into Ordant and right there if we needed any assistance. We've had the system for about 6 months now and I can't imagine the shop without it. It saves us an enormous amount of time for quoting alone, not counting the benefit for order tracking, online storefront, client history, and integrated shipping.
Nachteile:
We will occasionally find bugs but if we do they're immediately on it to get us corrected and running smoothly again.