Was ist MyRouteOnline?
Routenoptimierungslösung, die Adressen aus einer Excel-Datei in einen Routenplan konvertiert, der über mobile Geräte oder GPS freigegeben werden kann.
Erstelle mit Max eine einzelne Route oder mehrere Routen gleichzeitig. Dauer, maximale Stopps usw.
Optimiere deine Strecken und sortiere sie nach der kürzesten, schnellsten oder ausgewogensten Variante oder behalte die ursprüngliche Abfolge bei.
Nutze Gebiete, um deine Arbeitslast auszugleichen.
Erhalte eine Karte mit einer detaillierten Wegbeschreibung (mit allen Abbiegehinweisen).
Exportiere deine Routen in Excel.
Speichere deine Routen online und lade sie neu.
Drucke eine große Karte deiner Routen oder Gebiete.
Wer verwendet MyRouteOnline?
Außendienst, Lieferdienste, Wartungsfirmen, Telekommunikationsfirmen, Speditionen, Kurierdienste, Recyclingunternehmen, Inspektionsfirmen, Versicherungen, Immobilienunternehmen, Wäschereien, Schneeräumdienste, Landschaftsbau, Poolreinigung, Zeitungen, Schädlingsbekämpfungsfirmen
Wo kann MyRouteOnline bereitgestellt werden?
Cloud, SaaS, webbasiert, Android (mobil), iPhone (mobil), iPad (mobil)
Über den Anbieter
MyRouteOnline
2010 gegründet
Telefon-Support
24/7 Live-Support
Chat
Erhältlich in diesen Ländern
Vereinigte Staaten
Über den Anbieter
MyRouteOnline
2010 gegründet
Telefon-Support
24/7 Live-Support
Chat
Erhältlich in diesen Ländern
Vereinigte Staaten
MyRouteOnline – Videos und Bilder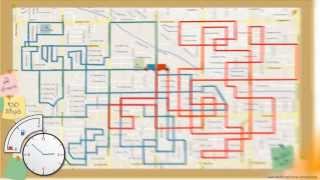 Kosten ähnlicher Produkte wie MyRouteOnline vergleichen
MyRouteOnline Funktionen
Arbeitsauftragsverwaltung
Auftragsmanagement
Fahrer-Management
GPS
Inspektions-Management
Instandhaltungsmanagement
Kraftstoff-Management
Routenoptimierung
Routing
Terminplanung
Transportmanagement
Versandmanagement
Alternativen für MyRouteOnline
Bewertungen über MyRouteOnline
Yisroel
School IT in USA
Verifizierter Nutzer auf LinkedIn
Bildungsmanagement, 51-200 Mitarbeiter
Verwendete die Software für: Mehr als 1 Jahr
Saved the day
Vorteile:
We were running a fundraiser for our school. We used to manually figure out delivery routes. Using My Routes Online saved us hours and hours of time. We simply uploaded our spreadsheet of addresses and choose the amount of driving routes and the software did the rest.
Nachteile:
No cons. In a school setting we only need routes a few times a year.... Now if it could grade papers... Then we would be talking:-)
Antwort von MyRouteOnline
vor 3 Jahren
Thank you so much for your feedback. We'll be here again, for the next time you'll need us :-)
Calder
Community Engagement Coordinator in USA
Non-Profit-Organisation Management, 11-50 Mitarbeiter
Verwendete die Software für: 1-5 Monate
In Betracht gezogene Alternativen:
Great tool and great company
Kommentare: Our experience with MyRouteOnline has been exceptional. When COVID-19 pandemic struck, our nonprofit food pantry needed to quickly switch our service model and we decided door-to-door delivery would be the safest and most convenient for our clients, many of whom us public transportation in normal circumstances. MyRouteOnline is easy to use for our administrators and our drivers, while making the process of reaching hundreds of clients much more efficient. What impresses us most, however, is their customer service. The team at MyRouteOnline has gone above and beyond to help meet our needs as a nonprofit and have been incredibly quick in responding to our questions.
Vorteile:
The address upload process is incredibly easy and the software makes it simple to complete the inevitable data cleanup needed with street addresses. Perhaps the most helpful features are the user friendly route customization options. Because our nonprofit receives help from volunteer drivers, the number of routes we need varies from day to day. MyRouteOnline makes it simple to optimize our routes based on changing needs. Finally, the app makes it easy for us to transfer routes to our drivers and for them to navigate.
Nachteile:
We have been very satisfied with the software. One feature that would be helpful in our work specifically is the ability to split the stops unevenly among our drivers, since volunteers have varying vehicle capacity and time availability.
Antwort von MyRouteOnline
vor 2 Jahren
Thanks Calder, we truly appreciate your kind feedback. Happy to be here for you. Keep up the good work and stay safe!
Shane
General Manager in Kanada
Gastgewerbe, 2-10 Mitarbeiter
Verwendete die Software für: Mehr als 1 Jahr
A solid route planner
Kommentare: Please don't take the what I like least section to heart because I genuinely love this program and its a real life saver for me even with copy and pasting hundreds of addresses each week. I love the sleek new update and I hope you guys don't stop improving it. I genuinely think an interactive tour for new users would be beyond helpful. Like I mentioned before I find the guides that are currently available not helpful and some sections just mention the fact that you can do something without actually explaining it to a point where its useful.
Vorteile:
I loved loved loved the fact that I could title each stop. Every address corresponds to a dog we pick up which I then set a pick-up time for in our software. This feature hands down won me over. At first it was really nice to just put the dogs name and address then have a route. As I became more confident with the software I was able to explore other options for automatically optimizing our routes for efficiency. The new update is so much cleaner and user friendly. As soon as I noticed the Beta option, I used that going forward. I like having the ability to save routes which is a huge time saver for me! I don't have to leave the routes open anymore; if a client requests a service that needs to go in one of the existing routes, it's so easy to load up the route and add it in last minute since importing addresses isn't an option for me... at least I don't think so lol
Nachteile:
There is a serious lack of information on how to use the program. Personally I find the information that is available hard to navigate, all over the place and dysfunctional. The videos that are suppose to help you get started look like they were from the 90's, very dry content and not overly helpful. Popups that you could enable or disable would be neat. It could guide you along the way when starting to help you get the most out of the software. Or even little hint buttons beside items that explain how to use it and what it actually does. How does performing a specific action effect the outcome? For example: mixing territories... I haven't the life of me what that is for. I would love to be able to manage multiple routes without having to open several tabs on my computer... I think this is already an option but I'm unable to figure it out and that's a huge dissapointment. The algorithm doesn't always setup routes efficiently and lots of times I can rearrange it to make it shorter. Thats not an issue but what would be nice is when using the drag and drop to rearrange you could select multiple stops instead of waiting for it load a new route with each adjustment.
Antwort von MyRouteOnline
vor 2 Jahren
Thank you Shane for taking the time to write such a detailed feedback. We'll work on our user-guide section to make it friendlier to all our customers.
Medizinische Geräte, 2-10 Mitarbeiter
Verwendete die Software für: Mehr als 1 Jahr
good servies
Kommentare: Good service price could be lowered
Vorteile:
It is easy to use and works for large delivery routes.
Nachteile:
the price could be lowered as the routes aren't extremely large.
Antwort von MyRouteOnline
vor 3 Monaten
Thank you for your review Faina. We will look at your account and see if there is a way to save some money with a different subscription.
Regierungsbeziehungen, 2-10 Mitarbeiter
Verwendete die Software für: Mehr als 2 Jahre
The Best Routing Software and Customer Service on the Market
Kommentare: Unlike other routing options out there, and we look at everyone we could find, My RouteOnline is focused on businesses other than trucking. It has all the features a non-trucking business would need and the classic version of the program is well done and streamlined. The new version has some added features that some may need but the downside is a lot of the features in the classic version have gotten more convoluted requiring more user input to complete the same task. The nice thing is you have options to use whichever version you prefer "for me it's classic version all the way".
For my colleagues and I, My RouteOnline has been brought down to us by the routing gods in the sky. None of us can go back to the stress of not knowing if we are going to make our appointment times, not to mention all the hours saved from not having to manually enter in all the addresses into a GPS and, the list goes on! My business relies on this product and I trust the developer, as such we are not interested in looking at any other products and we will be using this product indefinitely.
If you have a business where you have multiple stops each day with or without appointments you are spinning your wheels and burning valuable time if you're not using this product.
Vorteile:
Some years back my colleagues and I were looking for a routing solution and we had a clear idea of what we were looking for. Our service requires us to drive all over the county and be on time for all of our appointment windows. My RouteOnline is simple to use, we can easily upload the routes to our Garmin GPS's in our trucks, we know well in advance if we're not going to be able to make an appointment window and can make adjustments with the customer in advance in a relaxed and timely fashion.
Nachteile:
Love the classic version, dislike the new version because the new version has gotten more convoluted requiring more clicks and consuming more time to complete the same task then in the classic version. New features in the new version are fantastic but for me not worth the added headache and hassle of dealing with unnecessary drop-down windows. Time is money and efficiency is a top priority for me.
Antwort von MyRouteOnline
vor 2 Jahren
Thank you James! for your great feedback and honesty! The new planner was designed to put all related items under menus and we understand that some users do not appreciate this as much as we thought. We are happy that the classic version does the job right :-)