Was ist Bloomfire?
Bloomfire ist ein Leader im Bereich Wissensaustausch und bietet eine Erfahrung, die Teams und Einzelpersonen mit den Informationen verbindet, die sie brauchen, um ihre Arbeit zu erledigen. Die cloudbasierte Plattform für Wissensaustausch bietet einen zentralen, durchsuchbaren Ort, um geteiltes Wissen zu nutzen und die kollektive Intelligenz von Unternehmen zu erweitern. Besuche die Website des Herstellers, um weitere Informationen zu erhalten oder eine Demo anzufordern.
Wer verwendet Bloomfire?
Bloomfire ist ideal für alle Teams, Abteilungen, Unternehmen oder Organisationen, die nach einem praktischen Weg suchen, Fachwissen sicher, einfach und effizient zu teilen. * Zusammenarbeit *
Wo kann Bloomfire bereitgestellt werden?
Cloud, SaaS, webbasiert, Mac (Desktop), Windows (Desktop), Android (mobil), iPhone (mobil), iPad (mobil)
Über den Anbieter
Bloomfire
Ansässig in Austin, USA
2010 gegründet
Telefon-Support
Chat
Über den Anbieter
Bloomfire
Ansässig in Austin, USA
2010 gegründet
Telefon-Support
Chat
Bloomfire – Videos und Bilder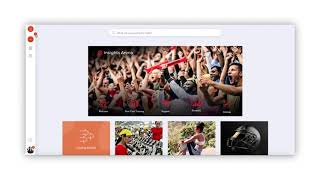 Kosten ähnlicher Produkte wie Bloomfire vergleichen
Bloomfire Funktionen
Aktivitäts-/Newsfeeds
Alarmfunktion / Benachrichtigungen
Asset Sharing
Asset-Kategorisierung
Bearbeiten in Echtzeit
Berichterstattung / Analyse
Berichterstattung und Statistik
Bibliothek von Vermögenswerten
Brainstorming
Content-Management
Datei-Verwaltung
Diskussionen / Foren
Document Capture
Dokumentenklassifizierung
Dokumentenmanagement
Dokumentenspeicher
Drittanbieter-Integration
Filesharing
Gruppenmanagement
Inhalt-Bibliothek
Inhaltserstellung
Katalogisierung / Kategorisierung
Kommentare / Notizen
Kommunikationsmanagement
Kundenspezifisches Branding
Mobiler Zugriff
Nutzereinführung
Optionen zur Inhaltsveröffentlichung
Remote-Support
Remote-Zugriff/-Kontrolle
Selbstbedienungs-Tools
Self-Service Portal
Suchen / filtern
Textbearbeitung
Umfragen & Feedback
Versionskontrolle
Volltextsuche
Werkzeuge zur Zusammenarbeit
Wissensbasis-Management
Wissensmanagement
Zugriffskontrollen / Berechtigungen
Alternativen für Bloomfire
Bewertungen über Bloomfire
Bernhard
owner
Verifizierter Nutzer auf LinkedIn
Unternehmensberatung, 2-10 Mitarbeiter
Verwendete die Software für: Mehr als 2 Jahre
Easy to use
Untertitel auf Deutsch sind im Videoplayer verfügbar
Elise
Senior Knolwedge Manager in USA
Verifizierter Nutzer auf LinkedIn
Marketing & Werbung, 51-200 Mitarbeiter
Verwendete die Software für: Mehr als 2 Jahre
Enables employees with a trove of knowledge
Vorteile:
I love how Bloomfire empowers everyone in our company to contribute to our knowledge base and interact with each other's contributions. The community features - commenting, liking, thumbnails - are key to creating that community feel. And it makes such a difference day-to-day to have a single source of truth for our organization. Also, you can't beat Bloomfire staff. Everyone I've interacted with from customer success to product to engineering has been top notch. They are responsive to immediate support needs and they evolve the product based on customer feedback.
Nachteile:
Some employees find the navigation and search to be challenging. There are some things we need to change about our own implementation to address these issues, and we look forward to future product updates as well.
Bernhard
Business Coach in USA
Unternehmensberatung, Selbstständig
Verwendete die Software für: Mehr als 2 Jahre
Easy to use
Kommentare: We use it to house all of the information for a product that I license. We share information across the user base, add articles and find relevant information about using the tools that we license.
Vorteile:
Very clear navigation, you know where to find what you are looking for
Nachteile:
Sometimes I have a hard time finding older articles and get mixed up with new and old material when I am looking for a specific piece of informaiton
Tyler
New Development - Ambulatory in USA
Computer-Software, 51-200 Mitarbeiter
Verwendete die Software für: 6-12 Monate
Recent Updates Diminish Value of Product Usability
Kommentare: The initial experience was extremely positive, the recent updates significantly reduce the usefulness of the product specifically where tables and embedded documents are concerned.
Vorteile:
We use the system as a knowledge base to inform our ongoing software implementations and keep our Support team up to speed on current functionality. I love that articles/posts are really easy to create and categorize. The search functionality works well which makes finding information very easy.
Nachteile:
The product allows you to embed documents and create tables into posts. Unfortunately, a recent update to the user interface reduces the size of the article to about 1/3 the width of a monitor. As a result, tables and embedded documents are extremely difficult to read as the formatting is severely impacted. I am not sure how to post screenshots. I have escalated to our site administrator who was informed by Bloomfire support that there is no way to revert the settings. Given that we use the system as a knowledge base, we use tables extensively to summarize information for quick and simple digestion. We also regularly embed word documents, PDFs, and Excel files. The new layout/format makes those embedded documents unreadable without extensive zooming or direct downloading of the articles. Prior to this change, the product met our needs and was highly functional. That is no longer the case.
Antwort von Bloomfire
vor 3 Jahren
We're sorry to hear that the new format and layout changes have impacted your ability to read tables and embedded documents. Our Client Success team has reached out and would love to work with you to find a solution to this readability issue. We want Bloomfire to continue being as useful to your company as it was when you first started using it.
Mary
Director, Market Research in USA
Verifizierter Nutzer auf LinkedIn
Non-Profit-Organisation Management, 51-200 Mitarbeiter
Verwendete die Software für: 6-12 Monate
In Betracht gezogene Alternativen:
Easy to use
Kommentare: Implementation was a dream. They had a team that helped us manage the project and uploaded all our content for us. As a small team, this was important.
Vorteile:
It transposes videos, provides full text search, allows for different groups to be created, user analysis so we know if we are getting our money's worth for the tool.
Nachteile:
I wish I could edit docs in the tool. But there are few cons that we have found at this point in time.
Paul
Product Manager in USA
Computer-Software, 201-500 Mitarbeiter
Verwendete die Software für: Mehr als 2 Jahre
The way a knowledge base should be
Kommentare: As one of Bloomfire's early customers we saw a lot of potential with this platform. I was in charge of conducting a report comparing some of the available products to satisfy our need for a customer-facing knowledge base. It had to be relevant, easy to use, and fast. We had a lot of undocumented information that our customers needed with no way to provide it. Some of our most important criteria included having an API and SSO (we were going to have our users log in from our customer portal site), an easy editor, fast and powerful search, user management, reporting, and so on. Bloomfire came out on top. Fast forward a few months into using it and we were well on our way generating content, marketing the tool, and getting comfortable with the platform. I was probably the main contributor to a lot of the content, so the almost daily use of the tool caused me to find areas of improvement. I worked a bit with the Bloomfire development team with a list and I'm happy to say that today, nearly every one of my suggestions have been implemented in some way. This demonstrates the company's willingness and capabilities to adapt to their customer's needs. Their team has always been helpful and communicative and would love to see continual improvements in the future.
Vorteile:
Clean, easy to user interface. Enough features to still be powerful and handle lots of information, posts, questions, and media.
Nachteile:
At some point the cost model drastically changed from unlimited to number of users and for our company, the cost was prohibitive from expanding or growing. For other platforms that are not just a standalone knowledge base, but instead include one as a part of their services there is much more value for similar features.
Antwort von Bloomfire
vor 6 Jahren
Hi Paul, Thank you for taking the time to leave such a thoughtful review to your experience with Bloomfire. We are glad that you have enjoyed your overall experience with Bloomfire and would love to help your company continue your success with knowledge sharing and job efficiency. We take all feedback very seriously here at Bloomfire and take all things into consideration. Again, thank you for your feedback and hopefully we will talk with you soon!