Was ist DanceBiz?
Mit DanceBiz befindet sich deine gesamte Geschäftsverwaltung an einem Ort. Unabhängig von der Größe deines Studios wird DanceBiz alle zeitaufwendigen Admin-Jobs verbessern und automatisieren. Sobald du DanceBiz ausprobiert hast, wirst du nie wieder zu zeitraubenden Tabellenkalkulationen und generischen Planungssoftwares zurückkehren wollen. DanceBiz bietet webbasierten Zugriff (Anmeldung von überall), kostenlose automatische Software-Updates, ein erschwingliches monatliches Abonnement, unbegrenzte Anmeldungen für Mitarbeiter und kostenlosen, unbegrenzten Support.
Wer verwendet DanceBiz?
Besitzer und Betreiber von Tanzstudios. Egal, ob du ein großes oder kleines Studio hast – DanceBiz kann all die verhassten Verwaltungsarbeiten verbessern und automatisieren.
DanceBiz – Details
ThinkSmart Software
2007 gegründet
DanceBiz – Details
ThinkSmart Software
2007 gegründet
DanceBiz – Videos und Bilder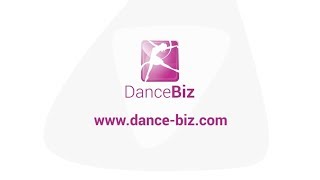 Kosten ähnlicher Produkte wie DanceBiz vergleichen
Startpreis
Nicht verfügbar
49,00 $/Monat
30,00 $/Monat
129,00 $/Monat
DanceBiz – Bereitstellung und Support
Kundenbetreuung
E-Mail/Helpdesk
Telefon-Support
Chat
Einsatz
Cloud, SaaS, webbasiert
Mac (Desktop)
Windows (Desktop)
Android (mobil)
iPhone (mobil)
iPad (mobil)
Funktionen von DanceBiz
API
Abrechnung & Rechnungsstellung
Aktivitäts-Dashboard
Aktivitäts-Verfolgung
Alarmfunktion / Benachrichtigungen
Anpassbare Berichte
Anpassbare Formulare
Anpassbare Vorlagen
Anwesenheitsmanagement
Automatisierte Terminplanung
Berichterstattung / Analyse
Berichterstattung und Statistik
Drittanbieter-Integration
E-Mail Marketing
Elektronische Zahlungen
Erinnerungen
Eventplanung
Instruktor-Management
Inventarverwaltung
Kalender-Synchronisierung
Kalenderverwaltung
Klassen-Management
Klassenterminplanung
Kostümmanagement
Kreditkartenbearbeitung
Kundendatenbank
Kundenkonten
Kundenmanagement
Kundenportal
Kundenspezifisches Branding
Mehrere Standorte
Mitarbeiter-Management
Mitarbeitermanagement
Online-Anmeldung
Online-Zahlungen
Rabattmanagement
Rechnungsmanagement
Registrierungs-Management
Reservierungs-Management
SMS-Nachrichtenversand
Self-Service Portal
Social-Media-Integration
Studenten-Management
Veranstaltungskalender
Veranstaltungsmanagement
Verfolgen der Teilnahme
Verkaufsberichte
Verkaufspunkt POS
Webseitenintegration
Wiederkehrende- / Abonnement-Abrechnung
Jordan M.
Co-Founder/Owner in UK
Verifizierter Nutzer auf LinkedIn
Darstellende Künste, 2-10 Mitarbeiter
Verwendete die Software für: Mehr als 2 Jahre
One stop shop for your CRM needs!
Kommentare: It's our one stop shop - so much so I actually have 4 accounts. This is for a business cleanse reason as each location requires a different set of information.
I'm setting up another slightly unrelated business too and this software would be perfect for that business as well.
Vorteile:
The ease of use - it's really simple, even if you're not the most technical, it's certainly something for everyone and every business. From reporting, generating invoices and taking payments to keeping my customer database clean, this system does it all.
Nachteile:
Hard to say really - I've not found any fault with it so far. It's improved on a regular basis and it's functionality improved a lot so if you ever find something you're not too happy with, within a few days, it's been updated.
Eleanor B.
Principal in UK
Darstellende Künste, 2-10 Mitarbeiter
Verwendete die Software für: 1-5 Monate
I wish I'd used DanceBiz years ago!
Kommentare: DanceBiz has consolidated my administration and made the day-to-day running of my business so much smoother and less stressful. I have tried other software, and found danceBiz to be much easier to use and visually a lot clearer. The support team - [SENSITIVE CONTENT HIDDEN] especially - have been AMAZING. I ahve been supported every step of the way and am so grateful for the team's help.
Vorteile:
With a full-time teaching workload and a young family, administration was becoming overwhelming. DanceBiz has allowed me to streamline my administrative tasks and view everything in one place - it is so accessible and easy to use. My company teaches Dance and Drama at 5 venues, and I found it difficult to find software that could adapt to my company's business model, where over 100 students are on a rotating timetable, taking different lessons at different times on different days each week. DanceBiz was the only company who said they could help me with this - their team have supported me brilliantly throughout my integration onto their system, and I am now invoicing with ease and my teachers have easy access to online registers. I cannot recommend DanceBiz highly enough!
Nachteile:
Any problems I have encountered, DanceBiz have been able to help me with. The only things I would change if i could would be to have more choice over my invoice template - I would like more features so I could have a template more bespoke to my company.
Darstellende Künste, Selbstständig
Verwendete die Software für: Mehr als 2 Jahre
My thoughts
Kommentare: - I had a huge issue with it not linking properly with Xero when I first set it up which caused great stress. Everything seems resolved now.
- Customer service team is excellent with problems particularly the ladies.
- Sometimes you are sent the instructions to 'figure out yourself' which is annoying after paying so much per month
Vorteile:
- Linking registers to invoices to Xero - Incredible customer services - Great to have everything in one place - App is amazing
Nachteile:
- I know it's not all about looks but I look at it every day and every day I think I hate the way it looks. It's like looking at an old computer. - You can't rearrange order of items on the invoices once on - Despite the amazing customer service, I think the service is very costly and I am exploring cheaper options that provide the same service - The register print out is also very ugly. Other software products provide a much nicer register layout. - When invoicing, you can't remove certain people when to a group. For example, resending information about an event but I have to send to everyone including those signed up for it. (You can, but you manually have to go through the email addresses to delete it which is tedious.)
Darstellende Künste, Selbstständig
Verwendete die Software für: Mehr als 2 Jahre
I couldn't do without DanceBiz
Kommentare: DanceBiz saves me so many hours each month - the ability to email or text either the whole school or a specific class/level is a great feature. Being able to do the register on my phone or iPad is saving me having to print out registers.
Vorteile:
I love everything about DanceBiz - the system and the support you get from the staff who are all lovely. It saves me about 20-30 hours a month in administration it really takes the stress away and lets me concentrate on teaching. I now have online registration integrated through my website which enables customers to enrol at any time without waiting for me to send the registration email. I've just discovered the event planner which is going to be a huge time saver at showtime.
Nachteile:
The only things missing for me is being able to schedule emails and not being able to print labels from the event planner.
Rachael T.
Owner in Australien
Unterhaltung, 11-50 Mitarbeiter
Verwendete die Software für: Mehr als 2 Jahre
In Betracht gezogene Alternativen:
ThinkSmart software changed my business and started MAKING me money
Kommentare: A constant problem for a business owner is time - and Dancebiz gives you so much time back!
A one stop place with enrolments, customer files, attendance histories, multiple access (so each staff member can access roles and mark them individually). Automated invoicing - LIFE changing after spending years manually typing up individual invoices and then not knowing if they were ever even paid - DANCEBIZ helps me MAKE money! The added features eg; texting on birthdays, sending clients direct notifications has taken my business to the next level, making us look sharp, on the ball and professional all the while still staying personal with over 600 students. I LOVE that I talk to an Australian on the phone EVERY time I call and also that the software company is continuously evolving and developing the program so I know my services to my own clients just continue to get better and better thanks to their hard work in developing the best program on the market.
Vorteile:
The online enrolment system that then works together with customer profiles to create automated invoices. This saves time and staffing costs that were otherwise being spent on a job that could be automated. People are able to enrol into the chosen class via online website BUT STILL then having personalised human contact immediately from us with a customized email reply. Another fantastic feature is being able to email or text at the click of a button to a filtered/selected audience. The advantage of being able to integrate across to Xero is another timesaver for the business and makes us money in the long run as we are able to have an up to the minute gauge on where the business is sitting financially and what money is owed. The invoice features are easy to use and the ease of being able to add late fees to overdue invoices or additional items (either to an individual invoice or as a bulk to a group) makes it easy to charge clients fast and simply. The integration of the direct debit systems also means less time on the 'books' for our staff trying to chase money when it's all being done at the back end for us. At concert time, the convenience of being able to plan a concert and it's timings and what children are in each dance thru this program once again is another time saver, allowing our staff to easily input their classes and information for all other staff to be able to see. The value for money with this ever growing and developing program is outstanding!
Nachteile:
There is nothing directly negative about Dancebiz's program within the regulations of Australian systems and law. When there is something that Dancebiz "can't do" it is usually because there is a larger rule in place that stops the program from being able to have it. So I focus on all the positives it has to offer and usually find a way to manage the challenges, knowing even if I was using another program I couldn't have that feature anyway.