Was ist FreeConferenceCall.com?
FreeConferenceCall.com bietet HD-Audiokonferenzen und Online-Meetings mit Bildschirmfreigabe und Videokonferenzen für bis zu 1.000 Teilnehmer. Mit mehr als 40 Millionen Konferenzen pro Jahr hat sich FreeConferenceCall.com zum größten und bekanntesten Konferenzanbieter der Welt entwickelt. Jedes Konto umfasst unbegrenzte Telefonkonferenzen, Bildschirmfreigabe, Videokonferenzen, Aufzeichnung, Sicherheitsfunktionen, Kalenderintegrationen, mobile Anwendungen und vieles mehr – und zwar kostenlos.
Wer verwendet FreeConferenceCall.com?
FreeConferenceCall.com ist die bekannteste Konferenzmarke der Welt mit Nutzern in mehr als 800.000 Unternehmen, darunter fast alle Fortune-500-Unternehmen.
Wo kann FreeConferenceCall.com bereitgestellt werden?
Cloud, SaaS, webbasiert, Mac (Desktop), Windows (Desktop), Windows (On-Premise), Linux (On-Premise), Android (mobil), iPhone (mobil), iPad (mobil)
Über den Anbieter
CarrierX
Ansässig in Long Beach, USA
2001 gegründet
Telefon-Support
24/7 Live-Support
Chat
Über den Anbieter
CarrierX
Ansässig in Long Beach, USA
2001 gegründet
Telefon-Support
24/7 Live-Support
Chat
FreeConferenceCall.com – Videos und Bilder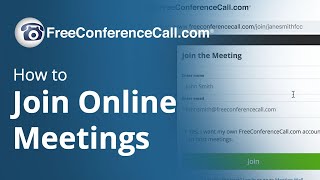 Kosten ähnlicher Produkte wie FreeConferenceCall.com vergleichen
FreeConferenceCall.com Funktionen
Anrufaufzeichnung
Audio- / Videoaufnahmen
Aufzeichnung
Berichterstattung / Analyse
Bildschirm teilen
Brainstorming
Chat / Messaging
Drittanbieter-Integration
Echtzeit-Chat
Elektronische Abstimmung
Filesharing
For Small Businesses
Host-Steuerung
Kalenderverwaltung
Kommunikationsmanagement
Konferenzschaltung
Live-Chat
Marken-Management
Meeting-Management
Mobiler Zugriff
Online-Sprachübertragung
PBX
Privater Chat
Präsentations-Streaming
Sprachanrufe
Videokonferenzen
Virtuelle Voicemail
Werkzeuge zur Zusammenarbeit
Zwei-Wege-Audio und -Video
Alternativen für FreeConferenceCall.com
Bewertungen über FreeConferenceCall.com
Néstor
Founder in Spanien
Verifizierter Nutzer auf LinkedIn
Marketing & Werbung, Selbstständig
Verwendete die Software für: Mehr als 2 Jahre
In Betracht gezogene Alternativen:
One of the best Webinars and Online meetings platform
Kommentare: Awesome, really awesome. People is constantly bugging me about Zoom... let them have it, I´d rather work with FreeConferenceCall instead.
Vorteile:
First of all, this is one of the very, very few SaaS of this kind with no limitation on the number of participants on a given webinar or call. Let me repeat: no limitations You can also record and replay your webinars. FCC offers 1GB storage for free and let´s you manage who can access your content via password. That means you can have your perpetual webinar system set up in matter of minutes. This is one of the best features FCC brings to the table.
Nachteile:
This is a tough one... Because all my main complaints have been solved with their latest update (like being able to share your presentation and record it). So I guess the thing I like the least is... like every new major update, there will be minor issues that the FreeConferenceCall team would have to work on. I know, I know... but the software is so good that this is no even a complaint about the software.
Antwort von Free Conferencing Corporation
vor 3 Jahren
Thank you for the awesome review Nestor and for your continued support! We are happy to read that you are enjoying all the features we offer. Rest assured that we will continue to work hard to provide you a world class service you can be proud of! If you ever have any questions or concerns, please email us 24/7 at support@freeconferencecall.com.
Josh
Director of Operations in USA
Verifizierter Nutzer auf LinkedIn
Immobilien, 2-10 Mitarbeiter
Verwendete die Software für: Mehr als 2 Jahre
In Betracht gezogene Alternativen:
Easy and Reliable Phone Conferencing Solution
Kommentare: All complaints about UI aside, the best part of FreeConferenceCall.com is its simplicity. It's quick and easy for anyone with basic phone experience (i.e. almost everyone)—we call in, we enter a PIN, and then we're conferencing). What's more, it's reliable. We haven't experienced a single instance of needing to use the service and it not being available. While other conferencing solutions offered more features, FreeConferenceCall.com won out for us due to its ease-of-use, pricing structure, and consistency/reliability.
Vorteile:
FreeConferenceCall.com's consistency and reliability are the most important aspects of its offerings. Our team has used FreeConferenceCall.com every Wednesday morning for the last three years. After an initial account setup that took maybe 10 minutes, we have been able to use the service without fail week over week. We call in to the same number every week, enter the same PIN code, and we get to enjoy free, clear communications with our entire team no matter where they are. There are many conferencing solutions out there, but FreeConferenceCall.com has been the most reliable, easiest-to-use platform we've ever experienced.
Nachteile:
The user interface isn't great, if I'm being honest. We actually just learned that there are several really great features (video conferencing, recording features, etc) that would have been awesome to know about a year or two ago, but the platform doesn't do a great job of messaging those options clearly. It seems like a non-answer to say the thing I like least is the fact that they have more features than I realized, but this really is a negative for me. There have been many times since we started using FreeConferenceCall.com when a video and recording solution would have made our lives better, and instead we had to find other, more expensive alternatives simply because the extent of FreeConferenceCall.com's feature offerings weren't clear.
Antwort von Free Conferencing Corporation
vor 3 Jahren
Thank you for the detailed review Josh, we truly appreciate your honest feedback. Please email us at support@freeconferencecall.com so we can walk you through on all the features available to you. We even offer free live training with one of our specialized agents to get you up to speed!
Andrea
Job Development Specialist/Owner in USA
Verifizierter Nutzer auf LinkedIn
Einzel- & Familiendienstleistungen, 2-10 Mitarbeiter
Verwendete die Software für: 6-12 Monate
In Betracht gezogene Alternativen:
Ok as a free option
Kommentare: I started out with FCC because it was free and seemingly easy to use but switched to a more commonly used option after experiencing some quality issues and other minor concerns. I would recommend it for anyone wanting to do an occasional meeting who doesn't necessarily need a subscription for more regular use.
Vorteile:
Able to facilitate a large conference via video with people all over the state. Attendees didn't need to download anything - just follow a link.
Nachteile:
Quality isn't the best but it is free. It's a weird thing to say but I don't like the name...It's almost embarrassing to invites someone to a professional meeting via "freeconferencecall.com" We ended us switching to a different platform that was more commonly used and easy to schedule. FCC uses one link for every single meeting which is also a little odd. I like being able to schedule a meeting for a specific time and invite people to that meeting and allow them to be able to quickly save the meeting to their calendar - FCC doesn't seem to have an easy way of doing this.
Antwort von Free Conferencing Corporation
vor 2 Jahren
Hello Andrea, thank you for reviewing our service! If the name does not bold well for you, we do offer a premium platform specifically designed for our business professional users. Please visit www.Startmeeting.com to learn more!
Verifizierter Rezensent
Consultant in UK
Verifizierter Nutzer auf LinkedIn
Non-Profit-Organisation Management, 201-500 Mitarbeiter
Verwendete die Software für: Mehr als 2 Jahre
Highly recommended.
Kommentare: I like the fact that it does not limit user participation and offers very high quality video and audio output.
Vorteile:
This is one of the best free conferencing software there is. The screen sharing is very useful and easy to deploy with the ability to choose what needs to be shared. It has a white board for jotting down some ideas or concept which I find very useful in collaboration meetings. Free Conference Call allows both a web login as well through its application which can be downloaded both in Windows, Mac, Android and iPhone. I have it everywhere I am and that's great!
Nachteile:
I have not found anything that I could complain about. So far it has been working as expected.
Muhammad
Community Manager in USA
Immobilien, 11-50 Mitarbeiter
Verwendete die Software für: 6-12 Monate
In Betracht gezogene Alternativen:
A Technology for Not Tech Savy
Kommentare: It made it easy for me and my Board members and probably many others who were struggling with the complexities of the alternatives.
Vorteile:
Due to the pandemic we have switched all our on-site meetings to virtual and phone conference call meetings. Fact that i am managing around 20 communities and deal with different Board members out of which some are tech save and some are not at all. For those who were good have started using the alternative paid services lime Zoom and Go To The Meeting but i was dealing with sone Board members who couldnt schedule their meetings using these complex softwares, i came across freeconferencecall and have tested it before offering it to my clients, i would say this is the most easy and convenient conference calling software for Board or any other meetings for peoppe with less or no technical expertise.
Nachteile:
Except for a lack of live technical support i dont see any cons.