Was ist Ceros?
Die Plattform für die Erstellung von Erlebnisinhalten ermöglicht es Marketingfachleuten und Designprofis, maßgeschneiderte, ansprechende Erfahrungen mit digitalen Inhalten zu schaffen, ohne dass eine Entwicklung oder ein Code erforderlich ist. Die cloudbasierten Software ermöglicht dir Folgendes: - Wunderschöne Webinhalte entwerfen, die auf allen Geräten und Browsern funktionieren. - Live-Vorschau und Veröffentlichung mit einem Klick auf eine Schaltfläche. - Nahtlose Verteilung von Erlebnissen über jeden digitalen Kanal – Nachverfolgung von Engagement und Leistungsanalyse – Integration in bestehende Marketing-Plattformen
Wer verwendet Ceros?
Das Unternehmen erstellt kreative Content-Lösungen für Marketing- und Designprofis, die mit Marken, B2B-Unternehmen, Verlagen und anderen Unternehmen arbeiten. Partnerschaftsmöglichkeiten für Agenturen und andere Partnerunternehmen.
Wo kann Ceros bereitgestellt werden?
Cloud, SaaS, webbasiert, Mac (Desktop), Windows (Desktop)
Über den Anbieter
Ceros
Ansässig in New York, USA
2013 gegründet
Telefon-Support
Chat
Erhältlich in diesen Ländern
Kanada, Vereinigte Staaten, Vereinigtes Königreich
Über den Anbieter
Ceros
Ansässig in New York, USA
2013 gegründet
Telefon-Support
Chat
Erhältlich in diesen Ländern
Kanada, Vereinigte Staaten, Vereinigtes Königreich
Ceros – Videos und Bilder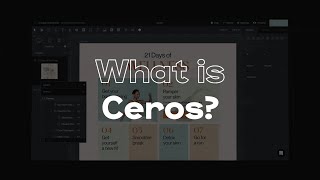 Kosten ähnlicher Produkte wie Ceros vergleichen
Ceros Funktionen
API
Aktivitäts-Dashboard
Aktivitäts-Verfolgung
Analytics
Anpassbare Vorlagen
Berichterstattung / Analyse
Bildbearbeitung
Content-Management
Design-Management
Designvorlagen
Dokumentenmanagement
Drag-and-Drop
Drittanbieter-Integration
Einsatz-Management
Engagement-Tracking
Für die No-Code-Entwicklung
Kampagnenanalysen
Kundenspezifisches Branding
Marken-Management
Multi-Channel-Vertrieb
Multichannel-Kampagnen
Social-Media-Integration
Visuelle Modellierung
Vorlagen-Management
WYSIWYG-Editor
Werkzeuge zur Zusammenarbeit
Workflow-Management
Gina L.
Publication Design Director in USA
Verifizierter Nutzer auf LinkedIn
Verlagswesen, 11-50 Mitarbeiter
Verwendete die Software für: Mehr als 2 Jahre
In Betracht gezogene Alternativen:
Ceros is a True Game Changer for the Interactive Industry
Kommentare: Ceros is the WYSIWYG platform for interactive design that every non-web designer has been looking for. I'm simply a graphic designer who can bob and weave my way around InDesign and Illustrator in my sleep, but once Dreamweaver and HTML are involved, I'm lost. When you think about how advanced design is getting on the internet, graphic design gets to be very limiting. Ceros solves that problem. I, as a traditionally static designer, can jump into this easy-to-use platform and whip up lively experiences with fun interactions and animations. The content I create in Ceros is so much more engaging than anything I could create as a simple static PDF. For our team, it's been a cost effective way to create web experiences without paying an outside developer. Both our internal team and our clients love the Ceros work that we do. As Ceros adds new features, our design work gets increasingly better, so I hope to continue to use Ceros and make my work even stronger each year.
Vorteile:
Many of my interactive designs have complicated carousels, click-to-reveals, navigation, menus, etc. Some of these things can really give you grey hairs at a young age, but Ceros makes detailed interactions easy to build out. The tools are laid out easily so that you know what each button is going to do and how it's going to interact with other objects on your canvas. It can be tedious, but it beats having to learn coding and deal with the HTML myself. A few other honorable mentions: Ceros has an excellent array of templates that users can take and build onto; Ceros also is very receptive to feedback from users, and I've found in my 3+ years using the platform that a lot of idea I've added to the suggestion box have been implemented.
Nachteile:
The lack of functionality for quizzes and assessments is a bummer. To define what I mean by quizzes, I'm strictly talking about assets where you're posed with a question, you select an answer (possibly multiple choice) and the end result after a handful of questions is to be dumped into a specific bucket category. I've talked to many Ceros reps about making quizzes, and while it's doable, it's extremely convoluted and the output of metrics is unorganized. With that said, the analytics you receive from any experience isn't really all that much to brag about. The Ceros platform has a really nice display of visuals for users to see, but once it's time to pass the data onto a client or anyone outside of the Ceros platform, you get this extremely messy and hard-to-read CSV file. I don't love that. It would be better if you could export the graphs and data visuals straight from the backend of Ceros.
Charlotte R.
Multi-Media Designer in USA
Versicherung, 1.001-5.000 Mitarbeiter
Verwendete die Software für: Mehr als 2 Jahre
In Betracht gezogene Alternativen:
A designer's interactive dream
Kommentare: I've had a great experience. My account rep understands my needs and checks in with me regularly, and any time I have a technical question or need something "right now" the chat is super-responsive and very helpful.
Vorteile:
Ceros gives me the ability to create beautiful things for the web without having to know code! It works well with Adobe products, and they continue to upgrade and improve the product.
Nachteile:
Any features that I wish Ceros had are given to our account rep, who gives them to their development team as a wish-list of sorts. They have acted on many things, and continue to improve and add features.
Verifizierter Rezensent
CEO in Brasilien
Verifizierter Nutzer auf LinkedIn
Vermögensverwaltung, 11-50 Mitarbeiter
Verwendete die Software für: Mehr als 2 Jahre
In Betracht gezogene Alternativen:
Good tool, Lacks professional services support.
Kommentare: It is a sticky product and you start relying on it. But as a integrated vendor, Ceros has not been great.
Vorteile:
Software is hard to use and complex, but does the job well. Team is consistent in improving with the constant releases.
Nachteile:
Product is complex and requires heavy training or professional services to deliver upon the promise. The business model is optimized for software licensing and services are expensive.
Lisbeth L.
Director of Marketing in USA
Möbel, 51-200 Mitarbeiter
Verwendete die Software für: 6-12 Monate
In Betracht gezogene Alternativen:
Great software
Kommentare: My overall experience is good. the customer service is great!
Vorteile:
Ease of used and ability to make it what you want it to be.
Nachteile:
Some features could be easier to use. I wish there was a direct mailing feature integrated into the software.
Verlagswesen, 51-200 Mitarbeiter
Verwendete die Software für: Mehr als 2 Jahre
Great software
Kommentare: For me the experience has been great. I have been working with the software for over 2 years and have created several custom content pages for various brands. They are always improving and adding new features and listen to their users. As an example, you no longer have to create separate experience for desktop or mobile - it now lives in one file and you can just switch between and resize or replace the elements independently. You don't have to be a developer to understand this software and in a way can be more free in design. You don't have to worry as much about how to implement it - once you have an understanding of how the various animations and other tools work - alone or together to create the effect you need. Tech support is almost immediate and very helpful.
Vorteile:
Overall I'm very happy working with this software - once you get to know it and have a better understanding of the tools and how they can help you, it's pretty simple to create great animated content whether it's a landing page, quiz or a article embedded graph. You can make it as simple or complex as you want and additionally you can embed other code (like JS or forms) to add features that might not exist within Ceros. Ceros has a lot of various standard JS type animations which can transform a page into something that is fun or exciting to scroll through. I'm very impressed with the Inspire gallery showing so many different applications and fun projects using the software and it gives us ideas to use in next project.
Nachteile:
While there are not a lot of things I am not happy with, I do wish there were more shape features and line options ( octagon, maybe a free form shape, dotted or double line - sort of like Photoshop ). I also would like to see a masking tool. There are occasional bugs.