Was ist Klipfolio?
Klipfolio ist eine Cloud-App zum Erstellen und Teilen von Business-Dashboards in Webbrowsern, auf TV-Monitoren und mobilen Geräten in Echtzeit. Verbinde dich mit Hunderten von Datenquellen online und offline (einschließlich Webanwendungen wie Salesforce und Google Analytics, Datenbanken, Servern oder Dateien von deinem Computer), nutze eine robuste Bibliothek vordefinierter Datenvisualisierungen oder erstelle deine eigenen Daten in diesem leistungsstarken Editor. Die Pläne beginnen bei nur 49 US-Dollar/Monat und du kannst sie kostenlos bei Klipfolio.com testen
Wer verwendet Klipfolio?
Klipfolio wird gleichermaßen von KMU und Fortune-500-Unternehmen, von Analysten und Führungskräften verwendet, die in einer Vielzahl von Bereichen wie Marketing, Vertrieb, Finanzen und IT arbeiten.
Wo kann Klipfolio bereitgestellt werden?
Cloud, SaaS, webbasiert
Über den Anbieter
Klipfolio
Ansässig in Ottawa, Kanada
2001 gegründet
Telefon-Support
Chat
Klipfolio Kosten
Startpreis:
99,00 $/Monat
Ja, kostenloser Test verfügbar
Ja, Gratisversion verfügbar
Klipfolio bietet eine Gratisversion und eine kostenlose Testversion. Die kostenpflichtige Version von Klipfolio ist ab 99,00 $/Monat verfügbar.
Preismodelle
Über den Anbieter
Klipfolio
Ansässig in Ottawa, Kanada
2001 gegründet
Telefon-Support
Chat
Klipfolio – Videos und Bilder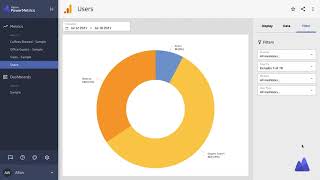 Klipfolio Funktionen
API
Abfrage-Generator
Ad-hoc-Anfrage
Ad-hoc-Berichterstattung
Alarmfunktion / Benachrichtigungen
Anpassbare Berichte
Anpassbare Vorlagen
Anpassbares Dashboard
Berichterstattung / Analyse
Berichterstattung und Statistik
Budgetierung/Prognosen
Dashboard
Dashboard-Erstellung
Data Mapping
Daten-Connectors
Daten-Import / -Export
Datenvisualisierung
Datenvorbereitung in Selbstbedienung
Drag-and-Drop
Drittanbieter-Integration
Echtzeit-Analytik
Echtzeit-Daten
Funktionen / Berechnungen
Geplante / automatisierte Berichte
KPI-Überwachung
Kampagnen-Tracking
Kampagnenanalysen
Leistungskennzahlen
Mehrere Kampagnen
Mehrfache Datenquellen
ROI-Tracking
Strategische Planung
Suchen / filtern
Trend-Analysen
Veröffentlichung / Teilen
Visuelle Analytik
Visuelle Entdeckung
Website-Analytik
Wichtige Leistungsindikatoren (KPI)
Widgets
Zugriffskontrollen / Berechtigungen
Alternativen für Klipfolio
Bewertungen über Klipfolio
Leah rose R.
Vice President in USA
Verifizierter Nutzer auf LinkedIn
Personalwesen, 11-50 Mitarbeiter
Verwendete die Software für: Mehr als 1 Jahr
Self-Service Dashboard, inexpensive but powerful.
Kommentare: We use Klipfolio as a whitelable dashboard service for my HR and healthcare clients. We have marketing analytics dashboards that help our clients understand the traffic, usage, and demographics of visitors to their HR pages. We also use custom created klips to keep our clients up to date on their talent acquisition process and the cooresponding metrics (KPIs) in recruiting. The most impactful klips our clients see are the custom ROI gagues set up to ensure our service is worth their limited budget resources.
Overall, the Klipfolio product has endless capabilities, but since we pay for a lower price service we are really left on our own to figure out the back-end customization of klip creation. The user knowledgebase isn't super well organized and I've found more luck watching YouTube tutorials when I need to create a more complex klip for a client.
Vorteile:
I love that I can white-label the Klipfolio software so that my clients see my company branding when they login to view their metrics and marketing dashboards. Adding common data sources such as ATS, CRM, and Google Analytics is very easy and straightforward. The data visualizations offered are attractive and easy for my clients to understand.
Nachteile:
Creating the backend of the dashboard is very daunting for someone who isn't very familiar with large datasets and coding. I have spent countless hours watching YouTube tutorials learning how to build out 'klips.' I've also paid a developer to create all the API connections, however they frequently need updated. I wish the administrator interface was more user-friendly.
In Betracht gezogene Alternativen: Geckoboard
Gründe für den Wechsel zu Klipfolio: We went with klipfolio for 3 main reasons: affordable entry-price point, self-service model, white-lable capability.
Albert C.
VP Strategic Initiatives in USA
Informationstechnologie & -dienste, 51-200 Mitarbeiter
Verwendete die Software für: Mehr als 1 Jahr
Fully customizable KPIs when the out-of-the-box charts don't cut it.
Kommentare: Great experience overall. It definitely solved our needs to track the KPIs and financials across the company and department levels. We keep improving the dashboards and utilize new data as new needs arise.
Vorteile:
Great way to keep track of KPIs and financials at company and department levels. Fully customizable data visualizations and the ability to get data from tons of sources. overall, very happy with the solution. We are able to share key dashboards with each department lead and keep improving them over time as needs change.
Nachteile:
It can be tricky for a non-technical user to parse the data and get the graphs and charts one is looking for. There is definitely a learning curve on how Klipfolio works, but the customer service is pretty responsive and are usually able to help and suggest ways forward. The difference between Klips and Powermetrics is not immediately apparent, it's a lot of trial and error to figure out how to maximize each.
In Betracht gezogene Alternativen: Tableau
Warum Klipfolio gewählt wurde: It's hard to track KPIs and get insights across on Excel
Zuvor genutzte Software: Microsoft Excel
Gründe für den Wechsel zu Klipfolio: Flexibility to build custom charts and use very diverse data sources - alternatives were significantly more limited on sources and/or how to display some of the data.
Jordan D.
Marketing Analytics Specialist in USA
Verifizierter Nutzer auf LinkedIn
Marketing & Werbung, 51-200 Mitarbeiter
Verwendete die Software für: Mehr als 1 Jahr
So much less than I expected
Kommentare: I wanted this to be the Marketing Analytics tool that ruled them all but at the end of the data I through it in the graveyard with Tableau, DashThis, and TapClicks.
Vorteile:
Let me set the record straight. Klipfolio is an amazing tool if you refuse to use Tableau and you have a new database set up with all the data piped in. The price point is what sold me to onboard it with my current agency, sadly we chose Datorama because the API settings are limited and without a Database Administrator the tool can be somewhat useless at times.
Nachteile:
No database to pipe in data from multiple sources. There are API connectors, but there are VERY limited. For example, Google DoubleClick's API won't let you pull 50% of the dimensions and metrics available in the reporting UI (Datorama's has around 80%, but they do a better job of implementing work arounds).
Antwort von Klipfolio
vor 3 Jahren
Thanks for the honest feedback, Jordan. We're sorry you weren't able to achieve everything you'd hoped for in Klipfolio. We're not a data warehousing alternative, that's for sure. Data prep has always been the most challenging aspect of BI. You may be interested in the new capability we have in Beta that allows you to model data and bring together multiple sources of data into building blocks that store the data points for your metrics. You can model 5 dimensions per metric by default and add more if needed. You can also pull together social media feeds that don't offer data history so you can see trends and immediately slice and dice your data by applying different visualizations and filters. We hope you'll be back one day and in the meantime I wish you good success with the alternative solution. Pam
Hardik P.
IT Specialist - Multiple Hats ( DevOps, Dashboard Dev, Fullstack Dev & Support) in USA
Marketing & Werbung, 11-50 Mitarbeiter
Verwendete die Software für: Mehr als 1 Jahr
The Best Dashboard builder out there with the best Support
Vorteile:
I liked the interface, and the UI/ UX. Also absolutely love the feature that allowed you to preview what parts of a function did - great for debugging. I like how Klipfolio gives you to set Dynamic variables(Fetch to Data sources Queries)
Nachteile:
I would like if you can provide more functionality and help with using HTML Components + Populating Data. I would love if you can let users use custom images in the Indicator Logics ( Instead only using available Icons / If the user can use custom GIF/JPEG/PNG ).
In Betracht gezogene Alternativen: iDashboards
Gründe für den Wechsel zu Klipfolio: Cloud based, Easy to use, Better Support & Better implementation of formulas in klip.
Jabel R.
Chief Technology Officer | Project Manager in Spanien
Verifizierter Nutzer auf LinkedIn
Bekleidung & Mode, 11-50 Mitarbeiter
Verwendete die Software für: Mehr als 1 Jahr
I would choose it again
Kommentare: We have been using klipfolio for the last year and it has helped a lot our marketing team to know the situation in each moment, compare it agains other dates, etc. Support team has always been there when we got stucked in some klip configuration or behaviour.
Vorteile:
It has a lot of features and already built-in integrations. In general terms it's easy to use and support team will always give a hand when needed (We have pretty complex dashboards and klips with +10 datasources in different formats). In terms of features they have all that we were looking after, it is a really complete solution and it works really well. There is plenty of documentation and support available to build your desired dashboard.
Nachteile:
If you work with large dashboards or complex klips it may be a little slow some times, but at this point I consider this more than normal. They have available services for dedicated resources if needed(Not our case). Dynamic datasources are in Beta stage. Although they usually work well enough (And again, you will have support helping in case they don't) it would be nice to have the feature finished and with all the needed interface to manage the different instances or setup the desired behaviour. Design has it's limitation too, but in general terms there is no need for much more, maybe some more user interface control elements for the klips.