Was ist Creatio CRM?
Bpm`online sales ist ein Cloud-CRM-System für eine umfassende Sales Force-Automatisierung, von Lead-Management bis hin zu großen Unternehmensverkäufen. Wende Out-of-the-Box-Referenzprozesse an, um den gesamten Verkaufszyklus zu verwalten! Bpm`online wurde beim Gartner 2016 Magic Quadrant für CRM Customer Engagement Center anerkannt, und ebenfalls in fünf Kategorien des Gartner CRM Vendor Guide 2016 (SFA, Partner Relationship Management, Inside Sales und Customer Service Software) gelistet.
Wer verwendet Creatio CRM?
Sehr anpassbar und benutzerfreundlich, bpl'online Anwendungen helfen Unternehmen jeder Größe und aus allen Branchen, kundenorientierte Prozesse zu verwalten und eine erstaunliche Kundenerfahrung zu liefern.
Wo kann Creatio CRM bereitgestellt werden?
Cloud, SaaS, webbasiert, Mac (Desktop), Windows (Desktop), Windows (On-Premise), Linux (On-Premise), Android (mobil), iPhone (mobil), iPad (mobil)
Über den Anbieter
Creatio
Ansässig in Boston, USA
2002 gegründet
Telefon-Support
24/7 Live-Support
Chat
Creatio CRM Kosten
Startpreis:
25,00 $/Monat
Ja, kostenloser Test verfügbar
Keine Gratisversion
Creatio CRM bietet keine Gratisversion, aber eine kostenlose Testversion. Die kostenpflichtige Version von Creatio CRM ist ab 25,00 $/Monat verfügbar.
Kostenlose Testversion
Über den Anbieter
Creatio
Ansässig in Boston, USA
2002 gegründet
Telefon-Support
24/7 Live-Support
Chat
Creatio CRM – Videos und Bilder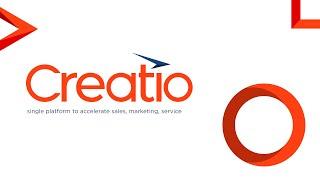 Creatio CRM Funktionen
Aktivitäts-Dashboard
Alarmfunktion / Benachrichtigungen
Angebote / Schätzungen
Anpassbare Berichte
Anpassbare Vorlagen
Anrufaufzeichnung
Aufgabenmanagement
Berichterstattung / Analyse
Berichterstattung und Statistik
CRM
Chancenmanagement
Daten-Import / -Export
Datenvisualisierung
Dokumentenmanagement
Dokumentenspeicher
Drip-Kampagnen
Drittanbieter-Integration
E-Mail Marketing
E-Mail-Management
Echtzeit-Daten
Gebietsmanagement
Kalender-/Erinnerungssystem
Kalenderverwaltung
Kampagnenanalysen
Kampagnenmanagement
Katalogisierung / Kategorisierung
Kontakt-Datenbank
Kontaktmanagement
Kundendatenbank
Kundenhistorie
Kundenspezifisches Branding
Lead Segmentierung
Lead-Erfassung
Lead-Qualifizierung
Leadmanagement
Leistungskennzahlen
Marketing-Automatisierung
Mehrsprachig
Mobiler Zugriff
Multi-Channel-Kommunikation
Multichannel-Marketing
Pipeline-Management
ROI-Tracking
Sales-Pipeline-Management
Segmentierung
Social Marketing
Social-Media-Integration
Suchen / filtern
Verfolgung von Interaktionen
Vertriebsaktivitätsmanagement
Vorlagen-Management
Websitebesucher-Nachverfolgung
Werkzeuge zur Zusammenarbeit
Wissensbasis-Management
Wissensmanagement
Workflow-Management
Zielseiten / Web-Formulare
Alternativen für Creatio CRM
Bewertungen über Creatio CRM
Rommel
Costa Rica
Verifizierter Nutzer auf LinkedIn
Informationstechnologie & -dienste
Verwendete die Software für: Nicht angeboten
Quelle: GetApp
Great CRM running over a nice business process tool
Kommentare: BPMOnline, like most of the commercial tools out there, is a CRM build over a customizable framework. The main different with other tools, is what this framework offers, and the knowledge required to work on it. First, the business process tool is easy to use yet powerful and robust. It can be used to automate business tasks, implement rules and also, to develop integrations with third party tools. The framework was build in .NET, so certain customizations and scripts are build either in c# (server side code) or javascript (client side code). If you know those languages, your learning curve in BPMOnline (which is normally shorter than others) will be even shorter than the rest of users. On the user side, the system is very friendly and intuitive, so you normally don't get lost in tons of options. Most of then are hidden and reserved for administrators.
Vorteile:
Main advantages for BPMOnline: 1) Marketing, Sales and Services is fully integrated and normally don't require external or additional tools to work. 2) No hidden costs. The cost model and licenses are quite simple. Your contract normally provides all (and more) of what you need. It's really weird to find unexpected restrictions in the licenses you buy. 3) Learning curve for users, administrators and technicians is very short. With good guidance during implementation, you can take control very fast.
Nachteile:
Some areas that requires improvements: 1) Integration to third party tools. There are certain integrations that come with the tool like email and phone systems. But others like legacy system or very particular solutions, requires development that can be difficult (not impossible). The lack of existing solutions in the market (free or paid) force you to develop those integrations. 2) Changes are easy to do, but they normally requires compilation. This can take some time, and if it's executed incorrectly, you can affect your instance. 3) The security is very detailed and can be aligned to every model. But, some changes applies just to new records, not to historical information. This can require customizations to work properly. 4) Analytics tool is simple to use and powerful, but it still require some additional features, like calculated variables and export.
Mitch
CRM Administrator in USA
Computer-Software, 51-200 Mitarbeiter
Verwendete die Software für: Mehr als 2 Jahre
Completely satisfied and loyal to Creatio solutions
Kommentare: We opted for Creatio because it offered user-friendly low-code development tools which allowed us to adjust the processes regularly based on our changing business needs and strategies. Now we are fully satisfied with the system and its functionality. Creatio helps us serve our customers better daily. We utilize the platform actively to manage our customer-facing processes as well as improve our internal operations.
Vorteile:
The system has advanced tools to not only manage but also to constantly improve customer relationship. The system's agility and scalability are some of the greatest benefits to us. Thanks to the platform's tools, we are able to keep introducing new solutions to our customers, adding new communication channels, and improving customer-facing workflows regularly. The system also helped us reduce operational costs and grow customer satisfaction level significantly. Even though the system is powerful and feature-rich already, we are confident that the product has a huge potential. Creatio's team of professionals keep enhancing the system's functionality with advanced AI-powered solutions and other latest technologies.
Nachteile:
The learning curve might be steep at times, especially since there is a wide range of useful features that we can utilize for the greater benefit of our business. Having an abundance of solutions and tools to use, we never stop learning something more about the system and its capabilities. While it is definitely a good thing, it might sometimes feel overwhelming since we need to continuously catch up with the new features that Creatio keeps rolling out. Another great thing – they are ensuring all the features are user-friendly, which makes the adoption of new functionality easy.
In Betracht gezogene Alternativen: ServiceNow Customer Service Management, Zoho CRM und Salesforce Sales Cloud
Warum Creatio CRM gewählt wurde: Creatio was significantly more affordable and added more features.
Zuvor genutzte Software: Zendesk
Gründe für den Wechsel zu Creatio CRM: Best value for the capabilities and price.
Mark
USA
Verifizierter Nutzer auf LinkedIn
Verwendete die Software für: Kostenlose Testversion
Quelle: GetApp
Potential Buyer
Vorteile:
The prompt response from the sales team and the willingness to answer my questions. Many vendors just ignore your questions.
Nachteile:
I had a very specific needs related to users having an online calendar to schedule call back support. I was clear with BPM staff prior to the call and accepted the call because they believed they had a solution. On the call they listened to my needs again and then took me through a boilerplate pitch. They were going to investigate their ability to deliver and even offered to build a mock up to show me. That call as the last time I heard from them. I reached back out and heard nothing. Not even a simple we looked into your need and we are unable to provide the support you desire. I came away believing they will say anything just to get you on a call for their pitch. Where are we going? Salesforce with Timetrade as a plugin
Jacob
Communication & Marketing Manager in Schweiz
Informationstechnologie & -dienste, 51-200 Mitarbeiter
Verwendete die Software für: Mehr als 2 Jahre
A global CRM platform that really deserves to be known!
Vorteile:
Creatio's low-code/no-code capabilities make it possible to gain autonomy and efficiency, projects that used to take months are now completed in weeks or even days. The marketing tools are impressive, as well as the way Creatio offers a global approach, from initial lead generation to customer support and the entire sales process.
Nachteile:
As a low-code platform, Creatio offers great freedom to users. Low-code means great opportunities and acceleration for creating new features and applications, but it doesn't mean that you can create anything in a snap, and this can be a bit frustrating.
Krankenhausversorgung & Gesundheitswesen, 201-500 Mitarbeiter
Verwendete die Software für: Mehr als 2 Jahre
An intuitive CRM tool
Kommentare: I would recommend this tool to others struggling with user adaptation. We have built additional sections for each of our departments and they are getting on board as well.
Vorteile:
I love the system's UI. It's very similar to salesforce without the heavy price and its easier to customize. We have had great user uptake since launch. Additionally, out outside sales team love the mobile application.
Nachteile:
The email integration has been tricky with outlook.
In Betracht gezogene Alternativen: Dynamics 365
Warum Creatio CRM gewählt wurde: Low usage, difficult to customize, and poor functionality.
Zuvor genutzte Software: Dynamics 365
Gründe für den Wechsel zu Creatio CRM: Easier to customize and better UI