Was ist Service Proz?
Service Proz allows your small business to run just as efficiently as a large corporation. Utilizing our CRM you can create a professional estimate, convert to a work order, schedule to the calendar, and complete the work order. All data including images, notes, messaging and money are stored in history. Our SMS message center allows constant communication with customers and technicians utilizing our desktop and mobile app. Other features include tracking inventory, reporting and invoicing.
Wer verwendet Service Proz?
Our target market is Service companies that would utilize technology to track sales, estimates, work orders, scheduling and have the ability to connect with their work force with a mobile solution.
Wo kann Service Proz bereitgestellt werden?
Cloud, SaaS, webbasiert, Mac (Desktop), Windows (Desktop), Linux (Desktop), Chromebook (Desktop), Android (mobil), iPhone (mobil), iPad (mobil)
Über den Anbieter
Service Proz
Ansässig in St Augustine, USA
2010 gegründet
Telefon-Support
Chat
Erhältlich in diesen Ländern
Kanada, Vereinigte Staaten
Über den Anbieter
Service Proz
Ansässig in St Augustine, USA
2010 gegründet
Telefon-Support
Chat
Erhältlich in diesen Ländern
Kanada, Vereinigte Staaten
Service Proz – Videos und Bilder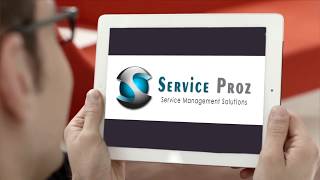 Kosten ähnlicher Produkte wie Service Proz vergleichen
Service Proz Funktionen
Abrechnung & Rechnungsstellung
Alarmfunktion / Benachrichtigungen
Angebote / Schätzungen
Arbeitsauftragsverwaltung
Auftragskostenrechnung
CRM
Elektronische Unterschrift
Für HLK-Unternehmen
Gerätenachverfolgung
Integration in die Buchhaltung
Inventarverwaltung
Job-Management
Kontakt-Datenbank
Kundendatenbank
Kundendienst-Historie
Kundenmanagement
Mobile App
Mobiler Zugriff
Online-Zeiterfassung
Techniker-Management
Terminplanung
Versandmanagement
Zahlungsabwicklung
Zahlungseinzug im Außendienst
Alternativen für Service Proz
Bewertungen über Service Proz
Durchschnittliche Bewertung
Preis-Leistungs-Verhältnis
Nutzerbewertungen nach Unternehmensgröße (Angestellte)
<50
51-200
201-1.000
>1.001
Bewertungen nach Punktzahl finden
Natalie
Executive Director in USA
Bau, 51-200 Mitarbeiter
Verwendete die Software für: 6-12 Monate
Amazing Product!
Kommentare: The team have made the complicated transition from paper to paperless as easy as possible. They were readily available for training and questions with fast and knowledgeable communication. They have made this transition prompt and effective with zero down time. It's so difficult to find consistently reliable people and [SENSITIVE CONTENT HIDDEN] and his team have been nothing but that. This isn't a company where once you sign up you never hear from them again - there is continuous training and support that has made this a successful transition at every level for our entire company of 100 employees. 
I would 100% recommend ServiceProz.
Vorteile:
ServiceProz has completely revolutionized our business. We now have oversight at any moment on all of our locations, we can pull up a job and its history instantly, and it allows us to see our technicians and installers work in real time. There is a single source of truth for each job - all the information, communication and logistics are in ServiceProz and I can't emphasize enough how this communication and transparency makes our jobs go as smoothly as possible in the construction industry. It's difficult to convey just how much ServiceProz has changed the way we operate. We used to have the entire process on paper - from sale to install - and the amount of time, triple entry, delayed reporting and lost paperwork was an inefficient and frustrating system that prevented us from growing our business and burning out our employees and not to mention affecting our customer relationships. ServiceProz maximizes our efficiency and assists everyone in doing their job better without the headache of human error. Our customers want answers immediately, they don't want a call back or for us "to look into it" - they are busy and want an estimate or to be scheduled right away. An estimate takes seconds to create either on the mobile or desktop and the CRM helps our salespeople to organize their contacts and relationships, making the sales process quick and easy.
Nachteile:
...continued from Pros: As for operations, since the jobs are in real time and we are able to see the schedule on each desk, we have answers immediately for our customers for availability or where our technicians are at a given point in time. Our installers and field supervisors upload photos to the work orders so that the scheduling department and sales team can see what is going on and that is priceless. The main obstacle is with our field people and that is with getting cell service. We are moving cell companies to try and offset this challenge.
Bau, 11-50 Mitarbeiter
Verwendete die Software für: Mehr als 2 Jahre
Service Proz - One piece flow from leads to completion!
Kommentare: Service Proz allows a forum call with current user at least 3 times a month which allows me to see how others use the program! The Service Proz team then goes to work to make any changes that can make the program better. Awesome tool for Service Proz users to engage in!
Vorteile:
Saves my company alot of money every day with one piece flow. Service Proz allows my company to grow without adding employees with all the features it offers. Communication between different departments from the lead to the completion of job is visible in Service Proz! My company does not use texting or email outside of Service Proz which has completely eliminated, the "blame game" between sales, scheduling, purchasing, AR and AP!!
Nachteile:
Service Proz can not replace your current way of doing business 100% due to the uniqueness of all businesses. My emotional ties to the old way of running my business were strong. I wrote all my own Excell programs and felt that was the only way! Change is hard, however, once I embarked down the Service Proz way with there team it was obvious my company over time would be in a much better place.
Alyx
Fireplace install coordinator in USA
Bau, 51-200 Mitarbeiter
Verwendete die Software für: Mehr als 2 Jahre
Love the Company/Software
Vorteile:
I love that we are so close with the creator and are able to make adjustments to fit our company. The software has enabled us to efficiently organize our customers and serve them in the best way possible. The feature to upload pictures and notes specific to the job while on site from a mobile device has saved us multiple times from angry customers.
Nachteile:
I love that it is so easy to talk to the creator about changing things however, when changing things it can kind of create bumps in the road.
Verbraucherdienste, 11-50 Mitarbeiter
Verwendete die Software für: Mehr als 2 Jahre
My business Software
Vorteile:
After numerous attempts with other software, this is absolutely the program for us! To start with the ease of use, anyone can operate in Service Proz. Also having the capability to access and manage multiple technicians in multiple cities, along with office personnel. Service Prozs gives us the ability to track everything from who, and exactly when a service request has been placed, dispatched, acknowledged, mapping, through completion, to finalizing. We are able to monitor and manage in real-time every facet of our industry.
Nachteile:
We operate a 24-hour service company, I have on one occasion while working late on a holiday weekend, experienced a system software update which was breif but inconvient.
Bau, 2-10 Mitarbeiter
Verwendete die Software für: Mehr als 2 Jahre
Game changer
Kommentare: Its been amazing
Vorteile:
It completely changed my life. It allowed me as a small business owner the same advantages that I knew when working for large companies. It got me organized and streamlined so I could better help my customers. Customer service rep and his team are amazing and you can't beat the value.
Nachteile:
Nothing!..Every question answered and every issue dealt with quickly and professionally.