Was ist Stable Secretary?
Stable Secretary organisiert Informationen und Datensätze von Pferden mit einfach zu bedienender, cloudbasierter Online-Software und einer mobilen App. Stable Secretary ermöglicht es Trainern, Managern und Eigentümern, detaillierte Informationen, Dateien, Fotos und Aufzeichnungen für Pferde und Personen in ihrem Stall zu erfassen und auf sie zuzugreifen. Das System bietet Berichte, Zusammenfassungen, Erinnerungen, Ergebnisverfolgung, Rechnungserstellung, um Zahlungen und Rechnungen zu verfolgen, und ermöglicht Nutzern den Zugriff auf Mitarbeiter, Eigentümer und Anbieter mit festgelegten Berechtigungen.
Wer verwendet Stable Secretary?
Pferdetrainer, Pferdebesitzer und Stallmanager stellen die Zielgruppe für Stable Secretary dar.
Stable Secretary – Details
Ragged Mountain Equine Ventures
2013 gegründet
Stable Secretary – Details
Ragged Mountain Equine Ventures
2013 gegründet
Stable Secretary – Videos und Bilder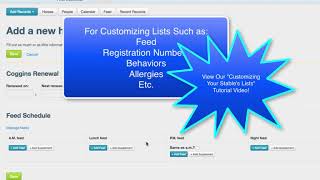 Kosten ähnlicher Produkte wie Stable Secretary vergleichen
Startpreis
1,49 $/Monat
Nicht verfügbar
349,00 $/einmalig
75,00 $/Monat
Stable Secretary – Bereitstellung und Support
Einsatz
Cloud, SaaS, webbasiert
Android (mobil)
iPhone (mobil)
iPad (mobil)
Training
Persönlich
Live Online
Dokumentation
Funktionen von Stable Secretary
Abrechnung & Rechnungsstellung
Ad-hoc-Berichterstattung
Aktivitäts-Verfolgung
Alarmfunktion / Benachrichtigungen
Aufgabenmanagement
Aufgabenplanung
Automatische Sicherung
Automatisierte Terminplanung
Berichterstattung und Statistik
Bestandsführung
Buchhaltung
Datenspeicher-Management
Dokumentenmanagement
Dokumentenmanagement
Dokumentenspeicher
Einkommen & Bilanz
Elektronische Zahlungen
Ereignis-Nachverfolgung
Erinnerungen
ID-Tracking
Integration in die Buchhaltung
Kalenderverwaltung
Kommunikationsmanagement
Kommunikationsprotokoll
Kontaktmanagement
Kostenverfolgung
Kundendatenbank
Kundendatenbank
Kundenhistorie
Leistungskennzahlen
Mitarbeitermanagement
Multichannel-Marketing
Patientenakten
Pferde-Aufzeichnungen
Pferde-Datenbank
Rechnungsmanagement
Rollen-basierte Genehmigung
SSL-Sicherheit
Stammbaum-Nachverfolgung
Standortverfolgung
Terminplanung
Terminverwaltung
Unterricht-Management
Unterstützt YouTube
Versorgungs-Management
Vorlagen-Management
Wettkampf-Rekorde
Whiteboard
Zuchtmanagement
Zugriffskontrollen / Berechtigungen
Sarah W.
Professional H/J Equestrian Trainer in USA
Verifizierter Nutzer auf LinkedIn
Sport, Selbstständig
Verwendete die Software für: Mehr als 2 Jahre
Thank you SS, you gave me back TIME!
Kommentare: SS is awesome. The program is easy to use, the customer service is top notch, and it truly gives me time back that I used to not have hand logging down all the vet records.
Vorteile:
The ease of use and having one location for all health information in my barn.
Nachteile:
The thing I like lease is that it is pricey for your average barn manager, farm owner, trainer.
Antwort von Ragged Mountain Equine Ventures
vor 3 Jahren
Hi Sarah, Thank you so much for your review and for your feedback. We are so happy that it is helping you to stay organized and to save time!! That's our goal, and we're so glad that we've achieved it for you! We try to keep prices as low as possible while not sacrificing on the maintenance, support, and development of new features for the product. We try to keep prices reasonable per horse, and have a variety of products and packages in the hopes that trainers can find one that fits their needs and budgets. We also do run specials, and have affiliated with USHJA and USEA to offer discounts to certified trainers within those organizations. We offer savings for nonprofits, law agencies, and educational institutions. If you have peers who are interested but find the cost prohibitive, please have them contact us to discuss. Thank you again! Have a great day! Kate
Salome M.
Business Manager/Riding Instructor in USA
Verifizierter Nutzer auf LinkedIn
Sport, 2-10 Mitarbeiter
Verwendete die Software für: 6-12 Monate
Does everything
Kommentare: The people at Stable Secretary SO responsive! There hasn't been an issue I've raised that they ignored. A few suggestions have made it into fix requests... But mostly it's been so easy and when I don't know how to get the software to do what I want, I get a helpful suggestion that has worked every time.
Vorteile:
This software is end to end. It has helped me track all services - rides, grooming, feeding, medicines, body work, and shows; it's allowed me to streamline our invoice process, it takes me about 30 minutes to do all my billing at month's end; I track all horses, clients, registration papers, membership numbers. I use the integrated merchant portal for payments and will begin using its integrated QuickBooks feature over the next month. I can run a report on any aspect of the business imaginable. For my final act, I'm hanging large tablet in our tack room to replace or white board... SS will become a digital whiteboard where we will all be able to log our daily activities in real time. 💜
Nachteile:
The look. I like a more color-coded interface. It's definitely not fun to look at. Although they're in the midst of planning an upgrade to their user interface, so I believe this will improve. There are a few fiddly things, again connected to user experience I would like to see improved. Ie navigation, not having to pop back to a main menu, not having to reselect a drop down for each occurrence. (I used to work in software quality assurance so I'm a pretty picky customer).
Antwort von Ragged Mountain Equine Ventures
vor 3 Jahren
Hi Salome, Thank you so much for the review! We appreciate the time you took to write about our software, and we also appreciate your kind words. We are so happy to hear that the software is saving you time and streamlining your record keeping. That was our goal! Also - you're right. We are about to start delving into improving our online "appearance' - sort of a Spring makeover! We don't aim to do anything drastic, but we want to make the interface nicer on the eye, and - most importantly - make it all more intuitive and easier to use. We've had to deal with these types of "growing pains" in the past. When we add multiple features, it's important for us to then go back to make sure everything is represented correctly in the navigation, etc. Thank you, as always, for being an active participant in our feedback process. We truly value what you have to say and try to incorporate it into our development queue as quickly as possible. Thank you!
Jim O.
Site manager in Kanada
Einzel- & Familiendienstleistungen, 2-10 Mitarbeiter
Verwendete die Software für: Mehr als 2 Jahre
Picture
Kommentare: I think it can be a great product but the price is too high. If the price was about half of regular price would be better.
Vorteile:
I really like that it has a picture for each horse.
Nachteile:
The picture doesn't enlarge when you click on it anymore. Need a summer and winter pictures on the front page.
Antwort von Ragged Mountain Equine Ventures
vor 2 Jahren
Hi Jim, Thank you very much for writing us a review! We do love feedback. UPDATE Aug 2019: we have added the ability to expand the horse photo. We will make it a priority to put back the ability to enlarge the horse photos. You can currently upload many pictures of the horse in the Uploads section online, and then access them (and enlarge) from the mobile app - in the Horse's Uploads tab. We do plan to implement the ability to have multiple horse profile pics at some point, that the user could easily scroll through to ID a horse, but I don't see that happening for another 6 months or so. Thank you again for reviewing our software! Kate support@stablesecretary.com PS. I wish we could give our sw away for free, but we are committed to continuing to develop it to be stronger and better for our users, and that costs money. We still put almost all of our revenue right back into our product to benefit our users!
Taylor M.
Owner/ operator in USA
Viehwirtschaft, Selbstständig
Verwendete die Software für: Mehr als 2 Jahre
Stable Secretary Review
Vorteile:
I love being able to access all the information I need at any given time. The app updates have been a HUGE plus.
Nachteile:
It is a bit expensive, though mostly inline with similar products. I would LOVE to see a feature for tracking the repairs and maintenance on our farm vehicles (trucks, trailers, tractors). That would really round out the software to cover the whole business.
Antwort von Ragged Mountain Equine Ventures
vor 2 Jahren
Hi Taylor, Thank you very much for taking the time to leave us a review. We appreciate your sharing your experience with others who are interested in our software! I'm so glad that you are enjoying the app updates. We are too, and there are more to come! We would love to round out the software to cover the whole business. Right now, we are working on a user interface upgrade and an accounting upgrade. We also plan to keep adding more functionality to the app regularly. We will definitely consider adding in a vehicle maintenance section. I wonder if, for now, you could add "horses" for Vehicles, tag them as Vehicles, and enter their maintenances as records? Then, you could run reports and get reminders without having to wait for us. If you want to discuss that workaround more, just email us at support@stablesecretary.com and we can help you set that up! Thank you again for the review and for your business! Kate
Ariel D.
Equine Enterprise Manager in USA
Verifizierter Nutzer auf LinkedIn
Hochschulbildung, 2-10 Mitarbeiter
Verwendete die Software für: Mehr als 1 Jahr
Fantastic for an educational environment!
Kommentare: The staff was very helpful and easy to reach when we were working out our payment process (working for a state institution created a unique situation regarding invoicing). I was very happy with how they helped me.
Vorteile:
I manage the equine program for a state university and am responsible for over 60 horses and a revolving door of student employees. SS is a lifesaver for keeping track of everyone in the herd and making sure no one gets forgotten! The email reminders are a fantastic tool to help me keep track with my busy schedule, and the software works wonderfully for collaboration between myself and my employees. The interface is also very user friendly. I was able to learn the program very quickly when I took over the program.
Nachteile:
It would be REALLY nice if you could create an event such as farrier or vaccination, and add from the list of horses. It's somewhat time consuming to have to adjust each horse individually if you need to adjust the recurring time period or anything. Also, it's not really a big con for me, but if there was anything else I could suggest I would say the user interface could perhaps be a little more visually appealing - modern applications and programs are just so advanced these days that this program appears somewhat basic and bland at first impression in comparison.
Antwort von Ragged Mountain Equine Ventures
vor 3 Jahren
Hi Ariel, Thank you so much for your review! We appreciate your taking the time to write about our product. One of our next tasks is to revamp the user interface online. We will certainly take into account your feedback. We are releasing a Beta version of our new mobile app which is WAY more modern. We hope you love it! Thank you again so much for your review. Please don't hesitate to contact us at support@stablesecretary.com with more feedback if you think of other suggestions! Kate