Was ist Udutu Online Course Authoring?
Mit 70.000 Kunden und mehr als 3 Millionen Nutzern ist Udutu seit 2005 der goldene Standard in E-Learning. Das Kurserstellungstool ist für jedermann kostenlos – es gibt also keine Budgetbarrieren zu bewältigen. Das Tool ist unbegrenzt, sodass beliebig viele Personen an einem Projekt arbeiten können – sogar gleichzeitig. Eine beliebige Anzahl von Kursen mit einer beliebigen Anzahl von Inhalten kann beliebig oft extrahiert werden. Es ist sowohl für Anfänger als auch für Experten einfach und leistungsstark und kann fast alle Inhalte enthalten, die in einem Browser funktionieren.
Wer verwendet Udutu Online Course Authoring?
Für alle auf der Welt, die ansprechende Online-Kurse erstellen möchten. Einfach genug für jeden, unabhängig von der Kursentwicklungserfahrung – leistungsstark genug für die fortschrittlichsten Nutzer und Kursdesigns.
Wo kann Udutu Online Course Authoring bereitgestellt werden?
Cloud, SaaS, webbasiert
Über den Anbieter
Udutu Online Learning Solutions
Ansässig in Victoria, Kanada
2005 gegründet
Telefon-Support
Chat
Erhältlich in diesen Ländern
Kanada, Vereinigte Staaten
Über den Anbieter
Udutu Online Learning Solutions
Ansässig in Victoria, Kanada
2005 gegründet
Telefon-Support
Chat
Erhältlich in diesen Ländern
Kanada, Vereinigte Staaten
Udutu Online Course Authoring – Videos und Bilder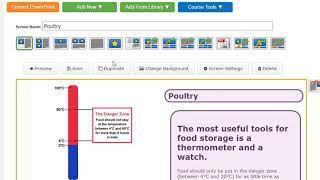 Kosten ähnlicher Produkte wie Udutu Online Course Authoring vergleichen
Udutu Online Course Authoring Funktionen
Ablaufplan
Asynchrones Lernen
Audio- / Videoaufnahmen
Autorensysteme
Content-Management
Daten-Import / -Export
Gamification
Interaktives Lernen
Kundenspezifisches Branding
Kurs-Veröffentlichungen
Lernmanagement
Medienimport
Mehrsprachig
Mobiler Zugriff
Multimedia-Unterstützung
PowerPoint-Konvertierung
Quiz
Tests/Bewertungen
Vorlagen-Management
interaktive Inhalte
Alternativen für Udutu Online Course Authoring
Bewertungen über Udutu Online Course Authoring
Verifizierter Rezensent
Artist/writer/motivational speaker in USA
Verifizierter Nutzer auf LinkedIn
Kunst & Handwerk, Selbstständig
Verwendete die Software für: 1-5 Monate
online courses
Kommentare: I use it for multi tasking,and preparation for starting,and finishing my books I write.I plan on using it to create online courses on art,writing,and motivational speaking.
Vorteile:
I like it because it allows me to create my own courses,and since I am a writer,and artist I can use it for multi tasking
Nachteile:
It does take patience to do anything,but it takes a while to get the job completely done
Verwendete die Software für: Nicht angeboten
A lot of functinality for the price
Kommentare: I came to Udutu with ZERO experience in creating an online course. I'm a retired English teacher and I just wanted a platform to offer some writing instruction for the students I tutor (in other words, I'm a very small fish in a very small pool). At first Uduto was not very intuitive to me, and I felt like the learning curve was steep, but I figure it out enough (within only about 2 weeks) how to make it do what I needed - therefore the simple, free version of the Online Course Authoring tool met my needs and helped me take my project from dream to reality. Yay Udutu.
Antwort von Udutu Online Learning Solutions
vor 8 Jahren
Thanks for you comments Dolly! We appreciate you using Udutu! We've recently added our "Assist U" button to the authoring tool which will have a continually growing number of topics and processes which 'walk' users through the tool/process. Already the feedback is that these are very helpful -particularly for newer users. We also launched an FAQ site (faq.udutu.com) where there's an ever expanding amount of information to be obtained about out tools and services. As with any tool, there is a learning curve but we hope that these two approaches will help users like yourself to get rolling even faster than before! Thanks again!
Mitch R.
Manager, People Development in Kanada
Personalwesen, 1.001-5.000 Mitarbeiter
Verwendete die Software für: Mehr als 2 Jahre
Excellent tool for 90% of our development needs
Kommentare: it provided me with the avenue to implemented e-learning for my organization
Vorteile:
The integration with the LMS is an added bonus feature. It provides and often times exceeds the development needs for most programming.
Nachteile:
Since I do focus on the administrator role of the software it is difficult to crtique functionality. It performs well.
Antwort von Udutu Online Learning Solutions
vor 4 Jahren
Thanks for the review, Mitch! As always, we'd love to hear of any features you think would make the Authoring Tool even more powerful, and we'll do our best to build them in.
Verwendete die Software für: Nicht angeboten
Anomaly + Remark
Kommentare: Hello, In the lms.udutu.com with a learner access, I notice something that doesn't work.
This concerns only the french interface. Go to « My training » tab, then choose an activity that has been already done. Therefore, clic on « Restart Activity ».
At this time, you have to write « REPRENDRE ». But it doesn't work because instead of « REPRENDRE » we have to write this word in english « RETAKE » whereas this is the french version. Moreover, I tried to find in the lms a « preview » to see what the learner will see for all the process (lms + elearning) but I didn't find it.
If actually it doesn't exist, I think it could be a good feature. Best regards,
David BENOIST
Antwort von Udutu Online Learning Solutions
vor 6 Jahren
Hi David, Thanks very much for your input and suggestions. The "Retake" issue is something we will look into. As the translated versions of the LMS are limited to the display text at this time, Making a functional text dynamically change for all the language variations may prove difficult to implement. We will certainly look into it and change if possible. A learner view is a good idea. I agree and will suggest it to our development team. Thanks again for using Udutu! Richard
Scott H.
E-learning Technologist in
Verwendete die Software für: Nicht angeboten
Brilliant Learning Object Creator and Scenario builder (using it for our Medical university)
Kommentare: It was a brilliant discovery to find UDUTU when I was asked to review possible E-learning Learning object creators and scenario builders for my University E-learning team. UDUTU does everything we need and more. It is even better than very expensive bought software like Captivate and Articulate. You can create your own theme, and then use the useful templates to build your interactive learning objects or even adaptive learning scenarios. Sky is the limit!. For the person who has basic IT skills but want to make complex learning objects or even take the next step up from a PowerPoint this does everything. Quickly add PowerPoints, quizzes, multimedia. Work on them as a group and when you have finished you can export to the VLE as scorm compliant packages. You can even upload previously authored scorms and re-edit them. Not many packages do this. The are so many cool features. This sets the bar high. I wish I had learned about it earlier
Antwort von Udutu Online Learning Solutions
vor 8 Jahren
Thanks very much for your enthusiastic review Scott! We are so pleased you found our tool(s) and that they are working out for you so well. Please don't hesitate to contact us if any questions come up!