Was ist Atlas Chirosys?
Atlas ist eine komplette, papierlose Bürolösung für chiropraktische Praxen. Die Lösung umfasst Abrechnung, Terminplanung, Behandlungs- und Pflegeverfolgung, Patientenaufklärung und -bindung, Klinikberichterstattung, SOAP-Notizen und vieles mehr. Mit einer Vielzahl innovativer Funktionen, darunter die neue mobile Plattform Flex, unterstützt dich Atlas nicht nur dabei, Zeit zu sparen, sondern auch dabei, deine Praxis auszubauen. Atlas ist anpassbar und die bevorzugte Lösung für kleine und große Kliniken mit jeder Art von Praxisstil und Philosophie.
Wer verwendet Atlas Chirosys?
Einzelne Chiropraktiker oder multidisziplinäre Kliniken. Das Unternehmen bietet Dienstleistungen für alle Arten von Bürotypen.
Atlas Chirosys – Details
Atlas Chiropractic System
2006 gegründet
Atlas Chirosys – Details
Atlas Chiropractic System
2006 gegründet
Atlas Chirosys – Videos und Bilder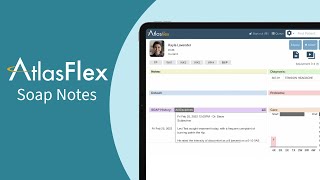 Kosten ähnlicher Produkte wie Atlas Chirosys vergleichen
Startpreis
Nicht verfügbar
249,00 $/Monat
299,00 $/Monat
Nicht verfügbar
Atlas Chirosys – Bereitstellung und Support
Kundenbetreuung
E-Mail/Helpdesk
Telefon-Support
Chat
Einsatz
Windows (Desktop)
Windows (On-Premise)
Android (mobil)
iPhone (mobil)
iPad (mobil)
Training
Persönlich
Live Online
Dokumentation
Videos
Funktionen von Atlas Chirosys
API
Abrechnung & Rechnungsstellung
Aktivitäts-Dashboard
Alarmfunktion / Benachrichtigungen
Anpassbare Berichte
Anpassbare Formulare
Anpassbare Vorlagen
Aufgabenplanung
Automatisierte Terminplanung
Berichterstattung und Statistik
Bestätigung / Erinnerungen
Beurteilung-Management
Compliance Management
Compliance im Gesundheitswesen
Diagramm-Erstellung
Dokumentenmanagement
Dokumentenmanagement
Dokumentenspeicher
Dokumentvorlagen
E-Mail Marketing
E-Mail-Management
Elektronische Zahlungen
Ergebnisbewertungstools
Erinnerungen
Formularverwaltung
Für Chiropraktiker
HIPAA konform
Inventarverwaltung
Kalender-Synchronisierung
Kalenderverwaltung
Kreditkartenbearbeitung
Kundendatenbank
Kundenmanagement
Kundenportal
Mehrere Standorte
Mitarbeitermanagement
Patientenmanagement
Rechnungsmanagement
Reklamationsabwicklung
Reservierungs-Management
Rollen-basierte Genehmigung
SMS-Nachrichtenversand
SOAP-Notizen
Self-Service Portal
Terminplanung
Terminverwaltung
Verwaltung von Patientenakten
Wiederkehrende- / Abonnement-Abrechnung
Workflow-Management
Zugriffskontrollen / Berechtigungen
David E.
Dr. and CEO in USA
Verifizierter Nutzer auf LinkedIn
Gesundheit, Wellness & Fitness, 2-10 Mitarbeiter
Verwendete die Software für: Mehr als 2 Jahre
Why Choose Atlas
Kommentare: I have owned Atlas since 2005. I have tried over 7 different office software programs including ChiroMac, Web Based Systems and have found that Atlas has everything that I need. The one aspect to Atlas that I enjoy is the TECH SUPPORT! If you decide to go with Atlas use their tech support, ITS AWESOME! Something's not working, give them a call. Have a question on how to set up a process in your office? Give them a call. They have helped me with a lot of issues and now with their online BACK UP, it's a no brainer (Make sure that you do this cuz I found out the hard way.)
Vorteile:
Simplicity! With in 2-3 clicks you can perform most anything you need! It's all in front of you vs. trying to remember what screen does what and how do I get back to that screen and how do I generate this type of Report Atlas has everything there! Got Stuck?! No problem Atlas tech support is there to help you in ENGLISH!!!!! And they won't ask you to push the reset button!;0 Run a cash practice? No problem Atlas is easy. Run a PI practice? No Problem Atlas can record your data and keep track of exams. Need to organize your visits and refer back to them? No problem Atlas can Program your entire visit plan and confirm the visit date via text, email or phone. Have an idea that you feel is crucial to your office and may help with other offices. Atlas is open to integrating new ideas.
Nachteile:
Thinking... I would say that Atlas is working to improve all aspects of their software. Their new flex note system is excellent and the fact that it now allows tablet or iPad integration makes it even better. It doesn't do everything that I want it to yet, but they are working on it.
Kori S.
Office Manager in Kanada
Gesundheit, Wellness & Fitness, 2-10 Mitarbeiter
Verwendete die Software für: Mehr als 2 Jahre
Atlas is great for setting up and organizing patients as well as with any follow up or advertising.
Kommentare: I liked the added advertising and help to send patients videos and emails on health related issues.
Vorteile:
For the most part, once an employee gets used to Atlas, it is easy to use, straight forward and makes sense. There is often more than one way to register information or get to the information that is needed. Atlas help line is great and it staff knows the programming inside and out. The staff are friendly and understanding. Great when used in the manner and function that it was intended. It is helpful beyond booking appointments.
Nachteile:
Atlas has all the big important functions covered however the program misses out on some of the minor details for the day to day function in the clinic. For instance, having x-rays and reports at the doctors' fingertips is great but I was unable to email a colleague at another clinic an x-ray. Another example is that patient statements are quite detailed and easy to track but it is hard to separate items and payments from different providers on the same day or pull specific items from a time range for an insurance company. This is often asked for by patients who are looking to separate healthcare products that aren't covered by insurance with items that are.
Antwort von Atlas Chiropractic System
vor 4 Jahren
Thank you for your review. We are able to email reports including any images, x-rays, scans or any other image file. Please contact support and we can show you.
Gesundheit, Wellness & Fitness, 2-10 Mitarbeiter
Verwendete die Software für: 1-5 Monate
It is sold 'empty'
Kommentare: It was frustrating we never got it implemented after three or four months of trying to make macros because the note system sucks and figure out how to put in all of the CPT codes diagnosis codes and everything else that we would need we finally realize that it was still woefully inadequate for our needs and then as the Last Straw the pit stop manager failed to catch a pit stop which means the reminders are unreliable I finally pulled the plug in 5 months screw it
Vorteile:
I liked a lot of the ideas and the things that they showed me on the demo all the control and being able to text straight from the EMR that was wonderful except that it really didn't work
Nachteile:
It was sold completely empty in other words no diagnosis codes no CPT codes no E&M codes, nothing in it. For some reason they think it's easier for me to put in all of the diagnosis codes that I might need to use rather than just having a database to choose from the same goes for the CPT codes rather than just have a whole bunch of them that I can choose from and change the prices on I have to add absolutely everything. Also same thing with insurance and electronic billing there are zero insurance companies in this thing which means you have to put everything in by hand including their billing numbers so that you can get paid you know because that's simpler than them including a database with all of that in there. There are so many problems with this software and it is so 20 years ago I just would not recommend it or anything like it
Dr david O.
Professor of Anatomy and Physiology Florida State College Jacksonville in USA
Verifizierter Nutzer auf LinkedIn
Hochschulbildung, 2-10 Mitarbeiter
Verwendete die Software für: Mehr als 2 Jahre
Great Software Program
Kommentare: Atlas is great, just don't make any mistakes, because it will take a LOT of time to correct it
Vorteile:
Schedule book is really fantastic in it's ability to easily move appointments around, do multiple visit scheduling,as well as deleting multi visits at one time, scheduling appointments on the fly from the patient data card. Aside from the ability to change the width of the columns, I think the schedule book is the absolute best scheduler I have seen. Although it does lack a mobile phone app to schedule patients while away from the clinic on the go. That would be great instead of telling patients you will have to call them back once you return to the clinic
Nachteile:
If you make a mistake it lacks the ability to correct it easily like a computer should do. Unfortunately it may require hours and hours of extra work, where a macro or script would be able to correct it in minutes or seconds.
Craig H.
President in Kanada
Gesundheit, Wellness & Fitness, 2-10 Mitarbeiter
Verwendete die Software für: Mehr als 2 Jahre
Been an Atlas user since 2007. Great product and even better service.
Kommentare: Have been using it daily since 2007. Great program for our chiropractic practice. Saves me from hours of work and having to have another employee.
Vorteile:
I really like how simple it is to use in our cash practice. Easy to upload images into the system. Training new staff on it is simple and easy. Patients love seeing their EHR when they sign in. Love the text reminders.
Nachteile:
The graphic interface could use some updating - too many colors and looks a bit dated. I would love to get rid on the 'spine' graphic on the VTC. Patients become fixated on the red spots on the graphic. Slow to load patient file at sign in at table. Whole system backbone is virtual fox pro - old system.
Antwort von Atlas Chiropractic System
vor 4 Jahren
Thank you for the review. We do have a way to hide the interactive spine on your Virtual Travel Card. I will have a support rep reach out to you today to help!