Was ist ShippingEasy?
ShippingEasy ist die einfachste cloudbasierte Versandplattform auf dem Markt. Mit ShippingEasy können Online-Händler*innen aller Größen schnell und zu den besten Preisen liefern und ihre Bestellungen steigern. Konsolidiere Bestellungen über mehrere Kanäle und verschiedene Speditionen, einschließlich USPS, FedEx und UPS. ShippingEasy lässt sich in führende Online-Shops und Marktplätze wie Amazon, Shopify, Walmart, eBay, Squarespace und andere integrieren. Greife auf die garantiert niedrigsten Versandkosten sowie andere exklusive Rabatte zu, unabhängig von der Größe.
Wer verwendet ShippingEasy?
E-Commerce-Verkäufer*innen und Online-Händler*innen, die Waren an ihre Kund*innen versenden.
Wo kann ShippingEasy bereitgestellt werden?
Cloud, SaaS, webbasiert, Mac (Desktop), Windows (Desktop)
Über den Anbieter
ShippingEasy
Ansässig in Austin, USA
2011 gegründet
Telefon-Support
Chat
Erhältlich in diesen Ländern
Vereinigte Staaten
Sprachen
Englisch, Spanisch
Über den Anbieter
ShippingEasy
Ansässig in Austin, USA
2011 gegründet
Telefon-Support
Chat
Erhältlich in diesen Ländern
Vereinigte Staaten
Sprachen
Englisch, Spanisch
ShippingEasy – Videos und Bilder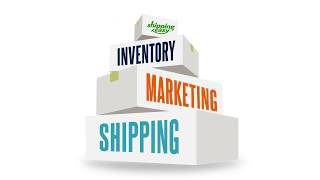 Kosten ähnlicher Produkte wie ShippingEasy vergleichen
ShippingEasy Funktionen
API
Alarmfunktion / Benachrichtigungen
Angebotsmanagement
Auftragsmanagement
Auftragsverfolgung
Barcode-/Etikettenmanagement
Barcode-Generierung
Berichterstattung / Analyse
Bestandsverfolgung
Bestell-Management
Bestückung
Drittanbieter-Integration
E-Commerce-Management
E-Mail Marketing
Ereignisgesteuerte Aktionen
Kanalmanagement
Katalogisierung / Kategorisierung
Kontakt-Datenbank
Leadmanagement
Lieferanten-Management
Lieferpreisberechnung
Luftfracht
Marktplatz-Integration
Mehrere Kampagnen
Multichannel-Management
Produktdatenmanagement
Retourenmanagement
Sendungsverfolgung
Verkaufsberichte
Versand auf dem Landweg
Versand-Management
Versandetiketten
Versandmanagement
Vorlagen-Management
Alternativen für ShippingEasy
Bewertungen über ShippingEasy
Ozan emrah Ç.
Business Analyst in Türkei
Verifizierter Nutzer auf LinkedIn
Computer-Software, 11-50 Mitarbeiter
Verwendete die Software für: Mehr als 1 Jahr
Good Software for Logistics Management
Kommentare: Good experience with some missing points. In the end, it somehow makes its' job.
Vorteile:
It has a user friendly interface which makes shipping management an easy task.
Nachteile:
It does not let you create dummy carrier and requires carrier integration to use. As a result, we cannot use it for orders that are delivered by our own delivery staff.
Verifizierter Rezensent
CEO in USA
Verifizierter Nutzer auf LinkedIn
Unterhaltungselektronik, Selbstständig
Verwendete die Software für: 6-12 Monate
In Betracht gezogene Alternativen:
Shipping Made Easy.
Vorteile:
It's fairly easy to select the best service and ship, and there are inexpensive options for small flat letters, etc.
Nachteile:
I wish I could connect to my PayPal to pay for packages, rather than using a credit card and paying it off. I also wish it would show combinable orders instead of requiring me to select 'combine orders' box. Finally, it does not save package details when checking between services. Actually, I wish it would compare different services (UPS, USPS, FedEx) to be able to select the most cost-effective option.
Ryan L.
Office Manager in USA
Gesundheit, Wellness & Fitness, 2-10 Mitarbeiter
Verwendete die Software für: 1-5 Monate
Bria rocks and you should do whatever it takes to keep her on your staff.
Kommentare: Cheaper insurance and contacting Bria (after several tries to other, less awesome, agents).
Vorteile:
Bria's help and support is the best part of making the change to this platform. The insurance rates are cheaper but with the extra time cost, I am not sure we are actually saving money.
Nachteile:
It is not user friendly, the labels print from newest to oldest and separate the international and priority from the first class instead of letting me print the labels in the order they were imported, you know, logically. Logic dictates that you would want to print the labels for the oldest orders first, not the newest orders. If I have 50 orders and they are jumbled by mail class and destination, it takes me 5 times longer than Stamps.com to print the batch because I have to do them individually so the orders go out in the order they were received. The training was about showing you all the "cool" (aka useless) features of the platform instead of making it easy for me to use and setting it up for what I need daily. Because of the training lacking usefulness, I have spent extra time sorting out the issues I face (thanks to Bria's help). Bria is the only agent you have that has been willing to help me love a platform I hate, everyone else just says "that feature is not available" or "you cannot do that in this platform" but Bria has worked to come up with creative solutions to get what I need out of this platform. Having to set everything up from packaging to rules is not saving me time and I have found this program to actually take up more of my time than Stamps.com did which I feel is misrepresented by your sales people. I was informed that I could streamline my batches but so far, it's been a lot more work and babysitting from me. Enter Bria the rock star!
Antwort von ShippingEasy
vor 5 Jahren
We're thrilled to hear such great things about Bria's level of service. We have high standards when it comes to our customer service, and Bria certainly upholds those standards! Thank you for sharing your experience. As for the concern of functionality within the app itself, we are always looking to make adjustments and improvements based on customer feedback. We have added a feature request ticket based on your conversation with Bria. Once our development team can outline and prioritize the work, Bria will follow-up with you. In the meantime, Bria has informed us that she has presented you an alternative resolution using Shipping Rules. While not precisely what you were looking for, hopefully that can help in the interim. The platform is meant to make life easier for merchants like you, so we are sorry we didn¿t hit the mark right off-the-bat. Again, we appreciate your feedback and look forward to making sure ShippingEasy meets your shipping needs.
Brian S.
Assistant Executive Director in USA
Non-Profit-Organisation Management, 2-10 Mitarbeiter
Verwendete die Software für: Mehr als 1 Jahr
In Betracht gezogene Alternativen:
Simple and easy shipping labels and shipping management
Kommentare: Our experience has been excellent. We create shipments and print labels when we need to, and there's no monthly fee to worry about when we aren't shipping anything.
Vorteile:
This was simple and easy to set up and use for a small business that doesn't have a need for a large and expensive shipping operation. We simply created our account and set up our payment method, then we create shipping labels for our shipments one at a time or in groups, and can compare prices for different carriers and shipping options.
Nachteile:
For our use there was no downside. We don't do a ton of shipping, just enough to need something convenient like ShippingEasy.
Unterhaltung, 2-10 Mitarbeiter
Verwendete die Software für: Mehr als 1 Jahr
In Betracht gezogene Alternativen:
Finally, someone is figuring it out!
Kommentare: Excellent up time (upwards of 98% most of the time). Great support staff, easy to work with and they ACTUALLY resolves issues! Go figure!! (Volusion delusion). Great GUI makes workflow a snap.
Vorteile:
The flexibility and functionality are phenomenal. It's great to have a "hub" where both order fulfillment and marketing can happen in one place! Leaves our e-commerce platform (volusion) in the dust!
Nachteile:
HTML editing and graphical verification (switching back and forth) of e-mail newsletters is limited which makes it very frustrating, especially when one wants to use font sizes larger than "72" or make inter-document hyperlinks for starters. I hope these features will be added soon! Also, the ability to cancel or recall e-mail campaigns within say 30 mins, would be very helpful. Sometime you think it's perfect, hit the send button, and see the e-mail at your inbox (for review) and see a problem than you can't fix!!