Was ist Webgility?
Webgility ist eine Premium-E-Commerce-Buchhaltungs- und Inventarautomatisierung, die für Einzelhändler und Marken entwickelt wurde, die QuickBooks oder Netsuite verwenden.
Führe ein gesamtes E-Commerce-Geschäft aus einer einzigen Anwendung heraus aus, automatisiere die Buchhaltung und synchronisiere Geschäftsdaten einschließlich Inventar, Auftragsverwaltung und Versand an QuickBooks oder Netsuite. Alles in einer umfassenden Anwendung.
Wer verwendet Webgility?
E-Commerce, Buchhaltung, Versand, Inventar
Wo kann Webgility bereitgestellt werden?
Cloud, SaaS, webbasiert, Mac (Desktop), Windows (Desktop), Linux (Desktop)
Über den Anbieter
Webgility
2007 gegründet
Telefon-Support
Chat
Erhältlich in diesen Ländern
Kanada, Vereinigte Staaten, Vereinigtes Königreich
Über den Anbieter
Webgility
2007 gegründet
Telefon-Support
Chat
Erhältlich in diesen Ländern
Kanada, Vereinigte Staaten, Vereinigtes Königreich
Webgility – Videos und Bilder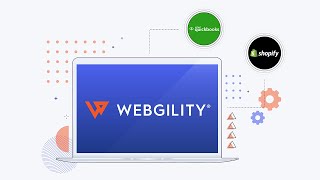 Kosten ähnlicher Produkte wie Webgility vergleichen
Webgility Funktionen
API
Aktivitäts-Dashboard
Alarmfunktion / Benachrichtigungen
Auftragserfassung
Auftragsmanagement
Auftragsverfolgung
Berichterstattung / Analyse
Berichterstattung und Statistik
Bestandskontrolle
Bestandsverfolgung
Bestell-Management
Budgetierung/Prognosen
CRM
E-Commerce-Management
Finanzmanagement
Inventarverwaltung
Kanalmanagement
Katalogisierung / Kategorisierung
Kontenabgleich
Kostennachverfolgung
Kostenverfolgung
Kundenmanagement
Lieferpreisberechnung
Marktplatz-Integration
Mobiler Zugriff
Produktdatenmanagement
Retourenmanagement
Sendungsverfolgung
Versand-Management
Alternativen für Webgility
Bewertungen über Webgility
Michael
Operations Manager in USA
Verifizierter Nutzer auf LinkedIn
Unterhaltungselektronik, 2-10 Mitarbeiter
Verwendete die Software für: Mehr als 2 Jahre
Webgility keeps the moving parts moving
Kommentare: We have an online store hosted using Volusion. We use QB online for accounting purposes. We use Infusionsoft as our CRM. Webgility connects all the pieces and keeps the orders synchronized in QB, and allows us to use a class that keeps Infusionsoft current. The customer service is great, although there have been times where I had to wait an hour or 2 for a call back. When we connect, the problem is always solved.
Vorteile:
Webgility posts all of our transactions to Quickbooks online every evening. Set it up and forget about it.
Nachteile:
Occasionally the link will break, but I don't know which piece of the puzzle causes that to occur.
Kunst & Handwerk, 2-10 Mitarbeiter
Verwendete die Software für: 1-5 Monate
Quelle: SoftwareAdvice
Awesome Company, Very Helpful and Customer focused
Kommentare: Originally I was concerned because of the monthly packages. My products are seasonal with very highs and then moderate pull-through rates. I spoke with them about purchasing at the annual rate and asked if the yearly order count could be utilized instead of a monthly rate. They had to check but got back to me the next day and they could accommodate the requests. I did receive an email within the first 10 days that I was at my monthly limit. I replied to the email that it should be calculated on an annual rate and could they please have a look. The next day they contacted me and apologized. Within 24 hours the issue was resolved and I had no downtime.
Vorteile:
The best is that when I send in a support request they contact me directly normally within the same day or the following day. They personally speak with me and do not send me on a wild goose chase. Every time my concern has been resolved either while on the call or an email the following day. I cannot say enough about their great support. Having awesome software and an awesome team behind it is so rare these days but Webgility has it.
Nachteile:
So far nothing bad to say. I almost have all my accounts working at full speed and I could not be happier.
Medienproduktion, 2-10 Mitarbeiter
Verwendete die Software für: Mehr als 2 Jahre
Decent Software / Horrific WooCommerce Integration
Kommentare: Horrible. Have been bringing this to their attention for months with no resolution. Keep promising to look into it, but they don't . They finally send reluctant email admitting that the reason the competitors plugins work properly is because the competitors (like ShipStation) are PROPERLY using the WooCommerce API and Webgility is not. When asked why they can't use the API and properly make a decent plugin, they say they'll get back us - but don't. IF YOU ARE USING WOOCOMMCERE - TRUST ME - AVOID WEBGILITY AT ALL COSTS. We have switched to ShipStation and it is working amazing, their support is amazing, and it's 10x cheaper. Lesson learned. Sorry Webgility - we tried to help you, and you ignored us.
Vorteile:
The software has many great features, is able to ship using wide variety of carriers and presents your orders in useful ways, posts back to store channels and posts to QuickBooks.
Nachteile:
Awful non-standard WooCommerce integration is ruining the software, and management has no desire to fix it. Instead of following industry standards and adhering to WooCommerce & plugin API's and documented best practices, they have written some crazy mess of spaghetti code years ago and try to band aid it with updates and customizations, making it so that every time WooCommerce updates (as well as their many plugins), various things stop working. We've spent hundreds hiring outside developers to customize the code to work properly with standard Woo plugins like Product Variations, Shipment Tracking, and more. Every developer has commented that the Webgility WooCommerce plugin is the biggest mess they've ever seen. Whenever we update plugins like reviews, tracking, WooCommerce, etc - Webgility will break, because they don't follow standards. We've been telling them this for years. So, just for fun this past week, we downloaded and installed default plugins from competitors like ShipStation and Atandra's T-Hub - guess what? They worked immediately with all plugins and no problems. That shows you Webgility is doing it wrong.
Verifizierter Rezensent
Full Time Translator in Algerien
Verifizierter Nutzer auf LinkedIn
Verlagswesen, 11-50 Mitarbeiter
Verwendete die Software für: 6-12 Monate
In Betracht gezogene Alternativen:
with a large sales volume things gets messy without Webgility
Kommentare: we use the software to have a big picture of what is going on with our inventories and e-stores and to deal with our accounting processes. and we found out that the software did good job in that matter.
Vorteile:
the most valuable feature for me in Webgility is the dashboard itself. you can import all your sales/orders/receipts data and everything is sorted out. in a breeze.
Nachteile:
the software struggle with importing some sort of transactions data that are vital for the eCommerce like refunds and disputes form some platforms.
Scott
Marketing Director in Russland
Verwendete die Software für: 1-5 Monate
Customer Support is hard to come by
Vorteile:
Seems to offer a lot of features, support was good at first. I would recommend people think twice and go where the support is high rated.
Nachteile:
The customer support is very lacking. They seem to rarely respond and takes weeks to do anything. Don't seem to take as seriously once you have already signed the contract.