Was ist Integrify?
Die Lösung zur Workflow-Automatisierung von Integrify konzentriert sich auf Nutzerfreundlichkeit, schnellen Einsatz und leistungsstarke Funktionen. Mit Integrify können Unternehmen ihre täglichen Arbeitsabläufe automatisieren und sicherstellen, dass konsistente Standards eingehalten werden. Die Kunden haben eine Vielzahl von Workflows in den Bereichen Finanzen, Betrieb, HR und IT automatisiert. Das Unternehmen bietet auch vollständige Implementierungsdienste an, um jedes Projekt zum Erfolg zu führen. Integrify löst echte Geschäftsprobleme durch echte Workflowautomatisierung.
Wer verwendet Integrify?
Große Unternehmen, die Kosten senken und die Mitarbeiterzufriedenheit mit Prozessdefinition, Workflowautomatisierung und Sichtbarkeit für Bereiche wie IT, HR, Vertrieb, Betrieb und Finanzen verbessern müssen.
Wo kann Integrify bereitgestellt werden?
Cloud, SaaS, webbasiert, Mac (Desktop), Windows (Desktop), Windows (On-Premise), Linux (On-Premise)
Über den Anbieter
Integrify
2001 gegründet
Telefon-Support
24/7 Live-Support
Chat
Erhältlich in diesen Ländern
Kanada, Vereinigte Staaten
Über den Anbieter
Integrify
2001 gegründet
Telefon-Support
24/7 Live-Support
Chat
Erhältlich in diesen Ländern
Kanada, Vereinigte Staaten
Integrify – Videos und Bilder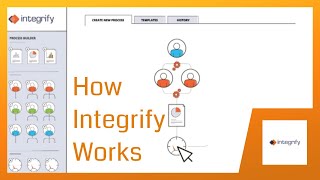 Kosten ähnlicher Produkte wie Integrify vergleichen
Integrify Funktionen
Aktivitäts-/Newsfeeds
Anpassbare Felder
Anpassbare Formulare
Archivierung & Aufbewahrung
Aufgabenmanagement
Automatisches Ausfüllen
Automatisierung von Geschäftsprozessen
Berichterstattung / Analyse
Berichterstattung und Statistik
Compliance-Verfolgung
Dateispeicherung
Daten-Import / -Export
Datenaggregation und -veröffentlichung
Datenerfassung und Übertragung
Drag-and-Drop
Drittanbieter-Integration
Einsatz-Management
Elektronische Unterschrift
Formular-Automatisierung
Formularerstellung und -design
Formularverwaltung
Grafischer Workflow Bearbeiter
Integrationsmanagement
Iterationsverwaltung
Kalenderverwaltung
Konditionale Logik
Kontrolle des Genehmigungsprozesses
Kontrollprüfung
Kundenspezifisches Branding
Mobiler Zugriff
No-Code
Prozess-/Workflow-Automatisierung
Prozessmodellierung & Design
Regelbasierter Workflow
Risikomanagement
Störfallmanagement
Umfragen & Feedback
Versionskontrolle
Visuelle Modellierung
Volltextsuche
Vorlagen
Vorlagen-Management
Werkzeuge zur Zusammenarbeit
Wirtschaftsprüfung-Management
Workflow-Konfiguration
Workflow-Management
Zugriffskontrollen / Berechtigungen
Alternativen für Integrify
Bewertungen über Integrify
Alaina
Director, Revenue Analytics in USA
Verifizierter Nutzer auf LinkedIn
, 51-200 Mitarbeiter
Verwendete die Software für: Mehr als 2 Jahre
Integrify helps us streamline a peer review system that involves many users and processes.
Vorteile:
Integrify has allowed us to automate a very complex process, and at the same time it took a system that was paper based and made it electronic. It can handle a wide variety of workflows, requirements, and types of users. The customer service is great.
Nachteile:
As someone who is not naturally tech-savvy and who inherited a system that was already designed, it's not always intuitive and at times it has been challenging for me to understand what's behind the curtain. That being said, I think this has more to do with my knowledge base rather than the system itself.
Antwort von Integrify
vor 4 Jahren
Alaina, thank you for all the positive comments. We're glad the system is working well for you and the National 4-H Council. We're always available for training and support as you acclimate to the system. Thanks for being a great customer!
Dana
Systems Architect in USA
Rundfunk, 2-10 Mitarbeiter
Verwendete die Software für: Mehr als 1 Jahr
Integrify workflow tool good but limited
Kommentare: Our first experience was great using a simple workflow/process but once we built our custom workflows specific to our company we soon outgrew the capabilities of the system. Our management elected to move on with other products so our full potential with Integrify was most likely not realized. Seeing that they are still providing a product makes me wonder if the shortcomings have been overcome. Support was great and that was one of the key items that kept us using it for the extended period that we did.
Vorteile:
The graphical interface was pretty good. There were some nice dashboards and being an online service running on our server eliminated having to have a client application.
Nachteile:
There were several gotcha's as we built more complicated workflows/processes. Some of the administrative interfaces were not intuitive and easily could overlook key settings while building a workflow.
Antwort von Integrify
vor 3 Jahren
Dana, Thank you for the review! We have made many changes and improvements to our product since you were with us. Most of these changes were based on feedback from customers like you as well as the workflow market in general. We'd love a chance to show you what's new with Integrify. Please reach out if you'd like a personal demonstration. Mike
Wayne
Manager, Software Development in USA
Computer-Software, 51-200 Mitarbeiter
Verwendete die Software für: Mehr als 2 Jahre
My previous employer tried twice to use Integrify before folding up the projects and giving up.
Kommentare: We never successfully used the software, due to a combination of factors both relating to Integrify and our own situation.
Vorteile:
Options and willingness of Integrify staff to help. The Integrify personnel had ways to work around the idiosyncracies of the product.
Nachteile:
1) Lack of a publishing process for flows (i.e. dev => staging => production) 2) Impossible to print large flows to paper. The only available printing method was to capture a screen in a browser, and if this was used to print to large form paper then the text on the (large) diagrams was unreadable . This was also very awkward as most browsers have limited printing support. 3) Poor scalability. The more complex the process, the more flow specifications would need to be re-entered. For example, given the lack of a publishing process, copying a flow was the only way to simulate one. However, copying a flow lost some types of data which needed to be entered (repeatedly). While one member of our team took a "bleeding edge" approach that stressed the software, perhaps unreasonably, other team members were merely working on a "large-ish" flow, and Integrify was painful to use for such a large flow. I should note that factors within our company also contributed to the failure with Integrify.
Antwort von Integrify
vor 5 Jahren
We're sorry that Integrify didn't work out for CityTwist. The single instance promotion feature along with versioning is meant to streamline testing and deployment but clearly the preference was for a more traditional Dev/Staging/Production environment, which we understand. Printing of flows has been an area for us to address and we have done so in our latest version. Thank you for the additional feedback. We have attempted to duplicate the process copy issues you experienced but have not been able to do so. We will continue looking into your comments. Lastly, we'd hoped that our offer of free implementation services could have helped you overcome some of the factors you cited within your company so the project could meet your expectations, but we respect your decision to decline them.
Ahmed
Business Process Manager in Ägypten
, 51-200 Mitarbeiter
Verwendete die Software für: Mehr als 1 Jahr
Quelle: SoftwareAdvice
Perfect Tool : Good Value for Money - Complicated a little - Need to be enhanced in Customer Expereince
Kommentare: I am waiting for the next release for upgrade -if possible -
You guys -Integrify- changed my life and saved my time in managing things and staff
Vorteile:
Very Nice Product , With a lot of features that are exceeding my requirements with good coloring and interface The most important point is to understand how to work on Integrify , That is the point
Nachteile:
Actually it took me weeks to understand how to work on Integrify .. That's why I am requesting some enhancements in customer experience to be simpler and to the point Even I have to say that they have a perfect Support Team who helped me to get it done
Gilberto
Applications Programmer in USA
Chemikalien, 51-200 Mitarbeiter
Verwendete die Software für: Mehr als 2 Jahre
Easy to use. Intuitive interface.
Kommentare: Time savings, communication across all departments
Vorteile:
What I liked most about this software is the flexibility. I have not come across a process or event type that Integrify could not accommodate.
Nachteile:
What I liked least about this software is the reporting function. I would like more flexibility there. Access to the database would be great so I can integrate Integrify data into our own reports/web portal.