Was ist Visual-Eyes?
Seit über 25 Jahren betreut der Softwareanbieter den kanadischen Optometrie-Markt und konzentriert sich darauf, Kliniken die Tools zur Verfügung zu stellen, die sie für das Wachstum ihrer Praxis benötigen. Visual-Eyes ist ein umfassendes System, das dein Büro rationalisiert, damit du dich auf deine zu behandelnden Personen konzentrieren und dein Geschäft ausbauen kannst. Mit dem modularen System kannst du nur die Funktionen auswählen, die deiner Praxis am besten entsprechen. Wenn deine Praxis wächst und sich weiterentwickelt, können neue Module hinzugefügt werden, um einen effizienteren Arbeitsablauf und eine bessere Patientenerfahrung zu ermöglichen.
Wer verwendet Visual-Eyes?
Der Softwareanbieter betreut seit 25 Jahren den unabhängigen Optometriemarkt. Jede Klinik, die im Bereich der Augenheilkunde arbeitet, kann von den verschiedenen Modulen und Dienstleistungen zur Rationalisierung von Kliniken profitieren.
Visual-Eyes – Details
SOTH
1996 gegründet
Visual-Eyes – Details
SOTH
1996 gegründet
Visual-Eyes – Videos und Bilder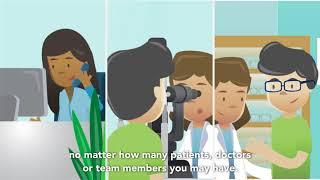 Kosten ähnlicher Produkte wie Visual-Eyes vergleichen
Startpreis
Nicht verfügbar
Nicht verfügbar
19,00 $/Monat
Nicht verfügbar
Visual-Eyes – Bereitstellung und Support
Kundenbetreuung
E-Mail/Helpdesk
Wissensdatenbank
Telefon-Support
24/7 Live-Support
Chat
Einsatz
Cloud, SaaS, webbasiert
Windows (Desktop)
Training
Persönlich
Live Online
Webinare
Dokumentation
Videos
Funktionen von Visual-Eyes
API
Abrechnung & Rechnungsstellung
Aktivitäts-Dashboard
Anpassbare Berichte
Anpassbare Formulare
Anpassbare Vorlagen
Aufgabenplanung
Auftragserfassung
Automatisierte Terminplanung
Berichterstattung und Statistik
Coding-Unterstützung
Compliance Management
Compliance-Verfolgung
Diagramm-Erstellung
Dokumentenmanagement
Dokumentenmanagement
Dokumentenspeicher
Dokumentvorlagen
Elektronische Rezepte
Elektronische Zahlungen
Entscheidungsunterstützung
Erinnerungen
Ertragsmanagement
Formularverwaltung
HIPAA konform
Handschrifterkennung
Historische Berichte
Inventarverwaltung
Kalenderverwaltung
Klinik-Interoperabilität
Kommunikationsmanagement
Kundenportal
Live-Chat
Medizinische Abrechnung
Mehrere Standorte
ONC-ATCB zertifiziert
Rechnungsmanagement
Registrierungs-Management
Reklamationsabwicklung
Schadensprüfung
Self-Service Portal
Sinnvolle Nutzung zertifiziert
Sprach-Erkennung
Terminplanung
Terminplanung
Terminverwaltung
Vorlagen-Management
Workflow-Management
Zugriffsquellen-Verfolgung
Überprüfung der Versicherungsberechtigung
Siehe die vollständige Elektronische Patientenakte Software Liste
API
Aktivitäts-Dashboard
Anpassbare Berichte
Anpassbare Formulare
Anpassbare Vorlagen
Berichterstattung und Statistik
Bestandsverfolgung
Compliance Management
Daten-Import / -Export
Datenspeicher-Management
Diagramm-Erstellung
Dokumentenmanagement
Dokumentenmanagement
Drittanbieter-Integration
E-Mail Erinnerungen
E-Mail Marketing
E-Mail-Management
E-Mail-Verteilung
Echtzeit-Daten
Einkauf & Empfang
Elektronische Rezepte
Elektronische Unterschrift
Elektronische Zahlungen
Erinnerungen
Eventplanung
Formularverwaltung
Für Optiker
HIPAA konform
Integration in die Buchhaltung
Inventarverwaltung
Kalenderverwaltung
Kontakt-Datenbank
Kreditplanung
Kundendatenbank
Kundenmanagement
Kundenportal
Kundenspezifisches Branding
Mehrere Standorte
Reklamationsabwicklung
Rückruf-Nachverfolgung
SMS-Nachrichtenversand
SOAP-Notizen
Self-Service Portal
Sichere Datenspeicherung
Terminplanung
Terminverwaltung
Versicherungsmanagement
Verwaltung von Patientenakten
Vorlagen-Management
Workflow-Management
David W.
Optometrist / Partner in Kanada
Verifizierter Nutzer auf LinkedIn
Medizinische Praxis, 11-50 Mitarbeiter
Verwendete die Software für: Mehr als 2 Jahre
What is your data worth?
Kommentare: Visual Eyes is the most comprehensive optometric management software out there. We have been a client since 1999 and it keeps getting better and better. No software can guarantee 100% up time but Visual Eyes is close and we have never had a data corruption or lost any data. Pricing may appear high but I figure I can replace anything in my office in the event of a catastrophe except my data - that is the most valuable asset we have. Visual Eyes protects that.
Visual Eyes is very feature rich and if you are willing to put in the effort to utilize the entire package the rewards are great in terms of saving staff time, marketing, statistical analysis etc. Patient communication tools are great. We have saved lots of money just by making use of the inventory management alone. The software is ever evolving and the tech support is very responsive and run by staff who care about my practice.
I would be pleased to help out anyone who is interested in switching to Visual Eyes. This is a major practice decision and you should be thorough in your research. I don't work for this company but I feel like they have been a partner in helping me provide vision care for many years.
Vorteile:
Visual Eyes is customized for your individual practice.
Nachteile:
The setup process is not difficult but must be done thoughtfully to maximize efficiency and to maximize the use of your data.
Amy W.
Manager/Optician in Kanada
Krankenhausversorgung & Gesundheitswesen, 11-50 Mitarbeiter
Verwendete die Software für: Mehr als 2 Jahre
VE Review
Kommentare: Overall experience with visual eyes has been good. I came from using another software program at a previous clinic which was far more complicated and did not have the ability to be customized at all. I have also trained lots of users on VE and find they adapt to the program quickly with very little issues.
Vorteile:
One of the things I like the most about the VE software is the ability to customize from a clinic level. Whenever I need to alter anything I can do so easily and quickly and have the changes implemented right away.
Nachteile:
One of the things I like least right now is the rx screen. I find its very cluttered and overwhelming for new users. I do realize that a lot of it is due to the lens ordering system. But I find that there are a lot of unnecessary boxes and it could be cleaned up a bit. I am hoping there will be an option (at some point) of customizing this screen on a clinic level along with the other customization features within the program.
Chris C.
Optician in Kanada
Verwendete die Software für: Nicht angeboten
Avoid this one at all costs. Interface is clunky and difficult to use.
Kommentare: Horrible horrible system to use. It's flakey and bug ridden, overly complicated interface and the most recent update makes it even more needlessly complicated. This program is embarrassing to try to use in front of a client. One of the worst things is how this ridiculous program thinks it's smarter than the person running out when it very obviously isn't. Customer care is there, but the guys are overly taxed and it takes as long as two or three days to have then return a call, though they usually do.
The fact that home office is located in Red Deer, Alberta should be your biggest clue that the people creating this Mickey mouse program are rank amateurs. By eye doctors for eye doctors..... No, stick with what you know.
Jeff G.
Optometrist in Kanada
Gesundheit, Wellness & Fitness, 11-50 Mitarbeiter
Verwendete die Software für: Mehr als 2 Jahre
Visual Eyes - Optimized for Optometrists
Kommentare: Excellent customer support. Each question/query/feature request is addressed in a timely and very professional manner.
Vorteile:
The software functionality is very powerful and many aspects of it are customizable at the practice level. Optometrists all practice differently so being able to tweak the functionality to meet our particular needs is very important to us. They are continually adding new features to the software based on user feedback and industry trends. Over the past few years, their patient communication system and online booking features have evolved such that it is very easy for patients to communicate with our office and book appointments online - they removed the friction found in many other systems and made it super easy for patients.
Nachteile:
Nothing really. The software is very powerful so there is a bit of a learning curve. However, everything we want it to do, it can.
Amy M.
Front Desk coordinator in Kanada
Einzel- & Familiendienstleistungen, 2-10 Mitarbeiter
Verwendete die Software für: Mehr als 2 Jahre
Happy customer but needs a bit of work
Kommentare: I do like it and it is great to use but I wish yearly or every 6 mths you would do a suggestion that would love to be seen
Vorteile:
I am a real supporter of visual eyes...there is so much good in this program and it is only getting better....I really like I really love the fact that if a pt has 2 appointments on that same day the appointment boxes light up...…
Nachteile:
1. how to do the reports or how to create reports....this could be soooo much better 2. I hate the fact that with blended families people have different names I wish that all the boxes who are assossiated with that FAMILY on that day would light up... 3. the invoice split payments are great however I wish you could print invoices from this screen....I wish you could do this on cash and I wish you could transfer credits to other peoples invoices without crazy amount of steps....