Was ist BizAutomation?
Verwalte dein GESAMTES Unternehmen in einem einzigen Cloud-ERP-System, das für KMUs (kleine und mittlere Unternehmen) konzipiert ist.
Inventar, Bestellungen, CRM mit Vertriebsprovisionen, Buchhaltung und eCommerce.
Wer verwendet BizAutomation?
Kleinere Unternehmen mit weniger als 100 Mitarbeiter im Großhandel/Vertrieb und Einzelhändler.
Wo kann BizAutomation bereitgestellt werden?
Cloud, SaaS, webbasiert
Über den Anbieter
BizAutomation
Ansässig in Irvine, USA
2003 gegründet
Telefon-Support
Chat
Erhältlich in diesen Ländern
Kanada, Vereinigte Staaten
Über den Anbieter
BizAutomation
Ansässig in Irvine, USA
2003 gegründet
Telefon-Support
Chat
Erhältlich in diesen Ländern
Kanada, Vereinigte Staaten
BizAutomation – Videos und Bilder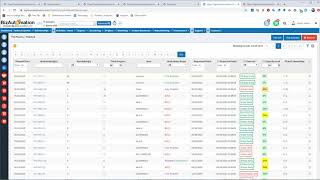 Kosten ähnlicher Produkte wie BizAutomation vergleichen
BizAutomation Funktionen
3PL-Management
Abrechnung & Rechnungsstellung
Aktivitäts-Dashboard
Alarmfunktion / Benachrichtigungen
Angebote / Schätzungen
Anpassbare Rechnungen
Aufgabenmanagement
Auftragsmanagement
Barcode / RFID
Berichterstattung / Analyse
Berichterstattung und Statistik
Bestandskontrolle
Bestandsoptimierung
Bestandsprüfung
Bestell-Management
Bestückung
Buchhaltung
Budgetierung/Prognosen
CRM
Dokumentenmanagement
Dokumentenspeicher
E-Mail-Management
Echtzeit-Daten
Einkauf & Empfang
Fertigungsplanung
Finanzanalyse
Finanzberichterstattung
Finanzmanagement
Forderungen
Hauptbuch
Integrierter Geschäftsbetrieb
Inventarverwaltung
Kalender-/Erinnerungssystem
Kontakt-Datenbank
Kontaktmanagement
Kontenabgleich
Kostennachverfolgung
Kostenverfolgung
Kundenportal
Lagerhaus-Management
Lead-Qualifizierung
Leadmanagement
Lieferanten-Management
Lohn- und Gehaltslisten-Management
Marketing-Automatisierung
Mehrere Währungen
Mobiler Zugriff
Nachbestellungen verwalten
Online-Abrechnung
Personalmanagement
Produktkennzeichnung
Prognose
Provisionsmanagement
Qualitätsmanagement
Rechnungserstellung
Rechnungshistorie
Rechnungsverarbeitung
Retourenmanagement
Sales-Pipeline-Management
Segmentierung
Social-Media-Integration
Steuermanagement
Steuerrechner
Suchen / filtern
Supply-Chain-Management
Unternehmens-Vermögensmanagement
Verbindlichkeiten
Verfolgung von Interaktionen
Versand-Management
Vertrags-/Lizenz-Management
Wareneingangs- / Einlagerungsverwaltung
Workflow-Management
Zugriffskontrollen / Berechtigungen
Alternativen für BizAutomation
Bewertungen über BizAutomation
Elizabeth jenkins M.
Director Of Operations in USA
Verifizierter Nutzer auf LinkedIn
Konsumgüter
Verwendete die Software für: 6-12 Monate
Moving to BizAutomation from QuickBooks Enterprise was a leap of faith necessary for growth!
Kommentare: Ability to customize data input so that we can extract and parse to use in forecasting and planning
Vorteile:
Without a doubt the best feature of this software is the attention we got from the actual employees of the company, including some actual source code enhancements, that would never have happened at a big software company. We new that we needed to move from QuickBooks and could not afford some of the bigger players in the market, so we took a leap of faith based on what we saw as potential from BizAutomation. As with all software implementation - our move was not without some pain, but we truly appreciate the willingness of the company to take the time to listen to our needs and make improvements and modifications based on our business practice. We believe that Biz is the right system to provide the organization, information and access of information we need for our company to continue to grow
Nachteile:
The company is small and does not offer 24/7 customer support - but that said, they are very accessible and willing to do what is necessary even in "off-hours"
Wein und Spirituosen, 11-50 Mitarbeiter
Verwendete die Software für: Mehr als 1 Jahr
Celebrating One Year Anniversary with BizAuto
Kommentare: We are celebrating being now one year live and are running our entire business with BizAuto. The integration was much less complicated as anticipated and we have been LIVE WITHOUT interruptions for ONE YEAR! Our goal and dream to run our entire business from one platform/software has been accomplished. As scary as the decision was to give up all our "favorite" old software modules and closets filled with hardware - it has been a dream come true to have everything in the cloud and in one place (software). We have no more IT service bills, no more servers to update, no more software upgrades to pay, no more headache! On top of it all, our overall IT/software spending over the year has been tremendously less.
I know that I have been very stingy giving out 5 stars on this survey, but as everything in life ...there is always room for improvements. As satisfied we have been with BizAutomation, especially the support - we are continuously striving to grow our business and our software partner to grow and improve!

Overall, THANK YOU BizAutomation for all your support in the last year!
HAPPY ONE YEAR BIRTHDAY from all of us at Schlossadler Wines & Travel.
Vorteile:
Amazing value for the functions and capability of the software.
Nachteile:
No phone app to sync CRM data. Limited options to format some fields.
Chance B.
Business Solution Consultant in USA
Computer-Software, 2-10 Mitarbeiter
Verwendete die Software für: Mehr als 1 Jahr
Perfect Solution for an SMB. Has the right features and functions with the right price!
Kommentare: You get a very strong and modern true cloud ERP solution for a fraction of the cost of NetSuite, Acumatica, SAP Business One or Sage
Vorteile:
The user interface is nice and modern, coupled with a customizable dashboard. Strong accounting, solid inventory control, great E-commerce and decent CRM. This solution hits the sweet spot for SMBs. Either they are outgrowing their current Quickbooks integrated with multiple other software solutions to get something similar to an ERP or those businesses have a ERP and that ERP is way too much for where they are at. The price is really high, and have more functions and features than they need. BizAutomation is perfect for those that are caught in between!
Nachteile:
It is a young software and has not matured yet, so in time these "least" comments will be addressed in the near future. If you have any proprietary software or other platforms that will be integrated, chances are it has not been done. Expect customization (not nearly as costly as you think). Reporting is not their strong suit and have been told they are working on an upgrade. Not for businesses that have subsidiaries, although that too is being added.
Rajesh P.
Web & Graphics Designer in Indien
Computer-Software, 51-200 Mitarbeiter
Verwendete die Software für: Mehr als 2 Jahre
Comprehensive solution from a Small-Tech ERP company
Kommentare: As you'd expect from my glowing overview, I'm quite pleased, and of course, recommend this to any larger small business. Fair warning - If you're not growing or most of your employees are Tech Luddites, stay with Excel (In which you likely have bigger problems than ERP software).
Vorteile:
What I liked most is how flexible they were during the implementation process. One of my biggest complaints in dealing with Big-Tech ERP (no names to protect the guilty) is how everything gets nickel and dimed after the contract is signed, and money is exchanged. Sure, I'm not the one writing the checks, but I feel for clients in this predicament. Not the case here.
Nachteile:
The only thing I can think of is that like any solution this powerful, it takes time to get to know the ins and outs of the suite. The payoff is worth it, however.
Brad J.
Director of IT in USA
Bau, 11-50 Mitarbeiter
Verwendete die Software für: 6-12 Monate
Impressive Software That's Actually Affordable for Small Businesses
Kommentare: Very impressed with their product and their service!
Vorteile:
I looked at and demoed several other systems from larger, maybe more well known software companies. Although BizAutomation may be a smaller software company in comparison of size, they certainly were every bit as capable in delivering the same features based on the demos they gave us. I was very impressed in terms of what they could provide us vs the larger software vendors. I'm sure those companies offer some features that BizAutomation, but BizAutomation offered features that the competition couldn't. BizAutomation met every need we asked of it for a significantly smaller cost, and the customer service is second to none. Very impressed with their product and their service!
Nachteile:
I don't really have anything negative to say. If I were being nitpicky, I might would say that we had some performance slowness one day for a few hours, but those were resolved quickly and we never had another instance of that. I asked and was told that this is something they monitor and when hardware gets saturated they upgrade which makes sense.