Was ist MyVR?
Erfülle den neuen Standard im Bereich der Urlaubsmanagementsoftware. MyVR bietet Kurzzeit-Mietmanagern und Buchungsagenten eine Plattform zur Vereinfachung ihrer Multi-Channel-Marketing- und -Geschäftsprozesse. MyVR bietet direkte Integrationen mit Airbnb, HomeAway, Booking.com, TripAdvisor und anderen – und hilft dir dabei, deine Online-Präsenz aufzubauen, um deinen Direktverkauf zu steigern. Die Kernsoftware von MyVR automatisiert die täglichen Aufgaben und integriert sich mit anderen Best-of-Breed-Diensten, um Zeit zu sparen, Fehler zu reduzieren und das Gästeerlebnis zu verbessern.
Wer verwendet MyVR?
Kurzzeit-Vermieter und Eigentümer von Ferienimmobilien mit fünf bis zu 500 (oder sogar mehr) Immobilien, die ihr Multi-Channel-Marketing und ihre Geschäftsprozesse vereinfachen und ihre direkten Geschäfte aufbauen müssen.
Wo kann MyVR bereitgestellt werden?
Cloud, SaaS, webbasiert
Über den Anbieter
MyVR
Ansässig in San Francisco, USA
2010 gegründet
Telefon-Support
Chat
Erhältlich in diesen Ländern
Australien, Bahamas, Dominikanische Republik, Haiti, Kanada und 5 weitere
Über den Anbieter
MyVR
Ansässig in San Francisco, USA
2010 gegründet
Telefon-Support
Chat
Erhältlich in diesen Ländern
Australien, Bahamas, Dominikanische Republik, Haiti, Kanada und 5 weitere
MyVR – Videos und Bilder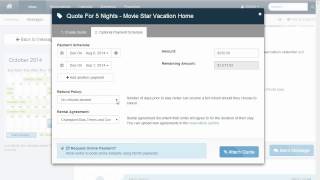 Kosten ähnlicher Produkte wie MyVR vergleichen
MyVR Funktionen
Abrechnung & Rechnungsstellung
Arbeitsauftragsverwaltung
Auftragsmanagement
Berichterstattung / Analyse
Berichterstattung und Statistik
Bestandskontrolle
Bonus-Management
CRM
Drittanbieter-Integration
Eigentümer-Aussagen
Front Desk Management
Für die Ferienvermietung
GDS-/OTA-Integration
Gasterlebnis-Management
Gästekommunikation
Haushaltungsmanagement
Instandhaltungsmanagement
Kanal-Analytik
Kanalmanagement
Kontaktmanagement
Leadmanagement
Marketing-Automatisierung
Mitarbeitermanagement
Online-Buchung
Partnermanagement
Pipeline-Management
Raten-Management
Reservierung-Management
Zahlungsabwicklung
Vivin V.
Founder and President in USA
Verifizierter Nutzer auf LinkedIn
Einzel- & Familiendienstleistungen, 11-50 Mitarbeiter
Verwendete die Software für: Mehr als 2 Jahre
Wonderful experience working with MyVR
Kommentare: We are now into our 3rd year with MyVR. It was a big switch for us - moving from Kigo to MyVr - and we haven't regretted it one bit. MyVR is extremely simple to handle though its got powerful features. Its a one stop shop for all our Property management needs - right form guest handling to charging of their cards to the automated emails. All wonderfully packaged in one software,
Vorteile:
The features of the software, flexibility of the staff, high response time, and the ability of the staff to listen to end user for suggestions. Right from the CEO to the customer support - they have always listened to us. Our account manager has been great to work with.
Nachteile:
Analytics and Reporting options. Though the staff has always listened to our suggestions for better analytics and also helped us generate whatever report we wanted. Its not really a big deal in the larger scheme of things. Just a nice to have feature.
Peter K.
CFO in Puerto Rico
Freizeit, Reisen & Tourismus, 2-10 Mitarbeiter
Verwendete die Software für: Mehr als 1 Jahr
In Betracht gezogene Alternativen:
Setting up and then using MyVR for over a year
Kommentare: It's been a great experience. As the primary person who set the system, I can say that it does take time, by it's really pretty straightforward. The support staff are outstanding.
Vorteile:
Software is perfectly designed for the short term rental business. It's easy to use, and connects to the major channels quite easily. Credit card processing is seamless with Stripe.
Nachteile:
Could use stronger financial capabilities. Most reporting has to be done outside of the system. That said, the owner portal is amazing and was very well received.
Verifizierter Rezensent
Investment Advisor in Kanada
Verifizierter Nutzer auf LinkedIn
Finanzdienstleistungen, 1.001-5.000 Mitarbeiter
Verwendete die Software für: 1-5 Monate
Nightmare! OVER BOOKINGS, DOUBLE CHARGING ME, POOR SUPPORT, INEFFECTIVE TRAINING
Kommentare: None! Wasted countless hours and caused a great deal of stress. I should bill them for my wasted time.
Vorteile:
It sounded good before I actually started using it. It has all the features we need. All the channels, automation, website, calendar sync.
Nachteile:
- SLOW CALENDAR SYNC - They told me the calendar sync was instant. That's true but only coming from Airbnb. I blocked off dates in MyVR and 40 minutes later got an Airbnb booking for those dates. Then they admitted that it take 45 minutes to sync from MyVR to Airbnb. I was double booked right away. - I paid for their training package which took a lot longer then expected to complete. Several months in fact. During this time, they were also charging the monthly cost for use of the service that I wasn't even using yet. Eventually they refunded this portion but only after several requests. - Support slow and often useless. There is no way to talk to a human. I sent several emails asking for help with double bookings and they would not call me. It took them several days to respond and they asked clarifying questions that only proved they didn't even read my email and had no idea what the problem was. - Pricey training is a joke. It was sold to me as a one-on-one coaching to get me set up quickly. Basically instead of watching generic videos that may or may not apply to your situation, it is a live person running through generic videos and training that may or not apply to you. They also sent me outdated instructions that got me lost. Total waste of countless hours. Finally I insisted the last part of training be done over a zoom online meeting, which i initiated. It was great. Why not do that in the first place then?!
Antwort von MyVR
vor 4 Jahren
We hold ourselves to a high standard, so we apologize again that your experience wasn't positive. While we've onboarded thousands of properties successfully, we regret that yours was not. It may be small consolation for you, but we will strive to learn from this and do better. The root cause of many of your struggles seems to be that we allowed you to continue using the product without training after you had to cancel your second session. Our product is designed for ease of use, but training rapidly accelerates familiarity with the software. Based on your feedback, we'll revisit our processes to ensure we are setting up customers for success. We do feel it is important to clarify a few things: 1) Our product does offer real-time syncing. You were using iCal (not recommended) and not our full 2-way integration. 2) We do offer property managers several hours of live training, not generic videos. This 1:1 time with a live trainer gives customers ample time to ask questions.
Freizeit, Reisen & Tourismus, Selbstständig
Verwendete die Software für: Mehr als 2 Jahre
In Betracht gezogene Alternativen:
Invaluable Business Partner
Kommentare: I used to be overwhelmed managing 2-3 properties. Now I have 11 and am still growing, but I couldn't do it without MyVR.
Vorteile:
Their support is 6 stars out of 5 Their growth is driven by customer needs - they listen, ask why, and work with their clients to develop on target solutions. Their systems and processes are simple and easy to use.
Nachteile:
I wish they could grow faster. They need a strong link to the accounting softwares. They're developing it, but it's not ready yet.
Bethany S.
Marketing & Online Content in USA
Verwendete die Software für: Nicht angeboten
Absolutely my favorite way to manage our vacation rentals
Kommentare: First of all, I love how clean, and aesthetic MyVR's user interface is. It sounds superficial, but If I have to look at this software every day, sometimes for hours in a day while I am working, I would rather it not hurt my eyes! MyVR doesn't. It's beautiful, simple, and pleasant to work in. It's also surprisingly user friendly. True, as MyVR adds more features the software does become more complicated, and sometimes I can't find a certain feature until I ask support, but these features are not buried within hidden recesses of the software. When using MyVR I feel like everything is at my fingertips - I can find the features I need, and I can use them with very little difficulty. I especially love the website building features. MyVR offers a great blend of structure and flexibility, giving me lots of options for customizing our website, while still providing enough boundaries that I don't wreck our site with my limited knowledge of html, css, or other website intricacies. The drag and drop web builder makes it super easy to build a beautiful site, but I still have the power to create and change redirects, customize my SEO, and insert custom html. I love it. And did I mention the interface is pleasant to look at? Yeah, I love that. I don't use the reservations and lead management side of MyVR as much, so I am not as familiar with those parts of the software, but as far as listing properties and building a website, I love it. I'm looking forward to exploring more of their integration options to possibly push our property data out to Flipkey. MyVR is not 100% perfect - no software is - and it does have some limitations, but one of the things that I love about MyVR is that they are constantly adding new features, fixing bugs, and figuring out better ways to do things. When I contact MyVR support I know that I will either get help, or that their tech people will work on fixing the bug I found. I feel like, in working with MyVR, I am working with real people, people who care about their product and who honestly want me to like it rather than forcing us into some strange and convoluted software system. Good job MyVR.