Was ist Mango?
Mango steuert jeden Aspekt deines Umwelt-, Gesundheits- und Sicherheitsmanagementsystems (EHS), einschließlich Richtlinien, Verfahren und Formularen (mit einer Single-Source-Dokumentenkontrolle), Unfällen und Vorfällen, Gefahren- und Risikomanagement sowie Personalmanagement (Kompetenzen und Training).
Wer verwendet Mango?
Kleine und mittelständische Unternehmen.
Wo kann Mango bereitgestellt werden?
Cloud, SaaS, webbasiert, Android (mobil), iPhone (mobil)
Über den Anbieter
Mango
2006 gegründet
Telefon-Support
Chat
Erhältlich in diesen Ländern
Vereinigte Staaten
Über den Anbieter
Mango
2006 gegründet
Telefon-Support
Chat
Erhältlich in diesen Ländern
Vereinigte Staaten
Mango – Videos und Bilder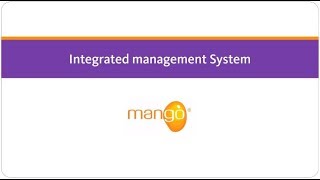 Kosten ähnlicher Produkte wie Mango vergleichen
Mango Funktionen
Aktivitäts-Dashboard
Alarmfunktion / Benachrichtigungen
Anpassbare Berichte
Archivierung & Aufbewahrung
Berichterstattung / Analyse
Beschwerdemanagement
Betriebliches Gesundheitsmanagement
Compliance Management
Compliance-Verfolgung
Corrective and Preventive Action (CAPA)
Dashboard
Daten-Import / -Export
Dokumentenmanagement
Dokumentkodierung & -kontrolle
Einhaltung von Umweltvorschriften
Gefahrgut-Management
Geräte-Management
Inspektions-Management
Instandhaltungsmanagement
LieferantenQualitätskontrolle
Mobiler Zugriff
OSHA-Protokollierung
Prozess-/Workflow-Automatisierung
Reaktions-Management
Risiko-Scoring
Risikoberichte
Risikobewertung
Risikomanagement
Störfallmanagement
Trainingsmanagement
Unfalluntersuchung
Versionskontrolle
Veränderungsmanagement
Vorfall-Berichterstattung
Wirtschaftsprüfung-Management
Verifizierter Rezensent
Marine Officer in Australien
Verifizierter Nutzer auf LinkedIn
Transport/Güterfrachtverkehr/Schienenverkehr
Verwendete die Software für: 6-12 Monate
Mango help me with my daily routine. It help prompt a message and make work a lot easier.
Kommentare: It help minimize work load and delays..
Vorteile:
I like the way this software works of its promptness of alerting when a certificate is about to expired . I set all this up and it make it more easier with my Job. I love the way the system sent email and the outline of the employees
Nachteile:
Only the PPE I want it to be varied like the dates can be there on the first issue and then the second issue of Boots or Vest but the date must be -there to show how much I have issue. The date usually change when you change it .
Jessica
Group QHSE Manager in USA
Öl & Energie, 201-500 Mitarbeiter
Verwendete die Software für: 1-5 Monate
In Betracht gezogene Alternativen:
Full Implementation is Slow, But Overall Happy with the Product
Kommentare: Overall, I have been happy with the Mango software. Unfortunately, it has not been fully integrated into my organization. I have done a lot of work to get it there, it's just that management has been a little slow about granting approvals, etc. Since I have access to all the Mango modules and have been trained on how to use them, I've been using the functions of Mango to make my life easier. I am working on performing tasks in Mango (that I would have done in other programs) and will encourage my team to do the same things.
Vorteile:
* Training on the use of Mango was done very well. All training sessions were conducted live and were recorded. I have gone back to look at the recordings several times. * Customer support is great. Whenever I have a question, my Account Manager, [SENSITIVE CONTENT HIDDEN], responds very quickly and provides the information I need. * I like how Mango is a QHSE all-inclusive software. It doesn't just focus on one or two aspects. This is critical since I manage a integrated management system. This fit the needs of my company very well.
Nachteile:
* One issue that I am experiencing is how items like customer complaints and corrective actions are to be entered into the same module (Improvement Module). I wish these were separated. Due to this, it is taking a little longer to figure out how to fully implement the software to the employees at the company. [SENSITIVE CONTENT HIDDEN] has provided some input on how to deal with this, but it's just not quite right for my organization (may be too confusing).
Gillian
Office Manager in UK
Verwendete die Software für: 1-5 Monate
Still learning, seems easy to use so far.
Kommentare: The software gets ALL staff involved, sharing the responsiblity of getting things right and taking responsibility if they go wrong, which helps learning.
It also frees up my time as I'm not the only one reporting and collating info!
Vorteile:
It is a fairly simple layout and easy to use so far. I like being able to store a variety of documents, reports, etc in one place accessible to all.
Nachteile:
Some of the processes seem a bit drawn out and could be simplified; i.e. not having to pass reports back and forth constantly. I HATE that any upload to a report is viewed as sensitive information, therefore not visible to staff. I understand the need for this in some modules, but not all. It can sometimes be slow to send info through or update info.
Chad
Director in Australien
Umweltdienstleistungen, 11-50 Mitarbeiter
Verwendete die Software für: Mehr als 2 Jahre
Mango has been great
Kommentare: Mango has made is easy to mange the 3 standards we currently have certification for. With reminders nothing gets missed and you know when everything is due. The support we have also received has been excellent and would recommend this product to anyone needing a HSEQ management system
Vorteile:
Easy to use and has become apart of our day to day business. From our old paper based system is has made it a lot easier. With reminders that are setup nothing gets missed. If something doesn't get done reminders are sent until it has been completed. It is also great managing all employees skills and training records. When due to expire all relevant people will get notification Document control is also another great function managing all policies, procedures and general documents. Only the live and current version can be accessed by most people but all old versions of documents are stored in the back end of the system. The function of Audits is great for internal audits and workplace inspections. This is all linked up with the ICA module and everything is tracked between the two.
Nachteile:
Nothing. Overall we find mango a great product to use
Antwort von Mango
letztes Jahr
Thanks Chad for the very kind and honest review. Cheers Craig Thornton, Mango
Lynton
Risk Manager in Neuseeland
Verifizierter Nutzer auf LinkedIn
Verwendete die Software für: Mehr als 2 Jahre
After a lengthy search Mango provided the only truly integrated system covering multiple disciplines
Kommentare: Ability to streamline multiple disciplines that were previously working in silos and using different definitions based on the the main regulating driver (i.e. Safety - WorkSafe, Food Safety - Ministry for Primary Industries). Allowed a central integrated risk management system.
Vorteile:
It allowed us to merge our multiple systems of H+S, Food Safety, and R+M under a common process stream. It has not required the complete business to be users to make it worth the value, the key stakeholders (users) involved makes it work. It has allowed us to remove the reliance of spreadsheets and personal outlook calender's to ensure critical tasks were completed. The development work by Mango to improve the experience shows the commitment of the team, and the fact they use their own software as a business tool is comforting.
Nachteile:
Of all the modules "documents" is the least flexible. As a large business that has a significant document structure, having to copy into a small editing window was not practical. It needs the ability to manage Microsoft (Word, Powerpoint etc ) documents in some form of library and still utilize the approval process.