Was ist JobNimbus?
JobNimbus ist eine ausgezeichnete Wahl für Dachdecker- und Umbaubetriebe, Sanierungsunternehmen und viele mehr. Die Software spart dir Zeit und Geld mit Tools für Auftrags-, Kontakt- und Aufgabenmanagement in einer einfach zu bedienenden Oberfläche. Mit JobNimbus kannst du deine Vertriebs- und Auftrags-Pipelines mühelos nachverfolgen. Erstelle Schätzungen und Rechnungen, nimm Fotos auf, weise Arbeitsaufträge zu, erstelle und teile Dokumente, plane Aufgaben, verwende gemeinsam genutzte Kalender, sende Materialbestellungen, verfolge Zahlungen und vieles mehr. Erstelle leistungsstarke Live-Berichte, um alles zu sehen. Web, iOS, Android.
Wer verwendet JobNimbus?
Dachdecker- und Umbaubetriebe, die nach einer einfachen CRM- und Projektmanagementlösung suchen, um Kontakte, Aufgaben, Aufträge, Dokumente und Finanzinformationen zu verwalten. Wenn Software dich verwirrt, teste JobNimbus.
Wo kann JobNimbus bereitgestellt werden?
Cloud, SaaS, webbasiert, Mac (Desktop), Windows (Desktop), Android (mobil), iPhone (mobil), iPad (mobil)
Über den Anbieter
JobNimbus
Ansässig in American Fork, USA
2011 gegründet
Telefon-Support
Chat
Erhältlich in diesen Ländern
Kanada, Vereinigte Staaten
Über den Anbieter
JobNimbus
Ansässig in American Fork, USA
2011 gegründet
Telefon-Support
Chat
Erhältlich in diesen Ländern
Kanada, Vereinigte Staaten
JobNimbus – Videos und Bilder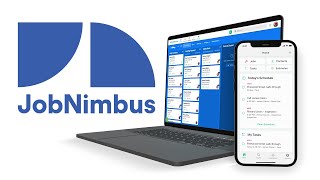 Kosten ähnlicher Produkte wie JobNimbus vergleichen
JobNimbus Funktionen
Abrechnung & Rechnungsstellung
Aktivitäts-Dashboard
Alarmfunktion / Benachrichtigungen
Angebote / Schätzungen
Angebotserstellung
Anpassbare Berichte
Anpassbare Vorlagen
Arbeitsauftragsverwaltung
Audit Trail
Aufgabenmanagement
Aufgabenplanung
Auftragnehmer-Management
Auftragsänderungsmanagement
Berichterstattung / Analyse
Berichterstattung und Statistik
Bestell-Management
Buchhaltung
Budgetmanagement
Budgetverfolgung / Auftragskostenrechnung
CRM
Dokumentenmanagement
Dokumentenspeicher
Drittanbieter-Integration
E-Mail Marketing
E-Mail-Management
Echtzeit-Aktualisierungen
Filesharing
Fotoerfassung
Für die AEC-Branche
Für iPad-Geräte
Gebot-Management
Genehmigungsmanagement
Historische Datenbank
Inspektions-Management
Integration in die Buchhaltung
Job-Management
Job-Planung
Kalender-/Erinnerungssystem
Kalenderverwaltung
Kommentare / Notizen
Kontakt-Datenbank
Kontaktmanagement
Kosten-Datenbank
Kostenschätzung
Kundendatenbank
Kundenmanagement
Kundennachverfolgung
Kundenportal
Leadmanagement
Mobile App
Mobiler Zugriff
Projekt-Nachverfolgung
Projektbuchhaltung
Projektmanagement
Sales-Pipeline-Management
Schätzung
Statusverfolgung
Terminplanung
Timesheet Management
Verfolgung der Kosten bis zur Fertigstellung
Vertrags-/Lizenz-Management
Vertriebszulassung
Werkzeuge zur Zusammenarbeit
Wohngebäude
Workflow-Management
Zeit & Kosten Verfolgung
Zeitverfolgung
Alternativen für JobNimbus
Bewertungen über JobNimbus
Stephen olawale J.
ARCHITECT in Nigeria
Verifizierter Nutzer auf LinkedIn
Bau, 2-10 Mitarbeiter
Verwendete die Software für: 6-12 Monate
JOB TASK SCHEDULING,CLIENTS MANAGEMENT AND JOB TRACKING MADE EASY
Kommentare: life has being easy, the tension we get from tenant/client, that we should to their respond to their services failures has reduced, and get response from our team quickly.
Vorteile:
My firm have being got a job to manage residential facilities and building services maintenance for clients and developers, we had a lot of job and calls from clients for over a year, with out a software, finally when we got a recommendation, we started with a trial version, the application was easy to learn through the help of videos, and the customer care response,tracking our jobs, technicians and client information and emergency needs on a mobile application software was a break through for my firm.
Nachteile:
Learning how to use the software with just videos was difficult, it would have being easier, if the customers care line can be available to respond at every instant,training the technicians and advising our client to subscribe to this application was not easy, but they now enjoyed its, they get their problems solve on just with the application on their mobile devices.
Antwort von JobNimbus
vor 3 Jahren
Thanks, Stephen! We're working on improving our app education and onboarding, so new features should be easier for you to learn and get going. We appreciate your feedback!
Bau, 2-10 Mitarbeiter
Verwendete die Software für: Mehr als 1 Jahr
In Betracht gezogene Alternativen:
Sharp Construction Thinks JobNimbus is Amazing
Kommentare: We have been bringing on additional salesman and being able to track the leads that we distribute has allowed us to see who is weak and where. We have also used JobNimbus to increase the amount of reviews that are coming in (93 5 Stars and counting). It has allowed us to measure lead success or failure, which has whet the taste buds to have more understanding and to discover deeper ways to measure our success in other ways. It makes you realize what could be if..... When you have questions that a product like JobNimbus answers, it makes you realize that with a little extra effort, you can explode your business. We are thrilled to have found JobNimbus.
Vorteile:
We did not come from another CRM to this platform. This was our first experience and the choice to team up with JobNimbus has been exactly what we were hoping and looking for to help manage and grow our business. The automation features are, by far, what we have enjoyed the most. Adding automation has helped us seal up the cracks that occur when taking a customer thru the construction process. Nimbosa, as we affectionately call it for no apparent reason, has been a major factor in leveling up our company with regards to communication and customer management.
Nachteile:
This requires thought, which, I think, means that we would have to search to find a problem. We are anxiously anticipating the roll out of the tracking and measurement graphs that were dropped at the Orlando convention. So I guess, the fact that those are not fully rolled out yet would be one of the things that could be a negative.
Antwort von JobNimbus
vor 2 Jahren
Thank you so much, Ryan! We're so glad we found you guys, too, and are excited to build more powerful features into your workflow. You guys rock! Affectionately yours, Nimbosa
Obada A.
Site Civil Engineer in Jordanien
Bau, 201-500 Mitarbeiter
Verwendete die Software für: Mehr als 2 Jahre
it is equipped with everything I'll need to manage Our works
Kommentare: When it comes to monitoring the development of our clients' projects, we rely on JobNimbus. With Jobnimbus, we've had better and more productive communication among our team members. In order to keep our company afloat in any situation, it has given us the ability to operate remotely.
Vorteile:
Using JobNimbus is a snap, and you'll be up and running in no time thanks to its flexibility and ease of customization. What I particularly like about JobNimbus is how simple it is to add tasks and contacts and how flexible the calendar is. You can see exactly what's going on with customers, and the timetable makes it easy to keep appointments and responsibilities on time.
Nachteile:
My main concerns are that I would want to see greater customization options in some areas, as well as upgrades to the mobile app so that we can do more processes with it.
Verifizierter Rezensent
Tech & Development in Mexiko
Verifizierter Nutzer auf LinkedIn
Bau, 11-50 Mitarbeiter
Verwendete die Software für: 6-12 Monate
In Betracht gezogene Alternativen:
Great concept for construction companies - Massive room for improvement
Kommentare: JobNimbus was built specifically for construction companies and offers an end-to-end solution, from Lead Acquisition to Invoicing. It's extremely difficult to tweak and configure more "generalist" CRM's and Project Management apps to fit the construction industry workflows and specific steps, so there definitely is value in this software. Although it is far from perfect, it offers an almost ready-made solution for construction and roofing companies, allowing for a fairly quick onboarding.
The starting idea is great, but it is definitely perfectible. The biggest flaw with JoNimbus is the fact that it has different workflows for Contacts (homeowners and people in general), and for Jobs (actual work being performed). While it sounds great, once you dig a little deeper, you realize that the pre-defined statuses for Contacts and Jobs are the same! This, instead of creating clarity and differentiating both aspects of a job, leads to massive confusions with low-tech employees: if a Sales Rep saves a contract under a Contact instead of a job, the person looking for that contract under Job will not find it unless they look under Contact. It might be hard to understand if you have never used JobNimbus, but the bottom line is it creates (many) mix-ups.
Additionally, the mobile apps are so bad our people have stopped using them and are opening the desktop version on their mobile devices. All in all, we are better off with JN than without, but needs a lot of improvement.
Vorteile:
- Designed specifically for Construction and Roofing companies - End-to-end solution, from Lead Acquisition to Invoicing (not advanced financials though, it won't replace your accounting software) - Highly customizable (although not as much as we'd like or need) - reasonably priced when compared to alternatives, no setup fees - Great customer support
Nachteile:
- Confusing workflows (more on that below) - Not the easiest program for people who are not tech-savvy, steep learning curve - TERRIBLE mobile apps (IOS & Android). It's so bad our field guys have resorted to opening the desktop version on their browsers - Custom template building somehow limited: no math formulas allowed, inserting tables and making them fit the page is a pain - The main dashboard and the constant notifications and task reminders are overwhelming instead of being useful
Amanda L.
Insurance Claims Manager in USA
Bau, 11-50 Mitarbeiter
Verwendete die Software für: Mehr als 1 Jahr
JobNimbus is a great program but
Kommentare: JobNimbus was GREAT! Just a little too pricey compared to another program that has everything they have.
Vorteile:
JobNimbus had everything we were looking for in a CRM for our company to keep track of all of our customers and set tasks in each of their files so no one was forgotten. We liked especially how you can assign multiple employees to a single task in the file.
Nachteile:
JobNimbus ended up being too much money for what was offered so we did end up implementing a different CRM for our company to use but we still maintain 1 log in so we don't lose all of our prior customer's information/project notes.