Was ist RealTime-CTMS?
RealTime Software Solution ist ein führendes Anbieterunternehmen von SAAS-basierten klinischen Studien und Managementsystemen für Standorte, Sponsoren und CROs. RealTime stellt als CTMS-Anbieterunternehmen eine vollständige Suite an Lösungen auf einer nahtlosen Plattform für ein Site Operations Management System (SOMS) bereit. SOMS umfasst das branchenführende CTMS, SitePAY, TEXT, eDOCS und eSOURCE, das über eine nutzerfreundliche MobileAPP zugänglich ist. RealTime bietet auch eine Lösung auf Unternehmensebene für große Standorte und Websitenetzwerke.
Wer verwendet RealTime-CTMS?
RealTime Software Solutions, LLC, bedient Forschungsseiten und Websitenetzwerke, die ihre Effizienz und Rentabilität steigern möchten, indem alle Aspekte ihrer klinischen Studien optimiert werden.
Wo kann RealTime-CTMS bereitgestellt werden?
Cloud, SaaS, webbasiert, Android (mobil), iPhone (mobil), iPad (mobil)
Über den Anbieter
RealTime-CTMS
Ansässig in San Antonio, USA
2 gegründet
Telefon-Support
Chat
RealTime-CTMS Kosten
Startpreis:
Nicht vom Anbieter bereitgestellt
Keine kostenlose Testversion
Keine Gratisversion
RealTime-CTMS bietet keine Gratisversion und keine kostenlose Testversion.
Preismodelle
Über den Anbieter
RealTime-CTMS
Ansässig in San Antonio, USA
2 gegründet
Telefon-Support
Chat
RealTime-CTMS – Videos und Bilder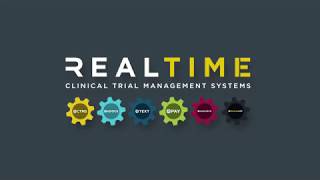 RealTime-CTMS Funktionen
21 CFR Part 11-Compliance
Daten-Import / -Export
Dokumentenmanagement
EMR / EHR
Elektronische Datenerfassung
Finanzmanagement
HIPAA konform
Management klinischer Studien
Patientenmanagement
Patientenwerbung
Patientenüberwachung
Terminplanung
Versuchsaufbau
Workflow-Management
Alternativen für RealTime-CTMS
Bewertungen über RealTime-CTMS
Gary l. N.
Chief Business Officer in USA
Verifizierter Nutzer auf LinkedIn
Forschung, 11-50 Mitarbeiter
Verwendete die Software für: Mehr als 2 Jahre
RealTime: It's Far More Than A CTMS
Kommentare: Having so our processes and materials sensibly organized and readily accessible in one place has improved our overall efficiency. It supports our QA/ QC processes in ways that have allowed us to improve the quality of our data and accounts receivable. We are especially impressed with all the the staff at RealTime. The quality of training, support and maintenance has been excellent.
Vorteile:
Great user interface, sensible workflow/ navigation and exceptional functionality aside, it was designed, developed and continues to be enhanced by people who have actually done clinical trials. This is evident in every aspect of the software. The whole product suite and related offerings, e.g., eDocs, eSource, SitePAY and Text are terrific, and for us it is evolving to be an overall Business Management System.
Nachteile:
We would like to see more granularity in access privileges.
Lindsey H.
Study Start-Up and Regulatory Manager in USA
Medizinische Praxis, 51-200 Mitarbeiter
Verwendete die Software für: Mehr als 1 Jahr
RealTime has been a big help for our finances!
Kommentare: We needed a CTMS that helped us separate from our SMO and go into research on our own. This software helped us get set up and organized from Day 1, easing the transition to perform all administrative functions in house instead of outsourcing.
Vorteile:
I love how the accounting side helps link patient visits to reimbursements. This has made my job so much better for AP/AR and tracking payments.
Nachteile:
There is a learning curve, but once you get past that, it really is easy to use!
In Betracht gezogene Alternativen: Clinical Conductor CTMS
Gründe für den Wechsel zu RealTime-CTMS: Created by study coordinators with study coordinators in mind. The entire format and workflow just made sense to us!
Philippa W.
Clinical Manager and Director in Neuseeland
Krankenhausversorgung & Gesundheitswesen, 2-10 Mitarbeiter
Verwendete die Software für: 6-12 Monate
NZ site review
Kommentare: Finding our way around the system has been relatively easy. A few items are not that applicable to sites not based in US. An edit function on existing invoices would be a real bonus.
Vorteile:
All trial information in one place for staff. Lots of fields for patient information is great too.
Nachteile:
Would like to be able to add GST to our invoices. Would like to be able to amend invoices after created.
Antwort von RealTime-CTMS
vor 5 Jahren
Thank you, Phillippa, for your feedback. We love to listen to our customers and make updates to RealTime based on their needs. I am happy to tell you that Invoices are now completely editable in RealTime. Additionally, we are working on an update for our non-US customers to track government taxes such as GST. We hope to have this update deployed in Q1 of 2017. Please let us know if there are any other areas of the system that you would like to see improved to better suite your local environment.
Ashley C.
Clinical Research and Regulatory Specialist in USA
Forschung, 11-50 Mitarbeiter
Verwendete die Software für: Mehr als 2 Jahre
RealTime at SRA
Kommentare: RealTime is something of a go to at our company. Any time anyone has a question regarding a study, a participant, scheduling, our answer to each other is always, "did you check RealTime?" The best part is that through RealTime we're always able to get the answers that we need. And if it's not something we're sure RealTime can give us, the support staff is always more than happy to walk us through a feature that we may not have realized existed. We have been using RealTime for close to two years now, and through updates and additional features, there really isn't anything RealTime can't provide for us. In regulatory, I especially love the document feature. It centralizes a place for our consents and protocols so that when coordinators or the marketing department has a question, they can reference the source material. The addition of subject documents has been invaluable as well. Rather than coming up with a filing system that's arguably archaic, it makes it easy to reference a participant's prescreen right in their profile. It saves us space and time to be able to have this information readily available. The best thing, though, I could say about RealTime is that is has features we didn't know we wanted. I could try to come up with things that could be added or improved on, but the truth is RealTime is always a step ahead of us. Every time a new feature is launched, I find myself saying, "oh yeah, that would be helpful!"
Vorteile:
The ease of use and the availability for help. We have interns and some staff who only use RealTime for specific things, like referencing the calendar, or scheduling appointments. Because RealTime is so user friendly, we don't have to spend much time training our new staff on how it works. And even if a training session is required, it's great that the team at RealTime can provide this for us.
Nachteile:
I honestly do not have any complaints at this time.
Antwort von RealTime-CTMS
vor 5 Jahren
Ashley, thank you so much for the great review! This is great news that RealTime has become such an important system for your site and staff. We enjoy working with your team as much as you enjoy working with RealTime!
Fabian S.
CEO & Research Director in USA
Krankenhausversorgung & Gesundheitswesen, 11-50 Mitarbeiter
Verwendete die Software für: Mehr als 2 Jahre
Each year they impress us more
Kommentare: Form day one it has been WONDERFUL. I enjoy the progress the company continues to make, which in turn benefits my research site, and the costs keep low. Thanks to the [SENSITIVE CONTENT HIDDEN] I have always felt that this leadership always takes into account the inform form sites in order to continue to improve the system. Having the direct line of communication to these two leaders, ensures that RealTime values our input and takes the time to work closely with its clients regardless of our company size.
Vorteile:
The system is very user friendly and intuitive. I like the way the system has features in place where the study coordinators must complete sections before completing a visit, as this helps speed up the QC process for proper billing to our customers. The system does EVERYTHING we need from patient visits and Text reminders to invoice and payments to patients. The new customized reloadable cards that we give our patients are a wonderful addition and has saved us lots of time and money, plus take us to a new level of professionalism. providers, and support organizations also like the way we can provide a breakdown of payment to them. This one stop system keeps our research site moving smoothly.
Nachteile:
There is a learning curve to integrate eSource, but they have a good help desk to teach you.