Was ist Sched?
Der flexible Zeitplanmanager für deine einzigartige Veranstaltung. Die Lösung bietet dir die Erstellung, Anpassung und Verwaltung deines Veranstaltungsplans an einem organisierten Ort. Teams können per Fernzugriff und in Echtzeit zusammenarbeiten und kooperieren. Binde deine Teilnehmer ein und unterstütze deine Referenten mit interaktiven Erfahrungen und Tools. Vermarkte deine Veranstaltung und erziele mehr Teilnehmer über das Web und native Apps oder bette sie direkt in deine eigene Website ein.
Wer verwendet Sched?
Sched ist eine Lösung für Konferenzen, Kongresse, Festivals, Meetings und akademische Veranstaltungen mit mehreren oder komplexen Zeitplänen.
Wo kann Sched bereitgestellt werden?
Cloud, SaaS, webbasiert, Mac (Desktop), Android (mobil), iPhone (mobil), iPad (mobil)
Über den Anbieter
Sched
Ansässig in Los Angeles, USA
2008 gegründet
Telefon-Support
Chat
Erhältlich in diesen Ländern
Vereinigte Staaten
Über den Anbieter
Sched
Ansässig in Los Angeles, USA
2008 gegründet
Telefon-Support
Chat
Erhältlich in diesen Ländern
Vereinigte Staaten
Sched – Videos und Bilder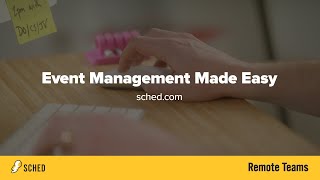 Kosten ähnlicher Produkte wie Sched vergleichen
Sched Funktionen
Alarmfunktion / Benachrichtigungen
Angebot in sozialen Medien
Anpassbare Vorlagen
Aussteller- / Lieferanten-Management
Berichterstattung / Analyse
Dokumentenmanagement
E-Mail Marketing
Eventplanung
Kalenderverwaltung
Kartenverkauf
Kundenspezifisches Branding
Live-Streaming
Online-Anmeldung
Registrierung vor Ort
Registrierungs-Management
Teilnehmer-Management
Teilnehmer-Tracking
Textbearbeitung
Werkzeuge zur Zusammenarbeit
Zahlungsabwicklung
Zugriffskontrollen / Berechtigungen
Heather
Producer, Lit Crawl Portland in USA
Verifizierter Nutzer auf LinkedIn
Bildende Kunst, 11-50 Mitarbeiter
Verwendete die Software für: Mehr als 2 Jahre
Sched is my best friend!
Kommentare: Communication is the main problem that Sched solves. It's an at-a-glance snapshot of an entire evening that easily drills down into specifics. It invites interaction, so that's another communication problem solved/helped. I couldn't be more thrilled to have Sched working on my event's behalf. Thank you!
Vorteile:
What DON'T I love about this software? I love that it does whatever I want--I love that it's accessible and can be organized in so many different views, I love that it's embeddable on other sites, that the links to individual events are shareable, that it's COLOR CODED. I guess if I had to boil it down, I love that Sched creates a central place where my entire event can be housed, with all its moving pieces and participants, and that it's equally friendly to internal and external audiences.
Nachteile:
I might be missing this, but it might be fun to be able to upload artwork for individual sessions. I've also had people ask for a maps function, so it might be cool to be able to see all my venues on a map or diagram, with addresses attached. I'm sure I haven't even begun to understand all that Sched is capable of. I just love that it works for me every year and that my users are getting more acquainted with it, so. . . thanks for staying consistent and continuously improving our experience!
Mohammed
Field Manager in Ghana
Non-Profit-Organisation Management, 51-200 Mitarbeiter
Verwendete die Software für: 6-12 Monate
In Betracht gezogene Alternativen:
Sched shares the responsibilities and fun in event planning fairly among guests and organizers
Kommentare: My first experience with Sched was as a speaker on a conference event being organized by our foreign collaborators. As my first foreign speaking engagement, I was naturally extremely nervous, but Sched made collaborating with the organizers so easy and that I felt very much at ease and ended up delivering an exceptional session. After that experience, I recommended trying Sched for our own subsequent conference events.
Vorteile:
Sched allows event invitees to build their own schedules within the frame of the general event. This facility empowers us as organizers to make the necessary adjustments to redirect resources to sessions where they will be most-needed. As speaker in Sched-facilitated events, I can also attest that the control it offers me over my profile to directly suggest changes and modifications to event structure makes the entire experience amazingly rewarding.
Nachteile:
It can be a bit overwhelming for planning smaller events. Perhaps, there could be a basic version release which can be more suited for planning fun and less professional gatherings.
Non-Profit-Organisation Management, 2-10 Mitarbeiter
Verwendete die Software für: 6-12 Monate
In Betracht gezogene Alternativen:
Horrible Customer Service
Kommentare: It wasn't too difficult to get everything set up, but we needed a human to help us select the right package to purchase. It was way too difficult reaching someone and we were actually told that no one could assist us for at least another week because that department was going to a conference.
Vorteile:
We liked that if needed, you could print out the schedule.
Nachteile:
There is no customer support. The only way to reach someone for assistance is to find a spot on THEIR calendar for them to call you.
Antwort von Sched
vor 3 Jahren
Hi Lane, I'm very sorry we were not available for a call right away when you reached out. As a fully remote company, we take one trip a year to do big-picture planning and foster connection. We will be working together to create a better system for handling inquiries during our future off-site team events.
James
Technical Evangelist in USA
Verifizierter Nutzer auf LinkedIn
Religiöse Einrichtungen, 501-1.000 Mitarbeiter
Verwendete die Software für: Mehr als 2 Jahre
Excellent package and service
Kommentare: We used to publish our own website with conference info; it had the basic info, but it was hard to keep the pieces consistent. Now we link to the Sched site from our event page and attendees find everything there. Speakers can post their pix and handouts and complete/update their profiles and send e-mail blasts to all who signed up for their workshop. We got good reporting and from it (and Google Analytics) see a high engagement rate (not just page views; over half set up accounts and created a personal schedule). This is all from their lowest service level/tier; higher levels integrate more with registration/payment etc., but we already have an online store and used it for front-end registration.
Vorteile:
One-stop shop for event management: attendees, speakers/handouts, exhibitors, rooms, messaging, feedback, social sharing.... Mobile-friendly site and app for participants to create/manage their schedules, submit feedback, share content, etc.. Smart import/export/update Responsive personal tech support Good pricing plans especially for nonprofits
Nachteile:
We ran into a couple of small limitations (e.g. can't embed image in e-mail blast), but we found workarounds and Sched team is using our feedback to improve their platform.
Kristen
Instructional Coach in USA
Verifizierter Nutzer auf LinkedIn
Bildungsmanagement, 201-500 Mitarbeiter
Verwendete die Software für: Mehr als 2 Jahre
Couldn't Do It Without Sched
Kommentare: We are a preK-12 school district that hosts a yearly EdCamp in which teachers sign up for workshops delivered by their peers. Sched is a huge time saver, in that it allows us to communicate directly with presenters and attendees, to control the schedule, to create room signage, to add venue maps, and to generally make the day run smoothly. It saves paper, as we don't have to print all those workshop overviews (which we were always doing at the last minute because we had to chase people down for them!), and helps us control the numbers of people attending workshops so they are not overbooked. I don't know how we would be able to do this at this scale without Sched!
Vorteile:
This software takes so much of the redundancy out of event organizing. No need to copy and paste information into twenty different locations, or to type in email addresses multiple times. It is a huge time saver!
Nachteile:
I would like to be able to add a bit more design to the room signage (but it is a hugely helpful feature). It would also be nice for workshop presenters who are also attendees to have their own workshops in their own schedules, without it looking like they are taking up a seat.