Was ist Kount?
Kount ist die führende Lösung zur digitalen Betrugsprävention, die von 6.500 Marken weltweit eingesetzt wird. Kount wird auch von einigen der weltweit größten Zahlungsdienstleister, Gateways, Wallets, Prozessoren und Käufern verwendet. Die patentierte Technologie von Kount kombiniert Fingerabdrucknahme über Geräte, überwachtes und unbeaufsichtigtes maschinelles Lernen, eine robuste Policy- und Rules-Engine, Business-Intelligence-Tools sowie ein webbasiertes Fallmanagement- und Untersuchungssystem.
Wer verwendet Kount?
eCommerce- und M-Commerce-Unternehmen, die in Card-not-Present-Umgebungen tätig sind.
Kount – Details
Kount
2007 gegründet
Kount – Details
Kount
2007 gegründet
Kount – Videos und Bilder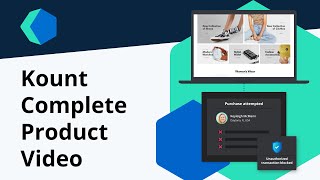 Kosten ähnlicher Produkte wie Kount vergleichen
Startpreis
Nicht verfügbar
Nicht verfügbar
N/A
Nicht verfügbar
Kount – Bereitstellung und Support
Kundenbetreuung
E-Mail/Helpdesk
FAQ/Forum
Wissensdatenbank
Telefon-Support
24/7 Live-Support
Einsatz
Cloud, SaaS, webbasiert
Mac (Desktop)
Windows (Desktop)
Linux (Desktop)
Android (mobil)
iPhone (mobil)
iPad (mobil)
Training
Persönlich
Live Online
Webinare
Dokumentation
Videos
Marimay A.
TML/Debit Memo/Fraud Analyst in Philippinen
Verifizierter Nutzer auf LinkedIn
Outsourcing/Offshoring, 51-200 Mitarbeiter
Verwendete die Software für: Mehr als 2 Jahre
Highly Recommended
Kommentare: A lot of fraud and unauthorized transactions were captured. And helps minimized the losses of our company due to fraud transactions. Big thanks to Kount
Vorteile:
Kount gives us the details and options to identify fraud, specially in online purchases. It's very risky for us merchant to approve all transactions. When I was a fraud agent way back 2014 we did manual fraud check that's very tragic and difficult. When Kount was introduced to us it makes our work a lot better and easier. All information was already given all we have to do is to study how Kount works and I was really impress about the details and features.
Nachteile:
So far working with kount is easy. I hope someday Kount will upgrade into more specific details specially under card name matching with bank record. I know it's really hard to do that because of the wide coverage of all the bank systems all over the world, but someday Kount will and can. :-)
Verifizierter Rezensent
E-commerce Fraud and Payments Management in Italien
Verifizierter Nutzer auf LinkedIn
Internet, 51-200 Mitarbeiter
Verwendete die Software für: Mehr als 2 Jahre
Great tool for fraud risk management
Kommentare: Kount has help us to reduce the fraud rate and the amount of manual work of agents do analyzing transactions
Vorteile:
This tool was presented to us by one of customers as they were using it already for a while and wanted to continue. At the beginning I was a bit skeptical as many fraud management tools are slow, or difficult to read. As soon as we started using the program, it became one of favorites: it was very easy to learn to use it and it showed the right amount of information on the dashboard. Kount not only gives you the usual information (location, attempts, score) but you also see all the linked transactions by different parameters (email, address, ip and device layers) which are great to catch the transactions from the bad guys. Agents can easily blacklist the information regarding suspected transactions without leaving the dashboard. The rule set creations options are very flexible and you can split them according to merchant, markets and they can be modify or deactivated in just a few clicks. Customer services are very helpful and quick to answer the enquirers.
Nachteile:
The only thing I would improve is the reporting part as I find it a it basic, I would like to have more options that will help me to segment the data or get more information about the orders that pass through Kount
Robyn C.
Director of Operations in Kanada
Einzelhandel, 51-200 Mitarbeiter
Verwendete die Software für: 6-12 Monate
Kount Pros & Cons
Kommentare: We found that Kount was not as relevant in our industry as other fraud tools that are more geared toward the travel industry. I'm sure it works well for industries selling goods, however it didn't work well for us. Overall, our agents were at times confused, and most often not able to use Kount in their decision making process.
Vorteile:
The ease of integration of the API was good. I also like that you can read where the device is, versus what IP they're using
Nachteile:
There's a lot of conflicting information in the results, thus not helping us in our decision for fraud. I've not been able to turn in on live onto the front end of our website, because it has falsely identified bookings as highly suspect of fraud, when they are past customers. We were being advised a credit card was issued on a U.S. bank when we knew the BIN number was a Canadian Bank issued card. We also had difficulty making a decision when the Persona was high and the safety rating was high as well. Our agents (end users) really struggled with using it to help make a decision about a fraudulent purchase. Sorry, not likely what you wanted to hear.
Antwort von Kount
vor 3 Jahren
Hi Robyn, We are sorry to hear that you are struggling with scores and ratings - Rudy M. from our client success team will be reaching out to help. Rudy and everyone at Kount are committed to making this a great success story for you! Thank you for reviewing Kount!
Zach S.
Senior Software Engineer - Ecommerce in USA
Verifizierter Nutzer auf LinkedIn
Einzelhandel, 51-200 Mitarbeiter
Verwendete die Software für: Mehr als 2 Jahre
Great fraud control software
Kommentare: Kount's support team has been great as have anyone I've spoken to there. Very professional. Well written Magento extension.
Vorteile:
Kount has a highly customizable fraud rule set that includes things like credit card number (For blacklisting people who chargeback), geographic information (I.E. address attributes), email addresses, among others. Kount worked pretty much out of the box with our platform with limited modification to work with our payment gateway and limited modifications to our workflow. The web portal is also very easy to use, it creates few if any questions addressed to our tech team.
Nachteile:
I didn't have any problems with the software. So no real cons.
Verifizierter Rezensent
Senior Developer, eCommerce in USA
Verifizierter Nutzer auf LinkedIn
Tabak, 201-500 Mitarbeiter
Verwendete die Software für: Mehr als 2 Jahre
Easy to Integrate and Maintain!
Kommentare: With KOUNT, we finally have visibility over our approval rate, which nears 80% each month on average, with less than 1% of orders going into auto decline status. KOUNT allows for cross-departmental collaboration and communication in order to prevent fraud. The business rules management feature is critical to our business in order to control what transactions we want to review or approve, and it allows our business to react quickly to changes that are required throughout the process. KOUNT has proven itself to be an invaluable business partner for our organization.
Vorteile:
KOUNT has a rigorous production readiness certification for the initial implementation to ensure that the environment is setup and working as expected. Once the solution is live, it is very easy to configure and maintain. It allows the IT department to focus on technical implementation specifics while the finance department can focus on implementing appropriate business rules for managing transactions. Our support contact seems to always be available, and watches over our account for ways to improve and save costs.
Nachteile:
The khash implementation is a bit complicated, but we managed to figure it out. Creating business rules can be intimidating for someone who is not used to a very detailed interface. Additionally, creating reports takes a bit of practice, but once you get the hang of it, it becomes easier.